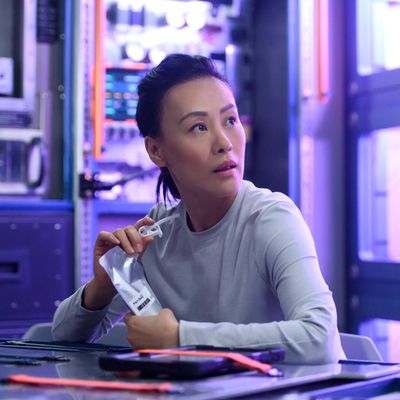 Photo: Courtesy of Netflix
This episode of Away features people doing karaoke to "Achy Breaky Heart," some very tense brush-stroke calligraphy lessons, and a phone call that will most likely gut you — emotionally speaking. It's a real roller coaster.
Three weeks into the mission to Mars, the occupants of Atlas I are treated to a low-key morning. The only thing Emma has to report to her crew is that the China National Space Administration has decided to transfer the Atlas mission's CAPCOM Mei to a different assignment. It's a little weird since a mission to Mars seems like it would take top priority, but it's mostly not a big deal for anyone.
Except for Lu.
Upon hearing the news, Lu floats off to her crew quarters to have a good cry and calls the head of the CNSA to find out where Mei went. She wants to talk to her. Unfortunately for Lu, her CNSA supervisor in Houston discovered a note on Mei's desk from Lu, realized the two were having some sort of affair, and wanted to put the kibosh on it real quick before a scandal arose. Lu is strictly forbidden from talking to Mei. Our typically composed chemist is devastated. And after we flashbacks detail the relationship between Lu and Mei, we're all devastated. No one can have anything nice — not even in space.
Lu and Mei met two years before the Atlas launch during training when Lu was having trouble getting the hang of English. Mei, who is fluent, offered to show Lu her secret: karaoke! At first, Lu seems skeptical when Mei brings her to a country-and-western bar and starts jamming to some "Rocketman" (very on the nose!) in a private karaoke room. But no one can deny the joy that comes from screaming your favorite songs into a microphone while weird stock-image slideshows play in the background. Lu's karaoke song is "Achy Breaky Heart," in case you were wondering.
Mei and Lu grow close over the course of their English lessons and rock-out sessions. One evening, back at Lu's apartment, while Lu is teaching Mei brush-stroke calligraphy — so much hand touching!!! — the women admit their feelings for each other. When Mei finally goes to kiss Lu, however, Lu backs away. Her marriage may not be one of love, but it is one of respect, and she doesn't want to do this to her husband. She won't break her vows. And that's how their relationship continues for two years, up until the night before the launch when Mei gives Lu the ring — inscribed with the Chinese proverb, "Women hold up half the sky" — and asks if she can spend the night. They don't have to do anything, just lie in bed together. Lu says yes, and they spend Lu's last night together. Before she gets up in the morning, Lu leaves Mei the aforementioned note — it says "I love you" — and heads out for … well, space. After that, all they had were their coded conversations over the highly monitored communications system. And now they don't even have that.
And you thought that spacewalk in the last episode was emotionally draining.
Mei's replacement is none other than back-up commander Jack Willmore, who, during a poker game with the guys, almost immediately drops the hot goss circulating around NASA about the real reason Mei was transferred. The guys all have some opinions — which is some straight-up bullshit because everyone should be minding their own business, you know? It's actually Misha who's most outraged, since he considers Lu a close friend and refuses to believe she'd cheat on her husband. When Lu discovers that everyone else on the ship knows about Mei, she blames Emma because Emma was the only one who noticed how upset Lu seemed after the news about Mei was announced (Emma had wanted to make sure she was okay). In reality, Emma is the last to know the truth. That poor woman is just shoveling down some freeze-dried food and staying out of everyone's way when she gets pulled into the drama.
When she finally gets the whole story, Emma calls out Jack for undermining her command just to make himself feel important and imploding the already tenuous trust between her and the crew. She's also the one to go to Lu and apologize. She empathizes, saying that if her phone calls to the person she loved were suddenly taken away, well, that would be completely gutting. It's doubtful Lu and Emma will ever actually be friends, but this is a nice attempt.
Surprisingly, it's Jack who comes up with a plan to fix the mess he made. He can get Lu an unmonitored line so she can call Mei. It will only be once and only for an hour (lest the CNSA finds out), but Jack and Emma work together to make it happen for Lu — international incident be damned! I guess the moral here is that astronauts love love even more than they love space travel, probably.
Lu and Mei's call is lovely and heartbreaking: Mei uses her telescope to look up at the stars; Lu tries to memorize Mei's voice, and tells her that once she's home, once the fanfare is over, and once her son is older, she'll come find Mei. Mei promises to wait. I mean, that's like an insanely long time, but good for them. I hope their first real date is at some gross karaoke bar.
Mission Control
• The reality of Matt's situation is finally hitting him. Yes, he'll be in the hospital rehabilitating for months, but his full recovery will take years. And on top of that, they can already tell that he most likely won't walk again. When he gives Emma the news, she pushes him not to give up. But that's not what Matt needs. He just needs his wife to listen and be there for him. They sit on the phone (are these calls monitored??) and listen to a recording of "Clair de Lune" together. Honestly, I was prepared for intense space disasters, but I was not prepared for the number of sad and romantic phone calls on this show!
• Matt is also stressed about Lex, who seems much more comfortable hanging out at his bedside than she does returning to school and attempting to get some sort of normalcy back in her life. When she does finally go back, things are extremely normal — which is perhaps the problem. How can anyone, let alone a teen, go from "my dad is paralyzed and my mom is in space" to "yes, please tell me how tragic it was that Chris didn't like Janine's Instagram comment" without her head exploding?
• Teen romance alert! An older boy at school is sending smoldering looks in Lex's direction in the cafeteria. Just what Lex needs right now — boy problems!
• Kwesi calls Ram out for being cold and formal toward Emma since the spacewalk. Kwesi knows what's up.