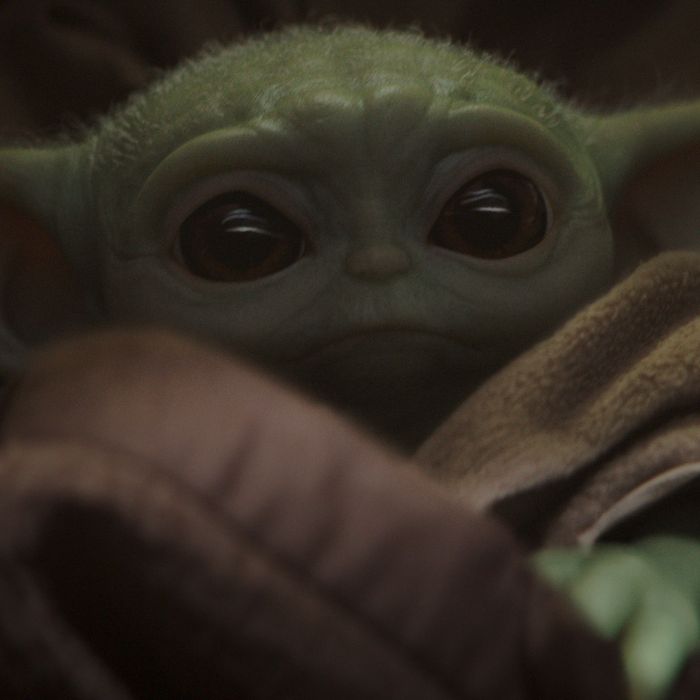 Baby Yoda: What everyone wants as a holiday gift.
Photo: Disney+
If you visit the official Disney store, you will find some merchandise inspired by the Disney+ series The Mandalorian: a few T-shirts, a Mandalorian Funko Pop, a MacBook sleeve featuring an image of the Mandalorian riding a blurrg. But there is not one single piece of merch devoted to the breakout star of The Mandalorian and the most blatantly merch-friendly character in the whole series: Baby Yoda. I emailed a rep for Disney+ and was told there is "nothing to share at this time" regarding potential Baby Yoda products. If I hear differently, this article will be updated. (Update: Since the publication of this article, CNBC has reported that there will indeed be official merchandise soon.)
Perhaps Disney decided to keep a lid on Baby Yoda stuff because they wanted to keep all spoilers about America's New Jedi Sweetheart totally locked down. After all, we still don't know Baby Yoda's actual name or identity, and perhaps Disney is holding out on its rollout of products until all that is revealed. Or perhaps the corporate monolith made a colossal error on par with the Not Enough Adequately Cute Porg Merchandise Crisis of 2017.
In any case, when corporate America leaves a vacuum, other Americans fill it. If you search the internet for Baby Yoda merchandise, you will find plenty of items, especially on Etsy, that are here to serve all your Baby Yoda holiday gift-giving needs, as well as your personal Baby Yoda needs — which, of course, we all have.
As such, here is our black market Baby Yoda gift guide, featuring 15 of our favorite Baby Yoda items for sale.
Baby Yoda Plush Doll, Option 1
Clearly what everyone wants most is a fuzzy little Yoda to call their own. At the moment, the plush Baby Yoda arena is a seller's market, as there are few available. This one, which takes Baby Yoda to the next level by giving us Swaddled Baby Yoda, is back in stock after selling out once already. $25 at Etsy.
Baby Yoda Plush Doll, Option 2
There are only five of this option in stock on Etsy as I type, so it may be gone before you can grab it. $25 at Etsy.
Baby Yoda Crochet Doll
This is a tiny, crochet Baby Yoda that seems kind of expensive at $35? On the other hand, how fun would it be to carry around a li'l Baby Yoda in your pocket?? $35 at Etsy.
Santa Baby Yoda Pocket Tee
Speaking of Baby Yoda and pockets, there are a few Baby Yoda pocket tees floating around the internet, including this one, which has a Christmas theme. $20 at Etsy.
Hunting Frogs T-Shirt
This shirt, meanwhile, focuses on Baby Yoda's frog-hunting hobby. $13 at Teepublic.
Slayin' 50 T-Shirt
This T-shirt doesn't have a pocket, but its celebration of Baby Yoda's age — like Sally O'Malley from Saturday Night Live, he's 50! 50 years old! — provides extra flair. $22.35 at Etsy.
Baby Yoda Onesie
Think only adults can have a fashion-oriented take on Baby Yoda's age? No! Your own baby can prove they're the coolest infant in day care with a onesie that provides its own commentary on the most badass 50-year-old in the galaxy. $16 at Etsy.
The Child T-Shirt
This T-shirt features the name of an actual Mandalorian episode, one that basically implies that Baby Yoda is the one and only child that matters at this moment in time. And that is true. Well, unless you're a parent, in which case maybe your child/children matter more to you, personally. But if we're being honest … you've probably thought more about Baby Yoda in the past week than you have about your own offspring. $17.36 at RedBubble.
Baby Yoda Ugly Christmas Sweater
Since the holiday season is, more or less, upon us, a Baby Yoda Ugly Christmas Sweater (or sweatshirt) is destined to be a very coveted item. Etsy is on it. $38 at Etsy.
Baby Yoda Crewneck Sweatshirt
This sweatshirt isn't holiday-themed, but it does boast what appears to be a screenshot of the greatest moment in Disney+ history*, when Baby Yoda uses the Force in The Mandalorian. (* The entirety of Disney+ history = the past week.) $37.99 at Etsy.
Baby Yoda Watercolor Print
Speaking of the greatest moment in Disney+ history, here it is as a work of art. $20 at Etsy.
Baby Yoda Decal
Looking for the perfect stocking stuffer? A sticker that says what we're all thinking — "If Baby Yoda dies, we riot" — may be exactly the Jedi decal you seek. $2.49 at Etsy.
Santa Baby Yoda Graphic
This Santa Baby Yoda graphic can be used to make your own T-shirts, posters, or what have you, and has a real Baby Yoda–meets–Cindy Lou Who feel to it. $2.90 at Etsy.
Baby Yoda Christmas Ornament
Far be it from me to tell anyone how to celebrate the holidays. That said: If you have a Christmas tree and don't have a Baby Yoda ornament hanging from it, you should return all the gifts, tell Santa not to bother showing up, then burn the tree to the ground. Fortunately, thanks to this Etsy ornament of Baby Yoda hangin' out in his levitating crib, none of that will be necessary. Added bonus: You can paint the ornament yourself, which will give the kids something to do during the one hour each day when they aren't watching Disney+. $20 at Etsy.
Baby Yoda for President Ornament/Magnet
You can also opt for this ornament, which can be turned into a magnet if you prefer. Yes, I know. Baby Yoda is supposed to be the nonpolitical figure we need right now. But there's no question that if he joined the Democratic race for president, he'd immediately become the front-runner. Elizabeth Warren, Pete Buttigieg, Kamala Harris: I mean, they're great. But none of them can use the Force. (Well, maybe Warren can.) $7.99 at Etsy.
Every editorial product is independently selected. If you buy something through our links, New York may earn an affiliate commission.