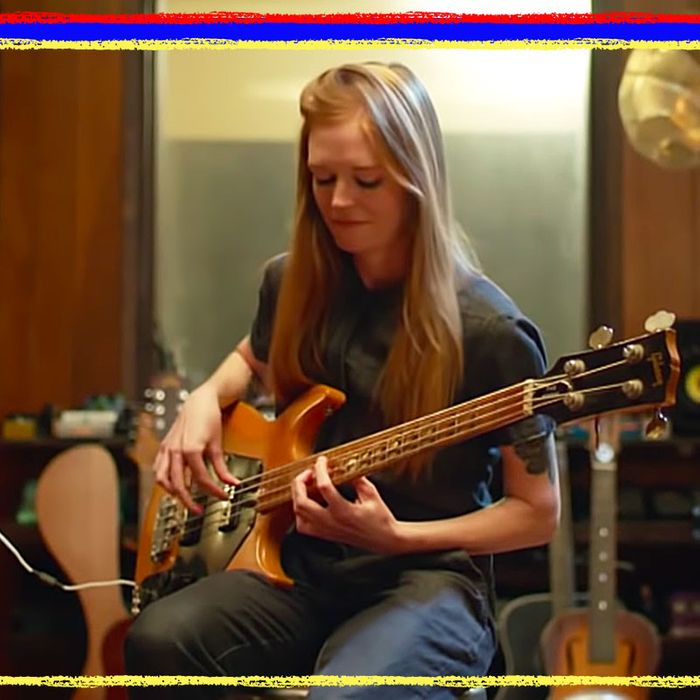 Bassist Anna Butterss, who shares a Boygenius story below.
Photo-Illustration: Vulture and The Late Show with Stephen Colbert/YouTube
Pop music today is dominated by electronic instruments, jack-of-all-trades producers, and musicians with a DIY determination. But session playing isn't a lost art. Far from it: Recent albums by everyone from Phoebe Bridgers to Beyoncé wouldn't exist without their session musicians, hired onto recordings to accompany the artists. Mac McAnally, a ten-time Country Music Association Musician of the Year, has become comfortable with his role over decades — especially playing acoustic guitar, which he notes can be a less-noticed instrument. "I don't need to put my stamp on their record," he says. "I need to make their song a little bit better because I was there."
Contemporary session musicians have to do other stuff, too. They write, produce, or tour; some record their own music or are members of bands. "It's a funny subject, session work in this day and age," says Homer Steinweiss, a go-to drummer of producer Mark Ronson's. He grew up with an interest in '60s and '70s soul music, a sound that was indebted to bands like the Funk Brothers in Motown or the Fame Gang in Muscle Shoals, Alabama. Today, he writes and produces himself, along with playing in the Dap-Kings, the former backing band of the late Sharon Jones. "I feel like the session world is a little bit smaller and a little bit more specific," he adds. "You don't find that you're out working in a session like 200 days a year. It's just different."
What hasn't changed is the "magic," as it's often put, of a good session. Sometimes that's born from a yearslong partnership with a producer or band; other times, it's just from one good day or week of work. Arnetta Johnson, a trumpeter who's toured and recorded with Beyoncé, among others, makes it all sound easy: "You go in, and then everybody hits play on the record, and it's like, 'All right, what we got?' And they come up with a line, and they would sing it, and I would have to play it back and make sure it has the right bop to it," she says. "Then a couple hours later, it all comes together."
That's not always the case, of course. There are many chances for things to go wrong. Session musicians tend to be brought in with tight schedules, sometimes at the very last minute, often playing music they haven't seen before. They might not be able to communicate well with producers, or interpret an artist's difficult vision, or even jell with their fellow performers. A finished piece of music, when it all clicks, is a small miracle. Take it from a veteran like McAnally: "When really good players in a really good studio with a really good song are looking at one another in the eye, and they hear it the way it's supposed to be for the very first time it ever happens: That's a particular magic thing."
Vulture spoke to eight session musicians, across instruments and genres, about their hardest days in the studio — which, more often than not, also ended up being some of the most rewarding.
Akenya
Mavis Staples's If All I Was Was Black (2017), backing vocals
She's a legend. People throw that word around willy-nilly, but she legitimately, actually is one. My mother happened to grow up hearing the Staple Singers sing in the neighborhood and actually was friends with their cousins and nephews. So, there was this Chicago-legend energy around the whole thing.
A lot of the work I've done in the studio has either been my own stuff or features. So I'll lay some harmonies, but it's my session. [Laughs.] This was a new endeavor for me. They asked me to come in because they thought one of their typical vocalists wasn't going to be able to make it, but then they could make it. But then they just wanted to work with me. So there ended up being four background vocalists, where there are usually three, so we also had to make some adjustments, harmonically. On the song "Peaceful Dream," they were having a hard time getting my vocals to blend, because it was originally a three-part harmony. When I went back and listened to the record, I was like, I don't think they ended up using my vocals on this one. [Laughs.] Mavis was listening to me sing it, and she was like, "God, you sound like an angel. You have such an incredible voice." She is someone who could certainly have an air about her if she wanted to. And she doesn't, like at all.
I was pretty sick that day. I had just had a seizure a few days before. I suffer from epilepsy, but I don't have seizures very frequently. I was also sick, unbeknownst to me at the time, with Lyme disease. I think that, mixed with some stress I was under, caused the seizure. So I wasn't actually sure if I was going to make it to the sessions at all. I had to lie down and take a break from the session, and she was like, "We've got to get you feeling better. We need you in this industry." It was so inspiring to have her applaud me [like that]. Definitely one of the highlights of my music career.
Anna Butterss
Boygenius's boygenius (2018), electric and upright bass
I had been playing a regular Monday-night show with [Tortoise guitarist] Jeff Parker, Jay Bellerose, and Josh Johnson. It must've been late 2017, I got an Instagram message from someone who was like, "Hey, I saw you play. We're looking for a bass player for this tour with Phoebe Bridgers." I was like, I don't know who that is. [Laughs.] One of my goals was playing more electric bass. So I was like, Actually, this is really aligned with what I'm trying to do right now.
I got a text from Phoebe at about 11 a.m. on a Sunday, and I got out of bed and got in the car. She didn't tell me what it was for. Lucy [Dacus] and Julien [Baker] were there, whom I hadn't met. And they were like, "We're recording this [Boygenius] record," and I was like, "All right!"
We were just tracking bass that afternoon, which is a bit of pressure, 'cause everything revolves around how good of a job I do. [Laughs.] None of the music had been played before with a band, so we were starting from scratch. I would try to make a chart for the song while I was listening to it, which was a useful jazz skill I learned.
The electric stuff, for whatever reason, we decided to track it in the control room while everyone else was there. It's not a huge room — the size of a small living room. I was sweating a little bit for sure. [Laughs.] At times, people would forget that we were tracking. So people would start a conversation or start joking around, when I'm still tracking the part. It was definitely a good group of people and a good vibe.
Phoebe had a particular idea of what she wanted the bass to do [on "Me & My Dog"]. I think she played me a Bon Iver song where the bass is playing chords as a bass line. We recorded three bass parts and then put bits on top of each other to make it into a chordal thing. It turned out really nice. When they were preparing for the Boygenius tour, the bass player got in touch and was like, "I can't figure it out; how did you do this shit?" I was like, "I'm so sorry, I don't think it's possible to play it." [Laughs.] I felt so bad. 'Cause at the time, I was like, "This sounds dope," and then this poor bass player was having to figure out this thing that I'm sure isn't actually possible to play. I didn't think that far ahead.
It was really cool to be there at the start, when the music was super-fresh, no one had heard it, and it was just being created. And especially in that environment where they're all very open. It's a nice combination, to have strong, clear ideas of how you want it to sound, but to also be not married to them, which is something that I definitely try to take with me into other situations.
J.P. Floyd
Mac Miller's Swimming (2018), trombone
In 2013, my band Kids These Days performed at Coachella. We knew that we were going to break up, but we wanted to finish up every gig that we had. Our managers at the time were working with Frank Ocean. And I did an audition in between doing those Coachella weekends. It was me and my boy Nico Segal [also of Kids These Days]; he used to go by Donnie Trumpet. We both got the Frank Ocean gig, doing California Live [his 2013 tour]. While doing that, I met this cat named Vic [Weinstein] who was working with the Odd Future–Mac Miller camp. So fast-forward, Vic reconnected with me off the Jammcard [music networking] app, and he was trying to link me up to do this Mac Miller session.
I knew about Mac Miller, but I didn't listen to his music. He's just chill as fuck, you know what I'm saying? He's got his blunt; he's just vibing, joking around. But then creatively, he was so in tune with everything that we were doing. He was singing different horn ideas and singing background vocals, on top of just the bars that he's got to spit too. But he basically already had his vocals laid down. I just love his musicianship. He was open to everything. It wasn't like my way or the highway; it was this collaboration, as far as ideas.
We actually played on a whole bunch of different songs, but he ended up just using the horns that we did on the song "Ladders." It wasn't difficult — I love that effort, where you're just thinking of something fresh. He was literally with us the whole time. And we were all still brainstorming parts and figuring out harmonies, maybe this line could be stronger as a three-part.
It was unfortunate, once you heard that he passed away. I was like, damn — that was my first and only time meeting him and working with him. That made that session that much more special. You've got to cherish that. I definitely became a bigger Mac supporter and fan. Especially just hearing the music world, too — even Chance always goes back to his K.I.D.S. mixtape. He was like, "Yo, that shit kind of inspired me to do like Acid Rap and even like 10 Day." I've known Chance for quite some time, and we both come from Chicago, so we done seen everything. It was just dope that you can make a project talking about experiences that you go through on the day-to-day, and then put a hook, put some bars on it, and everybody can relate to it, sing along to it, and it can be memorable.
Not to be too dark, but I mean, we're musicians. [Laughs.] But if you can just put your all and put your voice, put your opinions, put your demons, put your angels — you put all of that shit on the music, then that always lasts forever. The songs were filled with so much light. You've just got to utilize the music and utilize the blessing that we have.
Arnetta Johnson
The Carters's (Beyoncé and Jay-Z) Everything Is Love (2018), trumpet
I've got to go with the Beyoncé recording, all day. When I was younger, I linked up with Tia Fuller, the saxophonist. She took me under her wing, and she's a mentor of mine to this day. She introduced me to Kristin Torres, and then Kristin introduced me to Derek Dixie. That's how I got involved working with Derek Dixie at Parkwood. Working with him — when we would go into the studio to record, he's very clear with what he wants. Although we're in there enjoying ourselves, we're still being creative, taking time to come up with more arrangements and ideas, and getting his ideas out and putting sound to them. Then just hearing it all together, it always comes out so great.
When we walk in, we're all hyped to see each other, but at the same time, we still have that equal balance with getting the job done. When you can walk in and the familiarity is there, the energy is following, then we can be creative, have fun with it, and not take things too serious. Being too serious can ruin things sometimes. [Laughs.]
I can't go too far into details exactly, with how I worked with [Beyoncé, Jay-Z, and Parkwood]. Everybody's pretty much in touch with what's going on. We were definitely excited when it came out [by surprise]. All the work we put in — getting a project done, in the midst of post-Coachella and being on tour. But I remember that day, we were ready to turn up.
Instantly, the first thing I picked up on was the importance of discipline and investing in a team. She has a team of people who help bring her vision to life. A lot of us out here, we're like, "I don't need nobody." I'm not a big fan of that concept. I love how she's a go-getter. No matter how high up you might be, there's still room for growth. That's definitely something that I hope translates to my own personal career: to constantly aim for more, expect greatness, build a team of people who can bring my vision to life.
Mac McAnally
Unnamed album, acoustic guitar
My mom was a gospel piano player, so that was the initial kick into the music world for me. I started playing these honky-tonks when I was 13 — places my parents had never been and would never go. Playing those state-line bars served as an intro to the session players in Muscle Shoals, because Muscle Shoals was [in] a dry county, and if you wanted to play live music, you had to go across the Tennessee line. So I met those guys who were playing at Fame and Muscle Shoals Sound, those two rhythm sections, and Wishbone, where I ended up playing some myself.
I'm such a bashful guy — I literally would never have gone and knocked on the door of a studio. These state-line honky-tonks were rough, and I'm 13. When the band took a break, I was afraid to get off the stage. So I would go sit behind my piano and practice acoustic guitar. They came and listened to me play a little bit, and eventually they asked me if I would have any interest in playing in the studios. Of course I did.
There was not really a dedicated acoustic player, so it happened at a good time for me. At that time, you were either a Fame guy or a Muscle Sound guy, or a Broadway guy, or a Wishbone guy. They didn't cross. But because there wasn't an acoustic player, I got to go and play with all of those folks. And getting to learn from all of them at once was fabulous for me.
The deal down there is, it's got to groove. That is what made this session so hard. I got called to overdub on an album that a band had come and recorded. I probably wouldn't tell their name if I could remember it, but I can't remember it. It was a rock-and-roll band that the dad was the bass player and the lead singer, and the son was the drummer. I never met them — they had already recorded all their tracks when I got there. The producer called me, who was a friend of mine, and said, "The drummer rushes all the time, and the dad rushes more than the drummer. What I need you to do is to get between them somewhere and stay there." [Laughs.]
These days, if something's ahead of the beat or behind the beat, people just grab it and slide it and it ends up on the beat. It's no big deal. But in those days, it was analog tape. My nature is to play — I don't want to say behind the beat, but to be really relaxed about it. So this particular task was a hundred percent against my nature, and it was against the nature of Muscle Shoals. And it was an entire album; it wasn't one song. They just said, "Here are the charts. Just do your best."
It was one of the hardest things that I've ever done. There probably never were four bars in a row that felt like I was helping things. My mindset as a session player is, I want it to be a little bit better because I was there. I learned from that one that it's all relative. This [producer] had asked me to do specifically what I did, and he felt like it made it better. In retrospect, I worked my butt off. I just didn't go home as happy as I usually went home. Even just bringing it up stood the hair up on the back of my neck. I remember exactly what it felt like, about noon that day, knowing that I was going to be there until daylight the next morning, and doing the same thing I was doing, and I wasn't ever going to feel great about it.
There's no way that I deserved ten CMA Awards as Musician of the Year, but I'm really grateful to have some and to be in the company of the folks who have been nominated. I'm not the guy who plays the hot guitar solo. I'm an accompanist. It's not a big, standout job. It's sort of a workman's job, but I do love it.
Rob Moose
Phoebe Bridgers's Punisher (2020), strings
I got in this really terrible bike accident [a few weeks before]. I had fractured my femur, and as a relatively young person, it's really hard to do that. So I have to spend three months on crutches. And I also had bruised the bone on my right arm, so holding a bow was very difficult. It was around that time, where I was on bed rest, that I started getting songs for Phoebe's album. I'd worked on Stranger in the Alps, and they were gearing up to bring some of the same people back into the room. I really wanted to be a part of it. Finding Phoebe has been like a new-generation version of my affiliation with Bon Iver and Antony and the Johnsons.
I finally hear from Phoebe's people saying the deadline for turning in the album is October 15. I'm looking at my calendar and my next free day is in November. There were these two travel days on the Sara Bareilles tour [that I was music directing]. And I thought I could wake up in Raleigh, get on the first flight to L.A., go straight to the studio, record all day, go to sleep, record all day the next day, and then get on a red-eye to Boston. Would anybody else do this, much less while being on crutches? Probably not, but this is what I've got.
What I hadn't thought about was how difficult it was going to be for me to do a full-day session. I had done shows, but to sit in the chair and play string stuff for eight hours a day is pretty physically demanding. A lot of this went into the music, and I can kind of hear the physical condition I was in. (Actually, I think it was great Method acting for Phoebe Bridgers stuff.)
I felt the pressure to almost one-up myself from the previous album. A lot of people come up to me and say, "I love what you did on 'Smoke Signals.'" And I wanted to have a new thing for those people to chew on. I felt like ["Savior Complex"] was an opportunity to do a direct follow-up to "Smoke Signals," where I'd come up with this melody that wove around itself in a rhythmically nebulous way — that was the theme for that song, in my mind. I ended up writing this melody for the first reintro that I was really proud of. Then there was the bridge, where it goes to a different key, and I thought, What if I could take this melody and bring it back almost in a fugal way, and in a different key?
I remember being midway into building it and somebody spoke to me over the talkback system in the headphones, like, "Each layer that you're adding, you're almost subtracting from what you've already done." I was so attached to this. And I know that when I leave, this thing is just going to disappear. I once worked on a project with Jay-Z [for seven days], and everything that we did didn't get used.
We simplified it. On the final recording, you hear that lone violin reemerge, as if from earlier in the song, and then on the second phrase, it gets swallowed. Then suddenly all these strings come back when the key changes again, and it's like this glorious payoff that never was. It's beautiful and I like what they did, but I felt like I was mourning a loss of some creation I had made.
Henry Solomon
Mon Laferte's Norma (2018), saxophone and flute
I was totally fresh on her music. When I listened to her music before this, I thought it was going to be completely different. It was a big band: three different percussionists and five horns, and bass, piano, guitars. I didn't know it was going to be all in the same room. That's sort of where I come from in jazz music, where everyone's just playing together. I think it's rare for someone like that to be like, "You guys can just play if you have ideas; play whatever, whenever." She was also singing live in the room, so it was super old-school. Thinking back, it's like, Wow, it was pretty risky of her. She didn't know us that well.
There's something about Capitol Studios as a horn player — you hear this level of detail in your sound that I've never really experienced anywhere else. I had three saxophones and a flute. I'm an okay flute player, but again, if you're playing flute in this room, you're hearing every little detail. [Laughs.] The absolute antithesis of what you want to do is play anything related to swing — which is kind of what I grew up doing. So whenever I play Latin music, I always have to be extra careful not to be swinging the eighth notes, because it just sounds so wrong over this rhythmic framework. And we're just doing full takes, straight through, so there's no stopping and correcting stuff. [Laughs.] We did a shitload of takes of every song.
Everyone spoke Spanish except me, basically. [Laughs.] So I was just really quiet most of the time. The producer was Omar Rodríguez-López, from the Mars Volta, and he was translating a little bit. So I felt like, Okay, I need to make sure everybody knows that I can understand this style. I don't want to be this random dude from L.A. who can't hang with this music.
Mon and Omar navigated the session to make everyone feel really comfortable. Omar — seeing his patience and what suggestions he would make, and just the energy that he put in the room to draw out the music — I thought was super powerful. It's hard to describe — just how to create this atmosphere where the music can really come out in a way that's the most organic. From a producing standpoint, I think that's really masterful. Ariel [Rechtshaid] and Rostam [Batmanglij] are totally like that also. Rostam would get me to play shit that I wouldn't have thought that I could play. Sometimes I listen to the stuff I've recorded on his music, and I'm like, I don't know how I was able to play that.
Homer Steinweiss
Paul McCartney's New (2013), drums
One of the great things about Mark [Ronson] is that he's so connected. When I get the call, I'm like, Oh, sweet, what's Mark bringing to the table today? So he calls us up and he's like, "Hey, we have this session at Avatar. It's Paul McCartney. I told him about you guys." About me, [bassist] Nick [Movshon], [pianist] Victor [Axelrod], and [guitarist] Tommy [Brenneck] — the rhythm section that Mark likes to use. We played on the Amy Winehouse record [Back to Black] together.
We were just like, "Holy fuck." Of all the musicians whom you could get called to play in a session with, I think Paul McCartney is probably one of the most intimidating you could think of. We all grew up on his music, and he's such a fucking beast of a musician and a songwriter. You work with him, and they're like, "Okay, you're good; you made it; you're done."
So we go in there, and Mark shows us these demos of Paul McCartney's. The demos are super hooked up. He plays bass and guitar and drums on all his own records all the time, so his demo sounds like a completed thing. I was like, Uh-oh, it's not going to be easy to get better than that. We work on the songs for what I remember as the whole day.
Then Paul comes in. We play him the thing that we did ["Alligator"], and he was like, "It's not bad. I think I could do it better though." [Laughs.] And we were like, Oh shit. Then we did the other song ["New"], and this was when it got really hard, because then Paul was playing with us. And it was a shuffle, which is not something that I like to play. It's really just like, boom, whack, boom, whack, but it has a certain swing in between it. "Penny Lane," there's a classic Beatles shuffle. As a session drummer, I just don't do shuffles very well. But this was the song I was going to play in the studio with Paul McCartney, with him singing in my headphones live and playing piano. And I'm just not shuffling right. I think he might have mentioned that Ringo had a better shuffle than me, and then that was that. [Laughs.]
He ended up not using any of the shit we did that day. I remember a certain point, Mark Ronson actually said in my ears, "You're playing on a session with Paul McCartney — play better!" [Laughs.] It was just not my best day. I already knew Paul McCartney was a genius musician and songwriter, so when he was not impressed with our musicianship, it wasn't a shock. It makes sense: You're Paul McCartney; I'm just some guy. I just think it wasn't meant to be. I was kind of bummed out, but also like, That's how I did, and this is a good time to have a beer.
At the same time, it was an accomplishment in itself to work with someone who I was raised on their music, and almost more fitting that it didn't really click. That's the beauty of the Beatles records — they put all these ingredients together and everything was magical. As a session musician, when you do a lot of different projects, you learn how certain relationships form over time. It's like any social situation, where you have people you get along with and people you don't. Sometimes you get into a room with a bunch of random musicians or a songwriter or whatever and nothing really comes of it. And sometimes the first day with someone is really magical and you end up working together for the next 20 years.
Are you a backing musician with a great session story to share? Let us know at stories@vulture.com.