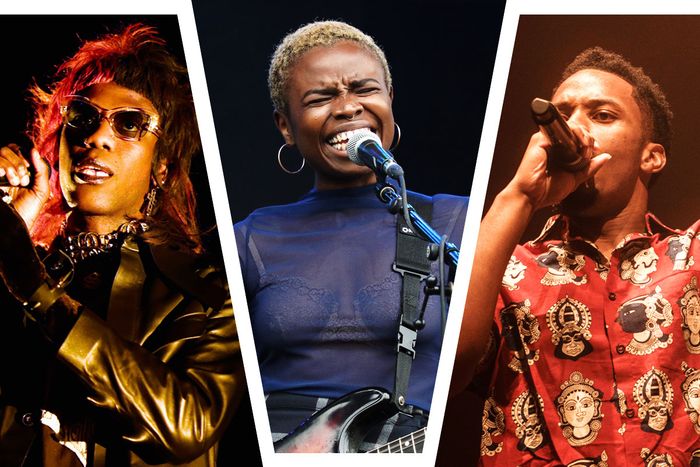 Yves Tumor, Vagabon, and Denzel Curry.
Photo-Illustration: Vulture, Getty Images and Shutterstock
The coronavirus pandemic has put indie musicians in a tougher spot than most have ever been in before, with no ability to tour traditionally — and, therefore, sell more merch in person — due to social-distancing measures and bans on large gatherings. It's also given fans a conundrum: What's the best way to support independent music right now? Bandcamp provided one answer on March 20, when the music-distribution site gave 100 percent of profits directly to artists and sold $4.3 million in music and merch — 15 times a typical day of sales. Many labels gave up their share too, and some even made all their music pay-what-you-can. (Most music for sale on Bandcamp has a minimum price, but you can always pay more to go directly to the artist.) So Bandcamp is going to do it again on the first Friday of the next three months, directing 100 percent of its profits to artists on May 1, June 5, and July 3 from midnight to midnight Pacific Time (e.g., 3 a.m. Eastern on May 1 to 3 a.m. on May 2). Here are 22 musicians across all genres, along with a record label and a compilation, worth checking out any day on Bandcamp — but those days especially.
Black Belt Eagle Scout
Northwest Washington, especially Seattle, has been among the areas hit hardest by the coronavirus pandemic, as the site of one of the first outbreaks in the U.S. Katherine Paul grew up an hour or so away, in the Swinomish Indian Tribal Community, which informs her music as Black Belt Eagle Scout. Now based in Portland, she postponed her Turtle Island tour due to the coronavirus, but you can buy her lush, celebratory 2019 record At the Party With My Brown Friends now.
Control Top
Bare-bones Philly hardcore trio Control Top put on one of the most electric live shows I saw last year, and it's a shame their spring tour for anti-capitalist debut album Covert Contracts is a casualty of this pandemic. Good thing their tour merch, like T-shirts that say "Eat Shit," double as a perfect expression of everything we're feeling right now — pair it with polished new single "One Good Day."
Denzel Curry & Kenny Beats
One of the hardest producers in hip-hop right now, Kenny Beats, who's recently produced full projects for Rico Nasty and Vince Staples, teamed up with razor-sharp Miami rapper Denzel Curry on February's UNLOCKED, an EP that'll give you whiplash. Find more where that came from in Kenny Beats's and Denzel Curry's discographies.
Dirty Projectors
If you've been meaning to do a deep-dive into Brooklyn indie giants Dirty Projectors, now's your chance. The band is forgoing its own profits through April 3, instead donating toward MusiCares' COVID-19 Relief Fund. They also recorded a cover of John Lennon's "Isolation" to benefit the fund.
Dogleg
An emo record named after a video game just screams social distancing — sometimes even literally, like when Dogleg's Alex Stoitsiadis sings, "Get drunk with your friends and stay home / I don't care if I'm the one that stays alone." Melee, the Detroit band's debut on Triple Crown, is an early contender for the best rock record of the year, 35 ear-splitting minutes of poignant, symphonic chaos.
Downtown Boys
These days, there's never a bad time to listen to radical garage-rock band Downtown Boys. Their songs touch on socialism, anti-racism and racial pride, community support, and overthrowing the rich, all of which feel particularly relevant in this pandemic. Order their new digital single, out May 1 for both the Bandcamp event and International Workers Day. Plus, their first album Full Communism includes a burning cover of Bruce Springsteen's "Dancing in the Dark," for when you get tired and bored with yourself.
Fountains of Wayne
Power-pop heroes Fountains of Wayne lost the glue of their band, songwriter Adam Schlesinger, to COVID-19 at the beginning of April. Sharon Van Etten (whose catalogue is also on Bandcamp) recently stepped in for Schlesinger on bass for a poignant take on "Hackensack" during the "Jersey 4 Jersey" benefit, and now, a cut of that performance is on Bandcamp through the month of May. All proceeds will once again benefit the New Jersey Pandemic Relief Fund.
glass beach
Wanna take a journey without leaving the confines of your home? Just pop on glass beach's first album the first glass beach album, a jazzy emo epic like, well, nothing you've heard before. Get it on cassette, CD, or neon-red vinyl. Warning: A song like "bedroom community" might hit a little too close right now.
Half Waif
Find comfort in the new album by Half Waif, The Caretaker. Let Nandi Rose's synths wash over you as you listen to her glossy, confident voice. She wrote the album alone at her Hudson Valley home, aiming to capture a character who struggles to do what's expected of her while shut off from society. You can connect the dots.
Irreversible Entanglements
Irreversible Entanglements' latest blend of free jazz and spoken-word poetry, Who Sent You?, is captivating and intoxicating. If you turn on jazz expecting background music, you won't get that from Irreversible Entanglements — poet Moor Mother demands your attention as the musicians backing her set up an explosion.
Jay Som
Bedroom pop usually means music made in a bedroom, but Jay Som's music toes the line between chill and dancey in a way that can fit any bedroom mood during your social distancing. Melina Duterte had to postpone a European tour for third album Anak Ko, but you can still buy some merch, like a hat or pair of socks.
Kaitlyn Aurelia Smith
Quell your anxieties by getting lost in one of Kaitlyn Aurelia Smith's lush soundscapes, such as her new ten-minute single "Expanding Electricity" off upcoming new album The Mosaic of Transformation. It sounds like discovering a community of wood nymphs in the middle of a magical forest, and if that's not what you need right now, I don't know what is.
Knxwledge
You might only know Knxwledge as an Anderson .Paak collaborator in their duo NxWorries, but the prolific, soulful hip-hop producer's solo work vibes just as much — maybe more, actually, with nearly 100 releases on Bandcamp in his decade-long career. Scroll through his page and stop on a random release, or just work backward and order 1988, his second "proper" album on Stones Throw released March 27.
Lido Pimienta
Lido Pimienta holds the simultaneously impressive and frustrating title of being the first musician to win Canada's Polaris Prize for a Spanish-language album, in 2017 with La Papessa. On her follow-up, Miss Colombia (a tongue-in-cheek reference to Steve Harvey's slip), she builds upon her previous work to blend electronic and traditional Afro-Colombian music while deconstructing her own relationships to heritage and race.
Mannequin Pussy
After making one of the best albums of 2019, the intense and moody Patience, Mannequin Pussy recently had to cancel the rest of their spring tour opening for Best Coast. They're selling merch from that tour on Bandcamp, including a wonderful pair of underwear to wear around the house during your quarantine.
New Amsterdam Records
You could pick one artist off innovative new music label New Amsterdam, whose flagships include Pulitzer winner Caroline Shaw and MacArthur "genius" grant recipient Mary Halvorson, or you could get it all by purchasing a subscription for just $85 a year — which gets you 14 back-catalogue releases along with 15-20 throughout the year.
Nick Hakim
The coronavirus pandemic didn't stop enigmatic psychedelic-rock performer Nick Hakim from announcing his second album at the end of March. The sprawling seven-and-a-half-minute elegy "QADIR" sets the stage for WILL THIS MAKE ME GOOD, out May 15. Preorder the album on Bandcamp-exclusive clear vinyl.
Ohmme
Chicago pop-rock duo Ohmme released their first single off new album Fantasize Your Ghost earlier in March, and "3 2 4 3" is fittingly one of their darkest, thickest cuts yet. Going for something a bit lighter? Pick their breakout 2018 album Parts instead, or the sketched T-shirt for their 2017 debut.
Laura Stevenson
When you lose track of what day it is, as you inevitably will, just put on Laura Stevenson's new song "Time Bandits" and remind yourself it's not your fault. The New York folk singer-songwriter came up as a DIY hero in Bomb the Music Industry!, and recently released a heartwarming EP of Neil Young covers with former bandleader Jeff Rosenstock.
Ratboys
Ratboys are a much more polished band than their name would let on. Printer's Devil, the third album by the hard-to-categorize Chicago rock band — which blends hardcore, pop, and Soccer Mommy–esque indie rock — is a symphony. The guitars rip, the lyrics punch, and singer Julia Steiner's voice sparkles. If you're lucky, you can get one of the last 20 copies (as of the afternoon of April 30) of the album's limited 600-press sandstorm vinyl.
The Song Is Coming From Inside the House
This is a benefit compilation tailor-made for the indecisive indie-rock fan. Twenty-four musicians — including two recommended here, Downtown Boys and Ratboys, along with Mount Eerie, Palehound, Sadie Dupuis of Speedy Ortiz, and Harmony Tividad of Girlpool, among others — sent in B-sides and demos for the Bandcamp-exclusive The Song Is Coming From Inside the House, organized by Philadelphia band Strange Ranger. All profits will benefit the Groundswell Rapid Response Fund any day, but even more on May 1, June 5, and July 3.
Vagabon
Laetitia Tamko's latest, self-titled album as Vagabon is a collection of dense, almost-orchestral indie pop, drawing from rock and R&B while foregrounding her syrupy voice. It won't leave you bored, and there's no better time to check it out than now, after she's had to cancel her spring tour.
Waxahatchee
Aside from Fiona Apple (who does not have a Bandcamp), Waxahatchee's Saint Cloud is one of the best albums so far of this young, long year. Alabama DIY stalwart Katie Crutchfield turns toward her Southern roots, channeling Lucinda Williams's Car Wheels on a Gravel Road for a stunning Americana meditation on place, sobriety, and relationships. It's deceptively simple, and then it hits you.
Yves Tumor
Breakout R&B-inflected experimental musician Yves Tumor (née Sean Bowie) has to postpone his spring tour for album Heaven to a Tortured Mind, but the coronavirus didn't stop the release from happening on April 3. Order the record, marked by a grander sound from a fuller band, or snatch some of the tour merch — including some May 1 exclusive items.