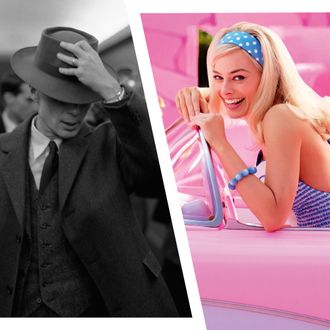 Who you got?
Photo-Illustration: Vulture. Photos: Universal; Warner Bros.
The grand Barbie x Oppenheimer war is coming to your social-media feed. Or maybe it's not? The two highly anticipated films arriving on the same day has been tantalizing the internet for months now, but as D-Day (July 21, for what it's worth) looms closer and closer, conversation on the Barbenheimer phenomenon has reached a fever pitch. But are the two at war or not? People seem divided. Some are fervent supporters of one side, while others are simply happy to have two interesting, non-sequel movies out on the same day. The meme community is refusing consensus! For our part, we support whichever side has funnier memes. Greta Gerwig and Christopher Nolan may seem diametrically opposed, but both provide great fodder whether they're at war or not. So will you cast a vote with your opening-weekend ticket purchase? Or will you, like Tom Cruise, simply do a Barbenheimer double feature? Sit back and let the memes guide you.
It's a War
It's an Alliance
This post has been updated with more memes.