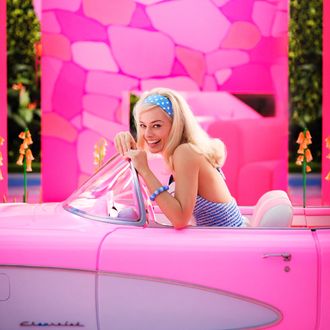 Barbie girl.
Photo: Warner Bros. Pictures
Welcome to Barbie's Dream House. Did we mention it was a fever dream? Making a Barbie movie is one thing, but making a Barbie movie directed by indie darling Greta Gerwig of Lady Bird and Little Women fame is a completely different beast. Set to release July 21, 2023 — the hype is building with each new plot detail, poster, and unearthed Letterboxd account we get. The film has even been snatching up Hollywood celebs in its manicured plastic fists to the point where it's getting harder and harder to keep track. Below, all the casting, trailer, release-date, soundtrack, and underwear-merch details we know so far about Barbie. C'mon, jump in.
Can I get the Barbie basics?
First, we know Gerwig and her husband, Marriage Story writer Noah Baumbach, are writing the screenplay and Gerwig is directing. Margot Robbie took on the starring role of the Mattel doll after Amy Schumer dropped out over creative differences, and Ryan Gosling will play Ken. Photos and posters with both the stars have been released, and if neither of them makes your heart flutter, you're boring!
Schumer left the project because she very specifically wanted Barbie to be an "ambitious inventor." She dropped out before Gerwig and Baumbach came onto the project but after the studio asked her if Barbie's invention could be a "high heel made out of Jell-O." That was absolutely sexist but sounds fun to try on.
Before being produced by Warner Bros, the film was originally going to be produced by Sony and had "a fish-out-of-water story a la Splash and Big, whereby Barbie gets kicked out of Barbieland because she's not perfect enough, a bit eccentric and doesn't fit in," Deadline reported. In the original plot, "she then goes on an adventure in the real world and by the time she returns to Barbieland to save it, she has gained the realization that perfection comes on the inside, not the outside, and that the key to happiness is belief in oneself, free of the obligation to adhere to some unattainable standard of perfection." While the "real world" concept has been maintained, this movie looks more like a meta-examination of girlhood and Barbie's impact than it does like a story of individuality. While writing the script with Baumbach, Greta told CinemaCon they "we were making each other laugh all the time, and it got to a point where we were making each other cry. It got to a point where he wanted to direct, and I said, 'Step aside!'" Star Issa Rae dropped another clue that the film was a little … high concept. "[Gerwig] was like, 'I just need to explain what it is,'" Rae teased in a December 7 story. "And I'll be 100 percent honest, when she was talking, like, it was entertaining, but I didn't get it. I was like, 'I don't know what the fuck she was talking about, but whatever it is, I'm excited she's behind it.' And then reading it was, like, 'Oh my God, I love her even more.'" A Barbie movie that confuses Issa Rae? Oh, we're so in.
What is going on in the trailer?
The official Barbie trailer debuted on May 25, and it gave us, to quote the Indigo Girls (who are featured in the trailer along with Kate McKinnon, holding a Birkenstock — a clear example of strong lesbian representation), "insight between black and white." Though, in this trailer, it's less "black and white" than it is hot pink and every other color in the rainbow. The trailer gives us a lot of the plot, which was a big question mark previously. It turns out Barbie will follow Barbie's journey into the real world after she begins to have very "adult" thoughts like "Do you guys ever think about dying?" In the real world, she must confront issues like the law saying that she's not allowed to punch guys who grab her butt in the face (#JusticeForBarbie, honestly) and the fact that teen girls don't care about her. The trailer indicates that there will be a meta-analysis of Barbie's popularity and impact, with Will Ferrell playing the CEO of Mattel, who doesn't want Barbie in the real world, and Barbie confronting ideas about who does and doesn't support her.
Previously, Avatar: The Way of Water audiences were treated to a teaser trailer entering a fantastical world entirely separate from Pandora — Barbie Land. On December 16, Warner Bros. released the teaser for the upcoming film, which is still a bit low on plot. The teaser, above, is a reference to the ape scene from Stanley Kubrick's 2001: A Space Odyssey, giving more credence to the whole "Barbie is going highbrow" theory. Featured in the teaser are short clips of the rest of Barbie's world — including some recognizable faces.
Who is in the cast and what are they up to?
Every actor you've heard of in the past five years is either in this movie or in Christopher Nolan's Oppenheimer. AND They're all Barbies, duh! Or a lot of them are, anyway. Along with the many, many Barbies of high repute, is an extended cast who will play humans and other, lesser dolls, like Kens. Also, Helen Mirren is the narrator. Barbie movie socials are going all out with individual character posters introducing the massive ensemble.
Margot Robbie is the ur-Barbie, but the others include Dua Lipa, who's contributing music to the soundtrack, as Mermaid Barbie and Issa Rae as President Barbie. Sex Education standout and Margot Robbie clone Emma Mackey is a Barbie with a Nobel Prize in physics, giving Robbie and Mackey a chance to prove they're not actually the same person in different fonts. (Now all we need is for Samara Weaving and Jaime Pressly to join the cast for true ascendance.) Ritu Arya is a Barbie with a Pulitzer. Hari Nef is Doctor Barbie. Sharon Rooney is Lawyer Barbie. Ana Cruz Kayne is Supreme Court Justice Barbie, and Nicola Coughlan is Diplomat Barbie. Alexandra Shipp is a Barbie who is "a celebrated author," and Kate McKinnon is your little sister's Barbie: choppy haircut, crayon all over her face, and "always in the splits."
And then there are the Kens. We all know Ryan Gosling is Ken, but so are Simu Liu, Kingsley Ben-Adir, Scott Evans, and Ncuti Gatwa. None of them have jobs. Their job is being Kens. "Up until that point, I only knew Ken from afar. I didn't know Ken from within," Ryan Gosling explained of his process at CinemaCon. If I'm being really honest, I doubted my Kenergy. I didn't see it. Margot and Greta conjured this out of me. I was living my life and then, one day, I was bleaching my hair. Shaving my legs. And wearing bespoke neon outfits and Rollerblading down Venice Beach. It came on like a fever. Like a scarlet fever. Like a pink fever." The wild cards in this bunch are Emerald Fennell as Midge ("She's Midge") and Michael Cera as Allan ("There's only one Allan"). Ginger outcasts, our money is on these two underdogs turning evil and overthrowing Barbie society.
Finally, there are the humans: America Ferrera, Ariana Greenblatt, and Helen Mirren as the narrator. And there's the boy humans: CEO Will Ferrell ("Please call me mother"), Connor Swindells ("He's like an intern or something"), and Jamie Demetriou ("He's a suit").
Is anyone not in Barbie?
Apparently not. The second teaser confirmed Jon Cena, famously a WWE action figure, is also making an appearance. Even Saoirse Ronan was rumored to be joining the cast, but confirmed she had a conflict.
Okay, we know what the movie looks like, but what does it sound like?
The soundtrack is a smorgasbord of stars and styles with a common dance-pop edge. The artists performing on the album were announced on May 25, and the list includes Ava Max, Charli XCX, Dominic Fike, Fifty Fifty, Gayle, Haim, Ice Spice, Kali, Karol G, Khalid, Lizzo, Nicki Minaj, PinkPantheress, Tame Impala, and the Kid Laroi, with Barbie stars Ryan Gosling and Dua Lipa also included. The album's executive music producer is Mark Ronson, and it will be out July 21.
Dua Lipa's song will be the album's first single. The disco-pop mermaid's "Dance the Night," out May 26, sounds like a Future Nostalgia cut, what with its '70s string melody and syncopated rhythms. The song was first teased on Dua Lipa's socials with a visual of Barbie feet followed by the singer herself. C'mon, Beyoncé, we're begging you to join in on the party.
Do you know where we can get Ryan Gosling's Ken underwear?
No!!
This story has been updated throughout.