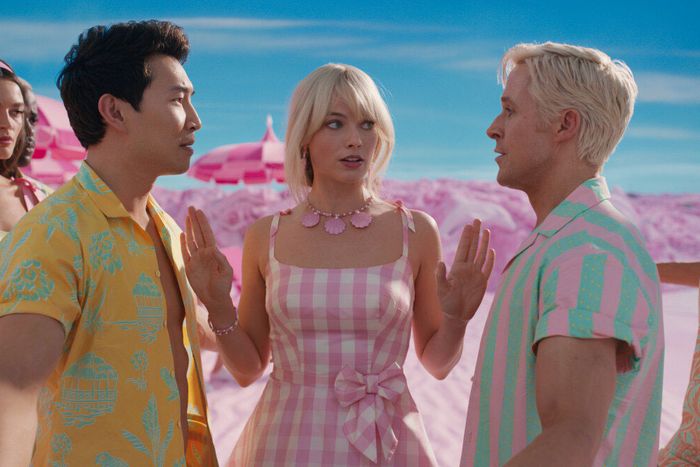 Greta Gerwig made a weird movie based on a famous toy line. Should that be enough?
Photo: Courtesy Warner Bros. Pictures
Barbie was born in 1959 — the creation of Ruth Handler, who was one of the founders of the furniture company turned toy manufacturer that became the Mattel empire. Handler, or so the story goes, noticed that her child Barbara liked to imagine grown-up lives for her paper dolls instead of treating them like babies to mother. The doll Handler proposed, and which she named after her daughter, was aspirational, a vision of the future (albeit one with anatomically impossible proportions). The first Barbie may have been a statuesque model in a bathing suit, but subsequent versions would be chefs, pediatricians, beekeepers, flight attendants, soccer players, astronauts, and, yes, presidents. Barbie gives the wildly popular doll her most challenging role yet: that of a big-screen protagonist played by producer and star Margot Robbie, who finds herself in the midst of a surreal existential crisis. Director Greta Gerwig has tended to talk about her film in spiritual terms, citing the Apostles' Creed and the creation myth in Genesis. By that measure, Handler is the closest thing that the ultrapink realm of Barbie Land has to a God.
There's another facet of the Barbie origin tale, which is that Handler came across a doll called Bild Lilli while in Europe and ripped it off, settling with the German company responsible for the toy after they sued. Barbie may be a pop-culture icon and an emblem for the inconsistent impulses stuffed into the concept of female empowerment, but more than anything else, hers is a story about money, and it's impossible to separate what she means for women from her existence as a business proposition. To be fair, Gerwig's Barbie doesn't try to, or at least it incorporates a bumbling all-male Mattel C-suite led by Will Ferrell into its world-hopping adventures. The suits try to corral Barbie after she makes her way to the real world with her platinum-blond Ken (Ryan Gosling) in tow, but they're only one of the obstacles she has to contend with. Others include persistent thoughts of death, the abrupt intrusion of cellulite into a previously PVC-smooth existence, scathing critiques of her brand from Gen-Zers, and sexism. Safe to say that the film, which has an all-Ken fantasy dance number, an ad for a sweatpants-wearing Depression Barbie, and America Ferrera as a Mattel employee named Gloria delivering a variation of the "cool girl" monologue from Gone Girl, is much weirder than you'd ever expect a Barbie motion picture to be. It's just not enough.
The impulse to grade Barbie on a curve because it's based on a toy line, or to focus on what it was able to get away with under the auspices of a corporate brand, feels unfair to Gerwig, whose debut, Lady Bird, and ebullient take on Louisa May Alcott's most famous work earned her a place as one of the country's most compelling filmmakers. Barbie is still very much a Gerwig movie — the ending in particular recalls what she did with Little Women — but in a way that suggests Gerwig and her co-writer and husband, Noah Baumbach, embarked on a writing exercise as a lark. It has worthwhile aspects, like Robbie, who in addition to looking the part, is as capable of heartbreaking earnestness as humor, and who sometimes effortlessly achieves both at once (having fled from a scornful teen who declared her a fascist, she weeps, "I don't control the railways or the flow of commerce!"). Gosling comes close to stealing the movie as a Ken who lacks any sense of purpose outside of his mandated devotion to Barbie; he's a floppy himbo whose every posture is an act of physical comedy. Barbie Land itself is a meticulously constructed kingdom filled with nods to current and former doll owners, from the printed interior of Barbie's fridge to the appearances by discontinued dolls to the open structures and unused staircases of the Dreamhouses in which the Barbies (played by an array of actors including Nicola Coughlan, Hari Nef, Issa Rae, and Alexandra Shipp) live.
But then there's everything else, beginning when Robbie's Barbie — known within Barbie Land as Stereotypical Barbie, the one who looks like what you picture when you hear "Barbie" — starts glitching and Weird Barbie (Kate McKinnon) sends her to find out what's up with the girl who's been playing with her in the real world. Like the rest of the Barbies, Robbie's doll believes that "all problems of feminism and equal rights have been solved," but she quickly discovers that outside of their plastic utopia, everything is run and defined by men. If it's surprising to find Barbie holding forth on the plague of the patriarchy and the contradictory expectations faced by women, it's more surprising to discover that the movie doesn't ultimately want to do much more than talk itself in circles about these themes. The film acknowledges that telling girls they can be anything is simplistic when the world doesn't always agree and when getting through the day sometimes feels like an achievement in itself. But it's not a rebuke of corporatized feminism so much as an update that concludes with a character suggesting an "Ordinary Barbie" and another affirming that idea could make a lot of money — the film's shrugging sigh of "it's complicated" and "I'm tired."
There's a streak of defensiveness to Barbie, as though it's trying to anticipate and acknowledge any critiques lodged against it before they're made, which renders it emotionally inert despite the efforts at wackiness. To be a film fan these days is to be aware that franchises and cinematic universes and remakes and other adaptations of old IP have become black holes that swallow artists, leaving you to desperately hope they might emerge with the rare project that, even though it comes from constrictive confines, still feels like it was made by a person. Barbie definitely was. But the trouble with trying to sneak subversive ideas into a project so inherently compromised is that, rather than get away with something, you might just create a new way for a brand to sell itself.