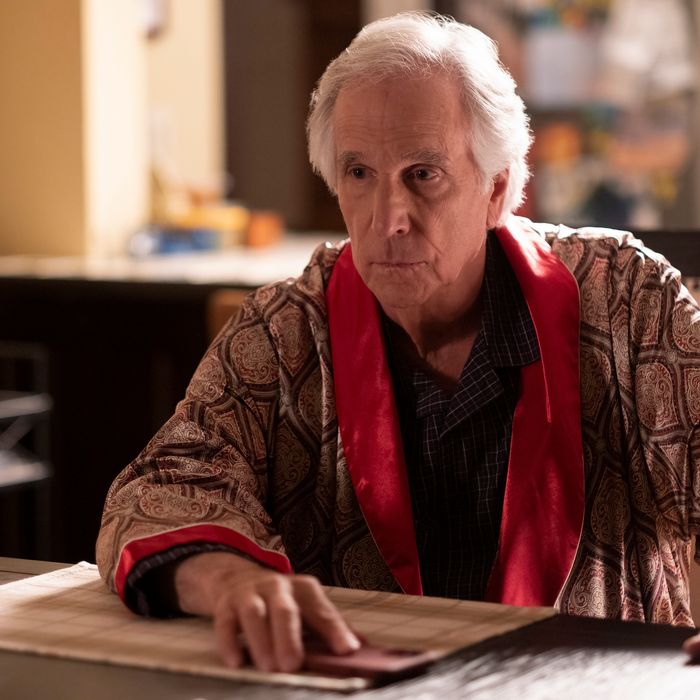 When Barry Berkman was arrested at the end of Barry's third season, it was that rare type of ecstatic TV moment that leaves you totally perplexed about what could happen next. (Another HBO series had another of these moments last Sunday.) While I've spent the past ten months curious about all the characters, I've kept returning to the core question: how can Barry go on with its protagonist in jail? Following a season that finally forced Barry to take accountability for his actions, what story is left to tell here?
Of course, I was never really worried about Barry sticking the landing. Season three was one of my favorite seasons of TV last year. But the longer the show goes on, the harder it has to work to justify itself. That's why the news that this would be Barry's final season came as a relief. As impressively as Bill Hader and Alec Berg have sustained the story of a man we knew from the first scene was essentially irredeemable, it feels like there's only so much more to say about him.
And yet we see a new side of Barry Berkman in this premiere, barely recognizable in his almost-feral state of disbelief and, later, utter self-hatred. He's stripped down to nothing: desperate, drained, and full-on self-immolating. I'd call it rock bottom if I didn't suspect it could get much worse in the next seven episodes.
In Barry's eyes, he loses the two remaining people he cares about in those first 24 hours in jail: Gene, who confirms that he "tricked" Barry, and Sally, who refuses to accept the charges and calls him a liar. The former is a particularly great moment, with Gene meeting Barry's delusional "Are you mad at me?" with a succinct, "Hey, Barry? I got you." Throughout the call, we don't see Barry's face straight-on, a conspicuous choice that makes the franticness and confusion in his voice even more unsettling. It's a continuation of the first moments of the episode when we only glimpse Barry in the background — an almost mythic entity, discussed in tones of bizarre reverence by the guards watching in the foreground.
With nobody left, Barry can't even muster any of the murderous rage he once felt for Fuches, who is, of course, in the same prison. He actually tells Fuches he was right about Gene, who couldn't be trusted in the end. He even depressingly verbalizes his final takeaway from the Los Angeles actor's journey we've spent 24 episodes following: "If I hadn't tried to understand myself, we wouldn't be here."
It's a bit of a silly conclusion, of course, a case of missing the point and a reminder that redemption is not in the cards for the title character's endgame. Barry has never been about that. It's about a man whose instinct for self-preservation will always have a death toll, who rationalizes every kill by pretending it will be the last. Over the past three seasons, Barry has experienced sporadic glimmers of self-awareness, first through looking inward to become an actor, then by repeatedly coming face to face with his victims' loved ones. But upon reflecting, he can only conclude that he's the victim of his own journey of self-discovery.
With nothing to lose, Barry goads a guard into viciously beating him after self-identifying as a cop killer who would kill the guard's entire family if he could. It's significant what sets him off: the guard suggesting, "I'm sure you're not a bad guy" and "Each of us is more than the worst thing we've ever done." Both lines are the type of assurance that would help fuel Barry's rationalizations in a previous season, but this time, they ring hollow. Look what believing in his own goodness got Barry the first hundred times.
In the end, Barry does find an unexpected ally: Fuches, who tosses his wire aside to apologize and hug Barry, potentially sacrificing his deal with the FBI for protection. Barry's closed-mouth smile in his arms is one of those indelible Barry images that might stick with me for years; it's eerily tender and poignant in the most uncomfortable way.
As usual, the main counterpoint to the bleakness lies with NoHo Hank and Cristobal, who have retired to a rental house in Santa Fe following the nightmare they lived through last season. It's a relief to see them safe and happy together, though it's clear from the moment they say "no going back" that they will, in fact, be going back to Los Angeles. In the time between seasons, they've enjoyed the peace but become restless. All it takes is hearing from their landlady about a sand shortage to get the gears turning in their heads. They're businessmen at heart.
Over chilaquiles, Cristobal addresses the elephant in the room: with their international contacts, they could sneak builder's sand into the country and corner the market. Maybe there's a way to achieve their dreams without getting in any more danger themselves, Cristobal suggests. (I doubt it.) It's a tough choice for Hank, who still dreams about his captivity and the bone-chilling panther attack he barely escaped. But ultimately, another shot at kingpin status is far too tempting for Hank to refuse, even when learning that one of his few remaining allies is in jail.
That inexorable pull toward your worst instincts is present in basically every character of the show. Hank and Cristobal mutually agreeing to abandon their safe haven made me think of last season's running joke of Fuches being offered idyllic lives with beautiful women, only to turn them down for revenge. But there's one character who has gradually improved as a person throughout the show: Gene Cousineau, a notoriously unpleasant and egotistical actor who started to gain perspective years later as an acting teacher. Season three, especially, completed Gene's redemption arc, showing him make an honest attempt to make up for the people he hurt in the past (especially Annie Eisner, the ex he blackballed). Maybe there was an element of self-interest there, but I believed in Gene's growth.
So the ending reveal of "yikes" really surprised and saddened me, though maybe I should've expected Gene to fall into old patterns and get high on his own supply after too much time in the spotlight. Gene receives more respect in this episode than any other in the show: from the begrudgingly impressed district attorney to the adoring fans in the audience for his master class to the stoic Jim Moss himself. That last one is most important: Janice's death at the end of season one is still perhaps the most significant turning point in Barry's arc, and it fits that the show would continue to treat it as one of its biggest tragedies.
Gene and Jim agree to turn down any interview requests they get, including from tenacious Vanity Fair journalist Lon O'Neil (the great Patrick Fischler). For one, it could hurt the case against Barry. But on a personal level, the media frenzy would turn Janice's murder into entertainment, making it a grotesque show instead of something real that happened to a good person.
That's why it's so disappointing to see Gene contacting Lon at the end of the episode with an exclusive on how he took down Barry. You could say it's a sudden turn — it's only been a day since the arrest — but this is who Gene was all along, even when he was more focused on protecting his family and getting justice for Janice than making himself look good. Just think of how long he spent in a state of helplessness and fear last season, placating Barry just to keep himself alive. It's no wonder he feels like the hero of his own story.
Sally is another character whose descent into selfishness coincides with her experience of post-traumatic stress. And in "yikes," she's in an especially bad place, having learned that her ex-boyfriend murdered her acting coach's girlfriend while she was there. Less than 24 hours ago, she murdered someone herself, and now she's stepping off a plane to this news. Her panic attack in the passenger seat is this season's first bit of greatness from Sarah Goldberg, even if it's undercut by the savagely funny reveal that it's taking place during her mom's drive-through order.
That's only the beginning of the horror show that is Sally's mother, played by Romy Rosemont (who's married to Stephen Root). In fact, while this premiere is filled with bleak events, this subplot might be the hardest to watch. There's something particularly infuriating and sad about how quickly she dismisses Sally's very real problems, blaming her for dating not one but two violent men. (My jaw dropped at "You sure can pick 'em.") And when the three of them sit down to watch an episode of Joplin, her biggest takeaway is that Sally really shouldn't have used Sam's actual first name in the show. Now she'll have to let his family know.
It's horrifying to watch this conversation go down, with the ultra-politeness of Sally's father (Michael Dempsey) only letting it happen. It makes sense that this type of "midwestern nice" was prevalent in Sally's upbringing, and seeing it play out during Sally's greatest moments of panic and distress adds a layer of tragedy that makes it impossible not to feel for her, despite the person she turned into last season.
It makes sense that these Sally scenes felt the most brutal to me, just like the scene of Barry screaming at her shook me to my core more than most of his murders. Barry is about emotional violence just as much as it's about physical violence — and no matter how you look at it, Barry is far from the only killer here. Jail or no jail, living with what you've done is never easy.
Bullet Points
• Bill Hader is directing every episode of season four, and I have a feeling his vision is going to be very powerful. I already loved so much of the visual storytelling here, including that trickle of blood onto Barry's forehead as we hear the waves of the purgatory he always flashes to.
• Nice little misunderstanding when Sally initially denies being with Barry, thinking Lindsay is referring to the murder that she did. But then she's blindsided by the news about Janice, whose murder she was there for — nifty bit of writing.