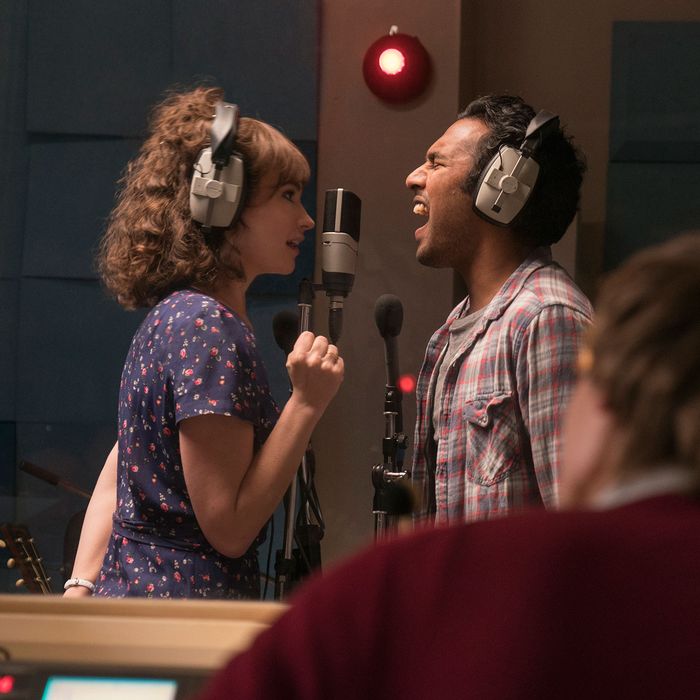 Lily James and Himesh Patel in
Yesterday
.
Photo: Jonathan Prime/Universal Pictures
As you may have heard by now, Danny Boyle's Yesterday imagines a world without the Beatles. It's an extraordinary pitch, since there are plenty of films that exist only because of the Fab Four: Movies where characters are named after songs, narratives are steered by psychedelic lyrics, and productions are filled with Easter-egg details. These projects, from The Rutles 2: Can't Buy Me Lunch to Across the Universe and beyond, give "Beatlemania" a twofold definition: Beatlemania doesn't just refer to the moment in which John, Paul, George, and Ringo changed the world with the first notes of "All My Loving" on The Ed Sullivan Show in 1964, but the anomaly they maintain to this day, making them the world's best-selling music artists.
From a film-history standpoint, Beatlemania films have prompted scores of creatives to find the right fictional spectacle that connects with audiences in a way that lines up with some of the most recognizable songs on the planet. With the actual Beatles very rarely making appearances in these movies directly galvanized by their music and lyrics, these projects across decades and genres treat their songs of love and revolution like gospel; the messengers are sometimes profoundly inspired, while others listen to Sgt. Pepper's Lonely Hearts Club Band and imagine a fountain of cash.
On the occasion of the latest movie to celebrate the seismic impact the Beatles have made on the world, we've gathered a chronological list of Beatles-inspired movies that are built around the Fab Four phenomenon. Below is a history of critical failures, box-office disasters, and a thread of movies that recognize the nonpareil power within the Beatles' music, but perhaps not the difficulty in repeating it.
The Rutles: All You Need Is Cash (1978)
Before Spinal Tap riffed on '80s rock bands, the Rutles put a fun-house mirror up to the Beatles and their ascension to greatness with The Rutles: All You Need Is Cash. The group consisted of Dirk McQuickly (Eric Idle, goofing on Paul McCartney), Ron Nasty (songwriter Neil Innes, goofing on John Lennon), Barry Wom (John Halsey, goofing on Ringo Starr), and Stig O'Hara (Ricky Fataar, goofing on George Harrison). Idle acted as fake documentary host and co-directed the enterprise, which is meant to be recognizable in its story beats, including the Rutles's ascension from Hamburg clubs to rock-and-roll stardom, with talking-head interviews from Paul Simon and Mick Jagger wedging the Rutles further into their bizarro form of music history.
The joke was completed by the seriously great songwriting by Neil Innes, whose parodies of Beatles songs slyly kept the chord structures of real-life hits but tweaked the melodies, making the imitations recognizable but not illegal — "With a Girl Like You" is like "If I Fell" from another dimension. Sometimes the similarities were comically reckless: "Get Up and Go" is such a "Get Back" reference that John Lennon (according to The Beatles: The Dream Is Over: Off the Record 2 by Keith Badman) was worried Innes would get sued by Paul McCartney. (Instead, the Rutles songs ended up suffering the fate of losing 50 percent of their royalties to ATV Music, who owns the Beatles's music.)
The American-made project was a ratings disaster when it premiered on a prime weeknight spot on NBC on March 26, 1978, and has grown to be a cult phenomenon since. But it's always had one Beatle in its corner — George Harrison, who even has a brief cameo in the movie as a TV reporter. Harrison gave it a crucial blessing regarding the importance it had to the subject it was inspired by: "The Rutles sort of liberated me from the Beatles in a way … it was done with the most love." In 2015 during an on-camera interview with The Lip, Idle shared a memory of Ringo and George singing Rutle parody "Ouch!" back to Idle, and confirmed that Lennon and Yoko loved it.
I Wanna Hold Your Hand (1978)
Debut director Robert Zemeckis mined the hysteria of Beatlemania for slapstick gold with the high-energy comedy I Wanna Hold Your Hand, released on April 21, 1978. The setup comes with high stakes even the most casual of Beatles fan would get — six teenagers trying to get inside the Beatles's New York City Hotel, and later into the Ed Sullivan Theater on February 6, 1964, when the Beatles are about to make history. Zemeckis and Bob Gale's script takes its hopeful, audacious teens from chaotic record stores, to claustrophobic crowds waiting outside the hotel, to slipping past security guards inside, and eventually to the big show. It's one of the most essential films about the Beatles for how its relentless pacing captures the screaming, fainting, unpredictable frenzy, showing fans who will do anything (like sell themselves for sex, as Theresa Saldana's Grace comes close to doing) to have a chance at seeing the Beatles with their own eyes.
The film was decidedly not a success, making half of its $2.8 million budget at the box office. But it has endured as a piece of pop culture, with the Criterion Collection recently putting a restoration and celebration of the film, featuring Zemeckis, Gale, and executive producer Steven Spielberg talking about the experience of making the film.
Sgt. Pepper's Lonely Hearts Club Band (1978)
The celebrity-packed Beatles-tunes-palooza Sgt. Pepper's Lonely Hearts Club Band was a dark day for the music and film industry, but a big win for greed. Directed by Michael Schultz, the project was colossally misconceived: a variety show masquerading as a feature musical inspired by one of the greatest albums of all time, telling the saga of a fictional band played by the Bee Gees and Peter Frampton, everyone singing songs written by musicians with clearly more integrity than them.
With its many on-the-nose numbers ("You Never Give Me Your Money" crooned next to a big pile of dough) and disco-inflected covers (produced by so-called "fifth Beatle" George Martin), it swiftly became a critical and financial disaster — for the New York Times, Janet Maslin wrote: "This isn't a movie, it's a business deal set to music." Adding insult to injury, the project featured a lot of recognizable faces: Steve Martin (performing "Maxwell's Silver Hammer" at his most clownlike), Aerosmith (lead singer Steven Tyler tries to choke out Peter Frampton during a cover of "Come Together"), Earth, Wind & Fire, Sandy Farina, Carol Channing, and even George Burns, who staples the bare story together with some narration as Mr. Kite. That's not even mentioning the whole roster of 1978 celebrities brought in for a photo-call at the end, re-creating the album's famous cover.
Interviewed by Rolling Stone the year after the film's release, George Harrison shared that he hadn't seen it, but expressed remorse for the Bee Gees and their association with it. "I think it's damaged their images, their careers, and they didn't need to do that," Harrison said. "It's just like the Beatles trying to do the Rolling Stones. The Rolling Stones can do it better."
Beatlemania: The Movie (1981)
The three Beatlemania films of 1978 were of no coincidence — adults wanted to relive their childhoods, younger generations yearned to experience the singular phenomenon of Beatlemania firsthand. The year before, the nostalgia-predatory Broadway production known as Beatlemania was born, as show creator Steve Weber enlisted men (like Paul McCartney doppelgänger Mitch Weissman) who looked and sounded like the original Beatles and created "a multimedia experience" of '60s imagery that displayed behind their carefully curated imitations. The successful Broadway run of Beatlemania then led to a 1978 album, and 1981's box-office disaster Beatlemania: The Movie, which came with the tagline "Not the Beatles, but an incredible simulation." Chicago Reader film critic Jonathan Rosenbaum's review summed it up like this: "My idea of hell is being forced at gunpoint to resee this 1981 atrocity."
This Beatlemania oeuvre has been mostly lost to obscurity, starting with the lawsuit that Weber lost to Apple Corps in 1986; the band's members were not fans, with Weissman stating in a news interview that Ringo "doesn't like [the show] one bit." But from this production's saga we at least now have "The Making of Beatlemania," a Christopher Guest–like ethnographic study full of people trying to look and sound exactly like someone else, dressed up like they're about to either start a revolution or just sell tickets.
Secrets (1992)
The Zeitgeist within Beatlemania inspired the teen coming-of-age drama Secrets (known in other countries as One Crazy Night), which was appropriately reviewed by Time Out London as an "antipodean cross between I Wanna Hold Your Hand and The Breakfast Club." Largely taking place in a basement underneath a Melbourne concert venue where the Beatles are set to make their Australian debut, five sneaky — and then stuck — teenagers commiserate about their privates woes (pressures from family; a pregnancy; a mother's abandonment), all of which intersect with their shared obsession with the Beatles. Everyone's identity revolves around the Beatles — Noah Taylor's Randolf dresses up like George and claims that he's his third cousin; religious girl Dannii Minogue's Didi talks of having sex with Paul McCartney in her dreams and praying to the band; and so forth. The Judd Nelson of the bunch is a slimy Elvis fan played by Malcolm Kennard, who, before his defenses are broken by an inevitable powwow, declares, "If you like the Beatles, you must be an idiot." Beatles songs are scattered throughout dialogue-driven scenes, including tunes that are stubbornly anachronistic to the 1964 time frame of the story, like a bonding scene accompanied by an instrumental of "With a Little Help From My Friends" from Sgt. Pepper's Lonely Hearts Club Band.
The Rutles 2: Can't Buy Me Lunch (2002)
Beatlemania is so potent that it led to Rutle-mania, as Eric Idle's band the Rutles began to have a life of its own after All You Need Is Cash. There were full-length albums, tours, and there was even a sequel, 2002's The Rutles 2: Can't Buy Me Lunch. A more independent venture from Idle (now working as sole writer, director, and fake documentary host, with no new Rutle footage), the shabby fake-history retread is mostly comprised by its celebrity roster, in which Idle got celebrities to improvise about the impact of the Rutles. Included in the talking heads are: Jewel, Bonnie Raitt, James Taylor, David Bowie, Carrie Fisher, Tom Hanks, Garry Shandling, and of course, Salman Rushdie.
Packaged similarly to a rereleased greatest-hits album, Can't Buy Me Lunch struggles to give the Rutles life outside of being a filmic tribute to the Beatles. As Nathan Rabin wrote for A.V. Club: The Rutles: All You Need Is Cash was a Beatles satire by people who clearly loved and understood their source material and bothered to get the details right. Rutles 2 qualifies as little more than an overly reverent tribute to the 1978 original, and it barely bothers with the details at all.
Across the Universe (2007)
The Beatles's verses of longing and revolution inspired director Julie Taymor's Across the Universe, her audacious attempt to make a grandiose musical that creates tableaux of 1960s America with extravagant numbers, inspired by Beatles songs. It's the most solemn of Beatlemania films — down to the many slowed-down vocal performances, especially from Jude, a Beatles avatar played by a shaggy Jim Sturgess — and observes different lives of New York residents during the period of Vietnam and burgeoning rock and roll, including the rising political unrest within Jude's love interest Lucy (Evan Rachel Wood), or the drafting nightmare experienced by her brother Max (Joe Anderson). Consider it an art-house step away from the soulless motivations of Sgt. Pepper's Lonely Hearts Club Band, as its novelties of celebrity appearances come with the sense of a true spectacle, like when Bono and his handlebar mustache usher in the psychedelia of "I Am the Walrus," or five(!) Salma Hayek nurses croon "Happiness Is a Warm Gun" in a spinning room full of traumatized Vietnam soldiers.
The movie was not a financial success and only had select critical defenders, but Paul McCartney was a fan: Taymor talked on Oprah about watching the film with Paul McCartney, who she said was singing along to "All My Loving" (an earlier scene in the movie, so a good start). When Taymor asked him if there was anything he didn't like, McCartney responded, "What's not to like?"
Yesterday (2019)
Danny Boyle's Yesterday has a different approach to capturing the rush of Beatlemania — by making fans imagine what it would be like to hear their songs for the first time again. Or, if you're a newcomer, you learn about "In My Life" and others through acoustic versions played by Himesh Patel's struggling musician Jack, who wakes up from a bike accident (after the planet lost power for 12 seconds) and realizes he's the only person in the world who knows of the Beatles; not even his manager and love interest Ellie (Lily James) recognizes "Yesterday" when he plays it for her.
It's a half-baked premise that writer Richard Curtis and Boyle fully commit to, creating not so much a musical but a romance featuring strictly Beatles 101 tunes (sorry, "Rocky Raccoon") that audience members clearly love to listen to, or simply hear referenced. In such a warped scenario, rising superstar Jack only has his aw-shucks integrity to prevent him from becoming a multibillionaire whose greatest talent is a robust memory of Beatles songs — though he does claim to Ed Sheeran that he wrote "The Long and Winding Road" in ten minutes.
In the scope of Beatlemania movie history, Yesterday has advantages over its predecessors with its design alone; it does not attempt to imagine narratives or characters based off previous tunes (as with Sgt. Pepper's Lonely Hearts Club Band and Across the Universe), it speaks to an entire Beatles discography instead of just one moment (unlike I Wanna Hold Your Hand and Secrets), and it won't face the copyright vengeance previously felt by the Rutles or the minds behind Beatlemania. This predictable love story is simply about playing the hits, and Yesterday makes the case that whenever these songs were to exist, they would lead to a cultural phenomenon unlike anything the world has seen. It could very well be the most successful Beatlemania film yet.