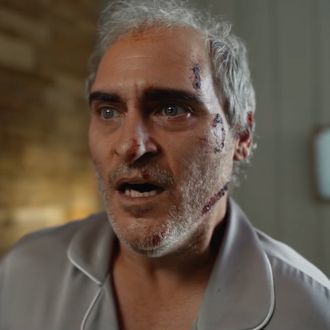 He's terrified.
Photo: A24
Ari Aster's upcoming film, Beau Is Afraid, makes Joaquin Phoenix a weirdo stuck on an even weirder odyssey. Beau (Phoenix), lost in recollections of family vacations aboard a picture-perfect cruise ship, is on his way to see his mother. But the universe is conspiring against him as the colossal journey grows increasingly surreal — like psychedelically strange. What does the Hereditary and Midsommer director have in mind for his latest film? Below, everything we know about the modern-day fairy tale.
What's happening in the trailer?
The first doozy of a trailer arrived in January 2023, depicting Beau, a man-child subsisting on TV dinners and prescription medications. But he's got bigger problems than a "Best of Hawaii & Ireland" TV dinner consisting of frozen seaweed, peas, mangos, and probably mashed potatoes and pharmaceuticals. Well, he's on his way to his mom's house.
"I'm so sorry for what your dad passed down to you, but I wanted a child," she tells him when he's a kid, lit by only a blood-red light. "The greatest gift of my life." He must have sustained some mommy issue–related mental injuries: His therapist appears most on his call log alongside Moviefone, the landlady, the pharmacy, and his mother. After absconding from his rundown apartment to make the date with his mom, he encounters chaos on the streets and gets run over by some lady. The doctor (Nathan Lane) holds him hostage until he makes his great escape — an odyssey through a surrealist forest that promises his "adventures will continue for years and years." A second trailer, released after the film's surprise April 1 screening, doesn't really give us any new information, but we get a longer look at a girl from his past named Elaine.
What's the plot?
The director describes the film as a "Jewish Lord of the Rings, but he's just going to his mom's house" in A24's behind-the-scenes featurette. "There's a part of me that can't believe we're making this film," Aster says in the first-look clip. "It's epic, jumbo … every detail has a detail inside of it. If you pumped a 10-year-old full of Zoloft and had him get your groceries, that's like this movie."
In the film's trailer, main character and man-child Phoenix goes on an increasingly surreal odyssey to get to his mother's house. "I want to put you in the experience of being a loser," he stresses. "I wanted to make a film that makes it feel like you've been through a life, or even through a person."
Who's in the cast?
Stage icon Patti Lupone trippily plays Beau's mom, Mona, alongside Phoenix. Only Murders in the Building stars Nathan Lane and Amy Ryan are also in the cast, along with Kylie Rogers (The Whispers), Parker Posey (Lost in Space), Stephen McKinley Henderson (Dune), Hayley Squires (I, Daniel Blake), Michael Gandolfini (The Many Saints of Newark), Zoe Lister-Jones (Life in Pieces), and Richard Kind (Curb Your Enthusiasm).
When does Beau Is Afraid hit theaters?
The film arrives at Mom's house in theaters on April 21.
This post has been updated.