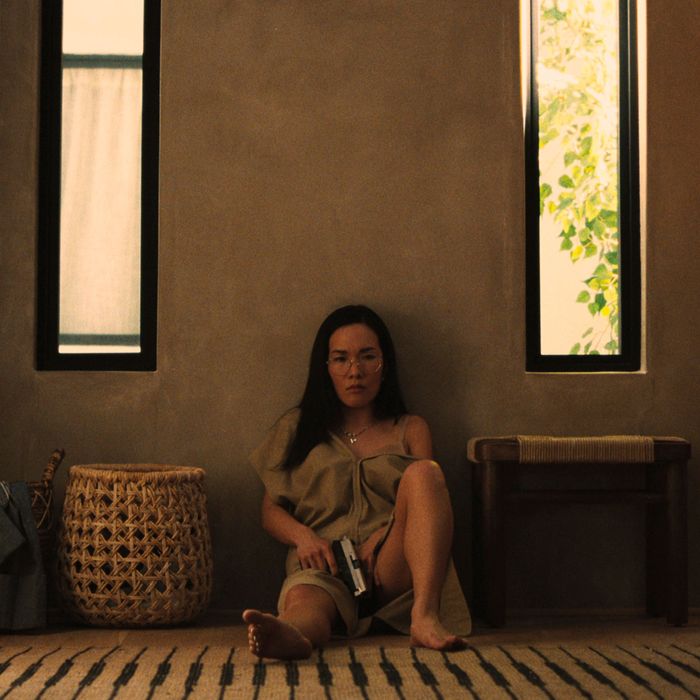 Beef
The Birds Don't Sing, They Screech In Pain / The Rapture of Being Alive
Season 1
Episodes 1 and 2
Photo: Netflix/COURTESY OF NETFLIX
Supposedly, anger is a universal emotion felt by people everywhere. Beef, Lee Sung Jin's latest show for Netflix, explores whether all anger is created equal by putting the rage of two Asian Americans, played by Steven Yeun and Ali Wong, under the microscope. When I say "created equal," I'm talking about what decades of the model-minority myth have done to Asian Americans and their ability to be flawed, troubled people with upsetting, tumultuous emotions. How do you exist when systemic racism requires you to be "nice," "hardworking," and "smart," even in the face of everyday indignities like ignorant bosses, unending bills, and the seeming impossibility of making it in America? Some people can get into a road-rage altercation and leave unscathed (ahem, white people), their privilege keeping them untouched. No one will call the cops, and they won't lose their status in the eyes of their peers. Anger will remain an emotion personal to them, not an indictment on their whole race.
Beef tells the story of two people whose furies collide in a parking lot, leaving them forever changed by the interaction. Premiere episode "The Birds Don't Sing, They Screech in Pain" begins with Danny (Steven Yeun) returning three hibachi grills and a carbon monoxide detector for the third time at Forsters, a Home Depot–ish hardware store chain in Los Angeles, California. He's annoyed by the line he's in and frustrated when the cashier gives him a hard time, so he throws in the towel and climbs into his truck, grills and detector in tow. When it seems like the day can't get more irritating, he's aggressively cut off in the parking lot by someone in a shiny white Benz. On a different, chiller day, maybe Danny would have let this go, but it's all too much today. He follows the Benz out of the parking lot and proceeds to chase it down, bumper to bumper, even getting into oncoming traffic to try to see who "the guy" is that dared make his bad day worse. As an extremely anxious driver myself, the decision to do this seems enormous. Sure, I've flipped off the odd guy or had someone swerve to keep me from getting into their lane, but to put myself in significant danger, to go out of my way to chase someone down … it's clear to me that Danny has truly snapped. The chase ends in a stalemate at an intersection where he nearly dies, and Danny commits the Benz's license plate to memory.
Who should drive the Benz but our other star, Amy (Ali Wong)? As she pulls into her garage, we glimpse Amy's life. She's rich, with a thriving business, a beautiful home in Calabasas, and a husband and daughter. She's also overworked, exhausted, and this close to her breaking point. But Amy is alone in her rage. Her husband George (Joseph Lee) is the scion of a well-known Japanese artist, insulated by years of wealth and good fortune. He can't relate to Amy's anger because he's a toxically positive New Age rich kid whose life experiences have taught him not to feel the burden of scarcity, and that a good mind-set can amend everything. Amy grew up poor. Her Vietnamese and Chinese parents struggled to provide for her, and she fought tooth and claw for the shiny life she has now. She doesn't have George's generational-wealth cushion, so when Amy tries to tell him a little bit about how she's feeling, he shuts her down and suggests a gratitude journal. Anger makes a circle around Amy, making her illegible to her husband.
As the episode unfolds, we learn that it's not just ambient suburban frustration getting to Amy. She owns a successful plant shop, Köyöhaus, which she hopes to sell to Forster's so she can take the stress of owning a business off her plate and focus on raising her daughter. But the deal is taking forever, not to mention that her counterpart at Forster's, Jordan Forster (Maria Bello), constantly makes underhanded racially inflected jabs at her. At a mushroom-themed dinner that Amy and George attend to solidify Amy's good standing with Jordan, the heiress smiles as she tells Amy not to misstep in their deal because it'd ultimately be easier and cheaper to get people in China to make dupes of Amy's products. Jordan's gibes, her clueless assistant speaking Japanese at her when Amy isn't Japanese, her husband's grating insistence on always finding the bright side (even when there isn't one): Amy is swallowing everything, trying to keep it together.
Her only respite is an unloaded gun her husband keeps in the safe. There's some tension around this gun between Amy and George. It's not totally fleshed out, but George changes the safe combination without telling Amy in an attempt to keep her away from it. The gun feels like a physical embodiment of the feeling that Amy is struggling to suppress, that same feeling that George can't understand and may even be afraid of. No matter, Amy cracks the code quickly and grabs the gun. What does she want with it? Protection? Safety? Nope. For Amy, the gun is about excitement and danger, not to mention a tool she uses to get off in a quiet moment alone in her bathroom. As I watched Amy on her bathroom floor, I felt surprised at first, then softened toward her. This woman seems to have no outlet at all, no escape from her buttoned-up spouse, the hamster wheel of her work. I'm glad that her sexuality is still hers, even in this meager slice. Let her have her gun-wank!
As for Danny, we learn that he lives in a cramped apartment with his brother Paul (Young Mazino) and is carrying his own larger burden: Their parents had to move back to Korea after losing the motel they used to own before they were busted for the illegal dealings of Danny's cousin, Isaac (David Choe). Danny feels responsible, but Paul is dismissive and doesn't give Danny the respect and companionship he's craving. Paul prefers gaming, investing in crypto, and hanging out with his "boys" instead of his older brother. He's dyed a little bit deeper in American colors than Danny, and doesn't subscribe to the same notions about achieving a good life (family, kids, self-owned business). His ideal future is one where he can make money by himself, for himself, without the drudgery of being a good citizen. Danny, like Amy, also owns a business, but he isn't on the brink of a major corporate deal. He's a contractor struggling to find clients, who while brushing up the grout on a Ring camera overhears the couple he's working for discussing when they will fire him. Choking down his pride, he offers to cut down some tree branches for the couple at a cut-rate price, work he's not qualified to do. Later, he almost falls to his death trying to complete the task and gets fired anyway.
Danny, too, is barely coping. He borrows money from his cousin Isaac, who sunk the motel, to stay afloat. (We only meet Isaac for a brief moment here, but even then, he's larger than life, swaggering into the restaurant where he's meeting Danny, his tone flipping maniacally between friendly and familial to threatening and edgy.) He calls a Realtor about a piece of land he can't afford while binge-eating Burger King. Eventually, we learn that those hibachi grills and carbon monoxide detectors he keeps buying and trying to return are part of a suicide attempt he keeps backing out of. It stuck in my brain when we saw Danny first trying to return to these grills that it was a weird purchase, and I trusted that the show would return to it. Did I expect it would be a vehicle for suicide? No. But as someone who has dealt with suicidal ideation in the past, the obsessive planning, the hemming and hawing, and the buying and returning of the grills clicked into place as I recognized what Danny was doing. Danny's constant struggle and his never-ending anger are corroding more than just his outward life. They're eating at his will to live, too. He tries to kill himself again, only to reconsider, telling himself that this isn't it. Instead, he pays $80 to learn where the owner of the white Benz who cut him off lives.
And that's how our duo collide for the first time. Danny interrupts Amy in the middle of her gun-wank sesh, posing as a concerned contractor taking a look at Amy's renovations. A sense of understanding begins to bud between Amy and Danny — when Amy complains about how irksome her renovation was, Danny doesn't blow her off. He knows what it's like to be angry. It's also the first extended scene between Yeun and Wong, and look, I knew they were superstars, but if this scene is any indication, I can't wait to see these actors in the same frame again: the subtlety of their interactions, the way they keep our knowledge of their identities suspended while maintaining an atmosphere of casual near-camaraderie. When Danny discovers that the white Benz isn't George's car but Amy's, he enacts revenge by peeing all over her beautiful bathroom floor and dashing out of the house. Amy gives chase and realizes he's the guy in the red truck who chased her. She memorizes Danny's license plate in a parallel moment of foreshadowing; the rage ball is in her court now.
As second episode "The Rapture of Being Alive" begins, Amy stalks around her house, screaming with her gun in hand. She gets caught with the gun by her husband, who essentially blames her, asking if maybe Danny had bladder issues or if she said something to make him pee on the floor. In an attempt to rile up her passive husband, Amy mentions that Danny commented on George's Japanese heritage. It's a moment that nods to the way Asian Americana isn't a monolith, that tensions exist between the diaspora of different countries. I'm not sure what sort of purchase George has to be sensitive about being called out as Japanese, but Danny raising his eyebrows at George's heritage makes sense, given Japan's violent history of colonizing Korea. Still, for reasons I don't quite get, Danny noticing his Japanese heritage bothers George enough that he joins Amy. But their motivation fizzles once the pair get to the run-down motel Danny's family once owned. They get a (purposeful?) flat tire, and George abandons ship — he doesn't want to be late to pick up their daughter from school. In the meantime, Amy gets revenge by posting negative reviews on the Yelp page for Danny's contracting business.
Later, George and Amy attend an exhibition in honor of George's late father, who was a renowned furniture artist. They encounter Jordan, who tries to buy a chair that has sentimental value to George. George doesn't give in, which leads Amy and George to get into an argument, hissing at each other in the posh gallery. George wishes Amy wasn't so money-obsessed, Amy says that George can only say that because he's grown up with wealth. The argument turns to their marriage, which is clearly on the rocks. When George brings up the gun, asking if he should be scared for his safety, Amy pulls the trump card: She's been masturbating with the gun because sex with George is so vanilla. The indictment goes past just their sex life, though; George himself is boring. He's too predictable, too cocooned. He has no grit or salt to him. He reminds me of the disappointment I feel when I meet someone new and try to engage them in some gossip, and all that comes back is slippery goodness without depth or personality. If George is vanilla, Amy is like miso or fish sauce; she's fermented, layered, funky, and deep. Of course they don't go together.
In Danny land, at first, things are looking up. He got his revenge on Amy, and he's grilling poolside, lecturing his kid brother on the importance of taking life by the reins and doing what you need to do. When shady cousin Isaac shows up to get some stuff he'd been storing at the motel, Danny tells him he will need more time to return the money he borrowed. There's a crazy lady (Amy) who is ruining his business by leaving one-star Yelp reviews. Isaac tells him that's fine, to give him the deed to Danny's truck in the meantime (Red flag! Feels like the beginnings of a scheme on Isaac's part that will implicate Danny!), and that he should just open another contracting business to start fresh. Danny takes Isaac's advice and enlists an ambivalent Paul in creating Cho Bros, a new contracting company ostensibly run by the two brothers.
But things quickly sour when Paul enlists the help of Danny's old flame Veronica to get their new business running. Standing in Veronica's kitchen, asking for work, Danny is visibly agitated. Around him is proof of a life he might have had if Veronica hadn't left him to go to college: She's pregnant, has a stocked nursery, and attends church. In a different life, Danny could have been the handsome husband who rubs Veronica's shoulders, but he isn't. After completing a job for one of Veronica's friends, Danny tries to blow off some steam at the club with Paul. But Paul is ignoring Danny in favor of his phone, where unbeknownst to him, he's being catfished by Amy, trolling for info. The brothers leave the club with two girls, but when they get to the parking lot, they find Amy has used Paul's messages to figure out where they are and has painted all over Danny's prized red truck. On one side, she's written "I'M POOR." On the other side, she's written "I CANT DRIVE."
Amy's showing her inner ugliness here. Her engagement with the "Asians can't drive" stereotype and her underscoring Danny's lower-class status is another instance of Beef asking us to be aware of how Asians aren't a monolith, even in the depths of our rage. It's also an instance of the show using Amy to comment on how we can be the people who most deeply hurt our own; I'm thinking of the anti-Asian hate crimes in the U.S., and how some have responded by calling for solidarity while others have called for increased militarization and policing of our communities. Just as there's diversity in our backgrounds, there's diversity in our depravities, too. How low will Danny sink to inflict his pain on Amy? It's the question at the top of my mind as the episode ends with a seething Danny Cho, haunted by the vengeful ghost of Amy Lau.
Beef Tips
• Hi! Nina here, I've recapped Industry and Pachinko for Vulture, and now I'm so happy to recap Beef for you all!
• Big shout-out to costume designer Helen Huang, because Amy's wardrobe is the perfect combination of aspirational and overly self-conscious California mom. I cannot get the mauve one-shoulder, two-piece set she wore to the chair show out of my head.
• Is it just me, or is the way Amy watches the NextDoor videos of her road-rage incident and the way that Amy and Danny leave each other threatening voice mails extremely erotic? Is Beef a rom-com, or do I just want to see Ali Wong and Steven Yeun make out?