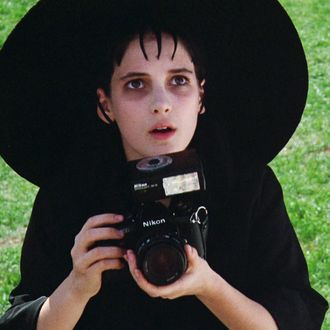 Lydia trying to find the culprit.
Photo: The Geffen Company
We're not sure if the Handbook for the Recently Deceased has a section for retrieving stolen goods from the living, but after this, it might need a revised version. Vermont State Police reported that two props, a 150-pound statue and a pumpkin lamppost from the set of the upcoming Beetlejuice 2, had been stolen — yes, they've already tried saying "statue" three times. Proving that you can never trust the living, the stolen statue looks like one of Delia Deetz's sculptures from the 1988 film; no word yet on if it's the original from the first movie or a replica. The spooky theft happened earlier this month; the really buff thieves reportedly stole the pumpkin lamppost on July 14 and returned a few days later for the statue, reports Entertainment Weekly. Police have a little bit of wiggle room to recover the props, as the Beetlejuice 2 production is currently on pause as the SAG-AFTRA strike continues. If someone could return the props, it'd probably make the production's millennium.