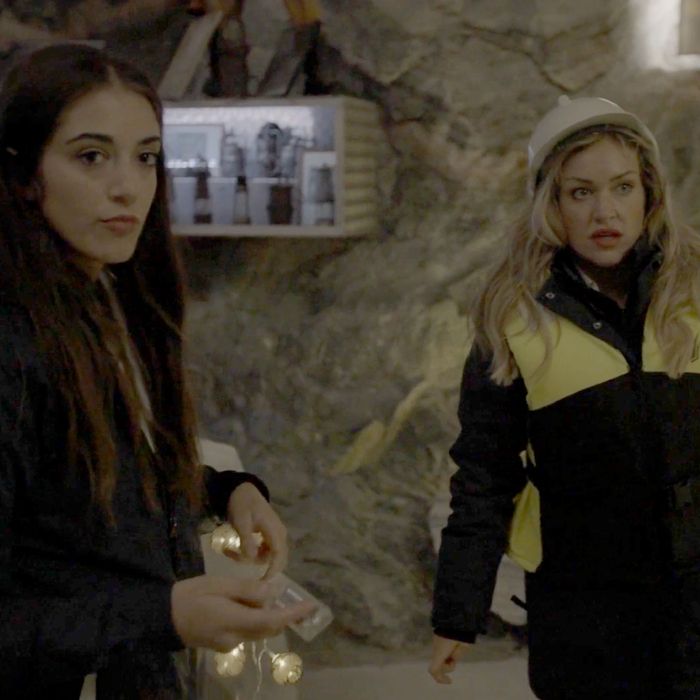 Photo: Vulture; Photo: Bravo
It's the season's last charter, and it seems like everyone wants to show that they know how to do their jobs. Jess and Faye finally decide to get along, Kerry decides that he has to do something about Jess's awful attitude finally, and Seth wants everyone to think he's not an asshole. Oh wait, he doesn't really care, and in his last moments on the boat, he shows us, once again, that he's a bigger asshole than the one hiding under the tail of the world's largest giraffe.
We start with Jess storming off the bridge because Kerry told her, before the last two meals of the final charter of the season, that she's been intimidating the staff with her temper tantrums. Jess leaves the bridge and does what any sane, rational, and balanced human being would do: she calls her healer. I don't know if production couldn't get this person to sign a waiver, but we don't hear their voice. We only hear Jess complaining about everyone on the boat. Is that what a healer is? Do you just have to listen to someone bitch about their problems until they figure out the right thing to do?
Kerry readies the troops and tells Faye that they might need to find a new chef and that the rest of the crew needs to rally around the interior. If he waited all season to do something about Jess, why even bother now? There are two meals left. The time to fix this was at the beginning of the season. Now he said something and is in danger of ruining their last day. If you abided by her behavior for this long, why decide not to on the very last day? And you can see that once the captain speaks with her, her attitude changes considerably. See, that's all it took.
After her healer does absolutely nothing and probably charges as much as Miss Cleo to give her a fake Tarot reading, Jess decides to do the right thing and get her cook on for the last day. She says she's made a commitment and will honor it. Oh, phew. I was afraid that Nathan would have to make his "world-famous" seven-layer nachos. (The final layer is chocolate sauce, and it's disgusting.)
This is a big deal because the final lunch is in a cave. Well, not just any cave. It's a mangy-looking cave with a restaurant inside it with an industrial kitchen. This whole cave thing is totally sus, like more sus than an email from a Nigerian Prince telling you that you just won a free iPod and a 30 percent off coupon to MedMen. Why is there construction equipment all around the outside of the cave? Is this a former site for nuclear waste dumping? Is that why everything glows?
Even worse than that, the primary, Carol, is forcing Faye and Kasie to wear her designs for a photo shoot. This is the dumbest, stupidest, Joe Rogan-est thing I have ever seen in my entire life. This is concocted only for the show. The girls don't want to do it, Carol doesn't want to do it, we don't want to see it. Who thought this was a good idea? Seth? Probably Seth. Let's blame everything on Seth.
Faye and Kasie are not model height, they're not model sized, and they are not professional posers. Let them do their job, which is preparing your lunch in a cave that looks like a Dunkin Donuts parking lot, and hire some models to do their jobs. Better yet, Carol's friends are, to a woman, gorgeous and would fit in those dresses. Have them model. They'd love it! Why do we need to see Faye and Kasie in these ruffled monstrosities that look like wedding dresses left in the drier with a blue sock and a purple sock, and they bled all over them?
The lunch goes on without incident, and so does the final dinner, where Jess serves a kind of gross-looking mushroom risotto, and everyone storms into the dining room with golden bottles of champagne with sparklers attached like it's Butter and the original Gossip Girl just premiered. Then they set off confetti cannons. I hope that Faye and the indoor girls didn't clean up even one scrap of that paper. The disrespect of a confetti cannon on a boat. These guests have obviously never worked a service job, and it shows.
The next morning, the final guests leave, and all of the crew are only wearing one white glove, like they're auditioning for It's Bad: The Michael Jackson Musical. All that's left is the final dinner, where Faye and Seth flirt with each other, and she talks about loving his meat, and he is eager to eat her fish, and it's all double entendres and sadness. When they get back to the boat, everyone goes to bed with Faye and Seth in their own beds. In the middle of the night, she gets up and tells Seth that she really wishes she could cuddle, but she just doesn't have it in her right now. That's cool. That's totally her prerogative, but didn't she already declare her intentions by going to bed? It's the last day of work. You may never see him again. Why explain yourself? Just ghost this dude.
That's especially true because he's an enormous jerkface. He's a hot jerkface, yes, but a jerkface nonetheless. He confronts Kasie about sending the picture of him sleeping on the job to Lewis and accuses her of being into "high school shit." He asks her why she did it, and the answer is easy: it's cause he's a jerkface. He's been mean to his coworkers since he got on the boat and has insisted that they do whatever he says since he's in a quasi-leadership position. Of course, she will show evidence of him not being a very good worker. He's a hypocrite and, even worse, a jerkface. Why would she be nice to someone like that?
The final 20 minutes of the episode is just everyone leaving. How long does it take to leave a boat? I ask seriously because I have never voluntarily left a boat. I know how long it takes to be thrown off a boat, and the answer is shockingly fast. In his final moments with the bosun, Seth asks for a completely meaningless promotion to bosun. You know, it seems like a joke, but it's not. In his final confessional, he says he worked his way from deckhand to bosun in three weeks, and he means it sincerely. He's more serious than the Ozempic shortage. You know he's going to put on his resume that he was a bosun on that boat even though he had that job for 15 seconds as he put back on his ugly trainers and walked off the gangplank. And it's the same gangplank for all of the gang. We see them filing off, one by one, with their pitiful, wet-firework romances that never really sparked. Oriana wants nothing to do with Lewis in the future. Mike and Kasie don't even follow each other on Instagram. Faye told Seth she never wants his boner anywhere near her and doesn't even want a picture of it on Instagram. But it was a beautiful first season. The whole crew had their adventures, and if we're going to get any pictures at all, it's of Seth and Faye fjording. And what could be better than that?