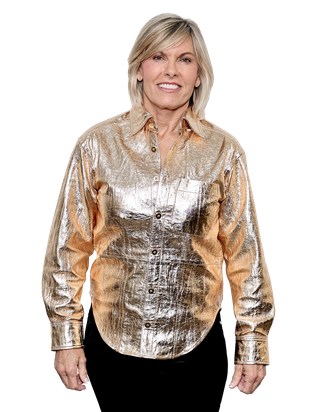 Photo: Jamie McCarthy/Getty Images
When Captain Lee had to step away from the St. David superyacht on this season of Below Deck, Captain Sandy Yawn (Below Deck Mediterranean) took the helm without a second thought. Walking onto a new boat, especially one with an already established crew, is never easy. What did she think of her new reports? She calls Tony a "superhuman," Rachel "a boss," and Ross an "excellent bosun" despite his "disappointing" behavior with the women onboard. And then, of course, there were Camille and Alissa. But under Yawn's reign, she molded the crew into a dream team. As the captain for the majority of the season, Yawn developed genuine bonds and faced turmoil while at sea. By the time Captain Lee returned, Yawn had replaced two stewardesses, held her ground against a neighboring superyacht, and shaped Fraser into a star chief stew. In her final episode of the season, she passed the reins back to Captain Lee and bid a bittersweet farewell to a crew that overcame hardship under her leadership. "When people are humble, and they ask for help, I'm there for them," Yawn said. "Period."
What was the biggest challenge of stepping in and taking over another captain's boat?
Anytime, as a captain, you step onto someone else's crew, it's never an easy dance. So, you try to rise 30,000 feet and assess your people. Our ultimate goal is to provide that level of service to the client that's paid a lot of money to be there. It's also hard for crews to go from different management styles, so I also take that into consideration.
What were your expectations before taking over? How long did you think you were going to be onboard?
Now, let's not forget, I do have a girlfriend that's the love of my life, and I left the day before Valentine's Day. That's a big sacrifice for my relationship. I was told it was only going to be a week, a couple of charters. But Captain Lee wasn't getting better, so I had to stay longer, to the point where I just said, "I have to leave," because Leah was having surgery. Even if Captain Lee couldn't come back, I had to leave.
How long did you stay?
Five charters.
Can deckstews ever work out? Or are they destined for failure?
So, let me tell you where the deckstew came from. Small boats, right. If you're on a 60-footer, 70-footer, under 100 feet, that person has a much smaller vessel, and that's when they go outside and inside. Deckstew means they handle the line, they do interior, they help outside, but their main focus is interior.
On larger vessels, it's impossible to have that person that goes in and out. Everybody needs a job description. And to try to have a person have two bosses? Try that out, see how it works for you. Doesn't work. So that's for small boats, it isn't for superyachts. You're either on deck, or you're on interior. You can't do both because it tears the person apart. And in this case, when you have two department heads that aren't communicating about the person that was put in that position, that's not fair to that person. Remember, we're all human beings.
You're no stranger to boatmances — what are your thoughts on Ross and Katie?
The crew were really good at keeping that hidden from the captain. What are you gonna do? People hook up. I'm not there to discuss what they do in a bedroom, and those people are in an agreement. I do step in when it starts to interfere with their job.
Can you talk about your relationship with Katie? It was clear she admired you. Did you have any side conversations about being women in boating?
Not onboard. After the season, I had a fundraiser and she came and she says, "You inspire me. I want to be a captain like you someday," I say, "I'll help you. Just call me." She's awesome at her job and … watching Ross, it's like, maybe Ross needs to get some help. Because man, he is a player. I know they say, "Don't hate the player, hate the game," but I'm blown away. I even looked over at Lee, and I go, "Wow, I see why he's not a captain." Because during the season, I'm like, "You've been a captain before. Why did you stop being a captain?" And after watching his behavior I'm thinking, Hmmm, maybe that's why. Very disappointing to see how he was with the ladies onboard. Just no respect for them. Or for himself in that matter … but what an excellent bosun.
There's a line when you're in a leadership position and as a bosun, you need to stay on the right side of it. 
Yes. I don't know if people think it's just a frat house. It's not. It's an actual real job. The only difference between us and the military is — we are not in the military and we don't have as strict rules — but we do have a code that we should follow. Come on, man, have some respect for the women onboard. But then you look at the women, and I mean, come on, have some respect for yourself. But when you add alcohol, it's not their friend. Clearly, it's not their friend.
Did you actually hear — and excuse me for having to repeat this — Alissa saying that you "suck deck-crew dick?"
No. I mean, that's a really good edit. But no. Don't you think if I did, I would have called her right to the bridge? The reality is, when insubordination like that happens, and the lack of respect, I would have terminated her immediately. I would have ended her contract that day. Also, we're filming a show, so I work with production on how to fire.
But the reality is, I would never have someone who was so disrespectful like that. I'm her superior. I can fire her. And I think when I walked in, she didn't think I could. Everybody thought the problem was Camille. Now everybody's saying the problem actually wasn't Camille. The problem was Alissa, and that problem stems from Fraser and the fact that he doesn't lead his team. He's got to learn to lead because he should have shut that down. My chief stews in the past, they would never engage because you have to have that fine line. Otherwise people don't respect you and your leadership role. Clearly, Alissa doesn't. I mean, look at Hayley. She's great. She handled it with class. But Hayley's older, Hayley has more life experience than Alissa and Fraser. And you can see that …
You can see that difference between their reactions when they were tanning and you went up to ask why they weren't helping Tyler.
Hayley is a team player. Alissa is all about Alissa. Right? Almost narcissist behavior.
You sent Fraser such a sweet text message. Do you usually send messages like that to your crew?
Fraser sent me a message first, and he said, "Thank you for being kind to me on Watch What Happens Live. It was my first chief stew job. I learned a lot from you." A lot of times people will step into roles where they think they have to do everything, because they put so much pressure on themselves without asking for help. And I think that's what Fraser did. When people are humble, and they ask for help, I'm there for them. Period. They're young. I've been doing this for years, I've had a lot of crews.
When did you carve out the time to write your book, Be the Calm or Be the Storm: Leadership Lessons From a Woman at the Helm?
Three years, it took three years. I had a collaborator. She interviewed me, she interviewed a lot of my former crew before Below Deck Mediterranean, who were still very much in each other's lives. Apart from the TV show, we spend years together. And those crew she interviewed, and they're in my book. They talked about my leadership style.
I recorded the audiobook, and I'm listening to it, and I'm like, "Man, I wish I would have done a better job." It's not easy reading a book out loud in three days. That was the hardest challenge in my life. Writing the book was emotional, invigorating. Just, you know, the memories all came back.
Do you think retirement is on the horizon?
I will never retire. I got many years in front of me. Even if I won the lottery, I would still run a boat.
This interview has been edited and condensed for clarity.