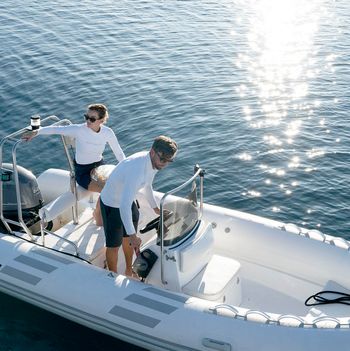 Photo: Bravo/Mark Rogers/Bravo
Just when you think things on Down Under are about to calm down, the show hits us with another heavy moment. After experiencing a seizure at the end of last week's episode, poor Josh is aided by his friends — who seem to be familiar with his condition — and Captain Jason before being transported to the hospital. Luckily he's doing fine, but it sucks that he wasn't able to enjoy his vacation and had to head home early. Aesha's shaken up over the situation because it reminds her of her late brother, but the guests determine that the show must go on.
While they enjoy the rest of their meal, Jaimee tells us that she's annoyed Culver went to Tzarina rather than checking on her after the intense medical emergency, so she decides to give him the cold shoulder. Little does she know that Culver's only interested in chatting with Tzarina because he wants to eat, not because he was emotionally affected by the event. Someone could be dying in front of him and he'd probably be like, "Oh, let me go make a protein shake." Later in the evening, Culver and Jaimee eventually kiss and make up, while Culver tells us how he likes her so much that he wants to take the next step and make things official. Sir, please take a chill pill, you've known her for [checks notes] less than two weeks.
The next morning, Margot wakes up to a text from Luke, in which he apologizes for not reaching out sooner because he wanted to respect her boundaries and tells her that he wants to explain his actions to her over the phone. I didn't expect to hear his name again this season, and I can't believe he has the gall to contact her saying that he was trying to respect her boundaries. Go away, you creep! In a confessional, she shares that the message has taken her back to the state she was in when it first occurred and that it's weighing on her given that she's already stressed about not letting Aesha down in her temporary role of second stew.
After taking a swig of leftover wine from a guest's glass the previous evening (which is gross, not to mention unprofessional), Margot decides to have another drink before accompanying the guests on a quick trip to Vlasoff Cay, the disappearing island that doesn't seem worth the effort regardless of how pretty it may be. The cameras have caught her drinking while on the clock multiple times these past few charters, and it reaches a peak during this episode after being triggered by Luke's text. However, there's a big difference between tasting a drink you made for someone when you're in the early stages of bartending and repeatedly sneaking sips whenever you get the chance while working.
Right before the Hawaiian dinner begins, she downs all of Aesha's leftover piña colada to the point where she's drunk and doing a poor job of hiding it. Aesha notices that something's off after watching Margot clumsily attempt to wash the blender and smelling alcohol on her breath, so she questions Margot, who downplays it by claiming she only drank a little bit. While Aesha doesn't want to tell on Margot, she does the right thing and informs Jason, telling him that she could tell Margot was drunk because all of the leftover piña colada was gone and that she's concerned over Margot's general well-being given everything that she's been through.
Jason eventually pulls Margot for a chat, where she casually admits that she's had "little sips" a few times while working. I wish she would've also told Jason or Aesha about Luke's text since they likely would've been understanding, especially since they already feel that she's using alcohol to self-medicate. But while that information does help put her headspace into perspective — especially when keeping in mind how recently the situation with Luke happened — I still think that Margot has a problem. At least she took accountability for her actions, so here's hoping that she learns from her mistake and takes control of her drinking habit.
The next morning is guest departure day, but not before we catch up with Joã and Tzarina. While chatting in the crew mess, Joã expresses how much he enjoys being with Tzarina, who admits that she wants to explore something romantic with him but doesn't want to hurt her unnamed friend. Hm, I wonder how this friend feels watching their enemies-to-lovers dynamic unfold … Elsewhere in the love department, Culver tells Aesha that he's planning on taking Jaimee on a date, which Jaimee thinks is sweet even though they're "moving fast." Culver's big plan is to make her a card and ask her to be his girlfriend, which is bound to blow up in his face.
The guests then depart, and I must admit that we got lucky with them; I really didn't expect this group of men to be as kind, respectful, and easygoing as they ended up being. Save for Josh's early departure, the charter went off without a hitch, and the crew receives a $17,980 tip to top it all off. Faced with another tough decision after having already fired three crew members, Captain Jason decides to let Margot off with a warning and gives her the disco helmet. "I'm the luckiest dumbass in Australia," she says in a confessional after spending the entire day worrying about whether she was going to get fired. She really dodged a bullet.
Although Margot was the focal point of this episode, I wanted to take a moment to discuss the deck team, which seems to have finally found its groove after a season full of hiccups. Harry and João agree that, personal feelings aside, Adam being replaced by the more experienced Luka was ultimately for the best. They've clearly become a more cohesive unit as a result of Luka and João's arrivals, and I hope it stays that way for the sake of my sanity.
Before the night out, Culver sets up for his date with Jaimee on deck, which is possibly the most work he's done all season. If only he devoted this much effort to his actual job! Culver asks João, who he hilariously says is "good with a computer," to help him make a card composed of pictures of him with Jaimee. In addition to a cheesy letter in which he talks about how lucky he is to have met someone as beautiful as Jaimee, Culver also asks her to be his girlfriend, with boxes for "Yes" and "No" provided for her to answer. Culver's card is the cringiest, most secondhand-embarrassment-inducing thing I've ever seen because, as Jaimee says, "You're 30 … years old." I'm convinced that Culver is a 13-year-old boy trapped in a grown man's body.