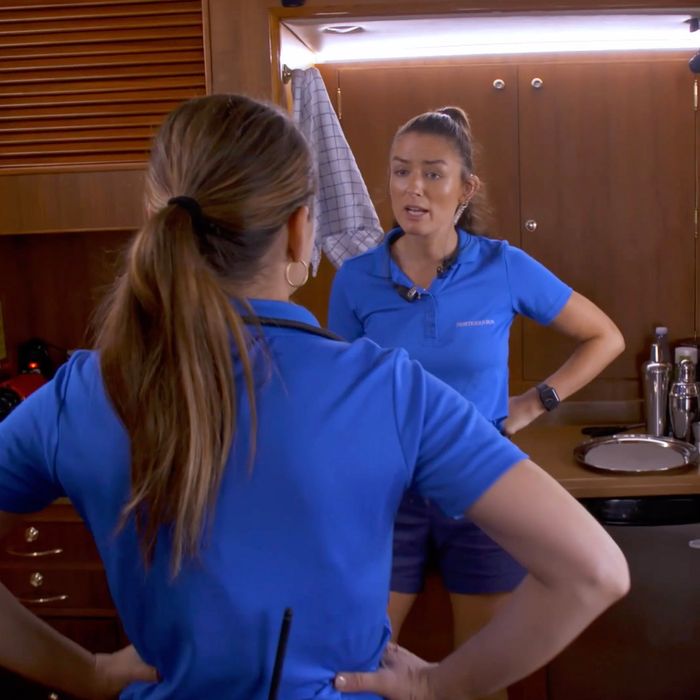 We're officially halfway through the charter season, and there are no signs of slowing down when it comes to crew drama and boatmances. While the interior seems to be a cohesive unit for once, the deck team is in shambles as João tries to make do with the not-so-strong team that he has to work with, and I sort of love it.
We pick up in the middle of docking with Adam finally getting the fender placed correctly but then taking too long to secure the lines on the bow. João, however, doesn't get worked up about it because he views Adam as a hard worker who deserves more chances to improve. I'm still not buying his "'changed man" schtick, but I'm glad that João isn't rushing to throw his team under the bus and is instead choosing to work and communicate with them properly. After the guests depart, Captain Jason and João assess the damage, a scratch on the side of the boat that'll cost around $1,000 to fix. Captain Jason's rightfully worried, given that the deck team has been responsible for several damaged parts.
At the tip meeting, Captain Jason shares that they received $17,500, which is fantastic considering the guests were only on the boat for a day. More importantly, the disco helmet isn't being awarded this week — a win for Adam, who probably would've been the recipient — since the crew's being rewarded with the day off. They'll be going on a snorkeling excursion to help regenerate the Great Barrier Reef, followed by some time to relax at a beach club before dinner. A change of scenery for the crew is sure to be exciting and eventful.
While everyone gets ready, a taxi arrives on the dock, and it quickly becomes clear that the person being dropped off is Scott, Aesha's boyfriend. When Captain Jason calls Aesha upstairs, she immediately starts crying upon seeing Scott holding a bouquet of flowers beside him. Watching her cry made me get emotional because she totally deserves this. What a lovely surprise! Aesha scored herself a real gentleman and a certified hottie.
On the opposite end of the love spectrum, Harry tells us that his relationship status with Margot is "it's complicated" since Margot wants it to be low-key while they continue exploring their connection. I'd describe it more as nonexistent, but whatever floats your boat. Harry and Margot aren't the only pair who are in the "it's complicated" stage — Jaimee and Culver's relationship is still being consumed by the thought of Tzarina. Jaimee tells us that while Tzarina and Culver may have had a connection before she arrived, it couldn't have been serious if he immediately started hooking up with Jaimee. I agree since Culver and Tzarina's romantic interactions never really went past flirtatious banter, but it's still a shitty thing to do.
Once they arrive at a coral sanctuary on Fitzroy Island, the crew (and Scott) go scuba diving and plant coral. Aesha says that this is a way of giving back to the slowly dying barrier reef, describing herself as an "underwater sea god" giving new life to the ocean. My biggest takeaway from this? That Adam can actually swim well — at least well enough that he can go scuba diving without like, freaking out.
Afterward, they head to the beach club for lunch where Aesha and Scott enjoy each other's company and gush about their perfect relationship. Meanwhile, Margot, who's sandwiched between Adam and Harry, mostly chats with Adam while avoiding Harry, who's annoyed that she's "flirting" with Adam and leaving him "in the dust." Harry needs to lighten up because a woman talking to another man doesn't mean she's flirting with him.
Then at the beach, a tipsy Tzarina practically eyefucks João and all but tells us that she thinks he's hot. They sit and flirt with each other while everyone else is swimming, and she tells us he's been supportive and kind toward her, once again implying that she might have a crush on him. Cheffy, nobody likes a hypocrite. You can't be mad about Jaimee breaking girl code when you're blatantly flirting with your best friend's asshole ex, who you claimed to hate just a few episodes ago.
Later, everyone returns to the Cairns Marina for dinner, where Culver tells Jaimee about life back home, which consists of horses, dirt bikes, and boats. Y'know, just rich people things. Upon hearing this information, Jaimee shares that she saw a psychic who told her she'd marry someone with a farm. Well, that person sure as hell isn't going to be Mr. Can't Commit. They continue flirting while Tzarina sips her drink and looks so pissed that Jaimee describes it as seeing "daggers" directed toward her.
At the other end of the table, Aesha asks Adam if his experience here has made him consider making the switch from commercial boats to yachting. He replies that he loves the job and has the goal of moving his family into a house after spending their entire lives in apartments, which is sweet. João tells us that he finds himself connecting with Adam due to their shared experiences and family values, and then offers to give Adam his brother's number so that he can get a gig working on his boat. A kind gesture from João — we love to see it.
Consumed by his confusing relationship with Margot, Harry continues being annoyed that she's talking to everyone but him. He asks Tzarina if she plans on hooking up with João, and she says that she's open to everything but is hesitant since "sex can ruin a lot." Then after seeing Margot scratch João's head, Tzarina tells Harry what he needs to hear, which is that he's being friend-zoned. Shortly after, Margot and Harry get into an argument about whether they're mad at each other, so they eventually step away to talk. Harry expresses that he doesn't understand if they're good friends or "cuddle buddies," and instead of taking this as an opportunity to be honest with him, Margot's like, "I mostly see you as a friend, but sometimes I like you." Girl, stop adding more confusion to the situation. It's not like he can read her damn mind! Harry's having the Mzi (of Below Deck Mediterranean) experience, and it's painful to watch.
Once the crew returns to the boat, Tzarina calls Culver a "slut" while getting out of the taxi, which annoys Jaimee since she feels like Tzarina's rude behavior is unwarranted. While Aesha and Scott head into a guest cabin for the night, everyone else keeps the night going in the jacuzzi. When João checks to see if Tzarina wants to join them, he ends up cuddling with her in bed. In a confessional, he admits that he's open to exploring something romantic with her if she is, which is my worst nightmare. Stay away from her!
Back in the jacuzzi, Jaimee says that it's been awkward for her on the boat, and Harry says that it's difficult for Tzarina to see someone she likes hooking up with someone else, especially since she's stuck working with them on a boat. Culver says it isn't his problem, which, dude, yes it fucking is. Jaimee argues that Culver's making her look like a bad person while he's getting away with everything, and I completely agree. While Jaimee's in the wrong for pursuing Culver after becoming aware that Tzarina liked him, it was Culver's job to communicate his intentions to Tzarina. Although they aren't dating or anything, he was obviously leading her on.
The next morning, Culver contemplates how to approach talking to Tzarina, mostly because he's "not trying to bite the hand that feeds me." If I took a shot every time Culver mentioned how Tzarina's keeping him fed, I'd be dead. Culver just misses his mom's cooking, so he set his sights on Tzarina in order to get access to her incredible food. I doubt he ever genuinely cared about her, and it's annoying that even when he goes to apologize to her, he really doesn't see what he did wrong. He treated Brittini similarly last season, so I'm not surprised to see that he hasn't changed one bit.
While the crew readies the boat for the next group of absurdly rich nightmares set to arrive, the department heads meet for a preference sheet meeting where Captain Jason stresses that he won't settle for anything less than perfection at this point in the season, especially with the struggling deck crew. Naturally, that means they'll screw up again before the episode ends.
Our next guests are primary Emily Monstrey, an American investor living in Australia, and a group of her friends. During the boat tour, one guest, Tamara, begins to argue about wanting one of the guest cabins with Jack and Chanelle, who already called dibs on it. As if it's really going to make a difference what state room they sleep in. She whines about it while her boyfriend, Rory, tells her to just leave it alone.
As the guests sip on margaritas, the deck team prepares to drop anchor. Adam's tasked with being in charge of the anchor, which leads to another mistake — unfortunate, but not surprising. While the boat's still moving, the anchor starts unraveling into the water, which João says can cause a massive, possibly life-threatening situation if it isn't stopped immediately. The episode leaves us on another "To Be Continued" cliffhanger, which I'm sure will end up being as anticlimactic as the rest.