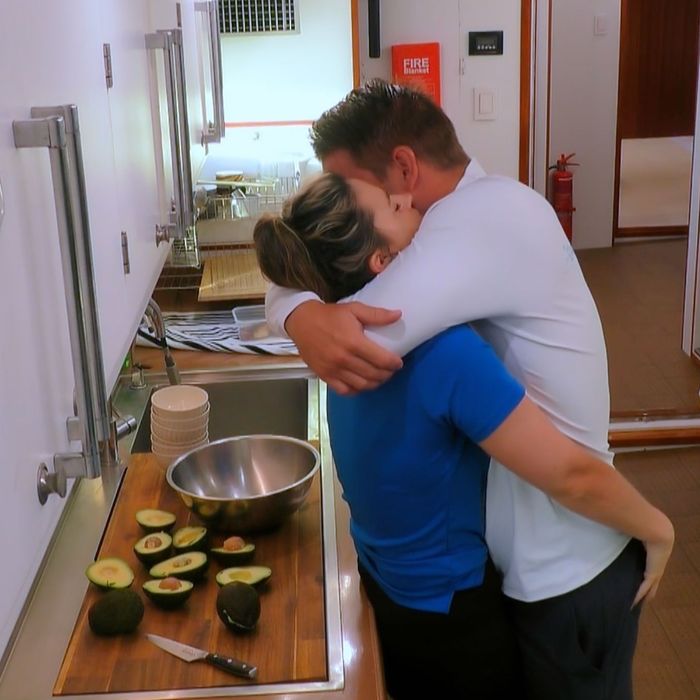 Who would've thought that Harry would be stirring the pot with the seemingly flawless interior this week? We pick up right after he told Margot that she "earned" the role of second stew after everything she's done this season, which … okay. Jaimee is hurt by this comment, as well as the fact that Aesha didn't consider running the decision by her, and she has every right to be. Aesha herself is aware of her unconventional approach to the interior, but I don't agree that Margot going through a lot this season means that she deserves to essentially get a temporary promotion. I understand that firsthand experience is the best way to learn, but the last charter might not be the right time for it. However, all of this could've easily been avoided if Aesha just had the stews rotate shifts.
Culver, a.k.a. the world's worst boyfriend, doesn't even think to stick up for or comfort his girlfriend because he's too busy debating the topic with João, who compares the Margot/Jaimee situation to when Culver failed at being a temporary lead deckhand. Culver gets defensive because of course he wouldn't recognize when he does a shit job. Meanwhile, Margot also gets upset after João and Tzarina agree that it isn't fair to Jaimee since she worked her way up to where she is. It's all just an emotional shitshow, which is exactly what we need in the penultimate week.
After things calm down, João and Tzarina head out for their highly anticipated dinner date. Following a bit of flirting, things take a turn for the worse when they start talking about what they want out of the relationship. They keep saying they want something casual, yet they argue about how the relationship will continue beyond the boat. Tzarina brings up the past because she refuses to believe that João has changed and is waiting for his true colors to show, while João feels like his vulnerability isn't being taken seriously.
When João asks Tzarina the first negative thing that comes up when she thinks of him, she says "fake" without any hesitation, which takes him aback and makes him question why she'd kiss or sleep with him. I think they both make valid points, but I agree with João — why would she pursue him when she harbored all of these negative feelings toward him? It triggers his mask to slightly slip, as we see hints of the old, defensive João we're all familiar with. After witnessing this train wreck of a date unfold, I fully take back what I said about wanting them together. Tzarina is looking for a way out because she's afraid of being open about her feelings, and it's clear they aren't on the same page.
Meanwhile at the rest of the crew's dinner, Culver once again avoids footing the bill, which is embarrassing. Like, grow the fuck up! Harry holds nothing back and calls him out for being cheap since literally everyone else has already done their part. Drag him Harry!!! Culver then pouts about it while they're at the club until he eventually feels embarrassed enough to pick up their tab. Bullying works!
Back on the boat, João decides to sleep in his own cabin rather than spending the night with Tzarina, so it's safe to say their relationship will be coming to an end soon. Elsewhere, Culver decides to take Jaimee, who's already annoyed by the fact that she's dating a man-child, to the very romantic dumpster bilge under the boat to make out. In a season brimming with cringey things Culver has done, this might be up there as one of the worst. Like, why on earth would you take her there? And why would Jaimee just agree to it?? I can't with them.
Our next guests are possibly the most high-maintenance ones we've seen all season, mostly because the primary is a cannabis executive who requests a whole-ass Teppanyaki dinner with a "flaming-onion volcano" that they want cooked in front of them. Tzarina tells Jason that she isn't trained in this type of cuisine, but he just brushes her off, which means we're in for a possibly disastrous final charter that will end the season with a bang. Like, why not just call in an outside chef rather than putting Tzarina through the stress?
Once the guests get settled, the co-primary Melissa asks Jaimee to steam some of her expensive dresses, which Jaimee accidentally burns while steaming it with an iron. Readers, this literally made me scream at my television. I should've known this would happen when I heard the word "steam" in relation to dresses since this has happened before in the BD franchise. I don't get why these luxury yachts aren't equipped with proper steamers. When Jaimee informs Melissa about the mistake, Melissa handles it well and tells her not to worry about it. Then, while Jaimee's expressing her relief over Melissa's surprisingly calm reaction, the mics pick up Melissa angrily ranting about it in her cabin while guest Taylor says that she'd kill Jaimee if her dress also got ruined. Jaimee's lucky Melissa didn't unleash her wrath directly upon her.
Staying on the topic of Jaimee, she's worrying about the job in the Mediterranean that Culver offered her a few charters ago, now that the season is coming to a conclusion. Culver hasn't heard back from the flaky captain, so Jaimee is naturally annoyed that Culver isn't really prioritizing it. Girl, I think it's time to find a backup because you should never, ever put faith in a post-season plan that Culver has proposed.
As dinner creeps closer, the stress gets to Tzarina, who wants Culver to have Keith Stone make an appearance in order to serve as a distraction, even though Captain Jason already rejected the idea. He doesn't think it matches the fancy vibe they're going for, and I agree. After Jason reiterates that Culver won't be involved in the dinner, Tzarina says, "I won't do it," which feels like her way of saying chef Rachel's iconic "eat my cooter" line. Tzarina has been clear about being put in the uncomfortable position of cooking something she lacks experience in, and I think Jason is being unfair by placing these high expectations on her. If he thinks it's that easy, then he should do it himself.
Next week, the season finale sees João putting Culver in his place (again) during the final crew dinner, Margot and João making out, and Jaimee and Luka possibly taking things to the next level. I'm not ready for it to end!