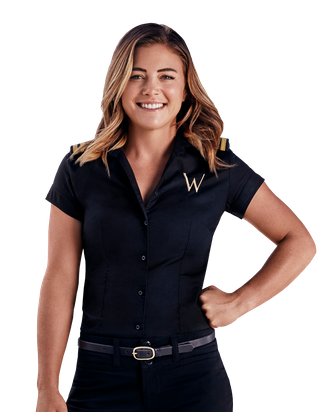 There are worse places to be quarantined than the French Riviera. That's where Malia White, the bosun on season five of Below Deck: Mediterranean, finds herself days before the show's premiere, stuck at port due to coronavirus-related travel restrictions. She was working as a second officer on a boat before they docked in Toulon, France, where she says she's enjoyed having the extra space to exercise. But after years of working on boats, maybe she's earned the break. "Yachties are always in quarantine, so this isn't new for us," she says, laughing.
Malia hadn't worked on yachts before season two of Below Deck: Med, when she boarded the Sirocco as a deckhand. In the years since, she worked her way up in the industry, earning certifications and taking on new roles. She returns this season as the first woman to be bosun across any of Below Deck's 13 seasons of television — which feels outdated to celebrate, but as the show has reminded us, the yachting industry can still be pretty sexist. She also rejoins Med stalwarts captain Sandy Yawn, who inspired her to move up in her career, and chief stewardess Hannah Ferrier, whom she wants to be friends with after a few season two fights.
Malia's career has come full circle now, with her leading the same department in which she began (although on a new boat, season five's monstrous Wellington). "I've always been drawn to work on the water, and I think after that first season, I was like, Okay, this is a career change and I'm just going to go for it," White says. "I haven't looked back since."
What is the boating world like right now?
We're just as confused as the rest of the world. Most boats are in port at the moment because travel restrictions make it hard for us to do our normal charter season. So we're all just waiting to see which ports are opening up for travel.
Is it looking like you're going to be able to work some during the summer?
It's looking that way so far — we're hopeful. The Eastern Med is opening up, like Croatia and Greece. Maybe not our normal routine but definitely some places.
It's been a few seasons since you were last on the show. What got you to come back?
I had a lot of fun the first time; it was my first time on a yacht. So I wanted to work for captain Sandy again and show her what I've learned and how I've progressed in my career.
Can you walk me through what you had been up to in between?
Ever since [season two], I've continued my career. I've gotten my 200-ton captain's license, and I've been an engineer. I've constantly stayed on yachts as deckhand and then worked my way up to bosun. Then I also got my PADI [Professional Association of Diving Instructors] scuba instructor certificate, so I can teach scuba diving.
What was it like to be working more directly with captain Sandy this season in more of a leadership role?
I think after my first season, for lack of a better term, I was disappointed in what my [work] focus was. So I wanted to gain knowledge and have a couple of years under my belt and come back and say, "I can do this. And I'm not just this person; I can also lead the deck." To do that for captain Sandy, that was amazing.
What did you learn from working with her the first time that came in handy this time around?
A really cool thing about captain Sandy is that she doesn't really care what goes on below the deck, between the crew, just as long as all the work gets done on deck. I admire her leadership in that sense. She always just kept saying [to me], "Keep going — you can be a captain, you can do this." And throughout the years, she'd text me or send me messages like, "What are you doing? You could be doing this." She's definitely always fought for me to continue to push myself and know that women do have a place in this industry, which I think is supercool and important. You sit in classrooms where it's 90 percent men, and you're like, Should I be here? Can I do this? And she's paved the road for that.
Coming onto the boat as the first woman to be bosun on any of the Below Deck series, were you worried? In the first episode of the season, we hear these little sexist comments from the deckhands.
Just as a female on deck, you're always worried about how seriously you're going to be taken or what your role [among] the deckhands is going to be. So, yeah, stepping on as the first female bosun was a little nerve-racking in the sense that I wanted to make women proud.
You got on the boat and you also saw that Hannah's still there, a few seasons later. Had you known that you were going to be working with her again?
I thought maybe that was a possibility, but I didn't know for sure.
So what were you thinking about getting to work with her on another season?
Coming into this season, I just had so much excitement, and I didn't even really consider my first season. I felt like that was then, this is now, and Hannah and I were never really in a bad place. So I was just excited, really. And obviously nervous, just to do my job and not have anything else be brought into it.
How did it feel having Hannah and Sandy in leadership positions to back you up?
In a way, I felt even more confident, because I know Hannah, I know captain Sandy, so I expected the level of support I would get. I was very excited to have us three come together and show people that women can have these leadership roles and they can do it together. If anything, having people that I'd worked with before helped my nerves.
Without giving too much away, what did you think about your crew of deckhands?
I think they are a unique bunch. You never know what kind of guys you're going to get. And having grown up with a bunch of brothers, I know that they can have very unique personalities. I was really just hoping to not get anyone who had too much pushback. We'll see; I think everyone's going to enjoy this season with them.
After this season, what would your advice be to women who are thinking about going into yachting and doing deck work, or being a captain?
You're going to have so many people tell you, "It's easier if you just be a stew" or "Women can't work on deck." Just ignore it and go for it, because equally, you're going to have people that push you. Like captain Sandy. Just surround yourself with the people that are going to push you to do what you want to do.
I know that your world is kind of up in the air right now, but after this season of Below Deck: Med and everything you've done in the past few years, what are your next goals in yachting?
Currently, my next goal is to become a chief officer. That would be pretty much the right-hand woman to the captain. It's quite a bit of schooling, so I'm ticking them off one by one. And that means I can be on bigger boats, as a chief officer.
So is it safe to say that we won't be seeing you on the next season of Below Deck: Med?
Oh no, not at all! Being on Below Deck: Med is definitely a passion of mine, as well, so the more, the merrier.
This interview has been edited and condensed for clarity.