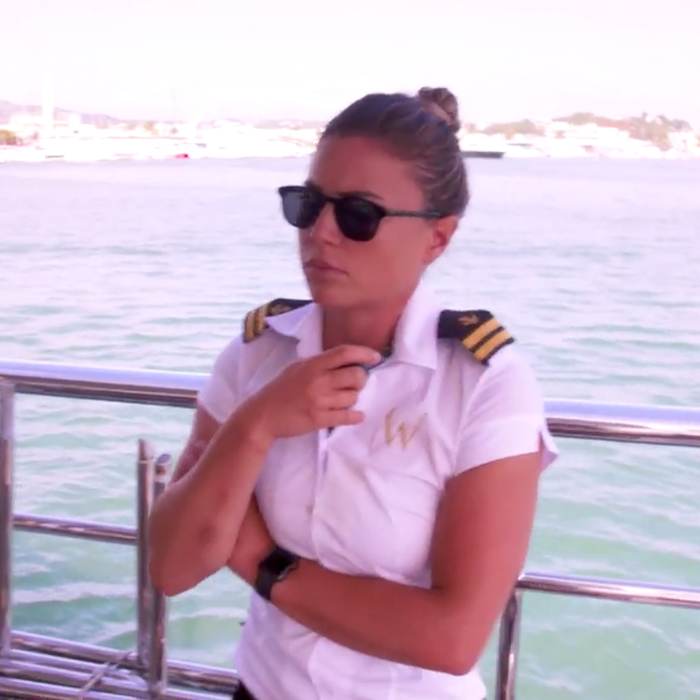 The Below Deck: Med producers love some juxtaposition, and the opening of this episode — which, I have to point out, has one of the more ridiculous titles we've seen this season — is a textbook example. Jess's heart is racing after she went out on a jetski, so she's going to take a hot shower to relax after catching her breath on the deck. Aesha, meanwhile, is being force-fed alcohol at the beach club closing party in Ibiza with the guests. (There wasn't much forcing involved.) Captain Sandy asks to see Jess to take her blood pressure, since she once had a heart attack and she's worried about women's heart health. This isn't a bad thing, although Sandy does look silly saying, "I'm gonna text my friend who's a cardiologist" after she confidently took Jess's blood pressure three times. If she's going to have a blood pressure thingy and be worrying about her crew's blood pressure, shouldn't she know how to read it a little? Jess is fine, by the way, but then we're back at the beach club, where Johnny Damon & Co. are drunk off their asses. It feels a little random to be cutting between these two events, but for a second, doesn't it remind you how stupid and inconsequential this show is supposed to be?
It's wonderful chaos when the guests return to the boat. Bugsy is getting the crew dressed in their 1920s outfits for the night's Gatsby party, while Johnny Damon is drunkenly trying to hit baseballs off the boat. (Did he pack that baseball bat? Did Alex pick up the baseballs out of the sea?) Everyone is still properly drunk by dinnertime — except for Captain Sandy, of course, who deserves props for joining them while stone-cold sober. "Saloon!" one of the guests says as a toast, and I have to agree. Dinner is beef filet with braised short rib, and you know it's one of Tom's plates because there's at least two meats. Even in his drunken stupor, Johnny Damon wants his beef cooked more, and I'm just admiring his commitment here. Dessert sounds divine: chocolate fondant with a mousse espresso martini. Sandy seems to get on well with the guests, and she absolutely loves the food — surprisingly, she's not even miffed about Tom having to re-cook Johnny Damon's plate. Growth!
Or maybe not, because Jess tells Rob before bed that she's worried about them, after she blew up Rob's texts with his ex. But they apologize and go to sleep. You want to talk about juxtaposition? In the kitchen, Aesha is calling Bugsy a shitstain and insisting that it's a term of endearment; then, in a confessional, she's complaining that this crew doesn't banter with her (after not even 48 hours on board). And is that Johnny Damon peeing off the deck? I hope he had a stiff drink while he watched this episode.
It's 7:20 a.m., and Rob is late for his 7 a.m. shift — after Malia already gave him an extra hour off the night before. He says in a confessional that oversleeping is not okay, which doesn't really carry weight coming from the guy who just overslept! To be fair, it's probably a fine day for a crew member to oversleep, since the guests are out cold. But Malia wakes up, notices the boat is a mess, and tells Rob that's not allowed. He knows, but she knows too, telling us that he's out of it because of Jess. As a Rob-Jess hater, it's a little fulfilling to watch this overblown relationship finally catch up to them. But not fully, because Jess has the best day of work on this boat yet! Bugsy likes her table setting, the laundry looks good, and Captain Sandy — who has considered firing Jess multiple times — calls her to the bridge to compliment her. I'm happy for Jess, who is a good crew member even if she's not second stew material.
The guests wake up a little before noon, as they deserve to, and have a quick brunch of huevos rancheros (and Bugsy can pronounce it now!) before departing. But docking won't be so casual, thanks to Rob, whose mind still seems to be on Jess as he messes up on throwing his line three times. Malia complains about this to Bugsy afterward, and as she should — she had to walk Rob through it like he was docking a boat for the first time! But Rob has to walk in on them, and says that "everyone's allowed to make a mistake." Aside from Rob's feelings once again getting hurt, there's a flaw in that statement, as Malia later tells him: Rob made three mistakes.
I spent the last week kicking myself for missing a detail in my last recap: Aesha and Jack broke up after last season, because Jack got back with his ex-girlfriend in London and Aesha found out over Instagram. Poor Aesha! As they're cleaning cabins, Jess asks Aesha about her boatmance, and Aesha says it was a lot like Jess and Rob's. (I disagree — I liked Aesha and Jack a lot more, and I'm distraught to hear he's a cheater! He still has one of the best accents this show has ever heard.) Jess asks Aesha if they said "I love you," and Aesha says no, because it's only a six-week charter. This freaks out Jess, who's already said "I love you" back to Rob … which freaks out Aesha, our unlikely voice of reason.
Anyway, it's an $18,000 tip from Johnny Damon, who said the charter was way better than last season's. Yay! Now back to this episode's regularly scheduled Rob and Jess programming. An argument brews in the crew mess, where Rob is having a conversation with Aesha, which Jess mistakes for flirting. At one point Alex suggests he and Jess go for a walk, but Jess sticks around to argue with Rob some more on the dock. "At this point are we just looking for things to get upset about," she says, describing only her behavior. She yells at Rob, then claims she's not yelling, then storms away. It's no secret I'm a bigger fan of Jess than Rob, but when it comes to these fights, Jess is squarely on the wrong side. It's a little entertaining, but it's also really frustrating. And cutting between footage of Malia and Tom being all lovey-dovey doesn't make it any better.
On the bright side, Bugsy accompanies Alex to go shopping in Ibiza, and they get a fun afternoon together! By the evening, Bugsy is all glittered up and ready to go out, and Jess and Rob have, somehow, apologized for the second time in 24 hours. At dinner, there's a mime, which shocks Aesha, and an argument between Jess and Rob, which shocks exactly no one. It has something to do with Jess remembering someone like Rob from a past season, I think, but what sticks with me is one of Rob's confessional lines: "You can't expect me to remember everything, I'm not an elephant." Everyone is murmuring about their fight at dinner, and on the way to the club, the car without Rob and Jess gossips about Rob and Jess. Condolences to Bugsy, and I guess Pete, for being in their tense car.
And finally, we get a major night out where shit actually goes down. Tom tells Rob to chill, and Rob takes that as "teach Aesha drinking tricks" — which, sure! I think he knows by now what he's bringing on himself, and I'm glad he decided to have some fun tonight. Surely, Jess calls that flirting in her confessional. In the middle of this sweaty Ibiza club, you're concerned that your boyfriend is teaching a woman a fun way to pour a beer can? Meanwhile, here's some flirting I'm concerned about: Alex is giving Bugsy another one of his speeches about how she's a fucking weirdo and he's a fucking weirdo, and they should just be fucking weird together. Something clicks, and oh my god, they're making out on the dancefloor! Finally!!! Something good is happening!
But deeper in the dancefloor, Rob is trying to rectify his issues with Jess, telling her he doesn't like how she's hot and cold. Jess counters that she feels like Rob is already done with her — which, if there's one thing she's said tonight worth calling out, it's that, since sensitive Rob is clearly taking this to heart. The man said he feels broken! He just changed his ticket to Bali! Also, it doesn't help that this is cut with Malia and Tom macking on each other and saying they want to get married. Just let us watch the fight! Rob asks Jess if she's mad, and Jess has a final line for the ages: "Go ask her! [flicks hair toward Aesha] You can get the fuck out of my face!"
And with that, are Jess and Rob over? Their multiple apologies this episode alone tell me not yet. Next episode, I guess we'll find out what Aesha says.
Tip Sheet
• Dining with the guests, Sandy is treated to a conversation about komodo dragon eggs, among other things.
• I think Bugsy called Rob and Jess "Brad and Angie" during dinner, and we all know how that ended.
• On the way to the club, Malia and Tom have the most apt characterization of Jess and Rob's differences: "Jess is a very sweet girl but the background of her phone is herself," Malia says. "And Rob's probably spring flowers or something," Tom adds.