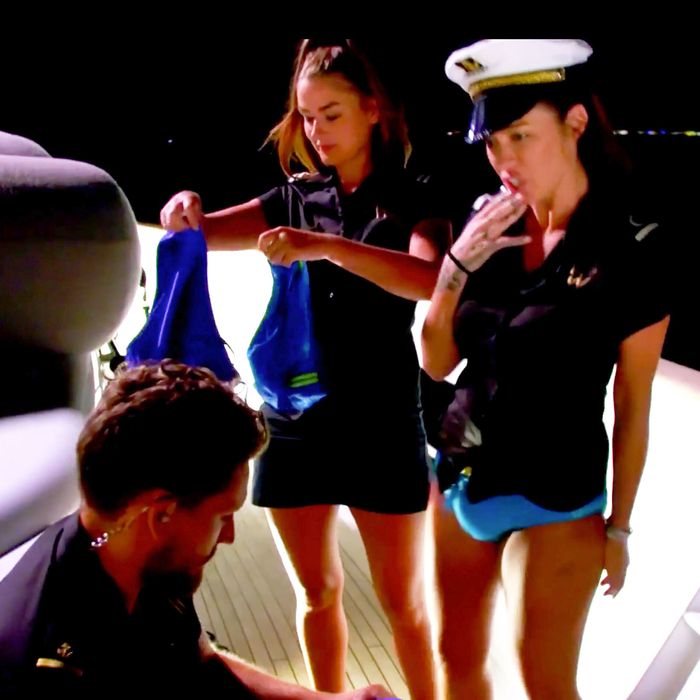 I talked about this season of Below Deck: Med on the Bachelor Party podcast with Juliet Litman last week, and she told me she thought this season has been better for bingeing, like how she watched it, rather than tuning in week to week. Maybe that's part of why I'm so over this boat and crew by now — we've been with them for 17 weeks! They don't even have to be with each other for half as long! I ended up rewatching the last few episodes of season three last week too, and all I could think about is how great it's going to be to watch this crew walk off the Wellington and (hopefully, for most of them) never return. But for now, we're still floating on, and at least we got one of the season's funnier episodes this week.
Tom and Aesha's cucumber argument doesn't turn into much more in the moment; afterward, Aesha mainly just wants to vent to Bugsy, and adds that she gets where Tom is coming from. So Bugsy isn't going to talk to Tom, and Aesha gets a well-deserved break. Meanwhile, Tom is not letting this go, whether he's talking to Malia in the kitchen or some poor producer in his confessional. But he tells Malia he'll apologize to Aesha, because he recognizes he was out of line, meaning he's not the biggest dick we've seen in a galley.
After she comes in to check about dinner, Bugsy talks about standing up for her staff versus "keeping the chef happy," like the chef is some temperamental child whose feelings need to be kept in special regard. And maybe he is; when one of the guests who doesn't usually eat meat tells Bugsy she will at dinner because Tom's food has been so good, Tom questions it, like he doesn't want his job to be easier. Sandy decides to poke at Tom while he's prepping dinner, walking into his galley to drink coffee and see if he'll acknowledge her (he doesn't). When Aesha walks in, she's not acknowledging Tom, either, until she gets that apology. "He got lucky that I didn't use my new jujitsu moves on him," Aesha says, although we as viewers got unlucky to not see that.
There are precisely no surprises as we get ready for dinner, but that doesn't make it entertaining. As the crew puts on their Speedos (remember that bet?), they quickly take to stuffing them with socks and cucumbers and whatever else they can find. Aesha and Jess go to deliver a Speedo to Rob, which once again has Jess miffed at Aesha because she thinks Rob likes Aesha. (And doesn't that seem a little misdirected?) The primary on one of our more demanding charters is running late to his own dinner, because of course he is. And Tom is telling Malia, who's in his galley like a leech, that he's still mad, but he doesn't want to be mad around her. Malia's face upon hearing that says it all, yet she stays there, wandering around her boyfriend's galley.
Dinner finally happens at 10:30. Tom serves five different meats across three courses, and the guests love all of it. The drama, though, is happening at the bow, where Rob and Jess are having a cigarette break. They don't smoke like anyone I've seen before, as Jess quickly ends up on top of Rob. Eventually, Malia is on the bow telling them to stop, and of course it's Malia, our crew narc. To be fair, this is all happening in the middle of dinner (how is Jess not working?), and for all these guests' talk about loving a naughty time, I don't think they want to see that. As Malia said in her confessional, "This isn't a Sandals couples retreat." Jess and Rob's faces as they try to play dumb are pure comedy.
The next morning, Tom is still in a mood. Still! I'm sure it doesn't help to have Sandy back in his galley, attempting an English accent, smelling his spices, and asking if he's cooked in India before. As she leaves, she asks, "Are we not in a good mood today?" as if it's even a question. Everyone else seems to be in a good mood, though — it's the end of the charter, Malia's mom is visiting, and Bugsy is giving those horny kids Jess and Rob a guest cabin for the night. Tom even apologizes to Aesha!
Malia's mom Mary watches them dock the boat, says hi to Sandy, Tom, and Bugsy (the current leaders on this boat are really the Malia team, aren't they?), and gets a quick tour before leaving to get ready for a flight back to the U.S. Then the guests leave, but not without an empty speech about business and customers and jobs from our "entrepreneur" primary, Eric. He ends the speech by giving the crew invites to dinner with him in Malibu. The way the crew feigns excitement, then immediately flips to disgust when he turns around? That's theater! (This episode really has the best faces of the season.) But like nearly everything else teased this season, what looks like a major plot point turns out to be Not a Thing, as Eric quickly turns around to give the crew a $20,000 tip as well. Ha-ha, how funny!
Sandy is still prodding Tom about his attitude, mentioning it in front of the entire crew during the tip meeting, like she forgets how much she needs this guy for one more charter. This, as expected, bothers Tom; he tells Malia so later, putting her in a tough spot as Tom's girlfriend and Captain Sandy's most devout follower. Malia doesn't seem to comment much on the whole thing to Tom, only furthering my belief that she'd choose Sandy over him.
The crew gets an opportunity for an actually fun night out without Rob and Jess, but they end up just going to a nice dinner. But even without Rob and Jess, the relationship drama still abounds, as Aesha puts Bugsy on the spot with a question about her "sexual tension" with Alex. Bugsy says the sexual tension isn't there, making for an awkward rest of the dinner. But for her part, she tells us that she doesn't want to be talking about her sex life with the rest of the crew, and really, she just wants to be liked and kissed. And who doesn't! Alex dwelling on the whole thing makes it significantly more awkward.
But speaking of sexual tension! Back on the boat, Rob and Jess enjoy a casual dinner on the aft-deck before heading to their fantasy suite. Earlier, Jess told us she hasn't-ish had sex in two years, and Rob confirms that he hasn't had sex with her, meaning we're in for a big night. Rob assures us he's an expert — he once appeared in a documentary about Tantric sex, he says, adding that Sting and his wife once fucked for three days doing it. (These quirky confessionals are the Rob I liked at the beginning of the season; bring him back!) These two have jobs to do, though, so they just get one night of fake moans from behind a closed door.
In the morning, everything's happening: Rob and Jess are fielding questions about their night and Malia is naming a lead deckhand and the guests are arriving early and provisions are coming! The provisioner promises Tom that the lobsters and fish are "super-fresh," which really means that they've been sitting in their hot van and are too warm to safely cook. Tom radios Sandy, but she doesn't respond, so Malia offers to go tell her. But Sandy wants Tom to talk to her — as she should; Malia's not the chef — so he comes to her cabin, only to bring her back to the kitchen and show her the fish. I guess Sandy helps, but really she just puts Tom on the phone with the provisioner, who says they'll bring him new fish in time for lunch.
But suddenly, that doesn't matter anymore, as Tom calls Malia to the galley so he can complain about the provisions being a mess while he needs to cook for the guests (not to mention he burned the rolls he was baking). Malia offers to help, but then there's Captain Sandy, being useful for once and pulling Malia away from being her boyfriend's sous-chef. "He needs to come to me!" she says. "You're not the captain!" And she's right! At the end of the day, it's Sandy's boat — plus when is Tom returning the favor and helping Malia out? Malia tells Sandy she's worried Tom will walk off, to which Sandy replies, "Well let him walk," reassuring you that this is the same captain we've seen all season. But you and I both know that won't actually happen.
Tip Sheet
• Were these guests really only on the boat for one night? Based on the crew's excitement over "last day of charter" and that $20,000 tip, I'm wondering if the producers cut a whole day out of this charter. I'm also left wondering how they're going to drag this last charter out for three more episodes.
• Is poor vegetarian Bugsy relegated to ordering a pizza at every night out?
• On their way back from dinner, Malia is licking Tom in the van. "Can you please stop having sex in the van, Rob and Jess?" Alex says.
• From Malia's Instagram on September 20: "Cheers to all the ladies out there in their 30's, single, focused on their careers & that give zero f*cks! 👊⚓️" So much for all that time helping Tom in the galley, huh.