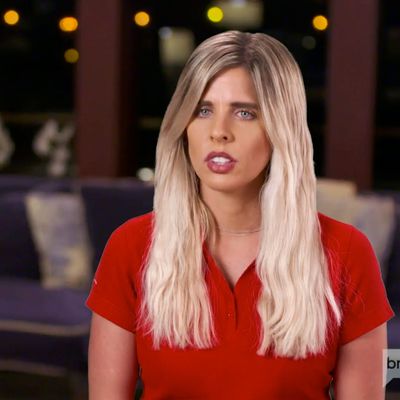 I wish that Aesha accidentally brushing her hand against Rob's ass during an awkward group photo that Jess just happened to stumble upon did not have to be one of this season's last major plot points, but I can't say I'm surprised after such a messy, haphazard season, so just know I recommend taking all this in alongside a healthy pour of wine. Anyway. Here's Jess saying that not only does this prove that Aesha is into Rob, this proves that Rob is into Aesha? Rob, meanwhile, tells us in a separate confessional that he has a "sensitive bum" and would've felt anything, and I trust him — I just wish the narrative on this show didn't bring us to a point where I had to learn that information. Back on the boat, Jess is complaining in front of Bugsy, threatening to "beat the shit out of" one of Bugsy's other crew members, which doesn't seem smart in front of your boss. "You think I'm kidding," Jess says, to which a stunned Bugsy replies, "I don't think you're kidding." Me neither.
Jess would be irate to see Aesha and Rob being friends while off with the guests in Sóller, sharing gelato, walking down multiple iterations of the same street, and, uh, talking. But here's Aesha's assessment of Rob, in case you still thought she was into him: "I think he's a tortured soul. He reminds me of Edward Scissorhands a little bit." Rob and Aesha eventually bring the guests back, and before we start worrying about what happens when Jess sees Aesha, we should be worried about when Tom is going to see Bugsy, knocking on his door five minutes into his break, to tell him that the guests want snacks. Tom is cursing in the kitchen, making nachos for the guests, along with a caesar salad (which isn't a snack!) for the picky one, Zaida. She sends back her caesar because it has bacon, when her preference sheet says she doesn't eat pork or beef. Sure, Tom is miffed, but there's a bigger problem here: Who the hell puts bacon on a caesar salad? At least we finally have a chef who can competently make nachos.
In the galley, Jess reunites with Aesha, and she's not having any of her small talk. My heart is racing and I'm holding my breath as Jess is about to mention the butt-grab non-issue to Aesha; when she does, Aesha's response is, as expected, a long and confused "Wottt?" She offers Jess a genuine apology, but then goes on to poke at her a bit, saying that if it were her boyfriend, she wouldn't care too much who else was touching his ass. Really, though, Aesha should've told Jess what she told us in her confessional: "It's not like it's a particularly majestic butt, it's not like I'm getting off on it." Although, Aesha, I do hear it's a particularly sensitive one.
Aesha is promptly over this whole thing minutes later, when she's singing in Jess's ear to ask for help with drinks. Then Jess has a talk with Rob on the bow to get to (and yes, they are talking this time). Rob says he's in his head and there's a "shift in energy," to which Jess replies that Rob doesn't acknowledge her hurt, and Rob counters that past girlfriends "don't trust" who he is. There's one thing I clearly understand in this conversation, and it's when Jess asks if Rob is saying she's "jealous and overreacting," and he answers, "Yes, 100 percent." They keep fighting as Bugsy starts looking for Jess, since there's still food out from the guests' snacktime. (When Bugsy asks where Jess is, Aesha responds, "Probably having a fight with Rob somewhere." What was that about not fitting in on this boat?) Jess isn't responding on her radio, and eventually some guests walk down to the bow to interrupt her brooding, so she goes back to her room to curse and cry.
Bugsy finds Jess and has a quick meeting, where she's somehow able to spin her absence into an optimistic plea for a good end to their final charter. Jess makes her thoughts clear in her confessional; she doesn't "give a flying fuck," because I forgot, she actually gets paid to date Rob. And Rob, meanwhile, is taking his problems to Sandy, for some reason? I don't know what he wants her to tell him, and she doesn't either, but she does drop in a little hint that, if Bali doesn't pan out, Rob could always stick around on the Wellington for their postseason crossing and get more miles toward his captain's license. Then, he's talking to Malia, who's saying that he and Jess fight so much, whereas she and Tom never fight. (Wonder what happened there.) Rob, though, says he still wants to go to Bali with her, but Malia mentions that things could get worse once they're away from the rest of the crew.
The guests go off on their sunset cruise, and preparations are afoot for the final charter dinner of the season. And everything's going fine: Tom is cooking multiple cuts of beef while Bugsy is pulling out the elephant figures for one final tablescape. There's a rare sighting of first mate David in the crew mess, where Rob runs into him and starts talking about the crossing. David says they're taking the boat to the Bahamas, and he'd need to get Rob's tagalong approved, but it sounds like they could use the extra help.
It's dinnertime, and Tom's first course is a lobster and avocado salad with caviar. Does caviar count as a meat in Tom's book? The guests devour it, so it's onto the main, a roast beef filet with braised cheek. It looks good to everyone except Zaida, who, as we learned earlier but Tom did not, doesn't eat beef. It throws Tom for a loop as he puts together another version of the plate with chicken (although it doesn't look like two cuts of chicken), and blames it on the guests having "so many preference sheets." But wouldn't something like "no beef" stand out to a chef whose staple is beef? Zaida makes a scene when she gets her new plate, calling Aesha over as she takes the first bite … only to tell her that she loves it.
The guests have chosen to have a silent disco pajama party, which is something you totally could not do anywhere else except for on your Mediterranean yacht vacation. I never got the appeal of silent discos, so I think they look outright stupid dancing on the deck (and not even the full deck!) in their pajamas. It looks like a mom trying to tire out her children before putting them to bed. But if they had fun and are going to tip well, let them dance all night!
The next morning, Rob wakes up early because he is "getting tested every five minutes." How that happened during the night I'm not quite sure, but before I have time to really consider it, Jess is crying. She accuses Rob of fucking with her heart and blowing "this shit out of proportion over something so fucking stupid," but Rob calmly turns it on her — she's been blowing things up too, he says. And he's right! Rob, for once, has the confidence to stand up to Jess and her jealousy and manipulation, and it feels like a damn victory. Jess goes on that he couldn't let things go, and I shouldn't even need to point out who it sounds like actually can't let things go. They exchange more of their empty phrases, and Rob goes to David's bunk to tell him he wants to stay for the crossing. At least we won't have to end this season pretending to care about Rob and Jess's future.
On the finale of Below Deck: Med, which can't come soon enough: one last difficult docking, a late breakfast, Aesha being surprised by a fire-eater, running into charter guests at the club, and Jess sobbing at Rob.
Tip Sheet
• You wanna know what ass-grabbing looks like? Just watch Malia in the kitchen while Tom's making the guests' snacks.
• Before dinner, one of the guests asks, "Do you guys have a peak and a pit?" Another replies, "Could not be more mom."
• This episode's logline teases that "Tom works to keep a lid on his frustrations, as Malia waits for the other shoe to drop," but precisely nothing in these 45 minutes about Tom and Malia's relationship interested me.
• Did anyone else think this episode had more flashbacks than normal? I haven't been one to speculate about what the producers added in when they cut out Pete, but I'm wondering if they had to stretch these last few episodes a bit.