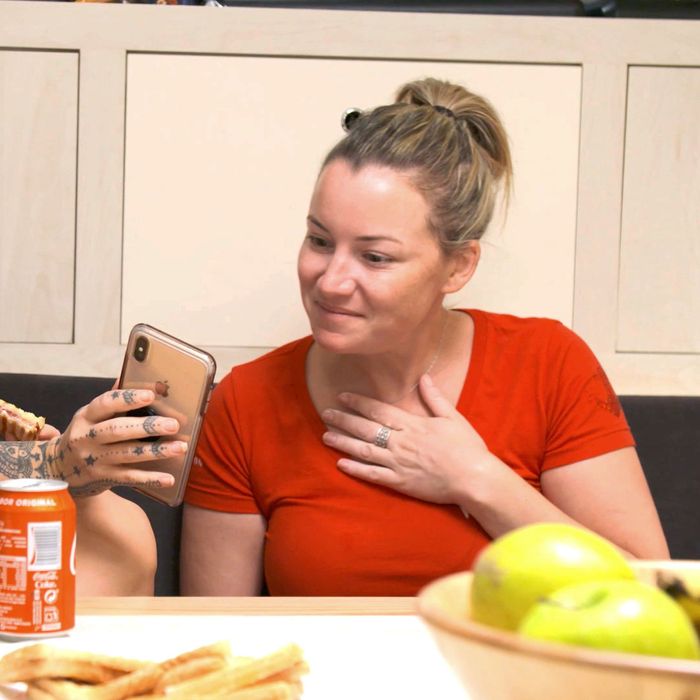 As this boat stays docked, the plot seems stalled too, and I'm starting to feel like a restless charter guest. Where's the drama I ordered? Looks like I'll have to wait yet another episode for that.
We return to Malia not answering any of her radio calls while she's on the tender, watching Justin Thornton play with Scout. The guests leave the beach in a van, and Malia eventually tells Hannah and Sandy that her radio must've been out of range. Sandy excuses it, and that's one plot point resolved without issue.
Back on The Wellington, Kiko is preparing for his dinner from hell: six courses for now 12 diners after our guests invited four of their new friends for dinner. Kiko tells Hannah to try to keep snack orders at bay, so, of course, the guests order snacks. Hannah makes them a charcuterie plate, and then a few more, while saying she's "gonna die." I think You're just slicing cheese! — until I remember that she was up past 6 a.m., so she's allowed to say anything she wants today.
Pete made me mad multiple times this episode, something that hasn't happened since before he got fired. (Remember: Pete has been fired from this show for making racist and sexist statements, even though he's still getting story lines!) The first came as Malia talked to him about his sarcasm over the radio from last episode. He said he didn't mean it to come off that way, and Malia accepted it, because what else is she supposed to do? In a confessional, he adds that "allowing her to have that control is challenging" because he's in control of other aspects of his life: taking care of his father with cancer, parenting his son, captaining boats. Then maybe you shouldn't have chosen to take on a role in which you have to report to someone? Just a thought.
Kiko has planned what he's calling an "international menu," with each course representing a country. He'll do an oyster for France, moqueca for Brazil, a shrimp dish for Spain, a roasted salmon for Japan, a filet mignon and risotto for Italy, and bacon ice cream for the U.S. It sounds like a great menu on its own, but I'm a bit worried considering we've seen some of these dishes, the moqueca and the steak and risotto, on past charters. I hope Sandy's inner food critic is on leave tonight and her inner expediter takes over. That's 72 freaking plates! And Kiko tasted one of the oysters, meaning he now has 23 and can only give each guest one. Maybe throw a second on Leon's plate. He didn't know the guests could ask for more people, he says, but he's going with it because "if I win, I'm fucking good." Definitely a gamble.
Service starts, with no problems from the kitchen so far. The guests enjoy their oysters — even Leon, who says it's "fire." The moqueca goes out without a peep from Captain Sandy or Hannah. I worry about the shrimp for a second when one of the guests says he doesn't like shrimp (but he ate an oyster and sea bass?), but that doesn't turn into anything. It's a blur until the bacon ice cream, which, before you say anything, Sandy has preapproved as "Michelin star." The guests think so as well, and Kiko enters the dining area to rapturous applause. He says he feels like a football player scoring a goal, and my heart is now overflowing. I hope Sandy stops watching over his shoulder after this.
Yet these guests just don't stop. They hang out on the deck for the night and want snacks, which Hannah prepares — including some noodle cups that one of the guests just brought right into the kitchen from who knows where. Alex is not enjoying staying up with them, even though one of them has invited him to hang out with them in New York City. They finally go to bed at the reasonable hour of 3:20 a.m.
And because Justin Thornton continues to surprise me, he's up around 6:30 in the morning, asking for scrambled eggs and drinking a beer in the hot tub (I'm sure his blood has a higher ABV than that beer by now). He and his friends leave shortly after, and they don't leave much behind: just $17,000, or $1,277 per person. Kiko deserves at least $1,000 more, and I will gladly crowdfund it.
When the crew goes out that night, there are a few pairs I'm watching: (1) Rob and Jessica, who is worried about Rob's girlfriend back home; (2) Bugsy and Alex, who is flirting with Bugsy; (3) Bugsy and Hannah, who hates Bugsy. Let's do a run-through:
Rob & Jessica: Jessica talked with Hannah about Rob's girlfriend and open relationship, and Hannah told Jess that Rob posted an Instagram Story about "missing" his girlfriend's "touch," which they think is a little intense if Rob is going to pursue Jess. I feel a little uncomfortable about this whole plotline — let the man be in his open relationship without policing or gawking at it! At dinner, as the crew is talking about relationships, Hannah asks Rob about his girlfriend point-blank, because Hannah used up all her fucks to give on the last charter. Rob admits that he broke up with his girlfriend so he could focus on Jess, which makes Jess happy. After over a hundred days of quarantine as a single person, I resent most couples, but I'm happy for them.
Bugsy & Alex: Bugsy has taken to Alex at dinner, despite Pete's best efforts. The two sit next to each other and talk about Pete and other things, then seem to spend most of the night at the club together. Alex, a grown adult, drinks four Jägerbombs and some other stuff, and Bugsy also gets sufficiently sloshed (she impresses us by chugging two glasses of Champagne at once). When they get back to the boat, they hang out in the hot tub, which is freezing cold because they forgot to turn it on, Malia points out. The cold water does give Bugsy a reason to point at Alex's dick in his boxers when he gets out, but it's otherwise a tame night until she asks him for a good-night kiss on the forehead. Oh, and drunk Bugsy keeps insisting they're in "love" throughout the night.
Bugsy & Hannah: Keeping with her spirit of giving zero fucks tonight, Hannah pulls Bugsy aside back at the club to talk about the charter. "Weren't you worried to be working with such a lousy chief stew again?" she asks. It would've been the line of the episode, if this exchange actually amounted to anything. Instead, Bugsy just explains that she's matured and is ready to support Hannah in her place as second. Which is, like, what she's supposed to say, but could this all be any more boring? Lara really spoiled us.
As if this episode could be more underwhelming right now, we wake up to an exciting … turnover day. Bugsy is trying to piece together her drunken night and is relieved to know that Alex only kissed her on the head (sorry for noticing his dick, not to mention). As she's recovering, she's paid a visit by Pete, for his second (and much worse) infuriating moment of the episode. Pete has been flirting with Bugsy all charter and told us earlier in the episode that he was trying a different technique than the one he's used with Lara — who he's still texting and calling, mind you! That technique is Being Creepy, which got established earlier in the episode after Bugsy felt like Pete was "undressing" her with his eyes in the kitchen. Bleh. Anyway, on the morning of turnover day, he tells Bugsy, "Now you're gonna get to know who Pete is." "They" call him "Shameless Pete," apparently, and it shows — he later tells Bugsy that his only boatmance experience is "just banging my stewardesses," and she doesn't know how to take that. He just keeps talking, and Bugsy looks genuinely scared. It's an especially odd scene to watch after Pete's firing — I'm left feeling both like it was too uncomfortable to have been real and too on the nose to be surprising.
And then, in a metaphor for this show being stuck without any blowup plotlines, Jess smashes her finger and probably breaks it! I'm not one to celebrate another person's injury, but I'm also desperate for drama, so I hope that both Jess's finger messes up something on this boat and that it's all healed by now. We'll see next week, when we get another crop of difficult guests.
Tip Sheet
• This episode in Jess not knowing how to do her job: Hannah asks for serviettes for the guests, and Jess replies, "What's Soveits?"
• We see a photo of 22-year-old Kiko, who is so cute and used to cook in a restaurant that could move 2,000 plates in a night (with a team of chefs). He's cuter than Steven A. Shields, the guest who I've decided looks cuter on the show than he does on Instagram.
• Bugsy speaks in an iconic American accent after Jess can't understand what she's saying during table setup. Why didn't we like her again?
• When Jess comes to Rob's room after their night out, Rob's roommate Kiko has the perfect response: "You guys do whatever you do. I don't fucking care, man. It's love."