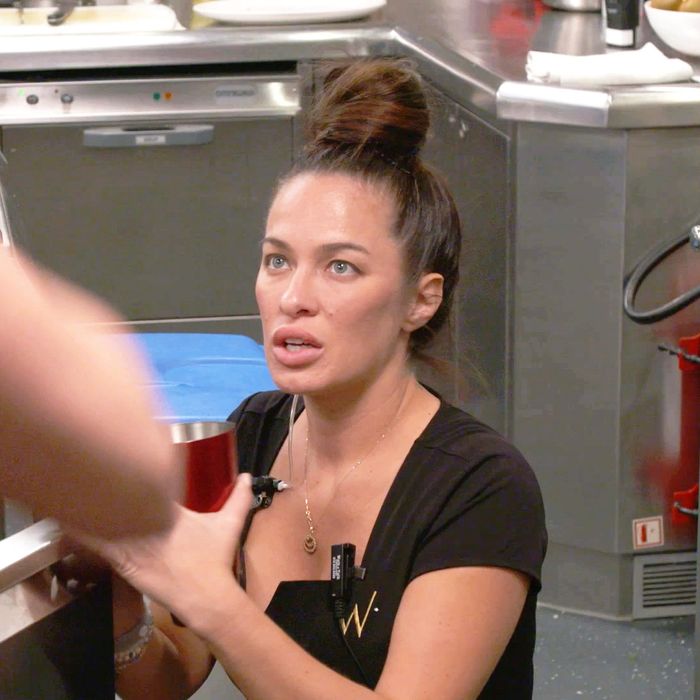 It's still night one of charter one, and what a whirl it is. We're back to Hannah and Lara's argument, with Lara telling Hannah she doesn't have time to argue, or even say okay when her boss tells her to do something. When Hannah tells her to show some respect, she replies with an OK. So Hannah messes with Lara's beloved schedule again and tells her to quit now, a little past 10:15, and just start at 6 tomorrow morning. Meanwhile: The charter guests are playing drinking games, Malia is on the phone with her yacht chef boyfriend (she knows, she knows), and Pete is showing his dead dog's ashes to his bunkmate Alex. Hannah tells Kiko she can't believe it's only day one, either. (Kiko replies that he's had a good day and likes everyone. I like Kiko!)
Lara is excited to run breakfast service without Hannah the next morning, and I do want to see this eight-season stewardess in action. Meanwhile, Jessica is making fresh orange juice for Captain Sandy even though she doesn't like to use a juicer, because her grandmother used to tell her, "Whatever you do, you do it the best you can." (I don't know how her grandma would feel about Jessica asking why they don't just buy orange juice.) Lara tells Kiko she hasn't taken the guests' egg orders yet because she's waiting for Jessica to make them juice, but Jessica points out that they don't need juice to order eggs. "I argue a lot," Lara tells us in a confessional. "I mean, I don't argue a lot," she quickly clarifies — she just finds herself in conflict and tends to win those conflicts.
One of the guests wants her eggs over easy, and neither Kiko nor Lara (nor Jessica, as if I had to tell you) knows what that means. I don't know whether it's worse for a chef or a stewardess to not know, but Lara googles it and explains to Kiko. He seems to make the eggs just fine, but she stalls on delivering them. Jessica is also there, but Lara doesn't want her to be; she won't do cabins like Lara asked because Hannah told her last night to prioritize breakfast. It's a tough situation to judge: Jessica is technically listening to Hannah, but Lara doesn't know that and is senior to Jessica, as she reminds her. Shortly after, it looks like Lara's on cabins again.
When Hannah wakes up, she spends the morning collecting evidence for her case against Lara. Except she doesn't even have to ask for it. Kiko, who likes everybody, says Lara should be off service, then Jessica later explains that Lara fought her and Kiko. Not to mention that for someone who's been in her industry for so long, she doesn't seem to enjoy most of her position's duties — or do them. Her best skill remains ruffling those round blankets like flowers.
The guests want the crew to hide Smirnoff Ices around the boat, even though they're celebrating a 29th birthday. Jessica doesn't know what icing is, but she hides the "beers"  because she does her job — unlike Lara, who tries to walk away as Hannah is explaining the aft-deck fridge, a thing I have never seen or heard of on this show before. (Does she have to crawl into it?)
Kiko is running late on his lunch paella, which he's starting around 12:45 and says will cook for 30 minutes. He doesn't think being late is a problem, though, if the food tastes good. I say, what if the meal was on time and tasted good? What a concept on a charter yacht, I know. But as much faith as I have in our lover chef, this is the weakness I see him having.
That's just a minor shock compared to the seismic event happening in the crew mess. That's where Hannah finds Lara, cleaning up the crew lunch rather than working on laundry. (Does that count as "stewardessy" initiative?) Hannah tells her that the deck crew does this, but Lara says she was just following Hannah's own instruction sheets. When Hannah keeps telling Lara to leave it, Lara becomes insistent on finishing — not because she wants to do crew dishes, of course, but because she has to win this "conflict." Lara is saying Hannah can't tell her what to do while Pete is leaning in from his bunk to hear what's going on, and then it happens. "Lady, don't touch me," Hannah tells her, through gritted teeth, as Lara tries to push her away to get to the dishwasher. It's perfect, and if the episode ended right here I wouldn't be mad.
After the commercial (we're actually only halfway through), Lara explains that she's being nice to Hannah: "Polite and tranquil, that's how I live my life," she says, and I admire her commitment to living in such a fantasy. When she says Hannah is getting stressed, Hannah replies that running this yacht is stressful, and Lara tells her maybe she's not cut out for it. Once again Lara, I applaud the ambition, but that's a second half of the season move, not a second day one. (Bugsy saved her attempted chief stew coup for episode 13.) They relitigate the fight once Lara's in laundry, when she tells Hannah that Hannah is the one who needs to be polite. "I'm OK, I still sleep well at night," she says, to no one, once Hannah's walked away. Lara is giving us a true Edie Falco in The Sopranos performance, and I'll miss her dearly when she gets fired.
If you spent all that time worrying about lunch, know that Kiko's 30-minute paella came out at 2:35 and tasted great. The guests spend the rest of their afternoon playing on the water toys and chugging their Ices.
Sandy is going to eat dinner with the guests, which makes Kiko nervous — but not too nervous, because he's a surfer. That explains the cute long hair and the hour-late lunches. First course is a "fancy" Mexican fajita bowl at the guest's request, but Kiko forgets that Sandy makes an extra diner and is one plate short. Lucky for him, one of the guests asked for a half portion, which easily explains the missing plate. The main course has its hiccups too, when the guests only have butter knives for their steaks. This makes Sandy worry that the steak is tough, and even more when Kiko tells her he didn't try it. When the guests get their knives, Sandy realizes the steak is perfect. I want to love Kiko, so I need him to get the logistics of charter yacht cooking together: timing, coordinating with the stews, egg order terms.
Hannah seems to have gotten her centerpiece game together: She and Jessica hide Ices in a flower centerpiece for Jess, the guest who's turning 29. It makes something cute out of the guests' trashy drinking games, and of course Jess took a knee right at the dinner table to shotgun her can of Ice.
It's been an interior-heavy episode, but a separate issue's been brewing on the deck, where Pete and Malia have been lightly clashing since charter began. The next morning, Pete fumbles his way through explaining some anchor stuff to Alex, and when Malia notices that he's a little lost, she offers to help. The boys have this weird deferential attitude toward Malia — "whatever you say," "you're the boss" — like they can't just take authority from a woman. Pete tries that shit, but Malia eventually gets him to ask for help, not before pulling him aside. She reminds him that she leads the deck team, and he interrupts to say he'll keep his mouth shut, which I'm sure quells Malia's worries. She says she's not afraid to demote him from lead deckhand, meaning it's episode two and we officially have staff drama in both departments. What a treat! Pete also strikes me as the deck's equivalent of Lara, with his focus on being chill all the time — except where Lara's entertaining, he's just annoying. Maybe they should be a couple.
Malia makes Sandy proud by leading this 180-foot monster to dock for the first time, and our first charter of satisfied guests depart. At the tip meeting, Sandy says she's proud of everyone, even Kiko, and makes her protégé Malia tear up. Aw! Not to mention, they got a nice €18,000 tip, which cuts to about $1,667 a person.
Hannah goes to Sandy for advice on Lara. Sandy has seen a better side of Lara — they had a nice conversation the previous afternoon, and Sandy said she was impressed by Lara's résumé — and says she wants to see Hannah turn the situation around. So Hannah calls Lara to meet in the salon, and Lara greets her with a pleasant "What do you want?" forgetting that she'd told Hannah she wanted to talk. Lara's important message is that Hannah needs to stop pissing her off, but she can't give Hannah examples because Hannah makes her feel "so uncomfortable that I don't even remember." I have to give it to Lara: Not only has she become a true series icon in one-and-a-half short hours, she's helped me to start the season as a firm Hannah supporter. Hannah pulls Captain Sandy away from her bowl of cereal to intervene, and that's where we leave off.
On the boat next week: Roy Orbison Jr., Ace of Base's Ulf Ekberg, a baby, and Jessica's boobs. Let's hope Lara's still there too.
Tip Sheet
Rob will tell us anything. He's in an open relationship, he reveals when he's on anchor watch one night, but he's not pleased — which explains why he's so interested in Jessica. More importantly, he admits that he used to traffic drugs to make money to try to help his late alcoholic mother. I'm not here to pass ethical judgment, but this season is teasing a drug-related firing, so this info might come in handy.
How do I know Kiko is a good chef? Well, he makes his pancakes from scratch, unlike others.
Sandy tells the guests about a one-eyed captain she worked for who "crashed the boat wherever we went." I want to eat dinner with Captain Sandy!
Lara says there's an Italian saying: "If a man is under 1-meter-65 [about 5-foot-5 for us Americans], don't trust him." But Pete is tall, so she's into Pete.