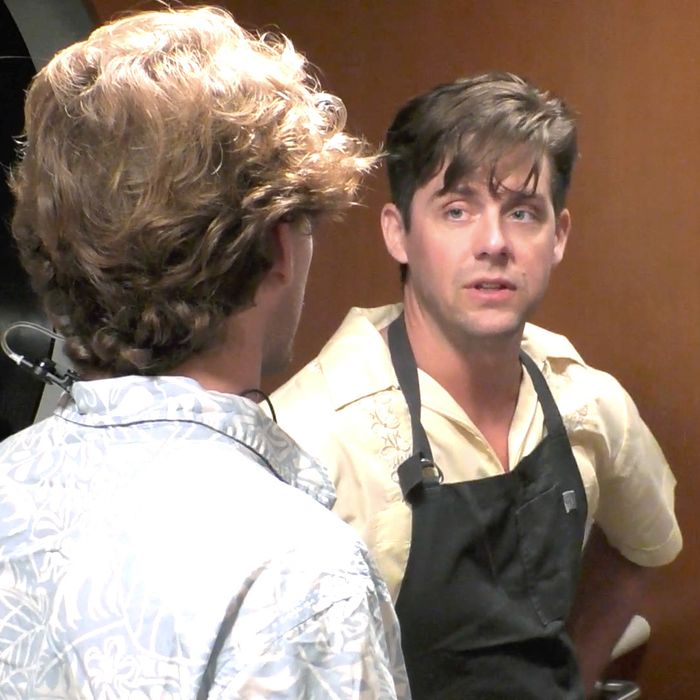 It's been a hell of a week since this new season of Below Deck premiered, as if you needed a reality-TV recapper to remind you of that. But what better treat to have waiting on the other side than an episode that goes straight into the Below Deck Hall of Fame?
Let's check in where we left everyone. Eddie is "PISSED OFF" that Avery is gone, leaving him with inexperienced hottie James and Shane, whose initial response to the news is "boom." Captain Lee is calling the staffing agency to find a new deckhand, and I just bet they're glad to not have to hear from Sandy anymore. Izzy is dragging her feet and wishing she was a deckhand a little over 24 hours into the job. And Charley is shading the service to Lee and explaining the night's international tasting-menu concept to Rachel, who is losing it on the inside but keeping it together on the outside.
For all of Eddie's stressing, it really seems like interior is in the tougher spot right now. Francesca tells Elizabeth that she'll need to step up in place of Izzy during dinner. I do love when department heads shit-talk crew members to other crew members. The guests not only want a dish for each country they're "dressing as" (which makes me nervous), but they want a themed cocktail, and Elizabeth is the stew here with enough energy to use a shaker, so that's in her lap. Then the guests are telling Charley their bags aren't unpacked, so Charley tells Francesca, and Francesca tells Izzy to do it. Yes, they're paying for the service, but instead of sitting on their beds complaining that their outfits aren't unpacked, couldn't the guests just … pull out an outfit for dinner?
So Izzy unpacks the guests' bags and complains while doing it — nothing new there. She's talking about how she wants to be a deckhand, and before I can wonder if she's going to ask Captain Lee about replacing Avery as a new deckhand, she's asking Captain Lee about replacing Avery as a new deckhand. I have to wonder: Has she really ever worked interior? She has complained so much in one day that it makes me wonder why she even signed up for the job. But Lee says he'll consider it, so long as they make it through the charter. Good, because if anyone needs three stews, it's Charley.
It's dinner, and everyone needs help. Eddie is going to plate with Rachel, and Shane is going to prep cocktails with Elizabeth, but, sadly, no one is going to save Francesca's tacky-as-hell table full of party-store flags. (Bugsy Drake would never.) Dinner itself is a whirl: There's no service and then there's service, and Elizabeth is presenting cocktails (and they look great) and then Eddie is telling Shane not to present them with Elizabeth, and Francesca is on the verge of a breakdown, and Izzy can't figure out the radio, and the steak is cold, and by the end of the meal, Charley is in the kitchen helping plate dessert. It was funny the first time, but now it's a bit rude, especially since he's telling Francesca and Rachel that he knows they're tired. Like, boy, if you knew what they've been through! Rachel is livid, and rightfully so, not just because Charley is destroying her cake as he plates it. Dinner ends with a parade of Charley and his friends bringing their plates into the galley and this crew's chances of any tip at all near zero.
While Rachel tells Lee there were issues with service, Francesca ducks into a closet to sob. The juxtaposition! Elizabeth even walks right by the closet. Then Francesca is talking with Lee in the wheelhouse and sobbing again. I surely thought that moment from the trailer would happen after the first charter? Lee's confessional response is one thing ("Holy shit, there's no crying in yachting!"), but in the moment, he tells her it's going to be okay and even makes a joke! Then Francesca leaves to cry herself to sleep.
As Charley prophesied, it is finally day two (February 13, if you're keeping track), and the pressure will be on. Francesca is taking a note from Elizabeth and Shane and meditating in her room to get ready. But this morning, all the pressure is on Rachel. Eight difficult guests make eight equally difficult breakfast orders, and poor Rachel will have to produce this bounty of banana pancakes, avocado toast, and eggs eight different ways. Francesca reads off the omelet orders, and Rachel is petrified. And, look, I'm all for ordering fancy eggs on vacation, but come on. Cilantro? Brie? Pink Himalayan salt? The boat doesn't have the right pans, either, so Rachel is messing up and throwing away eggs. Pretty soon, she's sobbing and calling it the worst experience of her career. (Clearly something worse is yet to come if the trailer shows her threatening to walk off!) On top of it all, one of the guests accidentally got bell peppers in their omelet, and another sent back their avocado toast because they wanted slices, "not guacamole on toast." I am turning on a dime on these bitches. "We need to Postmates onto this boat," one of them says. You need to fuck off, I internally reply.
Then Charley is asking if they can do body shots off James for dessert at his friend Lexi's birthday dinner tonight, and of course James says yes, because James is sexy and he knows it. Also, "Lexi's fit," he admits. The guests are off to the beach with Eddie, James, and Izzy, and Shane is on deck, living it up. "Yachting is so me," he says on his second day of his first charter. Armed with biodegradable sunscreen and reef-safe shampoo, he dives into the water, as we saw in the trailer. Again, it's only the second episode! I hope this show can promise us much more drama in the weeks to come — but, also, I'll allow it, because we needed this. Shane isn't answering his radio, so Lee is mad and then Eddie is mad, too. When Shane gets out, Lee tells him he needs to wear his uniform, because, uh, he's working and then Eddie tells him he needs to answer his radio … again because, uh, he's working! Shouldn't he be rinsing off some deck?
On the beach, Izzy is telling Eddie that she wants to be a deckhand. With Eddie mad at Shane, she shouldn't have too much to prove, but then the tender floats away and she has to help Eddie drag it back and re-anchor it. And she does it well, so Eddie is down to take her onboard! Then the guests are on their way back from the beach, leaving me wondering, Did they eat lunch? I mean, we would've really heard it from Rachel if she had to make a picnic lunch this morning too, right?
"I need help with decorations," Francesca radios to Elizabeth and Izzy, and, once again, she does, because it's another tacky tablescape for the neon party. But the guests love it, and I do have to admit: The neon bar was a great touch. Rachel hits all the marks on a dinner of eggplant parm, crab legs, and lamb chops, like breakfast didn't even happen. But we can forget about all that because one of the guests is calling out Lexi, at her birthday dinner, for coming on to James when Shay was into him first. And to make matters worse, James is inside, feeling "like a slut," waiting in the glittery Speedo (or "budgie smuggler," as the Brits say) that Charley lent him, ready for his chest to become Lexi's personal bar.
The true shenanigans ensue when Carlos tries to resolve the situation by talking to Jamie, the guest who called out Lexi, only to have Shay yell at him for not taking her side and then he just decides it's not worth it and leaves! The whole crew is listening at this point and entertained. Shay wants to talk to Lexi, but then Charley says not to because it's her birthday, so Shay turns on Charley, the friend who invited her on the damn trip! (And you can just tell everyone is exorbitantly drunk.) When Eddie radios Francesca to ask if they should bring the cake, she replies, "I don't think it's the right time," the understatement of the year.
No one is having as much fun watching as Izzy, who explains to us, "You've got grown-ass women fighting over this guy who shaves his chest." And that's the thing: James is just a freaking deckhand! What is Shay so bent out of shape over? They're not going to get to go on a date or anything, much less fuck! He's working for them, and not like that! Plus, every one of those guests thinks James is hot. Francesca thinks James is hot, Elizabeth thinks James is hot, Izzy thinks James is hot, you think James is hot, I think James is hot! At the end of the day, it's Lexi's birthday, not Shay's or Francesca's or mine, so she gets the body shots.
So the crew brings out the cake and James, and Lexi loves it and Shay is not impressed. James dances a bit (he has a remarkably bouncy ass, I must note), and Shay leaves in the middle of it, so at least Lexi can enjoy her body shot without her death glare. Then Charley is trying to make peace with Shay and telling her how embarrassing she was, and Shay is saying she was embarrassed. Meanwhile, Lexi's birthday cake doesn't even make it out to the table, but at least some of the other guests have found it in the galley and started eating it. Next week, we'll learn if Shay went to bed without James's cake or Lexi's cake.
Tips
• Francesca comes from event planning, and she tells us she's done events for Brad Pitt, Eminem, Paris Hilton, and Chelsea Handler, in that order. Anyone else feel like Eminem doesn't deserve second billing there?
• None of the guests' international costumes looked outright offensive, thank God, but I'm still wondering why one of them was wearing a headset mic.
• James pronounces covered like COVID. It's already looming over this season!
• Yes, Shane is clueless, but he does ask a question I've been too afraid to: What are shots on an anchor? If I understand Eddie right, the line has colored markers, and each one is a shot. I feel like this isn't the last time Eddie is going to put that (adventure) education degree to use.
• Rachel and Izzy are currently neck and neck in the race to be the show's best narrator. Rachel had my favorite line of the week after her breakdown: "I think these guests are bitchy." Ya think?
• I have no idea who our replacement stew could be, but you already know I'm pulling for one Josiah Carter.