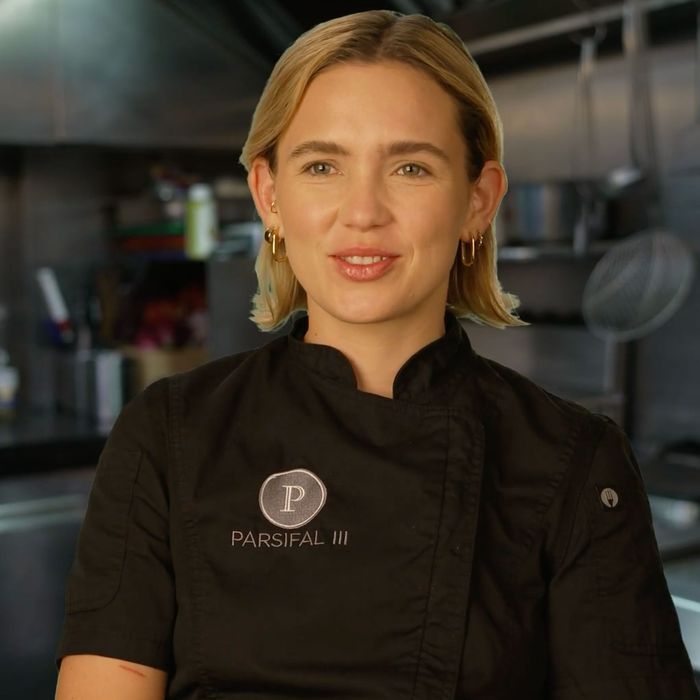 Ileisha's ten-course dinner goes on for so long that we pick up right in the middle of it, so I'll take it as another opportunity to shower her with praise. Not only does she absolutely kill it with this massive meal, but Ileisha has literally been our proxy throughout this season, reacting to all the drama as if she were one of us viewers, and for that I'm grateful. This episode seals the deal for her being one of the franchise's best chefs.
While the guests have their minds blown by the food, Gary is reeling from Mads's comment about her making out with Alex because, as Colin says, the "truth hurts." When asked by a producer why Gary was offended by her joke, Mads says it's because of his ego, which is probably true. It's why he's been acting the way he has with Daisy since finding out she kissed Alex before his arrival on the boat.
The next morning and throughout the rest of the day, Gary is so desperate for attention that he constantly hugs and flirts with Daisy, and she tells us that she doesn't want to put any boundaries between them so that it doesn't put their friendship at risk, which is frankly stupid. This behavior has been going on for far too long, and some boundaries are necessary for Gary and his advances. The fact that Daisy's only attempt at shutting things down has been telling Gary that Colin will be upset about their flirting before ultimately disregarding her statement and being affectionate with him again is also pretty pathetic.
Daisy then asks Gary and Chase to wear the Speedos she bought for them while the guests head out for water sports because they'll appreciate the eye candy. In a confessional, Chase says that even though he's not the type of guy who can "rock some nut huggers," he'll wear them if it means keeping the guests happy. Watching Captain Glenn give Gary a wedgie afterward makes it all worth it.
Later in the laz, Gary tells Alex that he doesn't think he and Mads were ever a couple, which, yeah! Congrats on finally figuring that out! Mads has made it clear that she didn't want a relationship since day freaking one. In a confessional, Alex says that seeing the "dysfunctional" dynamic between Gary and Mads makes him wonder why it has gone on for this long and that he wishes he could help Mads escape. Mads is a grown-up, so I don't necessarily think she needs saving from Gary. If Mads wanted things with Gary to ultimately end, she would have shut it down a while ago, but she wants to get laid, so she goes to Gary to get her needs met since there aren't other options on the boat that will do that for her. Once the season is over, they'll never look back. Then Alex tells a producer he's better than Gary, a no-brainer. At this point, literally any man is better than the guy who seems to only own one pair of underwear.
This evening is the unicorn-themed pride party — which includes a "fan dance" performance by underwear-clad Chase and Gary — and dinner. The décor is so festive and vibrant in a way that most of the parties haven't looked this season. I'm proud of the interior for getting their shit together in this area; it's what these lovely guests deserve. For dinner, Ileisha does a six-course meal, with each course representing a color of the rainbow (side note: There are seven colors in the rainbow, sorry, chef!) and Daisy decides to have the crew members wear the color that matches the course they're serving, which is such a thoughtful and creative idea. Not only did Ileisha impress everyone with her ten-course meal, but she once again raised the bar with this beautiful and memorable dinner showcasing her creativity.
As the guests eat, Daisy checks in on Colin in the engine room to discover that he's annoyed again because of Gary's behavior. Colin tells her that he thinks if Daisy directly told Gary she has feelings for Colin, then it would make him finally take a step back from being flirtatious toward her. Daisy makes it seem like it's not a big deal by saying that Gary is aware that she's with Colin, as if that will make him stop his weird and disrespectful behavior.
Once everyone heads to bed, Colin tells Gary about the three-way kiss between Alex, Lucy, and Mads during the last night out, which knocks the wind out of him. Especially since Mads just cracked a joke about making out with Alex, I'm sure Gary's ego is as bruised as ever. Colin, meanwhile, is fully taking pleasure in the karma Gary is experiencing, and I relate. It's quite thrilling to see a man who treats women like objects he can toss around get a taste of his own medicine. And since when was a little peck on the lips a full-blown make out? Gary needs to stop overreacting about every single thing.
The guests depart the next morning, and I'm genuinely sad to see them go. This charter felt far too short, probably because of the back-to-back episodes, but I wish we got to spend more time with them. Bryan expresses his gratitude for the crew, sharing that he never expected them to embrace him and the guests as warmly as they did, which honestly brought me to tears. In a sea of downright villainous charter guests, it's nice to know that a few kindhearted ones still exist. Here's hoping this wonderful group will return in a future season. To make things even better, Bryan and Co. left a whopping $30,000 tip, which marks Sailing Yacht's biggest tip ever. Ileisha deserves at least 50 percent of this tip because her food made this charter stand out.
Since the final charter of the season begins the next day, the department heads meet for a preference sheet shortly after, where they learn that the primary's friends are a throuple. Gary suggests that the third person in the relationship is a "garnish on top," and Daisy asks if he's the garnish on top of her relationship with Colin, which is so unnecessary. At this point, Daisy is also playing a role in Gary's continued flirting with her, and it seems like she might even enjoy it a little. In addition to a "glamazon" party and a beach workout, the primary, Todd, also requests that the crew take part in an ABC party, which Captain Glenn surprisingly informs us stands for Anything But Clothes. (The fact that Captain Glenn knows what an ABC party is but not a throuple is hilarious.) Also, guests demanding that the crew take part in stupid activities for their entertainment needs to be banned. Not only is it dumb, but it keeps them from completing the tasks that their job asks of them.
While the crew doesn't get a night out, they're treated to a private dinner by a chef from a local restaurant cooking for them on the boat. During the evening, Alex asks Mads why she's so bloated (which is an extremely out-of-pocket question) and Mads says it's because she's on her period before adding that she's joking. Even though it's technically a "school night," everyone still manages to get shitfaced and leave the boat looking like a disaster, which makes Captain Glenn annoyed the following morning.
When Alex checks in with the boys and recalls walking in on Gary going down on Mads the previous night, he says that he's surprised because Mads told him she was on her period, which shocks Chase and Colin. When Gary finds out, he's pissed and rushes down to the saloon to confront Mads, yelling at her for not having the "common decency" to tell him not to go down on her if she was on her period. First of all, Alex, Chase, and Colin all don't have the right to spread information like that. Plus, she literally said it was a joke, but I get the feeling that Alex mostly wanted to piss Gary off. Second, the fact that Gary thought it was remotely okay to address this in front of Lucy and the cameras is disgusting and feels very similar to when he revealed that he and Daisy had sex. The deed was already done, so there's no point in getting overly angry about it.
Gary is absolutely immature and vile to the point of extreme discomfort, and just when you think he reached the lowest point possible, his actions manage to unlock another level. The women of Sailing Yacht need to unionize against him.