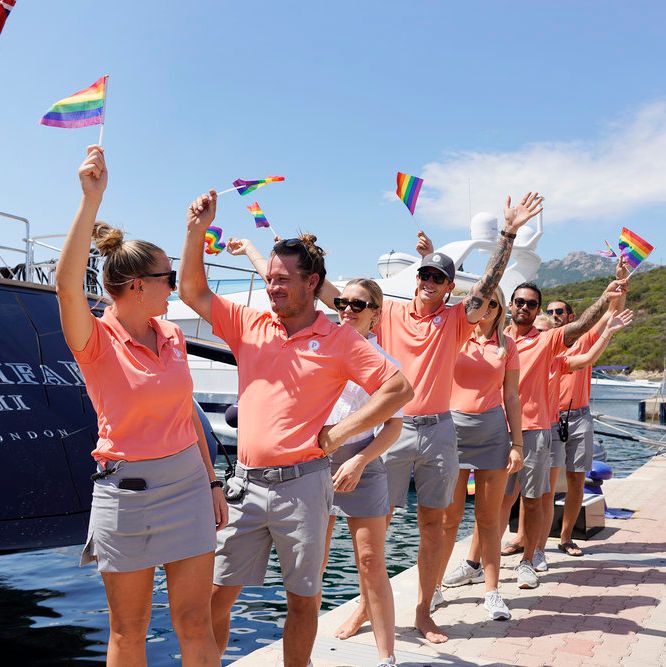 Photo: Fred Jagueneau/Bravo/Fred Jagueneau/Bravo
While everyone's been busy thinking about Scandoval, the only thing that's been on my mind for the past week is Colin, Daisy, and their long-awaited kiss(es) that concluded the episode on a suspenseful "to be continued …" With the love triangle between the two and Gary finally heating up, this season has served us the main course Sailing Yacht has been slowly cooking up for years, and it does not disappoint.
This episode opens with a dramatic recap of the love-hate, friends-to-lovers dynamic between Daisy, Colin, and Gary throughout their three seasons together, from the moment Daisy first met the boys to the times she expressed her attraction to them (and acted on it with Gary despite being grossed out by the fact that he's a grown man who can't go a few days without sleeping with a co-worker). Cut to Colin and Daisy making out in her bunk as Gary and Mads hook up in a guest cabin. Colin admits that he and Daisy "have always been flirty" with each other, but that their finally acting on it is still surprising. I don't buy it! Surely I'm not the only one who thinks something romantic happened between them long before the cameras started rolling?
When Daisy shares that it was a "good kiss," one producer says she needs to spill more tea, but Daisy only adds that there's "definitely a lot of sexual energy" between them. We all know she's likely being tight-lipped, given that she's harbored feelings for him for years, but they later discuss wanting to explore things more privately. Meanwhile, in the crew mess, Chase talks to Lucy and acts like he didn't just make extremely inappropriate comments toward her at dinner. Lucy's thoughts: "He's a fucking wanker." Correct!
The next morning, Gary discovers through Mads that Colin and Daisy spent the night together, which he feels blindsided by. As Gary and Colin work on fixing the boat's exhaust pipes and leaky gaskets by installing new insulation, they have a long, revelatory conversation about Daisy. Colin begins by asking if he made a mistake by hooking up with her, and Gary says he likes Daisy, which causes Colin to question if he romantically likes her. Gary repeatedly says no and that he's happy for her and Colin, but that he had feelings for her before she told him to "stay away from her" before they started shooting this season. "What he's telling me is a green light, but what his face is telling me is another thing," Colin shares in his confessional, implying that he's never noticed any chemistry between the pair. Has he seen last season?? Not only am I convinced that something happened between Colin and Daisy pre-filming, but I think something beyond last season's make-out between her and Gary happened as well. Gary's shocking revelation that they had sex in the season preview that concludes this episode pretty much confirms it.
Later, Daisy and Gary have an equally mind-boggling but interesting chat. Daisy asks him for his thoughts on her and Colin since they're all friends with each other, and she and Gary have kissed before too. Gary confesses that he's slightly jealous because he felt like there was something between them once upon a time. He also tells Daisy that he told Colin he had always liked her. This is completely untrue, and Daisy shouldn't believe that because he's the biggest liar on the boat and spent most of his chat with Colin concealing that he had feelings for Daisy. "Maybe I'm a coward in that sense," Gary says after Daisy asks why he doesn't just directly admit his feelings about her.
Daisy, however, understands how Gary and his twisted little brain work. After all, she's worked with him for three years and has seen him hook up with and mistreat every woman who has worked under her. He literally tells Daisy that he wishes they could've explored their relationship, as if he hasn't dedicated his entire time this season to acting clingy toward Mads. If he wanted to, he would, but Gary has never felt like he needed to put in the effort with Daisy. "I think Gary's upset that I'm not his backup," Daisy shares after saying that she's surprised it took him seeing her be with someone else to realize that he likes her. I love how everyone on this boat behaves and reacts to situations like they're still in high school.
Our charter this episode is a short and fairly easy one, with a group of four women celebrating the retirement of the primary, Jill, who wants her and her friends to be "treated like royalty" and always have a fruity alcoholic beverage in hand. Chase is excited because, as a southern boy, these ladies from North Carolina are right up his alley. Jill & Co. have requested a 1970s theme party for the evening, and it makes Captain Glenn nostalgic for the time when streaking was popular and he had so much hair that he could sport an Afro, accompanied by photographic evidence that reminded me of the good ol' days when I genuinely adored seeing him on my screen.
As everyone gets ready for the night, one of the guests, Lorrie, calls Daisy to her room, informs her that a diamond necklace and earrings have disappeared, and practically accuses the crew of stealing them, which might be a first in the BD-verse. I'm not necessarily shocked that she jumped to this conclusion because the rich people who grace this show love placing blame on the crew when possible. Daisy rushes around the boat asking everyone if they've seen the jewelry before updating Captain Glenn, who's joining them for dinner, about the situation. The crew inspects the entire boat looking for Lorrie's valuables while everyone else enjoys Ileisha's surf-and-turf dinner, but it's ultimately Lucy who saves the day when she finds them in one of Lorrie's purses. I'm convinced that Lucy is the star of the season.
Save for the crew — including Captain Glenn, who wears flared printed pants and a sparkly gold vest to dinner — dressing up in glittery clothes that actually align with the theme, I regretfully have to point out that the decorations for this party are yet again basic as hell. Like, a few disco balls, balloons (some of which have deflated), and streamers are simply not enough. Someone get Kate Chastain on the phone ASAP!!
The guests decide to continue their night in the Jacuzzi, requesting that Chase join them because they need some male company. Chase agrees to hang out with the ladies because he's a people-pleaser who will do anything the job asks of him. "It's fucked-up that this is the only female attention I'm getting," he tells us. Let's hope and pray it stays that way. Afterward, Chase pulls Lucy aside and apologizes to her for what happened during the last crew night out, but he unsurprisingly uses his excessive drinking as an excuse for his "offensive" behavior. It's on the verge of giving Smashton and João. Maybe don't be a complete dick? Just a thought!
The next day, Colin and Daisy kiss in the engine room as Alex and Gary head out to prepare for the beach trip requested by the guests. Once everyone is onshore and the guests are having fun, birthday boy Gary tells Lucy that he's pissed because Mads didn't tell him "good night" before heading to sleep, which is stupid. Alex thinks Gary should be discussing this with Mads directly instead of complaining to Lucy, and I agree, but we all know Gary sucks at confronting people with the truth. When Lucy tells Mads about this, Mads finds it annoying because this whole thing with Gary is just casual, no-strings-attached sex for her. Gary has finally met a female version of himself, and now he doesn't know how to handle it.
Once the guests depart after docking and the crew starts cleaning up, Daisy discovers that the crew toilets are clogged, which is, unfortunately, a case for Colin. To fix it, he has to pressurize all of the toilets, which causes them to start filling up with nasty sewage that makes Gary start hysterically gagging. Honestly, this is sort of a perfect birthday gift for him.
Coming up for the rest of the season: a rough docking in France, a Pride party, a messy thruple onboard, Daisy's sister joins the party, and the Daisy/Gary/Colin triangle reaches new levels with a bombshell revelation. The season is just getting started!