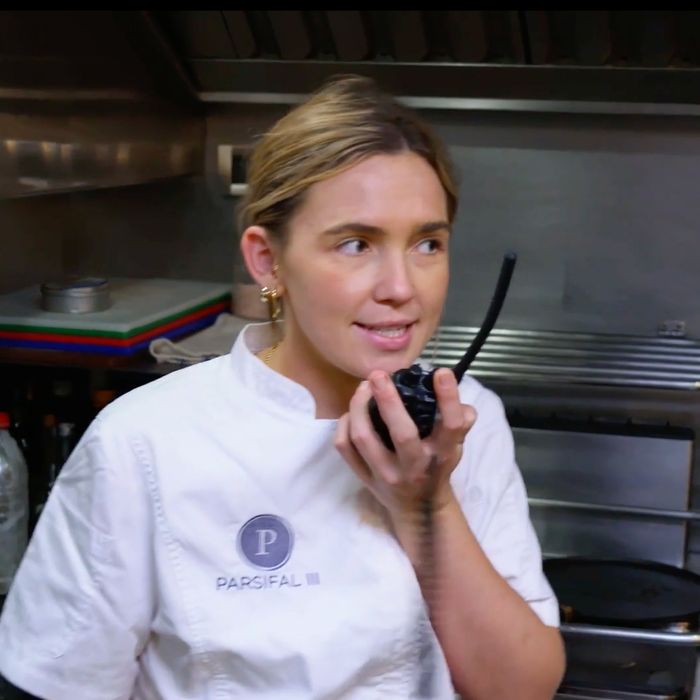 Is it just me, or have almost all of the intense and dramatic moments teased so far been a letdown? We're now five episodes in and all we've gotten is petty bickering, constant conversations about who likes who, and Gary being ickier than ever, none of which have led to anything substantial.
This episode opens with Gary and Mads still kissing in the Jacuzzi as Alex stumbles through the boat. Colin awakens to find him eating alone in the crew mess and asks if Gary, whom Alex calls "fucking Farquaad," is "cutting your lunch." "Leaving the girl you like in the hot tub with Gary is like waving a banana in front of a monkey and expecting him not to eat it," Colin — the only person of sound mind on the boat — tells us.
The next morning, Lucy continues her streak of being a klutz by hitting her face on her bed's guardrail. It's the day before the third charter, so everyone's recapping the previous night. Colin asks the guys if they hooked up with anyone, and Gary says he doesn't remember. Chase, on the other hand, is "done with the lady situation" to avoid tension between him and Alex. Meanwhile, Alex worries his excessive drinking may have "fucked up [his] chances with Mads," which may be true now but doesn't matter in the long run because, remember, she has low standards.
Gary and Colin head outside to chat, and Gary says that "a man never tells his secrets" before admitting that he and Mads kissed but that he feels bad because the other guys like her. He has never been one to think first before acting. At the same time, Mads spills about her and "Gazza" to Lucy, who says it was "fucking obvious." When asked if it was a good kiss, Mads says she "wished I made out with other people."
At the preference sheet meeting, we learn the next primary is John Cerasani, a "serial entrepreneur" celebrating his new book with his girlfriend Natalia, daughter Anastasia, son Jacob, and friends TJ and Lauren. Ileisha is provided with a lengthy list of dietary restrictions, but she doesn't seem overly stressed about it. Once that's out of the way, Captain Glenn announces that a stew will accompany guests when leaving the boat from now on because it looks more professional. This frustrates Daisy, who believes it's a waste of the interior's time. "If I notice things that need to be adjusted, I'm going to challenge my team to make those adjustments," Captain Glenn shares. Sure, but this is something that should've been discussed privately with Daisy rather than calling her out in front of her co-workers.
After that's over, Gary attempts to chat with Mads about the makeout, and she brushes it off because she doesn't feel like talking about it. "I had fun; I'm just not trying to start drama," she tells him. Elsewhere on the boat, Colin and Daisy flirt while he fixes a broken drawer. Colin asks if she hooked up with someone, and Daisy says she's "staying away from everyone." Colin plans on doing the same because the "two young girls are too young," and he isn't attracted to them. Gary could never!
Gary then checks on the guys and pulls Alex aside to inform him about the Jacuzzi hookup. Gary adds that he'll "back off" if Alex likes Mads, which he should've considered beforehand. Interestingly, he doesn't extend the same courtesy to Chase, who told him he liked her. In a confessional, Alex, who thinks this was a "strange move," shares his thoughts: "What do you want me to say, thanks for hooking up with the girl I like?" Gary's shenanigans are starting to get old.
In the evening, while having drinks outside, we learn that Ileisha used to be a contortionist in a local circus growing up. She has lived so many lives. Mads then tells us that she only really smooched Gary because Alex was drunk and "a girl needs her needs met." Fair. The following day, Gary tells Colin he thinks Mads only hooked up with him because, as Colin puts it, he was the "last man standing," which is true. Oh, how the tables have turned!
Meanwhile, Chase is thrilled about being assigned anchor watch this charter because he needs a "break from Gary bitching about everything I do wrong." He adds, "Distance makes the heart grow fonder." I, too, welcome this break from their annoying drama.
The guests finally arrive, and it's immediately clear that they're a demanding bunch. Mads says that John radiates "high-school douchebag vibes," and I couldn't agree more. After Daisy shows them around, they head up to the flybridge to take in the view while enjoying Ileisha's hors d'oeuvre and requesting countless drinks.
Captain Glenn tells Gary that a deckhand needs to drive the tender rather than towing it like usual, which introduces a new issue for him and Daisy to bicker about. Gary tells Daisy that a stew should learn how to drive the tender to help out, and Daisy is rightfully "flabbergasted" by the request. "I think Gary thinks I'm sexy when I'm angry," she tells us before adding that she's mad and currently not feeling sexy. Gary whines to Captain Glenn and Colin about how he always helps out the interior, but Daisy never returns the favor. Captain Glenn's response: "Have you guys set a date for the wedding?"
Outside, John is showing off his cockiness as Anastasia records a video of him flaunting his chain necklace while saying, "I'm on a yacht, motherfucker!" Captain Glenn then captivates the guests with his sailing, which goes smoothly (sorry). Afterward, John really wants Captain Glenn to wear his chain for some reason, so he agrees and takes photos wearing it, which gets some laughs from Colin and Gary.
Throughout all this, the interior attempts to keep up with the guests' constant requests. Daisy thinks the guests will "ask for everything under the sun," and she's right. "Nobody sees how many directions we're being pulled in," she expresses before mocking Gary's request of having a stew drive the tender. Agreed, and I don't like how Captain Glenn refrains from coming to the interior's defense in situations like this one.
Once they drop anchor and the guests go out for water sports, Daisy starts planning the '90s theme party they requested and suggests a Spice Girls–inspired crew performance. She asks Gary to be involved, and he agrees but complains about his doing her yet another favor. Babe, briefly having to entertain guests is not the same as asking a stew to stop working to drive a boat!
As Gary and Captain Glenn chat in the laz, Jacob, who was warned to keep a distance when using the eFoil, crashes into TJ. And with that, we have this season's first guest injury, and it's a bad one. TJ says he's fine, but the gnarly gash on his head says otherwise. Captain Glenn calls a medic, who arrives shortly after and determines that TJ must go to the hospital. This kills the vibe and alters Ileisha's original plan of having vegetarian dishes for dinner, but, as John decides, the night must go on.
At dinner, John thinks crew members should fill the empty seats at the table, and Jacob requests that Gary join them. Daisy is annoyed because she thinks "me serving Gary is a sick joke," so she suggests that he be at dinner the following night. Is this going to be a recurring theme this season? Does the crew not already have enough on their plates that they have to add last-minute crew-guest meals to the list??
Next, the crew gets ready for the tacky theme party (which should be banned from the BD-verse). Chase wears Daisy's leopard-print dress, Mads sports an orange wig, and Gary wears a sports bra and short shorts because he's Sporty Spice, though Chase says he's "more like Old Spice or Hairy Spice." Nothing about the décor for the evening — a depressing display of colorful lights and some balloons — feels reminiscent of the 1990s. Even I, someone who wasn't alive in that decade, am aware of that. Without Gary's hyper energy, the "performance" would've been even cringier. However, the guests are so preoccupied with TJ and Lauren, who have yet to return from shore, that they don't notice the absence of the gelato station requested on their preference sheet.
The next morning, John grows more worried after waking up to find TJ and Lauren's beds left untouched. His phone calls to TJ won't go through, so Chase wakes up Captain Glenn to update him on the situation. But after being sent to voice-mail several times, John is able to get ahold of TJ, who says that he has yet to be seen by a doctor but will be "ready to rage" soon. Talk about an anticlimactic conclusion to a tense moment.
As TJ and Lauren return via water taxi, Alex and Lucy head to the beach to set up for a trip requested by the guests. It doesn't take them long to get everything ready, so they're left sitting on the beach doing nothing. Meanwhile, the guests are requesting things left and right, which makes Daisy feel "like I'm drowning" and unable to keep "things under control." The episode ends with Daisy going to her room to presumably have a breakdown, and I feel awful for her. Based on next week's preview — in which she cries at the tip meeting — it'll only get worse.