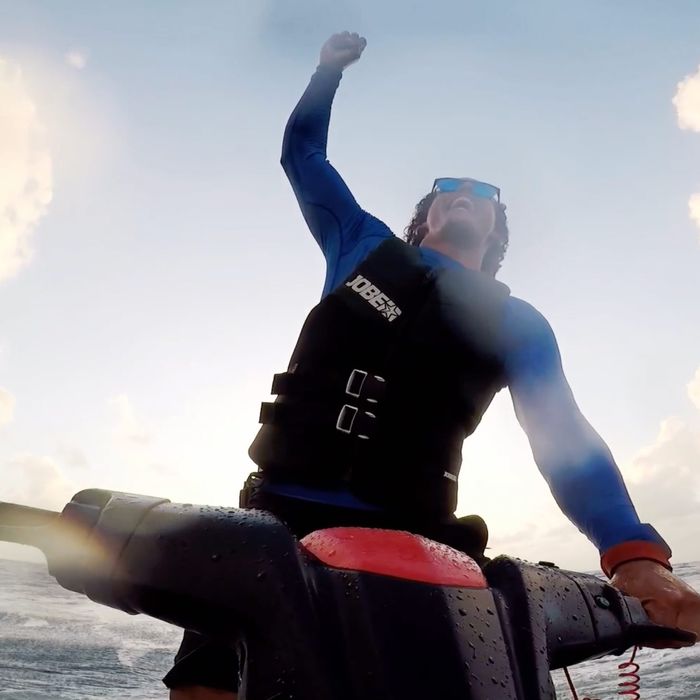 Photo: Vulture; Photo: Bravo
Have we ever had a tip above $40,000? My reality-TV memory is spotty — I tend to forget what happens immediately after an episode airs — but I believe this is the biggest tip we've ever seen. Hayley describes this money as the guests paying them off for dealing with Angel, and I can't say she's wrong. I want to think I could deal with Angel for $1,000 per day, especially if it means pranking him when he falls asleep on the trampoline, but I hope I never have to test that theory. At least he lost his voice by the end of it — the thing about God is that she rewards those who deserve it. During the tip meeting, Captain Lee attempts to harangue the crew about docking but then backtracks and says they did a great job. He's back, but it seems like he's struggling mobility-wise. Let's get this man through the last charter in one piece. That's really all I have to say about him this week!
Hayley and Tyler are at the top of the pyramid for me this week. Usually, I roll my eyes at drunken antics, but these two had me giggling. They engage in a food fight that starts with Hayley delicately placing a single piece of cake on Tyler's ass. This quickly devolves into the type of chaos where they're laughing so hard that they're unable to breathe. Let them throw cake across the galley, I believe Marie Antoinette once said. Hayley pisses herself. Literally. Tyler wisely blocks Fraser from entering the galley, and the two take care of their mess themselves. Watching Hayley stumble around with a vacuum is joyful. She commands Tyler to get rid of the evidence, babes. All she wanted was some good-night Doritos, and who among us hasn't? By the way, the charter — featuring bodybuilders — picks up in less than 12 hours.
It's clear that Hayley and Tyler are more than just co-workers; they're close: He confides in her about shaving his pubes and how he wants to come out to his mom, and she encourages him to do so. "Just be brave. You only live once. You only get one life. She might get upset. She might get angry. But she'll have to accept it," Hayley tells him. I hope this is the case! I can't bear to see Tyler ostracized by his family. Hayley instills courage in him, and that's quite sweet. She's like a mother hen. She later instills this same sense of confidence in Fraser while the crew's out at dinner. Hayley is the whisperer that every crew needs. A chaotic, brassy babe who tells it like it is but never sacrifices compassion. She's the patron saint of lost stews.
Speaking of lost-stews souls, I don't know what's going on with Katie and Ross, and I'm counting down the charters until this will-they-won't-they is forced into its finale. Once again, the Bravo producers outdo themselves with a series of supercuts between the pair. Katie says it's a bummer that the season is ending because she thinks there could be something more; Ross says he doesn't really see a long-term future with Katie. They go out and get drunk, and Rose quasi-hits on two random girls, Adelina and Kim. This pisses Katie off. Ross claims he's been on his best behavior tonight, but she's still mad at him. These two, and their lifestyles, simply aren't compatible. Katie, you're not an idiot. Ross has shown you who he is multiple times. It's time to end it. I can't keep watching this. These two aren't interesting enough for this much screen time. Ross ends it for them, but who's to say they're officially over — even though I pray they are.
Hayley gives Leigh-Ann the TL;DR regarding Ben and Camille: They had sex while Tony was on the bottom bunk; they're not officially together in any capacity; go for it, girl. Mark my words: Leigh-Ann is not getting off this boat until she hooks up with Ben. She is not happy with Camille's existence, saying that Camille doesn't seem like Ben's type. Honey … have you looked in the mirror? You two could be twins. She calls Camille a "poppy," which is an Afrikaans term for "dumb American blonde," apparently.
Meanwhile, Ben isn't telling Camille about Leigh-Ann because, in his words, "nothing's happened yet." Also, in his words? "I'm cheeky. I love playing with fire. I'm doing it right now with Leigh-Ann." He tells Leigh-Ann that although he's not dating Camille, they're spending a week together in Puerto Rico before he heads back to "Oz." They get quite cozy on the dance floor and during their chat in the moonlight against the railing. There's a line, but Ben seems intent on toeing it.
From the Galley
• Labeling Crystal as the primary's "sister-in-law" in quotes is iconic.
• On Ross's background in porn: I know he's joking, but I wouldn't be surprised if he actually used the name Susan.
• Rachel, please tell me you didn't seriously pee in that potted plant!