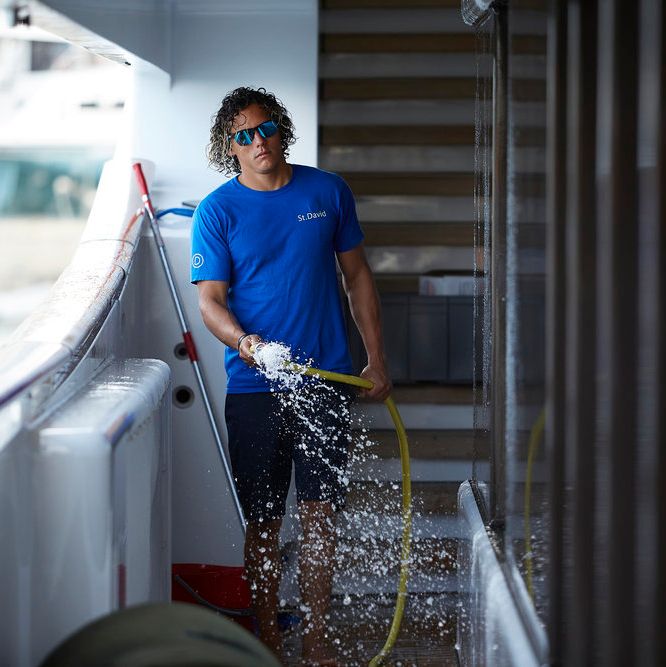 Photo: Bravo/Laurent Bassett/Bravo
The devil works hard, but Camille doesn't work at all. I wonder if Camille realized while signing up to work in yachting that she was signing up to work in yachting. Captain Sandy seems to be at her wit's end, too, and issues an ultimatum to Little Miss Cammie, telling her that she has one final chance to prove herself or she'll be sent packing.
The problem with Camille is that she's such a dumb villain. She is petulant and petty and loves to dish it out but refuses to take it. She bursts into tears when faced with even the slightest of confrontations and doesn't seem to grasp that she's been hired to work, not play. She hates being chastised but then repeatedly makes the same mistakes, which leads to more chiding, at which she lashes out. Captain Sandy has to tell her, "It's hard to be told what to do, but … that's your job." I really wonder what Camille thought working on a superyacht would be like. Every time I watch this show, I tell myself, I could never work on a boat. I don't know who Camille thinks she is, but her ego and entitlement will not fly on Captain Sandy's watch. Camille begrudgingly apologizes to Alissa (at Captain Sandy's urging) for having an attitude. Alissa accepts the apology but tells Camille she's now looking for a behavior change. Words mean only so much. In Camille's defense, if Alissa kept passive-aggressively and condescendingly calling me "babe," I'd want to throw glass shards overboard, too.
Camille later complains to Captain Sandy that she's being put to task (duh?). Sandy says that's a good thing and to take breaks when and where she can, between moments of chaos. Camille somehow interprets this as Sandy telling her to take a 30-minute break. This is not what Sandy says. Rachel then radios Camille asking if she can finish polishing the silverware. Camille responds, saying Sandy actually sent her on a break. Big mistake. Huge. Sandy chimes in. She politely but firmly tells Camille not to throw her under the bus and clarifies that she told her to take a break if she wasn't needed.
Camille loses it. She's sobbing, threatening to lose her shit. She goes to Captain Sandy in tears, exhausted from all the so-called bitch work she has to do. Captain Sandy handles this beautifully. She makes the executive decision to take Camille off her deck-stew responsibilities and assign her to the interior full time. Ross is overjoyed. Fraser is pissed at Camille for going over his head. She complains, saying she's being pulled in every direction. "That's called working on a superyacht," reminds Fraser, and readers, zero lies detected. Hayley shares this criticism. In a confessional, Hayley says Camille doesn't understand the difference between being a guest and being a crew member. Nor does she know we're on a floating prison. Just get a scrub on that toilet and get on with it. I live for Hayley's energy.
All of Camille's behavior is bad, but what really sends me over the edge is her sitting her little, lazy ass in Captain Sandy's commander's chair when she is supposed to be working. She leaves her post of working the Lesbian Power Dinner under the guise of delivering Ben coffee and sits in the seat to "get back at" Sandy. I'm sobbing at her immaturity. Camille, Sandy doesn't have beef with you. She's not out to get you. She's a grown woman who simply wants her crew to be held accountable. But, yes, she would be pissed at you for perching up in her chair. You can't just go sitting all over her seat? And then to have the gall to say to Ben that you want to have sex in the captain's chair while Alissa is working her ass off? You can't have balls this big then cry wolf when you get caught. You just can't!
Once Camille returns to doing dinner service, Alissa tells her Ben can make his own coffee from now on. Camille retorts that she'll do what she pleases. Babe, that's not how this works. She then proclaims she will quit since everyone is driving her crazy! "We wouldn't mind," replies Alissa. We wouldn't mind? We'd be jumping for joy! Please, please, please, quit, Camille! I'm begging you. I can't watch you and Ben have jackhammer sex again. It's simply too upsetting.
What else, what else? It's weird of Gigi Fernandez to bring her gold medals on a vacation, I'll say it. But for a $31,000 tip, I would nod along like the rest of them. I love that Ben got to scrimmage with a great. Also the camera operator Vinny deserves a shout-out after getting pelted in the nuts with a tennis ball. Tony also deserves a shout out for speedily rescuing guest Amanda after she gets stung by a jellyfish. And good news for Tony: He gets an early bedtime again! Like Camille, I don't think Tony really knew what he was getting into when signing up to work on a superyacht, but he's taking it in stride.
I've been avoiding recapping Ross because his behavior deeply disturbs me. His physical advances are neither appropriate nor acceptable. I am glad Ben confronts him, but I am concerned the producers aren't doing anything about him. What he calls "being handsy" I call borderline assault, and this could get very dark very fast. On top of his lewd behavior is his complete disregard for Katie's feelings. Katie deserves better! At least Katie has Captain Sandy as a mentor. With zero offense to Captain Lee, Captain Sandy's presence on the boat is for the better. I wonder if and when she'll say something to Ross, but something tells me Camille and her chaos will take center stage for a while.
From the Galley
Hayley once again wins for keeping it real. Here are some of her best lines:
• On the glitz and glam of working in yachting: "'Join a superyacht,' they said. 'Have a glamorous lifestyle.' More like 'Have a cankle and sweaty tit rash.'"
• On the weather: "Too hot for a ginger person … Lethal."