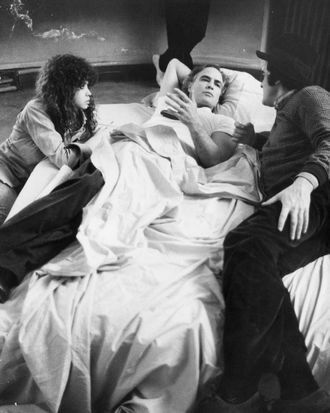 Marlon Brando with actress Marie Schneider and Bernardo Bertolucci in
Last Tango In Paris
.
Photo: Keystone/Getty Images
This story originally ran on December 15, 2010. It's being republished today on the occasion of Bertolucci's death.
Italian director Bernardo Bertolucci, who died from cancer Monday at 77, was one of the most pivotal filmmakers of all time. Over the years he blended the experimentation of the French New Wave, the operatic gestures of classical Italian cinema, the sensationalism of American movies, and a lush sensuality all his own to create a complex, controversial, and personal body of work. Take your pick as to his most important film: the wildly stylized The Conformist (perhaps as influential a film as Citizen Kane), the notorious Last Tango in Paris, the sprawling, in-your-face Marxist epic 1900, the Oscar juggernaut The Last Emperor, or even the retrospectively acclaimed The Sheltering Sky. Any one would be valid. Here, the director dissects ten of the key scenes in his filmography.
The Spider's Stratagem (1970): Athos Keeps His Father's Legacy Alive
The Scene: After discovering that his father, an anti-Fascist martyr, had in fact betrayed the Partisan cause, Athos Magnani Jr. chooses to maintain the myth of his father's heroism.
Bertolucci: "My father once told me, 'You've killed me so many times in your movies.' Even though Athos chooses to keep his father's myth alive, this was the beginning of a liberation from the father figure for me. When I shot this film, in the summer of 1969, I had started to go to a shrink. I'd chosen this Borges short story ['The Theme of the Traitor and the Hero'], and it was perfect for the beginning of analysis, because it was all about the son and the father. And I was seeing my father as Athos Magnani sees his father — as a hero and as a traitor. The end is not exactly as it is in the Borges story. [In my version, Athos] decides to maintain the myth and mystery about the father's death — that was my decision. And at the very end of the film, he realizes that he is in a prison, because he sees that the train tracks leading out of town are covered in grass, which means that no train has passed through this town for a long time. So he's a prisoner of time, a prisoner of that story, and a prisoner of his father."
The Conformist (1970): The Death of the Quadris
The Scene: In the film's climactic scene, Marcello arranges for the brutal and highly symbolic murder of his mentor Professor Luca Quadri and his wife, Anna Quadri.
Bertolucci: "The Conformist was shot while I was still in the editing room with Spider's Stratagem. So the two movies in a way reflected one another, and The Conformist is also happening in the same years as the father's story in The Spider's Stratagem — 1937, 1938, more or less. Here you have a young man going to Paris with a precise mission of terminating this professor, who is somebody very important to him. In the film, the Professor's phone number and address is the same as Jean-Luc Godard's in Paris. It was like a message I was giving to Jean-Luc: I was a young Italian who came to Paris with his movies, and in a way, as Marcello was betraying his professor, I was betraying Jean-Luc — by accepting to do a film that was less experimental, a movie that wasn't as obsessed with the question of 'What is cinema?' but was interested in telling a story, with characters. And again, my father said, 'Okay, here we have another father killed!'"
The Conformist (1970): The Final Shot, As Marcello Looks at the Camera
The Scene: After experiencing a complete psychological meltdown on the eve of Mussolini's downfall, Marcello denounces his Fascist friend and finds himself left alone with a young, homeless hustler. As the camera moves in on him, the still-closeted Marcello turns to look toward the hustler — and at us.
Bertolucci: "We sense that Marcello is suddenly feeling who he is. He finally understands himself. That close-up was so intense. After we shot it, in the evening, I asked Jean-Louis, 'What were you thinking about during that scene?' He said, 'I was thinking about the wheels of my Mercedes.' You never know with actors."
The Scene: As the anonymous sexual games played between Paul (Marlon Brando) and Jeanne (Maria Schneider) escalate, he sodomizes her, with the aid of some butter.
Bertolucci: "It wasn't in the script, but we were often having little breakfast meetings with Marlon in this flat in Paris. We were both thinking that we needed to go further than the erotic scenes we'd done so far. There was a baguette, and we cut it, and there was a piece of butter to put on the baguette. Then Marlon and I looked at each other. That was how the idea came. And it was very hard to tell Maria. So we did something very naughty. I didn't tell Maria what was going on. We were shooting the scene, and Marlon started to pull down her jeans — which, by the way, only in a movie can you pull down jeans, because they are so tight — and she couldn't understand, so she started to react, saying, 'No, no!' And so he puts his hand in the butter. To somebody who doesn't know what's happening, what's going on is very violent. So she screams. She screams in part because she's outraged at me and Marlon, who was for her a kind of father figure and who was often protecting her. I think she felt betrayed by both of us. I don't think the scene could have been shot differently. I think if I had told her, it would have been very difficult to get that kind of violence out of the scene. In fact, if I had told her, there was probably no way she could have accepted. In the meantime, I was ecstatic that I could use for that erotic purpose something that is on the breakfast table every morning."
1900 (1976): The Trial of the Padrone
The Scene: Toward the end of Bertolucci's notorious five-hour-plus epic, Italy's Liberation from the Fascists is quickly followed by a glorious, flag-waving parade in which the Leftist peasants put the landowner Alfredo (Robert De Niro) on trial.
Bertolucci: "When we shot the trial of the padrone, I'd seen two or three photographs from 1949, when Mao had got hold of China. There were many trials against Chinese padrones. I remember I had seen this photograph of farmers in a circle, and the landowner sitting in the middle. So when I shot it, I thought it was something that had a relationship with the Chinese revolution. So in a way I was dreaming of China when I was doing1900. And that dream would become reality eleven years later … "
The Scene: The Oscar winner featured a scene with ironic echoes to 1900's, as the life of China's last emperor ends with a flag-waving, grotesque Cultural Revolution parade.
Bertolucci: "Before shooting the parade scene, I put together four or five young directors whom I had met, [including] Chen Kaige — who also plays a part in the film, he's the captain of the guard — and Zhang Yimou. I asked them about the Cultural Revolution. And suddenly it was like I was watching a psychodrama: They started to act out and cry, it was extraordinary. I think there is a relationship between these scenes in The Last Emperor and in 1900. But many things changed between those two films, for me and for the world."
The Scene: After the death of her husband, Kit wanders out into the desert and is picked up by a group of Tuareg nomads. She begins a relationship with one of their chiefs, Belqassim (Eric Vu-an).
Bertolucci: "When I read the original novel, I really felt Paul Bowles's homosexuality in this section. And Debra Winger is posing as a boy during the early part of these scenes. So I think that her way of looking at Belqassim was as if she was a boy looking at a man. Belqassim is very mysterious, he's always veiled. There's a moment when he's washing her. She becomes a child, in a way. Debra Winger was always searching. She wanted to identify so much with Jane Bowles. I remember she told me one day, 'I know that this is the last film I will do, but that won't stop me from giving it everything I can.'"
Little Buddha (1993): Siddhartha Discovers Death
The Scene: After spending his whole life enclosed in his father's palace, Prince Siddhartha (Keanu Reeves) emerges from seclusion to a parade his father has organized just for him. However, Siddhartha manages to sneak away from the procession to a side alley, where he witnesses a cremation and learns about suffering and death.
Bertolucci: "James Acheson, who was the costume designer on Last Emperorand Little Buddha, was also the art director of this film. And he produced an incredible fake body for the cremation. It was perfect on the outside, but also inside. So that while it was burning, we could see all the organs burning — the heart, the liver, the ribs. A real corpse would not have burned that well. But it was outrageously detailed, and it burned perfectly. Keanu could not move his eyes while watching that. None of us could. So we had for this thing the same kind of compassion that we might have had for a real body."
The Dreamers (2003): Matthew, Isabelle, and Theo Take a Bath Together
The Scene: Young American film buff Matthew (Michael Pitt) shares a bathtub and a joint with the sexually liberated twins Isabelle (Eva Green) and Theo (Louis Garrel), as they profess their love for one another.
Bertolucci: "The sexuality of that age was so wild, and it was not loaded. It has not been understood since that time. And making the film, it was always a dance of jealousy, between the characters, between the actors even. Sometimes Michael would be jealous of the other two because they could communicate in another language. Then Louis would be jealous of Michael and Eva. But they always had great elegance. Nobody ever came to me and complained about someone else's close-ups or anything like that. But there was an incredible amount of intimacy going around that flat."
The Dreamers (2003): The Interrupted Suicide Attempt, and the Riot at the End
The Scene: A hapless suicide attempt comes to an abrupt end when a brick smashes through a window, and the film's three young protagonists rush downstairs to find themselves face to face with Paris's May 1968 riots.
Bertolucci: "One can't help it. The brick brings them out onto the street, but I also wanted the brick to bring the street into their room. They have been in a claustrophobic state for the whole film, and now they go out. And in going out, they separate from each other … I felt I had to make this movie, because I was reading so much nonsense about 1968, all these stupid things. But this film is not from the point of view of those kids in that time, but rather the point of view of an older man looking back at that time. I wanted to talk about the youth of that boy in that moment — and that incredible relationship with the future — how they were projecting, how they were inventing. Today, kids of that age think of tomorrow, and then another tomorrow, and then another tomorrow. Back then, there was no tomorrow, there was just … The Future."