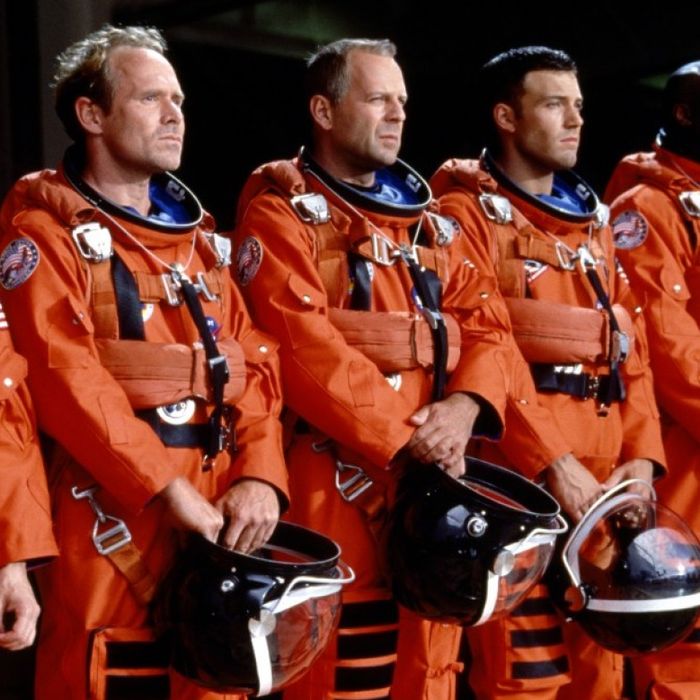 Armageddon
.
Photo: Touchstone Pictures
Looking for a bit of high-powered escapism tonight? A way to leave the world behind and watch as heroes save the day and stuntmen steal the show? Amazon Prime has a rich, deep catalog of action movies that includes everything from Bruce Lee to Ethan Hunt to Captains Kirk and America. Pick your favorites and leave the real world behind.
13 Assassins
Takashi Miike has made and directed over 100 movies, and 13 Assassins is one of the best, a stylish throwback to samurai cinema of old anchored by the modern filmmaking prowess of one of the best filmmakers alive. A remake of Eiichi Kudo's 1963 film, Miike's kinetic thriller is loosely based on actual events from 1844 when 12 samurai and a hunter worked together to assassinate the leader of the Akashi clan. It's a perfect balance of storytelling and sprays of samurai blood.
Armageddon
Michael Bay was the king of the disaster movie world in 1998 when one of his biggest films took the box office by storm. Everyone has seen Armageddon. The story of deep-core drillers who become unexpected astronauts is one of the biggest action movies of all time. The only question is if you want to watch it again?
Bank Job
Roger Donaldson directed Jason Statham to one of the best performances of his career in this heist movie based on the true story of the 1971 Baker Street robbery. Saffron Burrows plays a woman who is blackmailed into leading an operation to retrieve a safety deposit box that contains compromising photos of Princess Margaret, and she calls in Statham to lead the team to pull it off. Clever and character-driven in ways that Statham films aren't often allowed to be, Bank Job is a unique movie in his filmography.
Better Luck Tomorrow
You know how Justin Lin brought the blockbuster back with 2021's F9? See where it all began almost two decades ago with the director's debut, a Sundance indie flick about Asian-American kids who enter a world of crime. Featuring supporting work from Sung Kang (Han!) and John Cho, this film has inspired dozens of filmmakers in the years to come, including Jon M. Chu (In the Heights), who was at that famous Sundance premiere.
Blood On Her Name
More of a slow burn thriller than a traditional action movie, this excellent indie from Matthew Pope should have made Bethany Anne Lind a star. The actress is great as Leigh Tiller, a woman who panics after an accidental killing, and then continues compounding bad decisions. An old-fashioned thriller, the flick also features a strong supporting turn from the always-solid Will Patton.
The little movie that could, this macho flick barely made a dime at the box office when it was released in 1999 but built an amazingly loyal following over the last two decades on DVD and cable. Sean Patrick Flanery and Norman Reedus star as a pair of Boston Irishmen who decide to rid their city of the forces of evil, while being pursued by Willem Dafoe's FBI Agent. It's fascinating to consider why this movie worked for so many people that it actually produced a sequel and still gets quoted two decades later.
Mel Gibson was a household name before Braveheart but the 1995 epic war film redefined his career. No longer was he just an action star but he was an Oscar-winning director for his adaptation of a 15th century epic poem about William Wallace, a famous Scottish warrior. Braveheart feels like a different era in Hollywood filmmaking today, and not just because of how hard Gibson would fall, but it's a snapshot of a time when star power could get a movie like this made.
As No Time to Die has finally been released after multiple delays, Amazon Prime is here to satisfy your 007 needs with the first outing for Daniel Craig as the most famous movie spy of all time. This is easily one of the best Bond movies, a flick that redefined the character with more intense stakes and realistic action sequences. It's a legitimately great movie, not just for what it did for its genre and the future of its legendary super spy.
Josh Trank directed an excellent low-budget sci-fi film that became a phenomenon. Michael B. Jordan, Dane DeHaan, and Alex Russell star as three teenage boys in Seattle who discover an unknown alien object and end up with superpowers. A unique blend of coming-of-age storytelling with a superhero origin story, Chronicle ended up making over $125 million worldwide.
Con Air
Nicolas Cage leads one of his best ensembles in an action movie in the 1997 hit about a plane full of convicts that gets hijacked. Of course, Cage plays the "good criminal," a guy sentenced to ten years for defending his pregnant wife. He finds himself the only possible savior on a plane full of real bad guys that includes John Malkovich, Steve Buscemi, Ving Rhames, and Danny Trejo.
There aren't enough action movies with the pure momentum of 2006's Crank, directed by Mark Neveldine and Brian Taylor, and the 2009 sequel, also on Peacock. Jason Statham plays a hitman who has to keep his adrenaline up to stay alive. It's like Speed with a human heart instead of a bus, and it's a hell of a ride.
Neill Blomkamp's sci-fi blockbuster was such a commercial and critical darling that it even landed four Oscar nominations, including Best Picture, which feels like one of those crazy pieces of trivia that could win you a contest. District 9 is clever and creative, pulsing with action and ingenuity in every frame, and its guerilla style has allowed it to hold up well over the last decade.
Fearless
Arguably Jet Li's last great film, the 2006 Ronny Yu joint is one of the last gasps of a series of international martial arts hits that came in the wake of Crouching Tiger, Hidden Dragon. There was a time when audiences were so open to this kind of filmmaking that Fearless was actually one of the ten highest grossing foreign language films of all time in the U.S. It's a great example of Li at his most charismatic, while also understanding the transcendent beauty of a great piece of martial arts choreography.
*The Fifth Element
There's not a lot of great sci-fi on Prime Video, but you should fire up The Fifth Element if you're jonesing for something set in a different time and place in space. And make sure you do so on the biggest TV in your house and with the volume at a level to wake the neighbors. Luc Besson's vision isn't exactly a great piece of storytelling, but this Bruce Willis vehicle is a perfect example of the director's skill with world-building and technical elements.
Bruce Lee really landed on the international map with two Hong Kong films directed by Lo Wei, 1971's The Big Boss and then this film the next year, a movie about a student who seeks to avenge the murder of his master. After some disappointment in the Hollywood system, Lee went back to Hong Kong and redefined martial arts cinema forever. This is an essential piece of work in the genre. All five of the Lee films are.
Jodie Foster stars in this 2005 thriller that plays like a loose and action-driven variation on Alfred Hitchcock's The Lady Vanishes. Foster plays a widow who is returning from Berlin to America on a plane when her daughter literally disappears. While those around her even deny the existence of the girl, Foster gives her all to prove she's not going insane.
Amazon Prime members of a certain age will remember that James Bond was in a bit of a dire place in the late '80s and early '90s. The Roger Moore era went out with a whimper and Timothy Dalton didn't really work for movie goers. So this first Pierce Brosnan vehicle was a comeback for 007, and what a fun, glorious, underrated comeback it was. This is not only one of the best Bond movies, it's one of the best action movies of the '90s.
Highlander
Who could have guessed that 1986 fantasy film starring Christopher Lambert would launch a franchise? Since the release of this goofy action movie about an immortal warrior, there have been four more films, two live-action series, comics, toys, novels, and so much more. See where it all began here. There can be only one!
John McTiernan directed the first Jack Ryan film way back in 1990 and the character is still influenced by it over three decades later on an Amazon Prime original series hit. This time, he was played by Alec Baldwin, who challenges a rogue Soviet naval captain, perfectly captured by Sean Connery. Despite the sequels and series, this remains arguably the best adaptation of Tom Clancy's breakneck plotting.
The brilliant Julia Hart co-wrote and directed this very different thriller, a crime movie told only from the POV of one character, the wife of a criminal. Rachel Brosnahan of The Marvelous Mrs. Maisel gives her best film performance to date as Jean, a woman who is forced to go on the run with her young child after her criminal husband goes missing. It's a finely calibrated piece of work that reshapes an overdone genre in a way that makes it feel fresh again.
One of the biggest blockbusters of all time shook the world with the explosion of the White House in Roland Emmerich's 1996 film about an alien invasion. Led by Will Smith, Independence Day was really a descendant of the '70s disaster films that assembled as many familiar faces as possible to combat an impossible situation. Smith was joined by Bill Pullman, Jeff Goldblum, Mary McDonnell, Judd Hirsch, and many more, but it was really the aliens and the breakthrough effects that made the thrilling film a phenomenon.
Classic action! No, this is not the Mark Wahlberg remake but the 1969 original that shaped the templates for both the heist movie and the car chase movie. Michael Caine is great as Charlie Croker, the leader of a criminal gang who plan to steal gold bullion from an armored truck in Italy. It doesn't go exactly as planned.
James Mangold (Logan) directed a fun action flick that's basically built on the massive screen charisma of Tom Cruise and Cameron Diaz. Reuniting the stars of Vanilla Sky, the film casts Diaz as a woman who gets caught up with a spy on the run from the CIA. It's been kind of forgotten by history but it's a decent action choice on a lazy weekend.
Steven Soderbergh directs a searing performance by Terence Stamp in this 1999 thriller about a Brit who comes to California trying to find his missing daughter, and those who may be responsible for hurting her. Soderbergh rarely missteps and this is one of his most underrated films, a perfectly paced angry shout of a movie that matches its captivating leading man.
Miami Blues
George Armitage directed an adaptation of the novel by Charles Willeford, a film that was largely ignored when it was released but has developed a pretty loyal cult following. It features one of the best performances from that era of Alec Baldwin as a sociopath ex-con who starts a new life in Miami. He's ably supported by great turns from Fred Ward and Jennifer Jason Leigh.
Joe Carnahan wrote and directed this vicious little film about the murder of an undercover police officer and how far two other cops are willing to go to uncover the truth. Jason Patric stars but it's one of the best performances in Ray Liotta's career that really makes this one a must-see. It made almost nothing way back in 2003 but has developed a fan based on DVD and streaming. See why.
Once Upon a Time in Mexico
The final part of what is sometimes referred to as Robert Rodriguez's "Mexico Trilogy," this action blockbuster landed in theaters in 2003, taking everything from Desperado and turning it up to 11. Banderas returns as El Mariachi, recruited by a CIA agent (Johnny Depp) to kill a corrupt general. Rodriguez has said he wanted this to be The Good, the Bad and the Ugly of his trilogy, and fans responded, allowing it to make almost $100 million.
One of Sergio Leone's best films, this Western stars Henry Fonda, Jason Robards, Claudia Cardinale, and Charles Bronson. It's an epic film that casts Fonda against type as the bad guy and contains some of the best imagery in Leone's career, anchored by one of the best scores ever written by Ennio Morricone.
It was way back in 2003 that Tony Jaa broke through in a Thai martial arts film that was such a big hit that it produced two sequels and made the martial arts master into a household name. Jaa showed off his Muay Thai skills as Ting, a villager who travels to Bangkok to retrieve the stolen head of a Buddhist statue named Ong-Bak. It's mostly about bad-ass stunt choreography, which Jaa executes with flair.
Martin Campbell still knows how to make action movies, as proven by his underrated flick from summer 2021 starring Maggie Q, Samuel L. Jackson, and Michael Keaton. Maggie Q plays an assassin who seeks revenge when her mentor is murdered. It hardly made a dent at the box office but it's worth seeking out now that it's on Prime Video.
After the massive success of Casino Royale both critically and commercially, a sophomore slump for Daniel Craig's take on 007 was kind of inevitable. Marc Forster's 2008 movie about the man with the license to kill may not live up to its predecessor but it has some solid action sequences and could make for a good second half of a double feature if you can't stop at only one of the Craig Bonds.
Ran
Late in his career, Akira Kurosawa delivered one of his most epic films in this adaptation of William Shakespeare's King Lear, blending that story with legends and history of Japan. The most expensive Japanese film ever made at the time, this 1985 war epic was a worldwide hit, bringing new viewers into the career of one of the best filmmakers of all time.
Decades after directing the game-changing The Manchurian Candidate, John Frankenheimer helmed this cult hit, a film written by David Mamet and starring Robert De Niro, Jean Reno, Sean Bean, and Jonathan Pryce. The plot is somewhat forgettable junk about a briefcase and special operatives, but it's the car chases that everyone remembers. Any list of the best car-chase movies that doesn't include Ronin is just wrong.
What a fun and funny movie you can find in the 2000 buddy comedy starring Jackie Chan and Owen Wilson. Chan's physical style and Wilson's goofy personality make for a truly hysterical duo in this Western martial arts comedy that blends Chan's incredible skill with a more traditional comedy style. It's an underrated movie that's truly hard to dislike.
Species
Roger Donaldson directed the 1995 hit sci-fi/horror film that made Natasha Henstridge into a star. The actress made her film debut as Sil, a creature who comes to Earth to find a human mate. Stylish and strange, Species became a smash hit, making over $100 million and producing multiple sequels. The design by H.R. Giger of the alien scenes helped make the first film all the more memorable.
Stargate
Roland Emmerich's 1994 sci-fi action film with Kurt Russell and James Spader doesn't get enough credit for launching a massive franchise that led to multiple TV series, a web series, books, video games, comic books, and even direct-to-DVD movies. It may not be as popular as it once was, but it's worth revisiting the original movie that started such a worldwide phenomenon.
Michael Mann's 1981 crime flick is one of the best directorial debuts of the era, a pronouncement of a major talent and a film that still feels fresh and new. James Caan is fantastic as a safecracker who is trying to leave his life behind. Mann's refined visual style was there from the very beginning and the score by Tangerine Dream is unforgettable.
*Tombstone
Released the same year as Wyatt Earp, Tombstone is a different take on the classic lawman, played memorably here by Kurt Russell, although fans of this film would tell you that Val Kilmer steals it as the legendary Doc Holliday. It's another case of an insane Western ensemble filled with talented actors. Tombstone includes Sam Elliott, Bill Paxton, Powers Boothe, Charlton Heston, and too many more to list.
Universal Soldier
Roland Emmerich directed two of the biggest foreign action stars in the world at the time, Jean-Claude Van Damme and Dolph Lundgren, in a sci-fi/action film about a U.S. Army soldier killed in Vietnam and resurrected with a program designed to create super soldiers. Critics kind of hated it, but it made enough to start a franchise, and has gained a following over the years.
Vantage Point
Pete Travis directed a clever riff on the Rashomon structure, wherein one story is seen from various points of view. The story here is that of an attempted assassination of the U.S. President, and the strong ensemble is filled out with Dennis Quaid, Matthew Fox, Forest Whitaker, William Hurt, and Sigourney Weaver. The movie is imperfect but a reasonable diversion through star power alone.
A Vigilante
Olivia Wilde really showed her range in this excellent 2018 drama that premiered at the SXSW Film Festival. She stars as Sadie, a woman who seeks out other women who have been brutalized by the men in their lives and enacts vengeance on their abusers. Of course, she's working through her own trauma and the eventual vengeance against the man who destroyed her life. Wilde is phenomenal.
The Wave
The premise of Norway's The Wave is the kind of simple wonder that they used to make in Hollywood more in the '70s and '80s. An avalanche causes a large enough rockslide into a body of water that it creates a tsunami, and a nervous geologist is one of the few people who knows the carnage that's about to come. Well-acted and smartly constructed, it's a wonderful slice of disaster escapism.