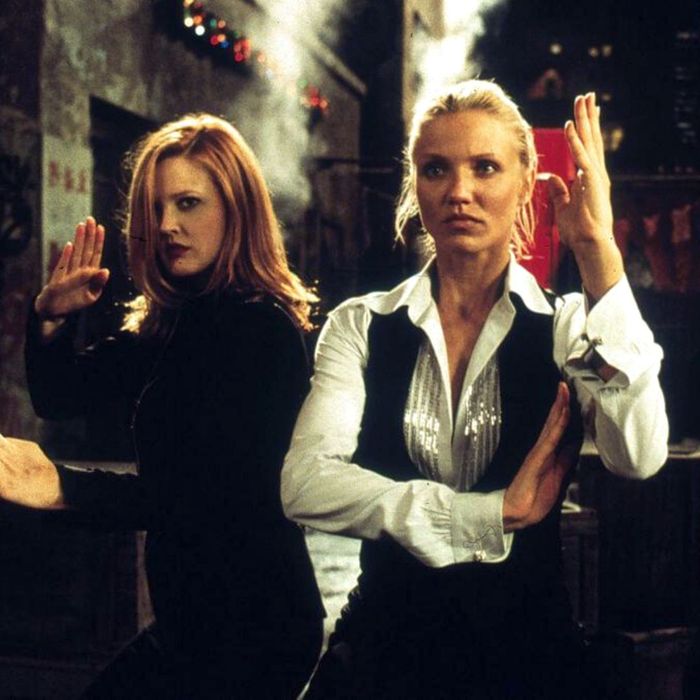 Charlie's Angels
.
Photo: Sony Pictures
Looking for a bit of high-powered escapism tonight? A way to leave the world behind and watch as heroes save the day and stuntmen steal the show? Amazon Prime has a rich, deep catalog of action movies that includes everything from Bruce Lee to Ethan Hunt to Captains Kirk and America. Pick your favorites and leave the real world behind.
'71
Yann Demange directed this tight and taut retelling of an event in Belfast during the height of The Troubles in 1971. The great Jack O'Connell (Godless) plays a new recruit in the British Army who has basically been stranded behind enemy lines after a violent encounter and is forced to fight his way home. O'Connell is fantastic in a film that increases tension with each subsequent scene. You won't be able to catch your breath.
James Cameron's 1989 sci-fi blockbuster is one of the most prominent films never to have been released on Blu-ray in the United States. This means that the best quality in which you could watch this film is probably right here on Amazon, at least until Disney gets their act together and gives this modern classic the HD treatment that it deserves.
Remember when Harrison Ford was the country's fictional president? Revisit those simpler times with this great 1997 thriller in which Ford plays the world leader who is aboard the titular plane when it's hijacked by a team led by Gary Oldman. As tight as action movies get, this is also a reminder of a time when blockbusters weren't the exclusive property of comic book fans.
There are still a few Marvel movies roaming the digital prairie, waiting to be shepherded over to Disney+ exclusively. The best remaining on Amazon Prime is the original adventure for Iron Man, Captain America, Black Widow, Hawkeye, The Hulk, and Thor. Along with Favreau's original Iron Man, The Avengers really defined the MCU style, one that would change the blockbuster for an entire generation.
Blue Story
An artist named Rapman, who built a following on YouTube, made his feature debut with this 2020 crime drama, a film that once looked like it would have a big release but saw its prospects sabotaged by COVID back in March. It's a relatively familiar story of gang culture but it's told with an incredibly vibrant style, some of which even includes spoken word rhyming in place of traditional language.
Travis Knight of Laika fame (Kubo and the Two Strings) directed the best Transformers movie in this unexpectedly joyous spinoff of the massive Hasbro series of films. It's a movie with the same kind of family/adventure spirit as '80s classics of the genre, buoyed by fun performances from Hailee Steinfeld and John Cena.
There was a time when every classic TV show got a modern update via a feature film and one of the best and most successful of the bunch was the 2000 movie take on the '70s TV show Charlie's Angels. One of the main reasons for this film's success was casting as director McG got a perfect trio together in Cameron Diaz, Drew Barrymore, and Lucy Liu. The sequel, Full Throttle, is on Amazon Prime too, but maybe ignore that disaster.
Cliffhanger
One of the last really fun Sly Stallone movies, this 1993 blockbuster is the story of a mountain climber who stumbles upon the heist of a U.S. Treasury plane that gets stranded in the Rocky Mountains. Renny Harlin directs Sly in this cleverly structured flick that also includes a great villain performance from John Lithgow.
Jean Dujardin (The Artist) stars in this excellent French action thriller that tells the story of The French Connection from across the pond. He's a police magistrate who crosses paths with a drug crime lord who is channeling drugs from France to the United States named Tany Zampa (Gilles Lellouche). This is the kind of unique action film that gives viewers a true story that they may have never considered.
Alexandre Aja directed this razor-sharp 2019 film about a father and daughter trapped in a basement as flood waters rise during a hurricane. Oh, and they just happen to be being hunted by alligators. A combination of disaster flick and monster flick tropes, Aja's film is a delight from start to finish. There's not an ounce of fat on this one.
There are rumors that a remake of this John Woo classic is on the horizon, so you owe it to yourself to go back and see the very high standard that project will have to meet. This is one of the best action movies of the '90s, a wonderfully staged blockbuster by one of the genre's best filmmakers. And John Travolta and Nicolas Cage were near the peaks of their screen charismas as an FBI agent and terrorist who end up, well, switching faces. It's a blast.
Bruce Lee really landed on the international map with two Hong Kong films directed by Lo Wei, 1971's The Big Boss and then this film the next year, a movie about a student who seeks to avenge the murder of his master. After some disappointment in the Hollywood system, Lee went back to Hong Kong and redefined martial arts cinema forever. This is an essential piece of work in the genre. All five of the Lee films are.
The French Connection
William Friedkin directs Gene Hackman to one of the most beloved performances of the '70s as Popeye Doyle in this Oscar-winning cop movie that inspired a generation of filmmakers. The title refers to a drug trade being run through a French heroin smuggler, but what really makes this movie work is Friedkin's incredible attention to detail and craft, which won him an Oscar to go along with Academy Awards for Best Actor for Hackman and Best Picture.
Highlander
Who could have guessed that 1986 fantasy film starring Christopher Lambert would launch a franchise? Since the release of this goofy action movie about an immortal warrior, there have been four more films, two live-action series, comics, toys, novels, and so much more. See where it all began here. There can be only one!
The brilliant Julia Hart co-wrote and directed this very different thriller, a crime movie told only from the POV of one character, the wife of a criminal. Rachel Brosnahan of The Marvelous Mrs. Maisel gives her best film performance to date as Jean, a woman who is forced to go on the run with her young child after her criminal husband goes missing. It's a finely calibrated piece of work that reshapes an overdone genre in a way that makes it feel fresh again.
Classic action! No, this is not the Mark Wahlberg remake but the 1969 original that shaped the templates for both the heist movie and the car chase movie. Michael Caine is great as Charlie Croker, the leader of a criminal gang who plan to steal gold bullion from an armored truck in Italy. It doesn't go exactly as planned.
Matthew Vaughn's directorial debut is the film that really proved to people that Daniel Craig was smooth enough to be James Bond. Before he was 007, he was a character known only as XXXX in this story of a London criminal who is trying to get out of the drug business, and having great difficulty doing so. This low-budget flick was a massive hit on the arthouse circuit because it's clever and oh-so-stylish.
Director Matthew Vaughn proved to be the perfect fit for Mark Millar's dark comic sensibilities for this 2010 superhero movie for adults. Aaron Johnson stars as an average kid who tries to be a superhero, but Chloe Grace Moretz steals the flick as the unforgettable Hit Girl. If you like the Kingsman and Deadpool movies, you owe it to yourself to check out the movie that helped usher them into existence.
Russell Crowe stars in this brilliant period action film based on the novels by Patrick O'Brian that recreates warfare on the water arguably better than any other film. This really should have been the start of a franchise. Crowe plays Jack Aubrey, Captain in the Royal Navy, and Paul Bettany does his best film work as the ship's surgeon. This was nominated for 10 Oscars, including Best Picture and Best Director.
Monsters
Can you make a riveting monster movie without really seeing the monsters? Such is the challenge of this low-budget gem that introduced the world to Gareth Edwards long before he would go on to helm an actual King of the Monsters movie in 2014's Godzilla. Scoot McNairy and Whitney Able star as travelers on an Earth forever changed by the arrival of giant tentacled monsters.
Joe Carnahan wrote and directed this vicious little film about the murder of an undercover police officer and how far two other cops are willing to go to uncover the truth. Jason Patric stars but it's one of the best performances in Ray Liotta's career that really makes this one a must-see. It made almost nothing way back in 2003 but has developed a fan based on DVD and streaming. See why.
Resident Evil
2021 marks the 25th anniversary of the Capcom game series that changed the landscape forever, and it's being celebrated both by the release of Resident Evil: Village and the spreading of the films based on these games across screening platforms. Amazon Prime currently has the first (and still best) film and the not-so-good first sequel Resident Evil: Apocalypse.
Decades after directing the game-changing The Manchurian Candidate, John Frankenheimer helmed this cult hit, a film written by David Mamet and starring Robert De Niro, Jean Reno, Sean Bean, and Jonathan Pryce. The plot is somewhat forgettable junk about a briefcase and special operatives, but it's the car chases that everyone remembers. Any list of the best car-chase movies that doesn't include Ronin is just wrong.
Audiences had little idea what to do with this crazy film when it was released back in 2004, but it's developed a pretty strong following over the years. Filmed using a bluescreen and fascinating CGI, this is an old-fashioned adventure film with modern tricks, and it uses Jude Law, Angelina Jolie, and Gwyneth Paltrow well. 
The 23rd official James Bond film is also one of the best. Daniel Craig's third film as the world's most famous spy, and it plays as a much more complex film than most 007 action flicks thanks to serious direction from Sam Mendes and gorgeous cinematography from Richard Deakins. It may be Craig's best Bond flick (it's this or Casino Royale) and it's exclusively on Amazon Prime. Watch it while you wait for the long-delayed No Time to Die.
This might be the most underrated action/horror movie of the new millennium. Toby Wilkins directed this 2008 low-budget flick that stars Shea Whigham as an escaped convict who ends up at a gas station in the middle of nowhere at the most wrong time. A John Carpenter-inspired tale of people trapped inside while something unimaginable hunts them from outside, this is a gem.
It looks like this could be the last Star Trek movie for a while as the 13th film in the series appears to be the end of the road for the reboot crew led by Chris Pine, Zachary Quinto, and Zoe Saldana. It's too bad because this installment indicated how much this team could work if they were removed from the nostalgic narrative of the previous two outings. It's a fun sci-fi adventure movie.
Sci-fi/action really changed with the 1984 release of The Terminator, impacting the careers of both Arnold Schwarzenegger and James Cameron in ways that they never could have predicted. Ah-nuld plays a cyborg assassin sent back to kill Sarah Connor (Linda Hamilton) before she can have the son who will save the future. Smart and action-packed, this film really paved the way for hundreds of imitators.
Unstoppable
Tony Scott's last movie turned out to be one of his best. Reuniting with regular collaborator Denzel Washington, Scott delivered a streamlined gem of an action flick, partnering Denzel with Chris Pine in a story of a runaway freight train and the only two men who could stop it. Smart, tight, and action-packed, this movie rocks.
A Vigilante
Olivia Wilde really showed her range in this excellent 2018 drama that premiered at the SXSW Film Festival. She stars as Sadie, a woman who seeks out other women who have been brutalized by the men in their lives and enacts vengeance on their abusers. Of course, she's working through her own trauma and the eventual vengeance against the man who destroyed her life. Wilde is phenomenal.
Walking Tall
The name Buford Pusser meant something to the generation old enough to see this Joe Don Baker flick turn into a massive phenomenon way back in 1973. Phil Karlson's film about a Tennessee lawman was so popular that it produced two sequels, a TV movie, a TV series, and a remake starring Dwayne Johnson.