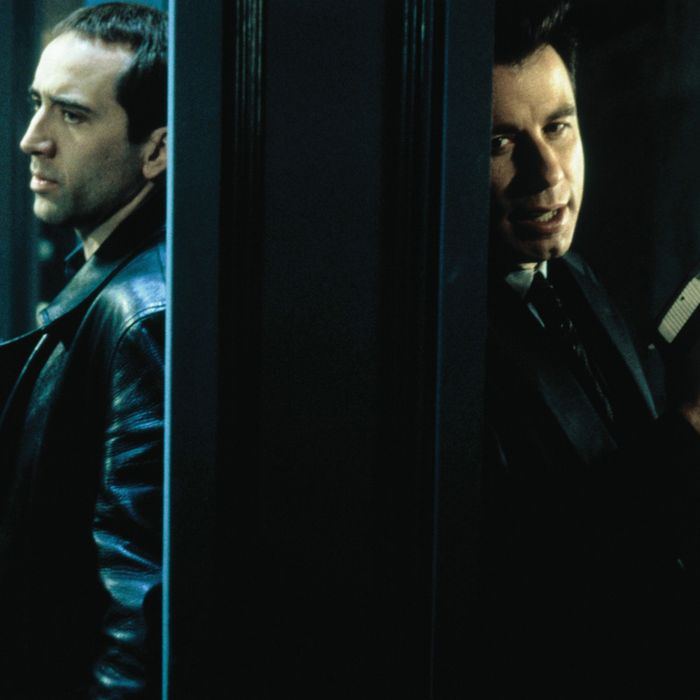 Face/Off
.
Photo: Universal Pictures
This list is regularly updated as movies rotate on and off of Prime Video. *New additions are indicated with an asterisk.
Action movies are typically among the most popular films available on DVD, VOD and streaming services. People love to tune in, tune out, and escape while watching beautiful people doing impossible things. If you have an Amazon Prime subscription and are looking to do exactly that, its vast library contains some of the best action titles ever made, alongside its comedies, horror films, and family-friendly options. Amazon cycles films on and off of its service regularly, but these are the best action movies on Prime Video right now.
13 Assassins
Year: 2011
Runtime: 2h 5m
Director: Takashi Miike
Takashi Miike has made directed over 100 movies, and this is one of the best, a stylish throwback to samurai cinema of old anchored by the modern filmmaking prowess of one of the best filmmakers alive. A remake of Eiichi Kudo's 1963 film, this is loosely based on actual events from 1844 when 12 samurai and a hunter worked together to assassinate the leader of the Akashi clan. It's a perfect balance of storytelling and sprays of samurai blood.
Allied
Year: 2016
Runtime: 2 hours 4 minutes
Director: Robert Zemeckis
Star power doesn't get much brighter than Brad Pitt and Marion Cotillard in this World War II thriller from the director of Back to the Future and Flight. The pair play a Canadian intelligence officer and a French Resistance fighter who are paired on a mission in Casablanca in 1942 in this elaborate period piece from the writer of Eastern Promises and Locke. It's a sexy, smart movie for adults.
Ambulance
Year: 2022
Runtime: 2h 16m
Director: Michael Bay
Michael Bay returned in 2022 with one of best films in this non-stop action flick about a pair of bank robbers (Jake Gyllenhaal and Yayha Abdul-Mateen II) who hijack an ambulance and lead the pursuing cops on a chase through the city of angels. Sharply made, this is one of the better action movies of the last few years, a film that's unapologetically ridiculous but also impossibly fun.
*Attack the Block
Year: 2011
Runtime: 1h 28m
Director: Joe Cornish
Long before he won a Golden Globe for Small Axe (which is a must-watch on Prime, by the way), John Boyega broke through in this 2011 sci-fi/action flick from director Joe Cornish. With echoes of John Carpenter, it's the tale of a street gang who end up being the final defense between the world and an alien invasion. Smart and action-packed, it's a great one to catch up with over a decade later.
Beast
Year: 2022
Runtime: 1h 32m
Director: Baltasar Kormakur
Who doesn't want to see Idris Elba punch a lion? This B-movie takes a bit too long to get to the good stuff but it's fun once it gets going. The star of The Wire brings a gravity to a relatively ridiculous story of a family that gets caught in a deadly situation involving wild animals that have been terrorized by local poachers. Yes, it's a B-movie with a social conscience too!
Year: 2018
Runtime: 1h 44m
Director: Jaume Collet-Serra
Sometimes you want to see complex character studies or detailed documentaries – sometimes you just want to see Liam Neeson kick ass. One of the unexpected action stars' best films is the 2018 thriller by his regular collaborator Jaume Collet-Serra (Unknown, Run All Night). Neeson plays an ordinary guy sucked into a murder plot on a train in a simple but effective story that Alfred Hitchcock would have loved.
Crouching Tiger, Hidden Dragon
Year: 2001
Runtime: 2h
Director: Ang Lee
One of the most successful foreign language films of all time, Ang Lee's wuxia epic was so popular that it landed an Oscar nomination for Best Picture, along with nine other nominations (winning four). It's a gorgeous film based on the Chinese novel by Wang Dulu that stars the legendary Chow Yun-fat, Michelle Yeoh, Zhang Ziyi, and Chang Chen. It hasn't aged a day in the over-two decades since its release.
Face/Off
Year: 1997
Runtime: 2h 18m
Director: John Woo
There are rumors that a remake of John Woo's classic is on the horizon, so you owe it to yourself to go back and see the very high standard that project will have to meet. Face/Off is one of the best action movies of the '90s, a wonderfully staged blockbuster by one of the genre's best filmmakers. John Travolta and Nicolas Cage were near the peaks of their screen charismas as an FBI agent and terrorist who end up, well, switching faces. It's a blast.
*Goldfinger
Year: 1965
Runtime: 1h 50m
Director: Guy Hamilton
Classic action! This may be the third James Bond film but it's arguably the most essential of the early years, the movie that really cemented Sean Connery's iconic portrayal of 007. Based on the 1959 Ian Fleming novel of the same name, it also stars Honor Blackman as the wonderfully named Pussy Galore and Gert Frobe as the title character, one of Bond history's most iconic villains.
*Haywire
Year: 2012
Runtime: 1h 32m
Director: Steven Soderbergh
Steven Soderbergh directs this razor-sharp, tight action thriller starring Gina Carano as a black ops agent who is sold out by everyone around her…and so she kicks some ass. Carano may not be Oscar-worthy — and the movie plays differently given where her career is now — but she did most of her own stunts and really sells the physical presence of the role in ways that other actresses would have totally missed. And the supporting cast here is phenomenal, including Michael Fassbender, Ewan McGregor, Bill Paxton, Channing Tatum, Antonio Banderas, and Michael Douglas.
Highlander
Year: 1986
Runtime: 1h 50m
Director: Russell Mulcahy
There can be only one. Christopher Lambert stars as Connor MacLeod, who was born in the Scottish Highlands in the 16th century and killed there, only to discover that he was born immortal and is now a part of a massive secret war to leave only one highlander remaining. Yeah, it's all really silly, but this movie became a massive cult hit, thanks in part to Lambert and Sean Connery's fun performances.
The Indiana Jones franchise
Year: 1981
Runtime: 1h 55m
Director: Steven Spielberg
Everyone is getting cautiously excited for James Mangold's Indiana Jones and the Dial of Destiny, releasing later this year. It's the perfect time to catch up with the saga of cinema's most beloved treasure hunter in the beloved first four (well, at least three) films in this franchise. The perfect Raiders of the Lost Ark and its three sequels are all on Prime, waiting for your marathon.
Mad Max
Year: 1980
Runtime: 1h 33m
Director: George Miller
This is where it all began, the breakthrough film for not only star Mel Gibson but landmark director George Miller. Gibson plays "Mad" Max Rockatansky in a futuristic Australia that's dealing with the decline of civilization. Made for almost nothing, it grossed over $10 million worldwide and led to even better sequels. It's an essential indie action film.
The Mission: Impossible franchise
Year: 1996
Runtime: 1h 50m
Director: Brian De Palma
The highly anticipated Mission: Impossible – Dead Reckoning will release its first part later this year, but Prime Video has you set to catch up with the story of Ethan Hunt to date, starting way back in 1996 with an adaptation of the hit TV show that no one could have predicted would still be relevant over a quarter-century later. Watch em all, but especially the ones since Ghost Protocol, which have been truly spectacular.
The Northman
Year: 2022
Runtime: 2h 16m
Director: Robert Eggers
This 2022 epic from the director of The Lighthouse stars Alexander Skarsgard as a Viking prince who returns to his homeland with vengeance on his mind. A retelling of the myth that inspired Hamlet, this visually striking tale also stars Nicole Kidman, Claes Bang, Anya Taylor-Joy, Ethan Hawke, Bjork, and Willem Dafoe. It's one of those films that history will likely be very kind to as the years pass.
Year: 1969
Runtime: 2h 46m
Director: Sergio Leone
One of Sergio Leone's best films, his Western stars Henry Fonda, Jason Robards, Claudia Cardinale, and Charles Bronson. It's an epic film that casts Fonda against type as the bad guy and contains some of the best imagery in Leone's career, anchored by one of the best scores ever written by Ennio Morricone. In a 2008 poll by Empire of over 10,000 readers, filmmakers, and critics, this film was the highest-ranking Western.
The Protégé
Year: 2021
Runtime: 1h 49m
Director: Martin Campbell
A great action director in Martin Campbell (Goldeneye) finds a way to elevate what could have been a pretty generic thriller in this recent theatrical release, already on Prime Video. Maggie Q stars as Anna, a woman who has been raised as an assassin and trained by a man named Moody (Samuel L. Jackson). When her mentor is killed, she will do whatever it takes to get revenge. Michael Keaton is very fun in a supporting role too.
Shanghai Noon
Year: 2000
Runtime: 1h 50m
Director: Tom Dey
What a fun and funny movie you can find in this buddy comedy starring Jackie Chan and Owen Wilson. Chan's physical style and Wilson's goofy personality make for a truly hysterical duo. It's an underrated movie that's truly hard to dislike.
Speed
Year: 1994
Runtime: 1h 55m
Director: Jan De Bont
Jan de Bont directed one of the best movies of the '90s and gave dozens of imitators a template when he released this simple-but-fantastic flick. In fact, its simplicity is one of its charms. A bus is equipped with a bomb that will explode if it drops below 50 miles per hour, and Keanu Reeves and Sandra Bullock are the only people that can stop it.
Stagecoach
Year: 1939
Runtime: 1h 36m
Director: John Ford
It won't play the same as modern action movies, but this could be the gateway to classic Westerns for someone in your family. Give them the gift of a flick that really changed the genre, in no small part because it really introduced the world to a young man named John Wayne. Based on a 1937 short story by Dudley Nichols, this is the tale of a group of strangers on a stagecoach as it travels through Apache territory. It has influenced too many action films since to count them all.
Year: 1986
Runtime: 1h 50m
Director: Tony Scott
Tom Cruise reminded everyone that he is really the last true movie star with the amazing success of this film's sequel in 2022. Why not go back to the original and see how the story of Maverick and Iceman rocked the world over 35 years ago? A lot of this is pretty dated now, but in a way that makes the nostalgic ride even more fun.
Year: 2021
Runtime: 1h 58m
Director: Guy Ritchie
The best film directed by Guy Ritchie is also the one that so many people seemed to ignore. Was it the pandemic? Did it just look too familiar? Trust that this is worth your time, a Heat-inspired story of a cash truck heist by a group of career criminals in Los Angeles. Ritchie directs his cast with ruthless precision, drawing great turns from his regular Jason Statham, along with Holt McCallany, Josh Hartnett, Scott Eastwood, Jeffrey Donovan, and many more.
If you subscribe to a service through our links, Vulture may earn an affiliate commission.