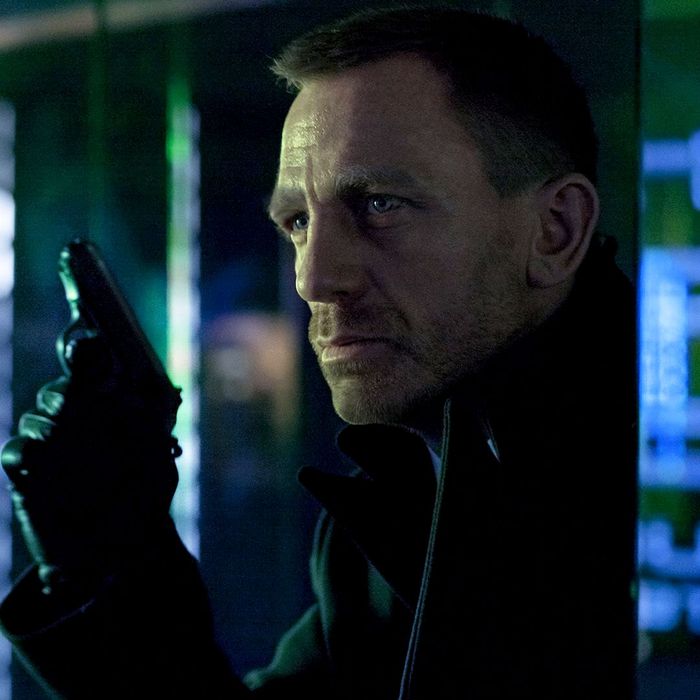 Skyfall
.
Photo: Columbia Pictures
This list is regularly updated as movies rotate on and off of Amazon Prime. *New additions are indicated with an asterisk.
Action movies are typically among the most popular films available on DVD, VOD and streaming services. People love to tune in, tune out, and escape while watching beautiful people doing impossible things. If you have an Amazon Prime subscription and are looking to do exactly that, its vast library contains some of the best action titles ever made, alongside its comedies, horror films, and family-friendly options. Amazon cycles films on and off of its service regularly, but these are the best action movies on Prime Video right now.
Allied
Year: 2016
Runtime: 2 hours 4 minutes
Director: Robert Zemeckis
Star power doesn't get much brighter than Brad Pitt and Marion Cotillard in this World War II thriller from the director of Back to the Future and Flight. The pair play a Canadian intelligence officer and a French Resistance fighter who are paired on a mission in Casablanca in 1942 in this elaborate period piece from the writer of Eastern Promises and Locke. It's a sexy, smart movie for adults.
Apocalypto
Year: 2006
Runtime: 2h 18m
Director: Mel Gibson
Before he was shunned from Hollywood for being a garbage person and after he won Oscars for Braveheart, Mel Gibson directed this historical epic that has only grown in popularity in the years since its release. Casting unknown Native American and Indigenous actors, this period epic takes place in the year 1502 and tells of the journey of a hero named Jaguar Paw as his people are captured. A massive hit at the time, it's only become a bigger one through cable airings in the years since.
Casino Royale
Year: 2006
Runtime: 2h 24m
Director: Martin Campbell
It's hard to believe the most famous movie spy in history ever needed a comeback, but that's really what happened when Daniel Craig stepped into 007's shoes and it turned out to be one of the most acclaimed James Bond movies of all time. An origin story for the suave superspy, Casino Royale introduced new layers to the classic character, resulting in an action film that felt like it had real stakes. This is one of the best modern action movies, period, not just in the Bond franchise.
A Fistful of Dollars
Year: 1964
Runtime: 1h 39m
Director: Sergio Leone
An Italian filmmaker named Sergio Leone and a young American actor named Clint Eastwood would forever change the Western genre with their first collaboration in this action classic. Followed by For a Few Dollars More and The Good, the Bad and the Ugly, this star-making machine for Eastwood cast the icon as "The Man with No Name" in a role that changed the style of Westerns forever.
Gladiator
Year: 2000
Runtime: 2h 51m
Director: Ridley Scott
The first Best Picture winner of the new millennium was one of the most beloved period action films of all time. Russell Crowe gives his most iconic performance a Roman general named Maximus, who watches his family murdered and his life destroyed by a vicious ruler named Commodus (Joaquin Phoenix). Forced into slavery, Maximus must become a gladiator, competing in arenas until he can achieve his ultimate revenge.
Goldeneye
Year: 1995
Runtime: 2h 8m
Director: Martin Campbell
The legend of 007 was in a pretty dark place in the mid-'90s as the response to Timothy Dalton playing James Bond had been pretty much a universal shrug. Enter Pierce Brosnan in this film that revitalized the screen legend in a way that's still going today. Brosnan's best Bond film features the character trying to stop a rogue MI6 agent, played by Sean Bean.
Goldfinger
Year: 1964
Runtime: 1h 50m
Director: Guy Hamilton
Classic action! This may be the third James Bond film but it's arguably the most essential of the early years, the movie that really cemented Sean Connery's iconic portrayal of 007. Based on the 1959 Ian Fleming novel of the same name, it also stars Honor Blackman as the wonderfully named Pussy Galore and Gert Frobe as the title character, one of Bond history's most iconic villains.
Highlander
Year: 1986
Runtime: 1h 50m
Director: Russell Mulcahy
There can be only one. Christopher Lambert stars as Connor MacLeod, who was born in the Scottish Highlands in the 16th century and killed there, only to discover that he was born immortal and is now a part of a massive secret war to leave only one highlander remaining. Yeah, it's all really silly, but this movie became a massive cult hit, thanks in part to Lambert and Sean Connery's fun performances.
The Italian Job
Year: 2003
Runtime: 1h 51m
Director: F. Gary Gray
A remake of the 1969 Michael Caine action classic, this 2003 update found its star power in Mark Wahlberg and Charlize Theron, who headline this story of a gang of thieves trying to steal gold from a former colleague. Sharing little actual plot with the original, what this film does crib is the car chase fun that action movie fans love. It's a thrill ride of a blockbuster with a great cast. Sometimes speed is all that matters.
* Jack Reacher
Year: 2012
Runtime: 2h 25m
Director: Christopher McQuarrie
Is this the rare Tom Cruise misfire? The truth is that a lot of Prime subscribers have completely memory holed this film in favor of the recent TV series adaptation of the books by Lee Child. Listen, the series is better, but there are still things to like in this 2012 blockbuster, including a playful performance from Werner Herzog and a great overall ensemble that includes Richard Jenkins, Rosamund Pike, and Robert Duvall.
The Protégé
Year: 2021
Runtime: 1h 49m
Director: Martin Campbell
A great action director in Martin Campbell (Goldeneye) finds a way to elevate what could have been a pretty generic thriller in this recent theatrical release, already on Prime Video. Maggie Q stars as Anna, a woman who has been raised as an assassin and trained by a man named Moody (Samuel L. Jackson). When her mentor is killed, she will do whatever it takes to get revenge. Michael Keaton is very fun in a supporting role too.
* Ronin
Year: 1998
Runtime: 1h 44m
Director: John Frankenheimer
Any list of the best car chase movies that doesn't include this Robert De Niro action flick is simply incomplete. In fact, most people don't even remember the plot of this heist film because all that really matters is how expertly Frankenheimer directed the car chases through Nice and Paris.
Skyfall
Year: 2012
Runtime: 2h 23m
Director: Sam Mendes
One of the best James Bond movies ever made is now the centerpiece of the 5-movie arc of Daniel Craig. The actor plays 007, of course, fighting against Javier Bardem's Raoul Silva this time around in a story that touches on the very legacy of the big screen superspy. Consistently riveting, and beautifully shot by Roger Deakins, this is top tier Bond. Note: There are a lot of Bond films on Prime Video if you're looking to have yourself a marathon, including all five Craig entries, even No Time to Die.
Stagecoach
Year: 1939
Runtime: 1h 36m
Director: John Ford
It won't play the same as modern action movies, but this could be the gateway to classic Westerns for someone in your family. Give them the gift of a flick that really changed the genre, in no small part because it really introduced the world to a young man named John Wayne. Based on a 1937 short story by Dudley Nichols, this is the tale of a group of strangers on a stagecoach as it travels through Apache territory. It has influenced too many action films since to count them all.
The Terminator
Year: 1984
Runtime: 1h 47m
Director: James Cameron
A breakthrough film for both Cameron and star Arnold Schwarzenegger, this sci-fi action classic is about a killing machine sent back in time to kill Sarah Connor (Linda Hamilton) before she can give birth to the man who will save the world in the war against the machines. What really elevated The Terminator was how seriously it took its concept instead of talking down to genre audiences or winking at them. It's still a smart flick, a movie that really changed the sci-fi/action genre.
* Top Gun
Year: 1986
Runtime: 1h 50m
Director: Tony Scott
Tom Cruise reminded everyone that he is really the last true movie star with the amazing success of this film's sequel in 2022. Why not go back to the original and see how the story of Maverick and Iceman rocked the world over 35 years ago? A lot of this is pretty dated now, but in a way that makes the nostalgic ride even more fun.
Wargames
Year: 1983
Runtime: 1h 54m
Director: John Badham
More of a thriller than a traditional action film, it sure felt like action to kids of the right age in the early '80s who pictured themselves caught up in the middle of the very real Cold War. Matthew Broderick gives a breakthrough performance as a young hacker who finds his way into a computer run by the U.S. military and almost starts World War III.
The Wave
Year: 2015
Runtime: 1h 44m
Director: Roar Uthaug
Disaster movies aren't the exclusive property of American filmmakers. Norway can make 'em too! This is one of the best disaster movies of the 2010s, the story of an avalanche in Norway that leads to an 80-meter wave that rolls through the region around it, causing havoc.
World War Z
Year: 2013
Runtime: 1h 56m
Director: Marc Forster
The people behind this massive blockbuster took the relatively simple book of the same name by Max Brooks and made it into a globe-hopping epic about the end of the world on a massive scale. Brad Pitt stars as Gerry Lane, a United Nations investigator who tries to stop a zombie pandemic while it's actually happening. It's an imperfect adaptation but some of its imagery is unforgettable. And every list like this needs a few zombie movies.
Wrath of Man
Year: 2021
Runtime: 1h 58m
Director: Guy Ritchie
The best film directed by Guy Ritchie is also the one that so many people seemed to ignore. Was it the pandemic? Did it just look too familiar? Trust that this is worth your time, a Heat-inspired story of a cash truck heist by a group of career criminals in Los Angeles. Ritchie directs his cast with ruthless precision, drawing great turns from his regular Jason Statham, along with Holt McCallany, Josh Hartnett, Scott Eastwood, Jeffrey Donovan, and many more.
If you subscribe to a service through our links, Vulture may earn an affiliate commission.