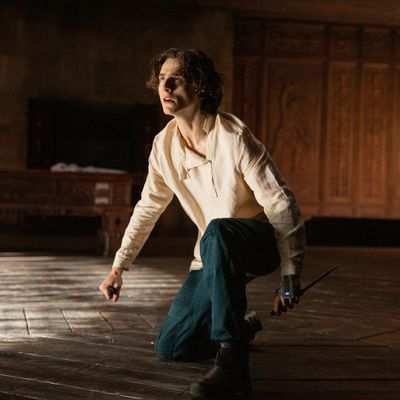 Dune.
Photo: Chiabella James/Warner Bros.
This article is updated frequently as titles leave and enter Max. *New additions are indicated with an asterisk.
Action movies have long been the most successful genre at home, as viewers try to replicate that rush they got at the movie theater in their own living room. The Max (formerly HBO Max) selection of action flicks is predictably dense, bringing in some of the DC Universe, classic genre movies, and modern hits. Everyone from Martin Campbell to Martin Scorsese can find a home here, and you'll often find a Batman, too. We will update this list regularly to give readers a new action movie to watch whenever they need a fix, or a reminder to watch a classic they've already seen.
Year: 2022
Runtime: 2h 56m
Director: Matt Reeves
Matt Reeves now owns the saga of the Dark Knight as a sequel to his March 2022 action blockbuster has already been announced. Dropping on Max while it was still in theaters, The Batman is an ambitious epic reboot of the legendary hero, anchored by Reeves's craft and fascinating performances from Robert Pattinson, Zoe Kravitz, Paul Dano, and many more.
Blade
Year: 1998
Runtime: 2h 1m
Director: Steve Norrington
The Marvel Cinematic Universe is prepping to reboot the character of Blade with Mahershala Ali in the title role (presuming the strike ever ends), but the original Wesley Snipes trilogy seems overdue for a reappreciation. The entire trio is on Max now after bouncing around the streamers. Much like Nolan's Batman trilogy, the standout is the middle chapter, a wonderful action film from the great Guillermo del Toro.
*Dune
Year: 2021
Runtime: 2h 36m
Director: Denis Villeneuve
The second part of this epic action tale was delayed from the holiday season of 2023 into 2024 because of the strike, but that just means more time to catch up with the first Best Picture nominee. Timothee Chalamet stars in this sci-fi blockbuster from one of the most popular current directors in the world. It's kind of half of a movie, but it won't be for long.
Year: 2017
Runtime: 2h 44m
Director: Denis Villeneuve
Denis Villeneuve did the impossible in 2017: He took one of the most influential films of all time and a made a sequel/reboot that didn't just feel like fan service. Released 35 years after Ridley Scott's original, the film stars Ryan Gosling and Harrison Ford in a story that really expands the world of Blade Runner more than just updating an '80s film for a new generation. It's a smart blockbuster.
Year: 2014
Runtime: 2h 10m
Director: Matt Reeves
Any list of the best modern action trilogies really needs to include the rebooted Planet of the Apes series that started with Rise of the Planet of the Apes over a decade ago. The series arguably got even richer in the follow-up from The Batman director Matt Reeves, which is currently the only one in the trilogy on Max for some inexplicable reason. Still, it's a great movie, even if it's weird to not have the whole saga of Caesar to marathon for your subscription fee.
Edge of Tomorrow
Year: 2014
Runtime: 1h 54m
Director: Doug Liman
Also known as Live Die Repeat, this is one of the best video game movies even if it's not technically a video game movie. But think about it. It's about a guy (Tom Cruise) who respawns every time he dies, taking what he learned from the previous attempt to try and defeat an alien race. That's kind of how video games work. This movie rules, partially because it also includes a fantastic Emily Blunt supporting performance.
From Dusk Till Dawn
Year: 1996
Runtime: 1h 47m
Director: Robert Rodriguez
Remember when George Clooney was a legitimate action star? There was a brief window there, and his best film with a gun in his hands is probably this Robert Rodriguez cult classic, written by Clooney's co-star Quentin Tarantino. What starts as a straightforward crime flick becomes something else altogether when Clooney and Tarantino get to a strip club that has a very dark and supernatural secret.
Godzilla
Year: 2014
Runtime: 2h 4m
Director: Gareth Edwards
The new MonsterVerse is on Max in its entirety, but let's take a minute to lavish some praise on the one that restarted it all, Gareth Edwards's underrated 2014 blockbuster. Aaron Taylor-Johnson, Elizabeth Olsen, Juliette Binoche, Sally Hawkins, and Bryan Cranston star in the reboot of the classic Toho series that pits the big lizard guy against two monsters of equally unfathomable size. It's a rocking good time.
Greenland
Year: 2020
Runtime: 1h 59m
Director: Ric Roman Waugh
An end-of-the-world movie released during the first Summer of the pandemic, this genre exercise wasn't seen by enough people. It's really solid, a reminder of how much Gerard Butler can carry a movie like this one, which reunites him with his Angel Has Fallen director in a film that's quite literally about the end of humanity. The movie takes a micro approach to the most macro issue as it tracks one family trying to find a way to survive the impending impact from a planet-destroying comet.
The Grey
Year: 2012
Runtime: 1h 58m
Director: Joe Carnahan
One of the best films in that transition period from "Liam Neeson, Serious Actor" to "Liam Neeson, Action Dude" was this survival thriller about a group of men who go down in a plane crash in the snowy mountains of Alaska. As if surviving the conditions and each other isn't bad enough, they have to deal with packs of grey wolves looking for dinner. The Grey is a smart thriller with one of Neeson's best late-career performances in any genre.
The Lord of the Rings: The Fellowship of the Ring
Year: 2001
Runtime: 2h 58m
Director: Peter Jackson
The Oscar-winning franchise by Peter Jackson bounces around the streaming services with alarming regularity, now finding its way to Max for an indeterminate amount of time. Watch the entire saga of Frodo Baggins, Samwise Gange, and the rest of the Fellowship while you can.
Man on Fire
Year: 2004
Runtime: 2h 26m
Director: Tony Scott
One of Tony Scott's last (and best) films is this action flick based on the 1980 novel of the same name. Scott collaborates with his regular star Denzel Washington, who plays a former G-man turned private bodyguard who scorches the earth after the 9-year-old he's protecting is kidnapped. It's one of those "they messed with the wrong guy" action flicks that really works.
Year: 1999
Runtime: 2h 16m
Director: Lilly and Lana Wachowski
Neo and the gang returned to Max in late 2021 with The Matrix Resurrections, and the response was predictably divisive. You know what's not divisive? The fact that the first movie still absolutely rules. The story of an average guy who learns that nothing is what it seems has influenced so much pop culture in the over-two decades since this movie was released. You can see Neo everywhere. (And you can watch the entire saga on the streamer if you want.)
Predator
Year: 1987
Runtime: 1h 46m
Director: John McTiernan
It's also on Max, but you can probably skip the first sequel (although check out Prey over on Hulu) and just stick to the 1987 original, a lean, mean movie that features one of Ah-nuld's best '80s performances. It's a survival tale that starts off like a war movie before it throws in one of the universe's most famous killing machines.
Seven Samurai
Year: 1956
Runtime: 3h 26m
Director: Akira Kurosawa
They don't get more classic than Akira Kurosawa's classic that inspired generations of action filmmakers. Co-written, directed, and edited by one of the best filmmakers of all time, it's the story of seven ronin who are hired by farmers to fight the bandits who are ruining their village. It's a formative text for the action genre, and quite simply one of the best movies ever made.
Sky Captain and the World of Tomorrow
Year: 2004
Runtime: 1h 46m
Director: Kerry Conran
Audiences had little idea what to do with this crazy film when it was released back in 2004, but it's developed a pretty strong following over the years. Filmed using a bluescreen and fascinating CGI, this is an old-fashioned adventure film with modern tricks, and it uses Jude Law, Angelina Jolie, and Gwyneth Paltrow well.
Source Code
Year: 2011
Runtime: 1h 33m
Director: Duncan Jones
The director of Moon returned with an excellent sci-fi film about a man who has to relive the same eight minutes over and over again to try and solve the mystery of who blew up a commuter train on its way into Chicago. Jake Gyllenhaal is excellent in the lead role, and he's ably assisted by Michelle Monaghan, Vera Farmiga, and Jeffrey Wright. This movie rules.
Speed Racer
Year: 2008
Runtime: 2h 14m
Director: The Wachowskis
The Wachowskis' most divisive film premiered in 2008 to almost universally negative reviews, but the tide started to turn almost immediately, making this into a film with a loyal cult following. Emile Hirsch stars in this adaptation of the classic 1960s manga, but the film belongs to the Wachowskis, whose pop confection color explosion really makes the film memorable.
Strange Days
Year: 1995
Runtime: 2h 25m
Director: Kathryn Bigelow
Largely unavailable in the United States, Max subscribers were stunned when Strange Days dropped on the streaming service to start 2023. A sci-fi masterpiece from the director of Near Dark and Point Break, Bigelow's epic stars Ralph Fiennes, Angela Bassett, and Juliette Lewis in a vision of the end of the millennium that blends sci-fi and noir. A bomb when it came out, this is a flick begging for a reappraisal. (Sad note: It appears the version on Max is in the wrong aspect ratio, but we'll take what we can get right now.)
Unbreakable
Year: 2000
Runtime: 1h 46m
Director: M. Night Shyamalan
M. Night Shyamalan's best film remains this story of an unexpected hero, a man who gets into a car crash and discovers that he may not be like most ordinary men. Bruce Willis is great in the lead role, his stoicism balanced by a fun performance from Samuel L. Jackson as his worldly opposite. Follow it up with the sequel Glass, which isn't currently streaming for subscribers anywhere but is widely available for rent or purchase.
All recommendations are made independently by our editors. Services you subscribe to through our links may earn us a commission.