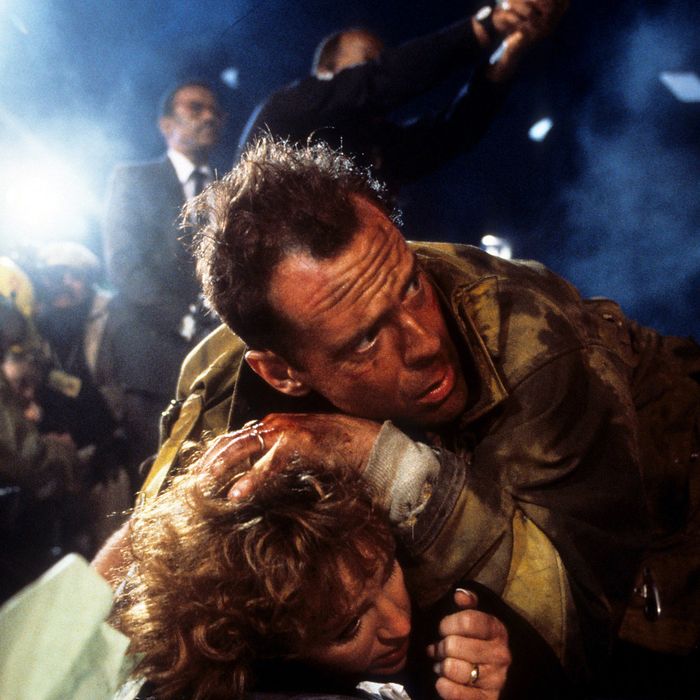 Bruce Willis and Bonnie Bedelia in
Die Hard
Photo: 20th Century Fox
Don't have HBO Max yet? You can sign up here.
HBO Max has one of the deepest movie catalogues in the streaming world, thanks in large part to its extensive classic-film section through TCM. However, sometimes you're not in the mood for classic cinema. Sometimes you want to see things blow up, the good guys to beat the bad guys, and stunt work to dominate the dialogue. HBO Max can do that too! It's really the Swiss Army knife of streaming services. So sit down, fire up one of the 40 movies below, and enjoy the ride.
James Mangold remade the classic 1957 Western a half-century later, with Russell Crowe and Christian Bale in the lead roles as a notorious outlaw and the rancher who has to bring him in for justice, respectively. It's a great ensemble piece that also includes Peter Fonda, Gretchen Mol, Ben Foster, Alan Tudyk, and Vinessa Shaw.
Aliens
All six of the original Alien movies are on HBO Max, from Alien through the two Alien vs. Predator movies. Debate can rage over which one of the original two is the better film overall, but Aliens is the one you're looking for when you need to scratch the action itch in your soul. James Cameron's sequel is a perfect action/horror movie that hasn't lost a beat 35 years after its release.
Everyone talks about the Christopher Nolan movies when it comes to Gotham's caped crusader, but older subscribers to HBO Max remember when the character first broke out of the cheesy shadow of Adam West in 1989's Batman, a formative blockbuster from Tim Burton. Not only is that great film on HBO Max but so is its arguably superior sequel, Batman Returns. Close the circle with Batman Forever and Batman & Robin if you're feeling adventurous or if you hate yourself.
Broken Arrow
John Woo's American output may have never matched his Chinese output, but he's got some Stateside action highlights that deserve a second look or a nostalgic revisit. Take this 1996 thriller starring John Travolta as an Air Force pilot who steals two nuclear bombs and Christian Slater as his co-pilot and scapegoat. It's goofy and dated, but it also has some great action courtesy of a master of the genre.
Commando
Is this the most '80s action flick? It might be. Released in 1985, it captures the muscular tone of the genre at the time, and no one was better at that (sorry Sly) than Arnold Schwarzenegger. The future governor plays a retired colonel named John Matrix (awesome already), who is attacked by mercenaries who kidnap his daughter. He's blackmailed into leading a coup, but no one messes with this commando.
Christopher Nolan's landmark superhero sequel is over a decade old now and its influence shows no signs of diminishing. If anything, the story of the Batman, the Joker, and Two-Face feels more relevant today than it did when it was released. Most of all, the movie's breakneck momentum and unforgettable performance from Heath Ledger haven't aged a day. Oddly enough, as of this writing, Batman Begins is also on HBO Max, but not The Dark Knight Rises. Tricky.
Darkman
It's funny how much Universal didn't know what they were in for when they gave the director of Army of Darkness enough money to make his own superhero movie. The result is one of the most twisted superhero flicks of all time: the story of a disfigured scientist seeking revenge, played by Liam Neeson. It's a film that owes more to classic Universal flicks than Marvel comics, and it's unforgettable because of it.
Dawn of the Dead
Long before anyone could imagine what the Snyder Cut would mean, Zack Snyder helmed this remake of one of the best horror films of all time, George A. Romero's masterpiece of the same name. While very different in tone, this one totally works on its own terms, featuring excellent horror-action direction from Snyder and a great cast that includes Sarah Polley, Ving Rhames, and Jake Weber.
It doesn't have to be Christmas to watch one of the best action movies ever made. It's hard to believe that John McTiernan and Bruce Willis really comprehended the impact they would have on their genre. The reason it still plays like a current film over three decades later? Because so much of what followed has tried to do Die Hard.
The Dirty Dozen
Even if you've never seen this 1967 box-office smash, you've seen movies inspired by it. It's all about blending star power with fire power, and this action-heavy war film starred some of the biggest talents of the day, including Lee Marvin, Ernest Borgnine, Charles Bronson, Jim Brown, Telly Savalas, and Donald Sutherland. It doesn't have much to say about war, but the sheer brute force of it changed the way this kind of movie was made.
Dirty Harry
Don Siegel directed buddy Clint Eastwood in a movie that would change both of their lives and spawn an entire franchise (four sequels of descending quality would follow). Eastwood has played several iconic roles in his career, but "Do you feel lucky, punk?" may be his most memorable line, spoken as a cop who goes to extremes to get his job done. The brutality of the film probably wouldn't pass today, but one can still see Harry's dirty fingerprints all over modern stories of cops on the edge.
One of Gene Hackman's last major film roles was co-starring with Will Smith in this timely and still relevant thriller about government surveillance from the great action director Tony Scott. It's the story of NSA agents trying to kill a congressman, and it truly feels ahead of its time given what has transpired regarding surveillance in the 22 years since it came out.
Kung Fu movies don't get better than the amazing Enter the Dragon, Bruce Lee's best movie (but one that sadly came out after his passing in 1973.) Lee is magnetic as a participant in a martial-arts competition that also includes the great John Saxon and Jim Kelly. This is an epic martial-arts masterpiece that works for every generation of action lover.
Fast Five is the movie that really turned around this franchise, dropping Dwayne Johnson into the mix and upping the cartoonish action style. It's a great, fun movie and an extended version is featured on HBO Max. And if it doesn't do it all for you, the service currently hosts the first two movies in the franchise as well as Fast & Furious Presents: Hobbs & Shaw.
The Fifth Element
More science fiction should be as cuckoo bananas as Luc Besson's 1997 visual extravaganza, a movie that no one else could have made. Set way in the future, it tells a story in which no less than the fate of the planet hangs in the balance, but no one really watches this vibrant, colorful movie for its plot. They watch it for the ludicrous performances from people like Gary Oldman and Chris Tucker, but mostly for Besson's pulsing visuals.
Criterion released an amazing boxed set of Toho Godzilla films last year to commemorate spine No. 1,000 in its collection. Several films from that set have made the jump to HBO Max, including the essential original, Godzilla Raids Again, Godzilla vs. Mechagodzilla, Godzilla vs. Megalon, and Godzilla, King of the Monsters. It's time for a marathon!
Long before she played Lady Bird and long before this character was reshaped for an Amazon Prime series, Joe Wright directed Saoirse Ronan in the kinetic Hanna, the story of a girl raised in the woods by a CIA operative (Eric Bana). Cate Blanchett plays the agent who tracks them down in this clever, action-packed adventure.
Oscar winner Guillermo del Toro wrote and directed this sequel to his own 2004 adaptation of the Mike Mignola comic book about everyone's favorite demon from hell. Ron Perlman returned to play the title character in a more ambitious film than the first, even if it doesn't quite come together. The most frustrating thing about watching Hellboy II now is knowing how much Del Toro and Perlman wanted to make a third movie, but the studio declined.
Highlander
Who could have guessed that a 1986 fantasy film starring Christopher Lambert would launch a franchise? Since the release of this goofy action movie about an immortal warrior, there have been four more films, two live-action series, comics, toys, novels, and so much more. See where it all began here. There can be only one!
If you're digging into HBO Max's back catalogue, you've probably seen Quentin Tarantino's Kill Bill. Ever wondered what inspired some of that film's more notable set pieces, especially the snowy battle with Lucy Liu? Look no further than 1973's Lady Snowblood and 1974's Lady Snowblood: Love Song of Vengeance, both available on HBO Max. It's kind of amazing that films like this, which used to be the exclusive property of midnight shows at small art theaters, will now play in houses and on tablets around the world.
The Lethal Weapon Franchise
It's impossible not to look at Mel Gibson with a side glance in 2020, but anyone old enough to remember the '80s will tell you that there was a time when he was legitimately one of the biggest stars in the world. One of his most iconic roles was in this 1987 flick, a movie that redefined the buddy-action genre forever and led to multiple sequels. All four films are on HBO Max.
Lock, Stock and Two Smoking Barrels
Guy Ritchie's breakthrough is over two decades old now, making it the perfect time to look back on one of the biggest indie hits of its era. With its tough-talking characters, clever plotting, and charismatic ensemble (this is the movie that gave us Vinnie Jones and Jason Statham), some people wrote off Lock as a Tarantino riff. It's interesting now to look back and consider how many films were influenced by this one too.
The Lord of the Rings Franchise
Peter Jackson shook the movie world with his trilogy based on the beloved fantasy novels by J.R.R. Tolkien, and all three of the original films (plus the lesser Hobbit ones) are on HBO Max for your marathoning needs. HBO Max is reportedly waiting to add 4K streaming until later this year. These will look incredible then. Let's hope they're still on the service.
The Matrix Trilogy
The wildly influential movies by the Wachowskis jump around the streaming services like Neo and Trinity bouncing between reality and the Matrix. As of this writing, they've shuffled over to HBO Max, where you'll find all three films, waiting for you to rewatch them just in time for the reboot of the series, currently in production. The first movie is even better than you remember. The sequels are probably about as good as you thought they were the first time.
Martin Brest directed one of the best '80s buddy comedies in this gem of a movie that paired Robert De Niro and Charles Grodin. The Oscar winner plays a bounty hunter assigned to bring back Grodin's embezzling accountant, who stole money from the Chicago mob. Easier said than done. Grodin and De Niro have perfect comic chemistry.
Wolfgang Petersen adapted Sebastian Junger's acclaimed novel into an effects-heavy blockbuster about the unforgiving power of Mother Nature. It's the true story of the Andrea Gail, a fishing vessel that got caught in an intense storm in 1991. The film is beloved for its water effects but it also has a wicked great ensemble that includes George Clooney, Mark Wahlberg, John Hawkes, William Fichtner, John C. Reilly, and Diane Lane.
Pitch Black
In 2000, before he would become known pretty much solely for his mega-franchises of Fast and the Furious and Groot, Vin Diesel gave one of his most fun performances in this David Twohy sci-fi flick about a criminal named Richard B. Riddick. Diesel's space con is being escorted across the galaxy when his transport crashes on a distant planet that holds a horrifying secret when the lights go out. Clever and action-packed, this movie holds up well. And the truly bonkers sequel The Chronicles of Riddick is on HBO Max too.
Whether one considers it a guilty pleasure or a legitimately great action movie, everyone kind of likes Point Break. It's a really hard movie to dislike, in no small part due to the charisma of stars Patrick Swayze and Keanu Reeves, who plays an undercover FBI agent trying to break up a ring of surfing bank robbers. Kathryn Bigelow is one of our best action directors even if this one is a bit cheesier than her best work.
Police Story
The film that made Jackie Chan into an international star, this 1985 action flick still slays 35 years later. It's most memorable for its stunt work, and its fearless lead who pulls it all off without wires or stand-ins. Police Story contains some of the best action sequences of Chan's career. If you only know him from his later hits, go back to where it all began.
Ridley Scott returned to the world of Alien with this divisive prequel to the saga of Ripley and the iconic H.R. Giger creatures from his landmark original. It's about a crew on a spaceship who find artifacts of Earth cultures on another planet and ultimately leads to a connection with the Alien mythology, although it also stands as its own gorgeous film. Say what you will about the storytelling, Scott is one of our best craftsmen ever.
Some action movies are about heroism; some are about spectacle. This falls into the latter category, an ode to the '70s disaster movies with the CGI of the 2010s. Dwayne Johnson stars as an L.A. Fire Department helicopter pilot who becomes our eyes into the "big one" hitting California. As earthquakes ravage the landscape and send buildings tumbling, the film never lets up. Is it highbrow genre fare? Nah. But it's undeniably fun.
The Seven Samurai
They don't get more classic than the Akira Kurosawa classic that inspired generations of action filmmakers. Co-written, directed, and edited by one of the best filmmakers of all time, it's the story of seven ronin who are hired by farmers to fight the bandits ruining their village. It's a formative text for the action genre, and quite simply one of the best movies ever made.
The typically dour DC Cinematic Universe got a much-needed injection of levity in this 2019 superhero movie that kind of plays like "Big meets Superman." A kid named Billy Batson (Asher Angel) is chosen by an ancient wizard to become an adult superhero (Zachary Levi) in a film that keeps topping itself with spectacle until a fantastic final sequence that really ties it all together. It's one of the fun HBO Max action movies that can be watched with the kids too.
Smokin' Aces
Way back in 2006, Joe Carnahan's propulsive action flick felt different from the action movies of its time. It had an energy that turned it into an instant cult hit, thanks in large part to its remarkable cast, including Ryan Reynolds, Ben Affleck, Jason Bateman, Common, Alicia Keys, Ray Liotta, Taraji P. Henson, Matthew Fox, and a young Chris Pine.
Spy Game
More Tony Scott! One of the action director's best films is this 2001 thriller that matched handsome movie-star icons of different generations in Robert Redford and Brad Pitt. The younger actor plays an asset arrested by the People's Liberation Army and set for execution unless Redford's case officer can save the day. Of course, there's more going on than meets the eye in this clever espionage flick that seems overdue for a re-appreciation.
Michael Mann's 1981 crime flick is one of the best directorial debuts of the era, a pronouncement of a major talent and a film that still feels fresh and new. James Caan is fantastic as a safecracker who is trying to leave his life behind. Mann's refined visual style was there from the very beginning and the score by Tangerine Dream is unforgettable.
The news that Wonder Woman 1984 will drop on HBO Max on Christmas Day means it's time for a revisit! Go back and check out the phenomenal 2017 Patty Jenkins original, the best non-Nolan film in the modern DC Universe. Gal Gadot stars in the title role and really anchors it as an old-fashioned adventure film, one that owes as much to serial action flicks of the '40s and '50s as it does to movies with Batman and Superman.
Wyatt Earp
Kevin Costner loves Westerns. The star of some of the best of the last three decades felt a personal attachment to the story of Wyatt Earp, taking on the title role of Lawrence Kasdan's 1994 epic. Often compared to Tombstone, this is the more somber of the two films, and features an amazing ensemble that includes Gene Hackman, Michael Madsen, Bill Pullman, Dennis Quaid, and many more.
The entire X-Universe was essentially rebooted in this great 2011 superhero film, one that turned the series from the somber tone of the '00s flicks to something more playful and fun. James McAvoy took on Professor X and Michael Fassbender stepped into the metal boots of Magneto for this smart prequel with style to spare. It's held up well as one of the better superhero movies of the 2010s.
You're Next
Adam Wingard's thriller exploded after its TIFF premiere way back in 2011 and became a reasonable hit for Lionsgate. It's easy to see why. A home-invasion thriller with a twist, it's another tale of a family attacked by masked assailants, but it has personality and style that's usually lacking in this genre. Did you like Wingard's The Guest? This one is just as good.