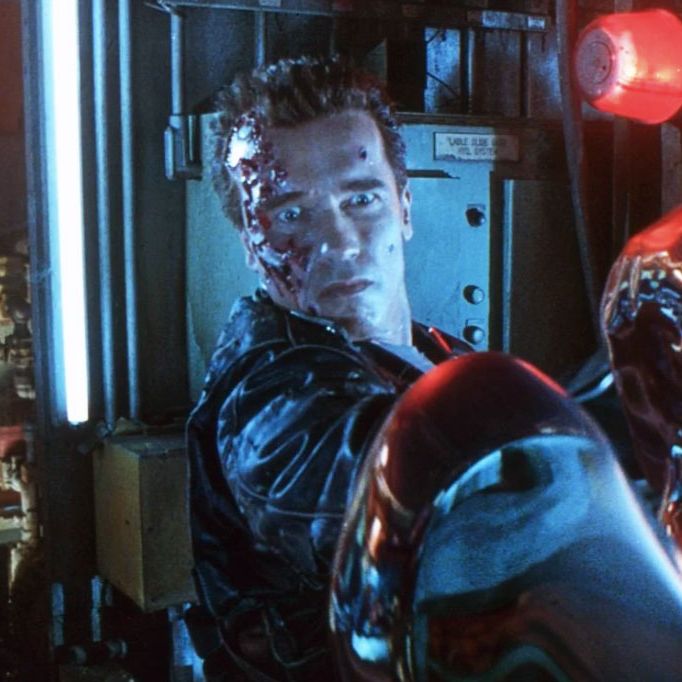 Terminator 2: Judgment Day.
Photo: TriStar Pictures
This article is updated frequently as titles leave and enter HBO Max. *New additions are indicated with an asterisk.
Action movies have long been the most successful genre at home, as viewers try to replicate that rush they got at the movie theater in their own living room. The HBO Max selection of action flicks is predictably dense, bringing in some of the DC Universe, classic genre movies, and modern hits. Everyone from Christopher Nolan to Martin Scorsese to Ang Lee can find a home here, and you'll often find a Mad Max too. We will update this list regularly to give readers a new action movie to watch whenever they need a fix, or a reminder to watch a classic they've already seen.
Year: 2022
Runtime: 2h 56m
Director: Matt Reeves
Matt Reeves now owns the saga of the Dark Knight as a sequel to his March 2022 action blockbuster has already been announced. Dropping on HBO Max while it was still in theaters, The Batman is an ambitious epic reboot of the legendary hero, anchored by Reeves's craft and fascinating performances from Robert Pattinson, Zoe Kravitz, Paul Dano, and many more.
Year: 1982
Runtime: 1h 57m
Director: Ridley Scott
The great Ridley Scott followed up Alien with another one of the most influential sci-fi films ever made in his loose adaptation of Philip K. Dick's Do Androids Dream of Electric Sheep? Harrison Ford stars as Deckard, a burnt-out cop in a dystopian future that included replicants who have gone rogue. As he hunts them down, including their leader Roy Batty (Rutger Hauer), he falls for one of them, played by Sean Young. The influence of this film is so striking that it can really be seen in almost every sci-fi flick released in the four decades since. Note: The version on HBO Max now is the Final Cut version, and Blade Runner 2049 is also on the streaming service.
The Bourne Identity
Year: 2002
Runtime: 1h 58m
Director: Doug Liman
HBO Max is very good at providing entire franchises for marathons, but they're missing a few pieces of the saga of Jason Bourne, first played by Matt Damon and then by Jeremy Renner (and then by Damon again). As of this writing, they have The Bourne Identity, The Bourne Supremacy (the best in the series), and the dull reboot in The Bourne Legacy.
Crouching Tiger, Hidden Dragon
Year: 2000
Runtime: 2h
Director: Ang Lee
One of the most successful foreign language films of all time, Ang Lee's wuxia epic was so popular that it landed an Oscar nomination for Best Picture, along with nine other nominations (winning four). It's a gorgeous epic based on the Chinese novel by Wang Dulu, and it stars the legends Chow Yun-fat, Michelle Yeoh, Zhang Ziyi, and Chang Chen. It hasn't aged a day in the over-two decades since its release.
Year: 2006
Runtime: 2h 31m
Director: Martin Scorsese
It took way too long for one of the best filmmakers of all time to finally get an Oscar for Best Director but that happened with his critical and commercial darling, an adaptation of the 2002 Hong Kong film Infernal Affairs. Matt Damon and Leonardo DiCaprio star in the story of competing undercover agents with Damon's Irish mobster going undercover in the police force while Leo's cop tries to infiltrate the crew of the legendary Frank Costello (Jack Nicholson). It's still a wildly entertaining movie.
Year: 2017
Runtime: 1h 46m
Director: Christopher Nolan
The Dark Knight director returned to his homeland to tell one of its most formative war stories in the evacuation of British soldiers from northern France in 1940. Telling a story of land, sea, and air evacuations simultaneously, Dunkirk is a technical marvel, a film that only a filmmaker as ambitious and crazy as Nolan could even consider, much less pull off.
*Inception
Year: 2010
Runtime: 2h 28m
Director: Christopher Nolan
Christopher Nolan took the success of his Batman movies and delivered one of the most ambitious Hollywood blockbusters ever made in this story of people who invade dreams. Leonardo DiCaprio stars as a grieving thief who leads a team into someone's subconscious to plant an idea, but that barely captures what this movie is really about or how mesmerizing it is to watch it unfold. In an era of increasingly safe blockbusters, it almost feels like Inception couldn't be made anymore. Well, at least not by anyone but Nolan.
Year: 2006
Runtime: 2h 8m
Director: Spike Lee
Yes, Spike Lee once made a great action movie. The director of Do the Right Thing and Da 5 Bloods put his spin on the heist film with this great 2006 Denzel Washington vehicle. The regular collaborator plays an NYPD hostage negotiator, called in when a bank heist goes down on Wall Street. Tight and effective, Inside Man is just further evidence that Spike Lee can nail any kind of movie he chooses to make.
Year: 1993
Runtime: 2h 6m
Director: Steven Spielberg
An instant classic when it was released in 1993, Steven Spielberg's dinosaur blockbuster spawned a franchise that's still humming almost three decades later. The first three films in the series, including Spielberg's sequel, are on HBO Max.
Year: 2003
Runtime: 1h 50m
Director: Quentin Tarantino
We will still have to wait for the long-promised full cut of the two Kill Bill films into one epic movie (and the long-rumored third volume of this tale), but that shouldn't stop you from revisiting two of Quentin Tarantino's best films — both volumes are on HBO Max. In a catalog that includes a lot of great performances (and a few Oscar winners), one of QT's best is Uma Thurman as the Bride, a legendary action character seeking vengeance on the man who betrayed her.
*The Lord of the Rings: The Fellowship of the Ring
Year: 2001
Runtime: 2h 58m
Director: Peter Jackson
The Oscar-winning franchise by Peter Jackson bounces around the streaming services with alarming regularity, now finding its way to HBO Max for an indeterminate amount of time. Watch the entire saga of Frodo Baggins, Samwise Gange, and the rest of the Fellowship while you can.
Year: 2015
Runtime: 2h
Director: George Miller
One of the best action movies ever made, Miller's sequel rocked the world when it was released in 2015 on its way to winning multiple Oscars and really setting a new bar for practical action effects. George Miller went into the desert and returned with one of the most ambitious, insane, downright impossible action epics ever made.
Year: 2003
Runtime: 2h 18m
Director: Peter Weir
Russell Crowe stars in this brilliant period action film based on the novels by Patrick O'Brian that recreates warfare on the water arguably better than any other film. It really should have been the start of a franchise. Crowe plays Jack Aubrey, Captain in the Royal Navy, and Paul Bettany does his best film work as the ship's surgeon. The Far Side of the World was nominated for 10 Oscars, including Best Picture and Best Director.
Year: 1999
Runtime: 2h 16m
Director: Lilly and Lana Wachowski
Neo and the gang returned to HBO Max in late 2021 with The Matrix Resurrections, and the response was predictably divisive. You know what's not divisive? The fact that the first movie still absolutely rules. The story of an average guy who learns that nothing is what it seems has influenced so much pop culture in the over-two decades since this movie was released. You can see Neo everywhere. (And you can watch the entire saga on HBO Max if you want.)
*The Raid
Year: 2012
Runtime: 1h 40m
Director: Gareth Edwards
Sometimes an action masterpiece works because it's so simple. Take Edwards' brilliant single-setting masterpiece about a building with good guys on the top and dozens of bad guys on every floor below them. Evans relies on actual stunt work and incredible choreography to build tension with each sequence. Actually, this movie is kind of just one long action sequence…and it rules.
The Seven Samurai
Year: 1956
Runtime: 3h 26m
Director: Akira Kurosawa
They don't get more classic than Akira Kurosawa's classic that inspired generations of action filmmakers. Co-written, directed, and edited by one of the best filmmakers of all time, it's the story of seven ronin who are hired by farmers to fight the bandits who are ruining their village. It's a formative text for the action genre, and quite simply one of the best movies ever made.
Year: 2011
Runtime: 1h 33m
Director: Duncan Jones
The director of Moon returned with an excellent sci-fi film about a man who has to relive the same eight minutes over and over again to try and solve the mystery of who blew up a commuter train on its way into Chicago. Jake Gyllenhaal is excellent in the lead role, and he's ably assisted by Michelle Monaghan, Vera Farmiga, and Jeffrey Wright.
Year: 1991
Runtime: 2h 17m
Director: James Cameron
Any list of great sequels that doesn't include this action masterpiece is simply incomplete. James Cameron returned to the character that made his career in 1991 and delivered a banger, a movie that hums with action intensity from beginning to end. Not only is Terminator 2 a movie that is better than you remember, you can see its DNA in so many blockbusters that have followed it.
Year: 1990
Runtime: 1h 54m
Director: Paul Verhoeven
Ah-nuld! Near the peak of his fame, the future Governor went to Mars in this landmark 1990 sci-fi film the great Paul Verhoeven. Loosely based on a Philip K. Dick short story titled We Can Remember It for You Wholesale, Total Recall is about an average man caught in an uprising on Mars…or is he? Most 1990 action movies have aged poorly, but Total Recall still has something to entertain even the many HBO Max subscribers born after it was released.
*The Untouchables
Year: 1987
Runtime: 1h 59m
Directors: Brian De Palma
Brian De Palma directed one of the best movies of his notable career in this action epic that won Sean Connery an overdue Oscar. Connery co-stars with Kevin Costner as Elliot Ness and Robert De Niro as Al Capone in the story of how Ness took down one of the most famous criminals of all time. Tense and riveting, it's a great action movie that's anchored by phenomenal performances and De Palma's unique eye.
All recommendations are made independently by our editors. Services you subscribe to through our links may earn us a commission.