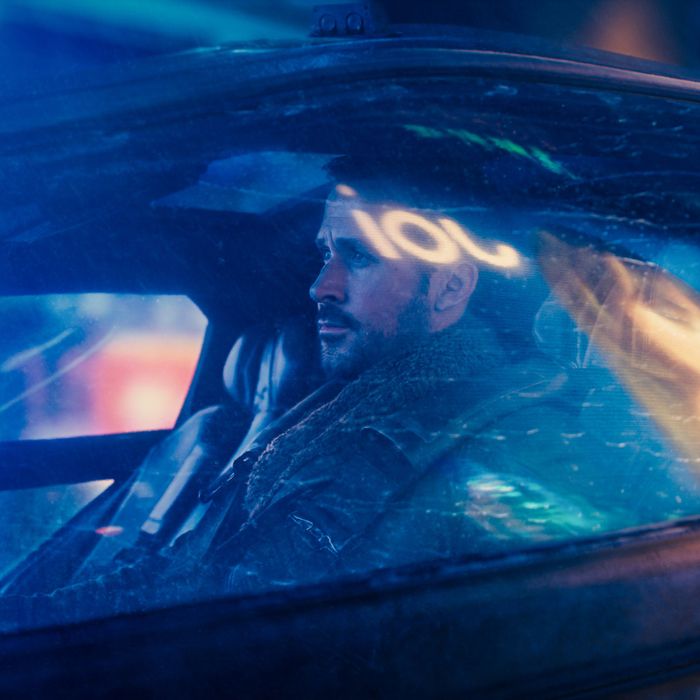 Blade Runner 2049.
Photo: Alcon Entertainment/Warner Bros.
This article is updated frequently as titles leave and enter HBO Max. *New additions are indicated with an asterisk.
HBO Max has one of the deepest movie catalogues in the streaming world, thanks in large part to its extensive classic-film section through TCM. However, sometimes you're not in the mood for classic cinema. Sometimes you want to see things blow up, the good guys to beat the bad guys, and stunt work to dominate the dialogue. HBO Max can do that too! It's really the Swiss Army knife of streaming services. So sit down, fire up one of the 40 movies below, and enjoy the ride.
Year: 2007
Runtime: 2h 2m
Director: James Mangold
James Mangold remade the 1957 Western classic a half-century later with Russell Crowe and Christian Bale in the lead roles as a notorious outlaw and the rancher who has to bring him in for justice, respectively. It's a great ensemble piece that also includes Peter Fonda, Gretchen Mol, Ben Foster, Alan Tudyk, and Vinessa Shaw.
Year: 2022
Runtime: 2h 56m
Director: Matt Reeves
Matt Reeves now helms the DCEU's saga of the Dark Knight as a sequel to his March 2022 action blockbuster has already been announced. Dropping on HBO Max shortly after its release in theaters, The Batman is an ambitious epic reboot of the legendary hero, anchored by Reeves's craft and fascinating performances from Robert Pattinson, Zoe Kravitz, and Paul Dano.
Year: 2017
Runtime: 2h 43m
Director: Denis Villeneuve
Denis Villeneuve did the impossible in 2017: He took one of the most influential films of all time and made a sequel/reboot that didn't just feel like fan service. Released 35 years after Ridley Scott's original, the film stars Ryan Gosling and Harrison Ford in a story that really expands the world of Blade Runner more than just updating an '80s film for a new generation.
The Bourne Supremacy
Year: 2004
Runtime: 1h 48m
Director: Paul Greengrass
HBO Max is very good at providing franchises for marathons but they're missing a few pieces of the saga of Jason Bourne, first played by Matt Damon and then by Jeremy Renner (and then by Damon again). As of this writing, they have The Bourne Identity and The Bourne Supremacy (the best in the series).
Crouching Tiger, Hidden Dragon
Year: 2000
Runtime: 2h
Director: Ang Lee
One of the most successful foreign language films of all time, Ang Lee's 2000 wuxia epic was so popular that it landed an Oscar nomination for Best Picture, along with nine other nominations (winning four). It's a gorgeous film based on the Chinese novel by Wang Dulu, and it stars the legends Chow Yun-fat, Michelle Yeoh, Zhang Ziyi, and Chang Chen. It hasn't aged a day in the two decades since its release.
Year: 2005-2012
Runtime: Varies
Director: Christopher Nolan
Christopher Nolan's landmark superhero sequel is over a decade old now and its influence shows no signs of diminishing. If anything, the story of the Batman, the Joker, and Two-Face feels more relevant today than it did when it was released. Most of all, the movie's breakneck momentum and unforgettable performance from Heath Ledger haven't aged a day. The entire trilogy, including Batman Begins and The Dark Knight Rises, are currently on HBO Max.
Year: 1999
Runtime: 1h 45m
Director: Renny Harlin
Giant sharks + charismatic actors = something worth watching on HBO Max. It's been fun to watch this B-movie guilty pleasure build up a following in the two decades since its release. It's still so popular that there was even a cheap sequel released earlier this year. Deep Blue Sea is the story of genetically engineered sharks who attack people played by Saffron Burrows, Thomas Jane, LL Cool J, and Samuel L. Jackson, who has (spoiler!) one of the best death scenes in the history of action movies.
Domino
Year: 2005
Runtime: 2h 7m
Director: Tony Scott
Tony Scott's reputation as an action craftsman seems to be growing every year, which means more people come around to one of his most heated films, the 2005 thriller from a screenplay by Richard Kelly of Donnie Darko fame. Domino is nuts. It stars Keira Knightley as the title character, a bounty hunter involved in a massive robbery, and co-stars Mickey Rourke, Delroy Lindo, and Christopher Walken. You've got to see it to believe it.
Year: 2021
Runtime: 2h 35m
Director: Denis Villeneuve
The king of the smart blockbusters released another one in 2021 with his highly acclaimed adaptation of the Frank Herbert novels, which premiered on HBO Max as well as in theaters for a brief window and has now returned to the service. Timothee Chalamet stars in this sci-fi epic that was actually the most Oscar-winning film of 2021, taking home six trophies.
Year: 1993
Runtime: 2h 10m
Director: Andrew Davis
One of Harrison Ford's most beloved films remains the 1990 Best Picture nominee which transcended its blockbuster success to become a true phenomenon, even going as far as winning an Oscar for Tommy Lee Jones. A remake of the hit TV series about a man wrongly accused of the murder of his wife, The Fugitive simply moves, a perfect example of how to pace an action movie for maximum effect.
Year: 2013
Runtime: 1h 31m
Director: Alfonso Cuarón
Alfonso Cuarón won an Oscar for one of the most technically impressive films of the 2010s, a movie that also won six other Academy Awards and was nominated for Best Picture. Sandra Bullock stars as an astronaut who is stranded in space, forced to figure out how to get home on her own. It's held up remarkably well.
* The Great Escape
Year: 1963
Runtime: 2h 52m
Director: John Sturges
The star power is blinding in this 1963 epic war film about prisoners of war who escape a German camp during World War II. It's led by Steve McQueen, but also includes great turns from James Garner, Richard Attenborough, Charles Bronson, Donald Pleasance, James Coburn, and many more.
Year: 2020
Runtime: 2h
Director: Ric Roman Waugh
One of the best modern disaster movies, this unexpectedly strong release landed quietly at the end of 2020, when most people were focusing on more pertinent things. That means a lot of people probably haven't caught up to this rock-solid action flick that stars Gerard Butler and Morena Baccarin as two people just trying to get their family to safety as a comet hurtles toward Earth.
Year: 1993
Runtime: 2h 7m
Director: Steven Spielberg
An instant classic when it was released in 1993, Steven Spielberg's dinosaur blockbuster spawned a franchise that's still humming almost three decades later. The first three films in the series, including Spielberg's sequel, are on HBO Max. No sign of either Jurassic World film on HBO Max yet.
Year: 2021
Runtime: 4h 2m
Director: Zack Snyder
Fans of Zack Snyder essentially pressured Warner Bros. into giving their favorite director the freedom and a budget to go back and cut 2017's Justice League into something closer to the vision he had in his head before Joss Whedon took over the project. The result is an undeniably ambitious effort that plays better than the theatrical version (while not quite fixing all of its problems). If you've got four hours on your hands and appetite for deep superhero mythology, you've found your project for the day.
Year: 2003
Runtime: 1h 51m
Director: Quentin Tarantino
We will still have to wait for the long-promised full cut of the two Kill Bill films into one epic movie (and the long-rumored third volume of this tale), but that shouldn't stop you from revisiting two of Quentin Tarantino's best films — both volumes are on HBO Max. In a catalog that includes a lot of great performances (and a few Oscar winners), one of QT's best is Uma Thurman as the Bride, a legendary action character seeking vengeance on the man who betrayed her.
Year: 2017
Runtime: 2h
Director: Jordan Vogt-Roberts
HBO Max has the most impressive collection of monster movies anywhere, thanks in large part to owning the Criterion collection's remasters of the Godzilla flicks, but they also have a bunch of modern giant creature movies too, including this 2017 Jordan Vogt-Roberts action movie with an amazing cast. Tom Hiddleston, Samuel L. Jackson, John Goodman, Brie Larson, and John C. Reilly star in the second film in Legendary's MonsterVerse relaunch (after 2014's Godzilla), and there will be a new film called Godzilla vs. Kong on HBO Max later in 2021 (unless plans change with HBO Max's new release strategy).
Year: 1973
Runtime: 1h 37m
Director: Toshiya Fujita
If you're digging into HBO Max's back catalogue, you've probably seen Quentin Tarantino's Kill Bill. Ever wondered what inspired some of that film's more notable set pieces, especially the snowy battle with Lucy Liu? Look no further than 1973's Lady Snowblood and 1974's Lady Snowblood: Love Song of Vengeance, both available on HBO Max. It's kind of amazing that films like this, which used to be the exclusive property of midnight shows at small art theaters, will now play in houses and on tablets around the world.
Year: 2015
Runtime: 2h
Director: George Miller
One of the best action movies ever made, this sequel rocked the world when it was released in 2015 on its way to winning multiple Oscars and really setting a new bar for practical action effects. George Miller went into the desert and returned with one of the most ambitious, insane, downright impossible action epics ever made.
Year: 2021
Runtime: 1h 32m
Director: Ilya Naishuller
Yes, it's an action movie starring Better Call Saul leading man Bob Odenkirk! Nobody was a great early 2021 flick about a seemingly average guy who is pushed too far and reveals that he has his own certain set of skills. Cleverly staged and directed, it's like John Wick meets Saul Goodman.
Police Story
Year: 1985
Runtime: 1h 40m
Director: Jackie Chan
The film that made Jackie Chan into an international star, this 1985 action flick still slays 35 years later. It's most memorable for its stunt work, and its fearless lead who pulls it all off without wires or stand-ins. Police Story contains some of the best action sequences of Chan's career. If you only know him from his later hits, go back to where it all began.
Year: 2014
Runtime: 2h 30m
Director: Gareth Edwards
Gareth Edwards wrote, edited, and directed an insane follow-up to his breakthrough hit that takes everything he did with The Raid and turns it up to 11. Like incredible action choreography? Unbroken takes? Stunts that defy the laws of physics? The Raid 2 is quite simply one of the best action movies of the last decade, a thrill ride from beginning to end.
The Seven Samurai
Year: 1954
Runtime: 2h 38m
Director: Akira Kurosawa
They don't get more classic than the Akira Kurosawa classic that inspired generations of action filmmakers. Co-written, directed, and edited by one of the best filmmakers of all time, it's the story of seven ronin who are hired by farmers to fight the bandits ruining their village. It's a formative text for the action genre, and quite simply one of the best movies ever made.
* Source Code
Year: 2011
Runtime: 1h 33m
Director: Duncan Jones
Duncan Jones followed up the critical success of Moon with this clever sci-fi/action flick about a U.S. Army Captain (Jake Gyllenhaal) who has to relive eight minutes on a commuter train into Chicago to figure out who blew it up. Michelle Monaghan, Vera Farmiga, and Jeffrey Wright co-star in a film that really deserves a bigger fan base.
Year: 1991
Runtime: 2h 32m
Director: James Cameron
Any list of great sequels that doesn't include this action masterpiece is simply incomplete. James Cameron returned to the character that made his career in 1991 and delivered a banger, a movie that hums with action intensity from beginning to end. Not only is Terminator 2 a movie that is better than you remember, you can see its DNA in so many blockbusters that have followed it.
Year: 1990
Runtime: 1h 49m
Director: Paul Verhoeven
Ah-nuld! Near the peak of his fame, the future Governor went to Mars in this landmark 1990 sci-fi film by the great Paul Verhoeven. Loosely based on a Philip K. Dick short called "We Can Remember It for You Wholesale," Total Recall is about an average man caught in an uprising on Mars…or is he? Most 1990 action movies have aged poorly, but Total Recall still has something to entertain even the many Amazon Prime subscribers born after it was released.
Year: 1996
Runtime: 1h 54m
Director: Jan de Bont
June 2020 brought the news that Jan de Bont's 1996 blockbuster is going to be remade for a new generation, leading fans of the original to reminisce about a simpler time, a time when a cow flying through the air seemed like the peak of special effects. Helen Hunt, Bill Paxton, Jami Gertz, and Cary Elwes star as a group of storm chasers who get more than they can handle as a series of tornadoes unleash their fury on Oklahoma.
V for Vendetta
Year: 2005
Runtime: 2h 13m
Directors: James McTeigue
The 2005 action thriller took on new life in 2020 when people started referencing its issues of social unrest during a pandemic. In this vision of the future from the Alan Moore and David Lloyd graphic novel, an anarchist named V (Hugo Weaving) teams with a woman named Evey (Natalie Portman) to inspire the world to rise up. It was underrated when it came out and plays with even more urgency 16 years later.
All recommendations are made independently by our editors. Services you subscribe to through our links may earn us a commission.