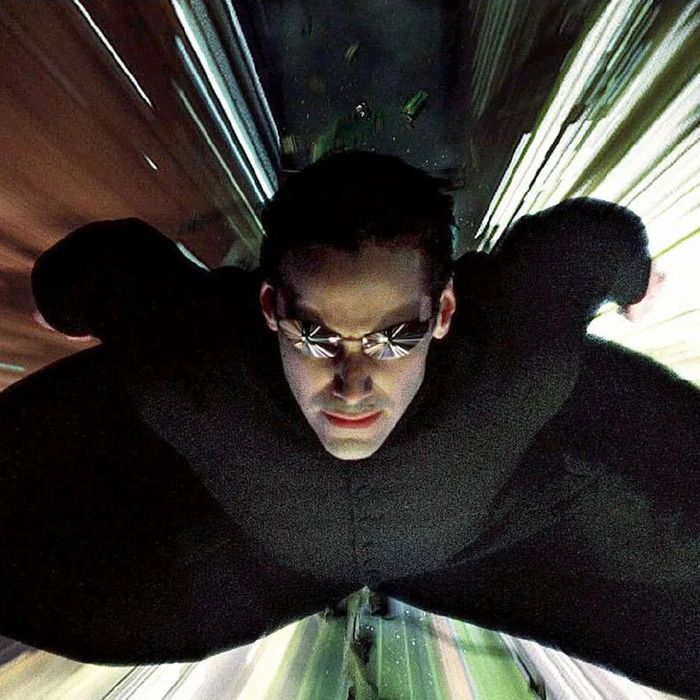 The Matrix.
Photo: Warner Bros.
Hulu may still be known mostly for TV (and its insistence on reminding people they have live sports) but they also have a pretty impressive catalog of action movies. You may not be able to see a high-powered blockbuster in theaters in 2020, but that shouldn't stop you from watching one at home! Here are the 30 best.
Takashi Miike has made directed over 100 movies, and this is one of the best, a stylish throwback to samurai cinema of old anchored by the modern filmmaking prowess of one of the best filmmakers alive. A remake of Eiichi Kudo's 1963 film, this is loosely based on actual events from 1844 when 12 samurai storytelling and sprays of samurai blood.
James Mangold directed this remake of the 1957 classic, which was based on a short story by the great Elmore Leonard. Russell Crowe and Christian Bale are excellent as the bad and good guy, respectively, from Ben Foster. It's a tense, well-crafted genre piece that seems overdue for a reappraisal.
Katsuhiro Otomo's 1988 adaptation of the hit manga franchise has been often imitated but rarely duplicated. See what the big deal is about with a revisit of a film that has influenced literally hundreds of other works, animated and live-action, in the three decades since its release. They're always talking about remaking it, but it usually falls apart. People are probably scared to walk in the shadow of such an achievement.
Alone
Hulu is the best at bringing recent indie films to their streaming service with remarkable speed. Take this thriller that was first available on VOD in September 2020 and is already on the streamer. Jules Wilcox plays a young woman traveling alone one night who is kidnapped by a maniac, played memorably by Marc Menchaca. John Hyams directs this taut genre exercise.
This Sundance hit from 2018 seems to be growing a cult following more with each passing day. It's a story of rebellion and toxic social media culture led by Odessa Young, Suki Waterhouse, Hari Nef, and Abra. After a computer hacker releases the secrets of everyone in the town of Salem, well, a modern kind of witch hunt goes down. It gets violent and intense in unexpected ways.
Blow
Ted Demme directed this entertaining adaptation of Bruce Porter's book of the same name, loosely based on the true story of American cocaine smuggler George Jung, played by Johnny Depp. Jung got involved with the Medellin drug cartel in unexpected and dangerous ways. Depp is ably supported by Penelope Cruz, Franke Potente, Rachel Griffiths, and Ray Liotta.
Jean Dujardin (The Artist) stars in an excellent French action thriller that tells the story of The French Connection from across the pond. He's a police magistrate who crosses paths with a drug crime lord who is channeling drugs from France to the United States named Tany Zampa (Gilles Lellouche).
Alexandre Aja directed this razor-sharp 2019 film about a father and daughter trapped in a basement as flood waters rise during a hurricane. Oh, and they just happen to be being hunted by alligators. A combination of disaster flick and monster flick tropes, Aja's film is a delight from start to finish. There's not an ounce of fat on this one.
Denzel Washington and Gene Hackman star in an excellent thriller from director Tony Scott about conflict on a nuclear submarine. Hackman plays the veteran and Washington the new executive officer who questions orders to launch their missiles. The two master actors are perfectly cast in one of the smartest action flicks of the '90s.
This live-action adaptation of the Nickelodeon cartoon has no right to be as funny and clever as it is. It helps that newcomer Isabela Moner is a delightful lead as Dora, but there's also a delightfully self-aware tongue-in-cheek tone to this film, one that's funny without every taking itself too seriously. It's a sweet family adventure movie that works equally for parents and little ones.
The Sly Stallone adaptation of the comic character Judge Dredd is also on Hulu, but this is the superior 2012 version, one that bombed in theaters but has developed a very loyal following over the years. Karl Urban stars as Dredd, a futuristic enforcer who doesn't have to turn to a bailiff or jury to render his judgments.
Kurt Wimmer wrote and directed this sci-fi action flick that made almost nothing when it was released but built a cult following over the years. Sure, it's heavily inspired by The Matrix, but it's still fun stuff, anchored by a committed performance by Christian Bale as an officer in a future in which human emotions have been controlled by prescription drugs. So, basically 2020.
*The Fifth Element
There's not a lot of great sci-fi on Hulu, but you should fire this one up if you're jonesing for something set in a different time and place in space. And make sure you do so on the biggest TV in your house and with the volume at a level to wake the neighbors. Luc Besson's vision isn't exactly a great piece of storytelling, but this Bruce Willis vehicle is a perfect example of the director's skill with world-building and technical elements.
The Forbidden Kingdom
Sure, sure—a movie starring Jet Li and Jackie Chan should have been better than this one, but that doesn't mean this isn't worth a look on Hulu on a boring weeknight. Heavy on special effects, this 2008 film is a kung fu wuxia flick loosely based on Journey to the West and contains action sequences choreographed by the legendary Yuen Woo-ping.
David Mackenzie's 2016 modern western is feeling more and more like a definitive film of the last decade with each passing year. There aren't many films that one could consider better at capturing the lengths people will go to hold on to what's theirs than this story of two brothers (Chris Pine & Ben Foster) who become bank robbers to save their family land. The cast is uniformly great, but it's Taylor Sheridan's excellent script that really makes this a special movie.
Last year marked the tenth anniversary of one of Christopher Nolan's best films, the story of a team of agents who can infiltrate dreams, led by Leonardo DiCaprio. It's part heist movie, part Bond movie, and mostly something that only the director of The Prestige and Tenet could possibly make.
October 2021 finally saw the release of the 25th official James Bond movie with No Time to Die, so: It's a great time for a marathon! Hulu can help with your 007 needs with a selection of films from all eras of the man with the license to kill for what's basically a Bond sampler package. Check out 1962's Dr. No for Connery, 1977's The Spy Who Loved Me for Moore, 1995's GoldenEye for Brosnan, and 2012's Skyfall for Craig. (License to Kill and Goldfinger round out the selection as of October 2021.)
The Last Castle
Rod Lurie (The Outpost) directed this action film about a conflict at a military prison. Released in 2001, The Last Castle was largely critically derided, but it has a hell of a cast, including Robert Redford, James Gandolfini, Mark Ruffalo, and Delroy Lindo. It's a study of alpha males in a very high-pressure situation and might be worth a look just for one of the too-few Gandolfini performances available.
Arguably the best X-Men movie was also the last one in James Mangold's R-rated reimagining of the entire legend of Wolverine. Hugh Jackman is fantastic, imbuing the end of his arc as one of the world's most famous superheroes with regret and nuance. It's also just a kick-ass action movie.
Love and Monsters
A surprising critical darling, the 2020 action-adventure film was co-produced by Shawn Levy, who knows a thing or two about fantasy/action from his work on Stranger Things. Delayed multiple times due to the pandemic, the movie had a quiet October 2020 release, but critics really took to its magical world, and it even landed an Oscar nomination for Best Visual Effects.
One of the biggest movie stories of the pandemic was the announcement that Matrix: Resurrections, the reboot of the action franchise starring Keanu Reeves, would premiere on HBO Max the same day it launches in theaters in December 2021. To prepare people for that exciting day, rewatch the original trilogy that changed everything. Do your research and count the days till Neo's return, chosen ones.
One of Steven Spielberg's best modern movies is this adaptation of a Philip K. Dick story about a future in which crime can be predicted before it happens. Tom Cruise stars as a man who is convicted of a crime that he has no intent of committing in a fantastic vision of a future in which the systems designed to stop crime have been corrupted. It's timely and probably always will be.
One of Sergio Leone's best films, this Western stars Henry Fonda, Jason Robards, Claudia Cardinale, and Charles Bronson. It's an epic film that casts Fonda against type as the bad guy and contains some of the best imagery in Leone's career, anchored by one of the best scores ever written by Ennio Morricone. In a 2008 poll by Empire of over 10,000 readers, filmmakers, and critics, this film was the highest-ranking Western. It's essential.
*Resident Evil
2021 marked the 25th anniversary of the Capcom game series that changed the landscape forever, and it was celebrated both by the release of Resident Evil: Village and the spreading of the films based on these games across screening platforms. Hulu currently has the first (and still best) film and one sequel, Resident Evil: Retribution.
There's a reason this is reportedly the most streamed original Hulu film to date. People love a good thriller, and Run is a tight piece of work. Newcomer Kiera Allen is phenomenal as a young woman who has been told her entire life that she's sick, but she discovers that her mother (Sarah Paulson) may be hiding a horrible secret.
*Rush Hour
This 1998 action-comedy came along at precisely the right moment for its two stars—Jackie Chan and Chris Tucker. No one remembers much about the story of this massive hit film but they remember the chemistry between the fast-talking Tucker and the fearless Chan. It was such a hit that they produced two sequels, both of which are also on Hulu.
Shadow in the Cloud
Roseanne Liang directed this cuckoo movie that one must really see to believe. What starts as a relatively straightforward action movie about a female WWII pilot (Chloe Grace Moretz) becomes something very different when it turns out her plane as a special visitor. It's the kind of ridiculously fun B-movie that sometimes makes the perfect fit on a Saturday night.
The 23rd official James Bond film is also one of the best. Daniel Craig's third film as the world's most famous spy, and it plays as a much more complex film than most 007 action flicks thanks to serious direction from Sam Mendes and gorgeous cinematography from Richard Deakins. It may be Craig's best Bond flick (it's this or Casino Royale). Watch it while you wait for the long-delayed No Time to Die.
The many feature films about the voyages of the starship Enterprise have a habit of jumping from streaming service to streaming service, but almost all of them are currently on Hulu. You can watch all of the films in the original series franchise as well as all of them from The Next Generation crew. Finish it off with Star Trek Beyond.
Sucker Punch
Consider this the guiltiest of the guilty pleasures on this list, although Sucker Punch is starting to be reclaimed by an audience who admire its visual ambition (even they would probably admit it's not a traditionally "good" movie.) Just turn your brain off and experience the goofy action flick on its own terms and you might be surprised.
Long before every comic book got an adaptation somewhere came this quirky 1995 cult hit based on the series of the same name by Alan Martin and Jamie Hewlett. Lori Petty, Naomi Watts, Ice-T, and Malcolm McDowell star in this post-apocalyptic action comedy with a punk rock aesthetic. Some of it doesn't work, for sure, but it's got a unique sensibility and has become even more popular in the quarter-century since it was released.
Roland Emmerich directed two of the biggest foreign action stars in the world in Jean-Claude Van Damme and Dolph Lundgren in this sci-fi/action film about a U.S. Army soldier killed in Vietnam and resurrected with a program designed to create super soldiers. Critics kind of hated it, but it made enough to start a franchise, and has gained a following over the years.
Brian De Palma directed one of the best movies of his notable career in this 1987 action epic that won Sean Connery an overdue Oscar. Connery co-stars with Kevin Costner as Elliot Ness and Robert De Niro as Al Capone in this story of how Ness took down one of the most famous criminals of all time. Tense and riveting, it's a great action movie that's anchored by phenomenal performances and De Palma's unique eye.
Vantage Point
Almost completely ignored in 2008 when it was released, this old-fashioned action flick has an engaging enough cast to make it interesting, along with a clever premise that revisits the same event from different perspectives a la Kurosawa's Rashomon. Dennis Quaid, Matthew Fox, Forest Whitaker, William Hurt, and Sigourney Weaver star in this action experiment about an assassination attempt on the President of the United States.
Volcano
Remember the year of two volcano disaster movies? In 1997, Dante's Peak competed with this blockbuster, starring Tommy Lee Jones, Anne Heche, Don Cheadle, and Keith David. It's the story of a volcano that destroys Los Angeles. The tagline is really all you need: "It's hotter than Hell."