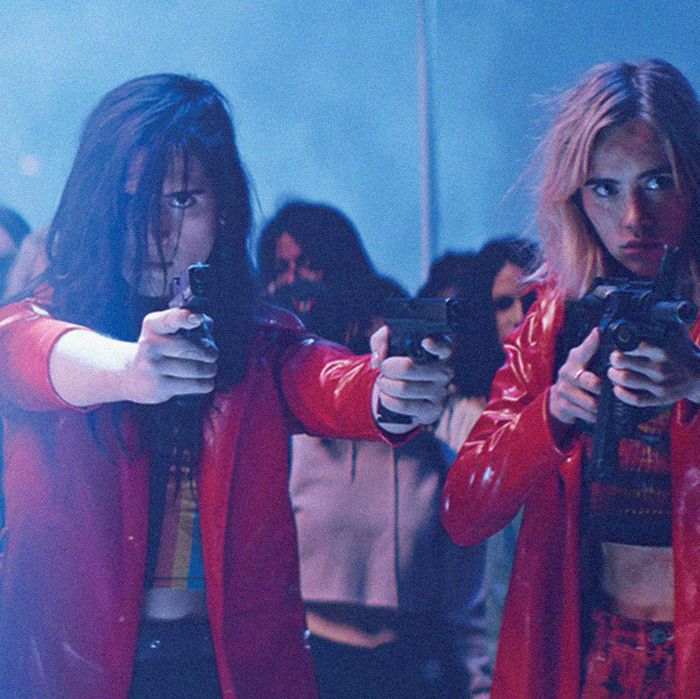 Assassination Nation
.
Photo: Neon
Hulu may still be known mostly for TV (and its insistence on reminding people they have live sports) but they also have a pretty impressive catalog of action movies. You may not be able to see a high-powered blockbuster in theaters in 2020, but that shouldn't stop you from watching one at home! Here are the 30 best.
Yann Demange directed this tight and taut retelling of an event in Belfast during the height of The Troubles in 1971. The great Jack O'Connell (Godless) plays a new recruit in the British Army who has basically been stranded behind enemy lines after a violent encounter and is forced to fight his way home. O'Connell is fantastic in a film that increases tension with each subsequent scene. You won't be able to catch your breath.
Takashi Miike has made directed over 100 movies, and this is one of the best, a stylish throwback to samurai cinema of old anchored by the modern filmmaking prowess of one of the best filmmakers alive. A remake of Eiichi Kudo's 1963 film, this is loosely based on actual events from 1844 when 12 samurai storytelling and sprays of samurai blood.
James Mangold directed this remake of the 1957 classic, which was based on a short story by the great Elmore Leonard. Russell Crowe and Christian Bale are excellent as the bad and good guy, respectively, from Ben Foster. It's a tense, well-crafted genre piece that seems overdue for a reappraisal.
*Air Force One
Remember when Harrison Ford was the country's fictional president? Revisit those simpler times with this great 1997 thriller in which Ford plays the world leader who is aboard the titular plane when it's hijacked by a team led by Gary Oldman. As tight as action movies get, this is also a reminder of a time when blockbusters weren't the exclusive property of comic book fans.
Katsuhiro Otomo's 1988 adaptation of the hit manga franchise has been often imitated but rarely duplicated. See what the big deal is about with a revisit of a film that has influenced literally hundreds of other works, animated and live-action, in the three decades since its release. They're always talking about remaking it, but it usually falls apart. People are probably scared to walk in the shadow of such an achievement.
This Sundance hit from 2018 seems to be growing a cult following more with each passing day. It's a story of rebellion and toxic social media culture led by Odessa Young, Suki Waterhouse, Hari Nef, and Abra. After a computer hacker releases the secrets of everyone in the town of Salem, well, a modern kind of witch hunt goes down. It gets violent and intense in unexpected ways.
*The Blade Trilogy
All three films that star Wesley Snipes as the vampire hunter who is also a vampire are suddenly on Hulu. Time for a marathon! The second film, released in 2002, is one of the best action/superhero movies of all time, given incredible visual life by director Guillermo del Toro. The 1998 original is better than you remember; the 2004 final film is probably worse than you remember.
Travis Knight of Laika fame (Kubo and the Two Strings) directed the best Transformers movie in this unexpectedly joyous spinoff of the massive Hasbro series of films. It's a movie with the same kind of family/adventure spirit as '80s classics of the genre, buoyed by fun performances from Hailee Steinfeld and John Cena.
They can't all be Oscar winners. Sometimes you just want to escape to a dumb but fun movie like this Renny Harlin joint about a mountain climber who ends up embroiled in a heist gone wrong when a U.S. Treasury plane crashes in the Rocky Mountains. Listen, it's not a classic, but the stunt work here is better than you remember, and it's a perfect chilly escape for the dog days of summer.
Alexandre Aja directed this razor-sharp 2019 film about a father and daughter trapped in a basement as flood waters rise during a hurricane. Oh, and they just happen to be being hunted by alligators. A combination of disaster flick and monster flick tropes, Aja's film is a delight from start to finish. There's not an ounce of fat on this one.
*Deep Blue Sea
Giant sharks + charismatic actors = something worth watching on Hulu. It's been fun to watch this B-movie guilty pleasure build a following in the two decades since its release. It's so popular still that there was a cheap sequel released just this year. It's the story of genetically engineered sharks who attack people played by Saffron Burrows, Thomas Jane, LL Cool J, and Samuel L. Jackson, who has (spoiler!) one of the best death scenes in the history of action movies.
Nicole Kidman stars in this 2018 crime film from the great Karyn Kusama (The Invitation). The Oscar winner plays a former undercover agent who finds her way back into a gang to tear it apart after her life was ruined by them years earlier. Intense and riveting, this is one of Kidman's best recent performances.
This live-action adaptation of the Nickelodeon cartoon has no right to be as funny and clever as it is. It helps that newcomer Isabela Moner is a delightful lead as Dora, but there's also a delightfully self-aware tongue-in-cheek tone to this film, one that's funny without every taking itself too seriously. It's a sweet family adventure movie that works equally for parents and little ones.
Kurt Wimmer wrote and directed this sci-fi action flick that made almost nothing when it was released but built a cult following over the years. Sure, it's heavily inspired by The Matrix, but it's still fun stuff, anchored by a committed performance by Christian Bale as an officer in a future in which human emotions have been controlled by prescription drugs. So, basically 2020.
More political thriller than action, this 2015 Gavin Hood film has enough tension to qualify for a list like this. The Oscar winner digs into the moral boundaries of drone warfare in a film about an operation to capture three terrorist leaders in a safehouse in Nairobi. Helen Mirren stars, but the film is arguably stolen by the great Alan Rickman, in his final live-action screen role.
The Forbidden Kingdom
Sure, sure—a movie starring Jet Li and Jackie Chan should have been better than this one, but that doesn't mean this isn't worth a look on Hulu on a boring weeknight. Heavy on special effects, this 2008 film is a kung fu wuxia flick loosely based on Journey to the West and contains action sequences choreographed by the legendary Yuen Woo-ping.
Anthony Maras directed this telling of the true story of the terrorist attack on the Taj Mahal Palace Hotel in India in 2008. On that day, ten terrorists launched an attack across Mumbai that killed over 170 people. Maras focuses on the bloodshed at the fancy hotel, delivering intense you-are-there action with a cast that includes Dev Patel, Jason Isaacs, and Armie Hammer.
It may not have exactly been a "comeback film" but it was still fun to see Arnold Schwarzenegger in action mode in 2013 when he starred in this, his first film in a leading role in a decade. The amazing Kim Jee-woon (A Tale of Two Sisters, I Saw the Devil) directs the story of a small-town sheriff who will do anything to stop the drug lord trying to get through his town.
Russell Crowe stars in this brilliant period action film based on the novels by Patrick O'Brian that recreates warfare on the water arguably better than any other film. This really should have been the start of a franchise. Crowe plays Jack Aubrey, Captain in the Royal Navy, and Paul Bettany does his best film work as the ship's surgeon. This was nominated for 10 Oscars, including Best Picture and Best Director.
Tom Cruise's latest adventure as Ethan Hunt may actually be his best. It's certainly one of the best action movies of the last couple years, and it's already available on streaming services! Sure, you've read a lot about how Cruise does his own stunts (which is impressive), but watch this for a masterclass in action film editing too. The film hums and moves in ways that other action movies just don't. It's as wildly entertaining as anything you'll find on Amazon Prime with the possible exception of Ghost Protocol, also on the service.
It's rare for a fourth film in a franchise to be considered its best, but some certainly feel that this Brad Bird 2011 banger qualifies. It essentially rebooted the franchise in which Tom Cruise tries to kill himself for your entertainment value, leading to the worldwide success of Rogue Nation and Fallout. This movie rules.
J.J. Abrams produced this 2018 hit that blends the war movie genre with something much more sinister. A platoon of soldiers is dropped behind enemy lines in World War II who stumble upon a series of very wrong Nazi experiments that have unleashed something that's not quite human. Great action and unexpected gore.
Remember when Mel Gibson was one of the biggest stars in the world? Relive those days with this 2000 period action film about an American Colonist who becomes a major figure in the American Revolutionary War. Gibson headlines this Roland Emmerich blockbuster, but it's also notable for including one of the too-few performances of Heath Ledger.
One of Jason Statham's bigger bombs when compared to films in the Transporter and Furious franchises, this 2012 thriller deserves another look and, well, any Statham movie on Hulu is going to be on this list. Statham stars as an ex-cop who ends up protecting a child who is being chased by just about everyone, including the Russian mafia and the Chinese Triads. Don't mess with Statham.
Billed more as a comedy, this film is surprisingly bloody enough to qualify as action too. Mila Kunis and Kate McKinnon star as a pair of BFFs who end up being chased by assassins atter it turns out that Mila's ex was a secret agent. It's a weird genre hybrid but may fit the bill if you're looking for a different kind of action movie on Hulu.
There have been so many Star Trek films over the years with various cast iterations, but the general consensus remains that this 1982 sequel is the best film in the entire catalog. A change of pace from the family-friendly first film, it introduces one of the best villains in the film series (who first appeared in a 1967 episode) and redefined the entire Trek legacy. As of this writing, there's an odd array of films from this series on Hulu, including five of the original six (The Voyage Home is missing) and Insurrection from the TNG years. It's the same story on Amazon, so it must be a licensing thing.
Long before every comic book got an adaptation somewhere came this quirky 1995 cult hit based on the series of the same name by Alan Martin and Jamie Hewlett. Lori Petty, Naomi Watts, Ice-T, and Malcolm McDowell star in this post-apocalyptic action comedy with a punk rock aesthetic. Some of it doesn't work, for sure, but it's got a unique sensibility and has become even more popular in the quarter-century since it was released.
Roland Emmerich directed two of the biggest foreign action stars in the world in Jean-Claude Van Damme and Dolph Lundgren in this sci-fi/action film about a U.S. Army soldier killed in Vietnam and resurrected with a program designed to create super soldiers. Critics kind of hated it, but it made enough to start a franchise, and has gained a following over the years.
Some of the plot of Jung Byung-gil's movie doesn't make a ton of sense, but it doesn't mater when a film contains as many bad-ass action sequences as this one does. Inspired by La Femme Nikita, this is the story of an assassin…oh, who cares? It's mostly the story of insane action choreography, including amazing sword fight while on motorcycles. Yes, you read that right.
Disaster movies aren't just for Americans anymore! The premise of this is the kind of simple wonder that they used to make in Hollywood more in the '70s and '80s. An avalanche causes a large enough rockslide into a body of water that it creates a tsunami, and a nervous geologist is one of the few people who knows the carnage that's about to come. Well-acted and smartly constructed, this is a wonderful slice of disaster escapism.