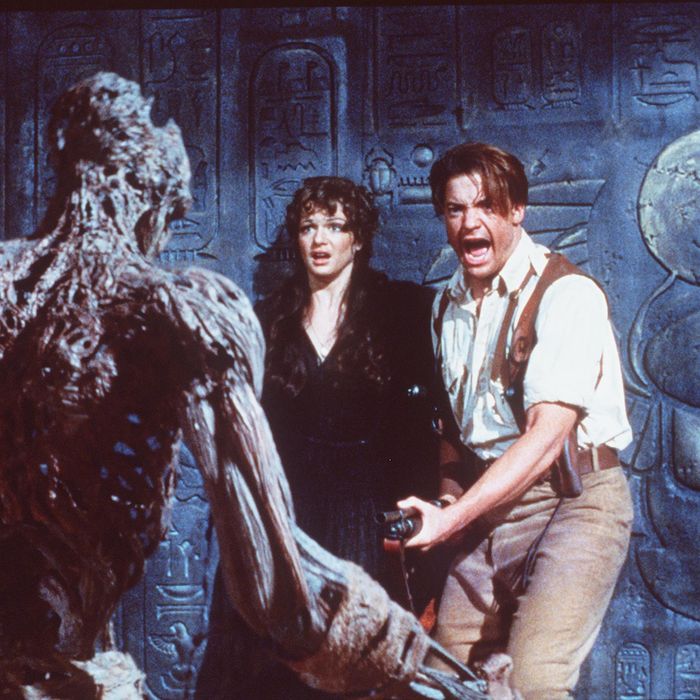 The Mummy.
Photo: Universal Studios/Getty Images
This post is updated regularly as movies leave and enter Hulu. *New additions are indicated with an asterisk.
It's time to have some fun. Let's put down all the serious, Oscar-winning dramas, leave the documentaries for another day, and forget about that TV season that everyone tells you that you should be watching. There's a reason that the most successful genre on the home market has been the same for over a generation now: People love action movies. They allow us to escape reality and enter a world where the good guy (usually) wins the day. These are the best action flicks currently on Hulu, updated monthly.
28 Weeks Later
Year: 2007
Runtime: 1h 40m
Director: Juan Carlos Fresnadillo
Danny Boyle handed off directorial duties on this sequel to his 28 Days Later to Juan Carlos Fresnadillo, and the result is an underrated action flick, a zombie movie that moves at lightning speed as it details the effort to establish a safe zone from the undead apocalypse in London. It has a phenomenal cast that includes Robert Carlyle, Rose Byrne, Jeremy Renner, Imogen Poots, and Idris Elba. There are reports that the long-delayed 28 Months Later may finally go into production soon—so catch up now.
Akira 
Year: 1988
Runtime: 2 hours, 4 minutes
Director: Katsuhiro Otomo
Animated action! Anyone who thinks a Japanese anime film from the '80s doesn't deserve a spot on this list simply hasn't seen Akira, a movie that feels more influential with each film that copies its template. Based on the 1982 manga of the same name and set in the oh-so-distant future of 2019, this story of a biker with telekinetic abilities has influenced dozens of action and sci-fi project. It gets better every time you watch it. (Note: Both the dubbed and subtitled versions are on Hulu.)
*Blade Runner
Year: 1982
Runtime: 1h 57m
Director: Ridley Scott
The great Ridley Scott followed up Alien with another one of the most influential sci-fi films ever made in this loose adaptation of Philip K. Dick's Do Androids Dream of Electric Sheep? Harrison Ford stars as Deckard, a burnt-out cop in a dystopian future that included replicants who have gone rogue. As he hunts them down, including their leader Roy Batty (Rutger Hauer), he falls for one of them, played by Sean Young. The influence of this film is so striking that it can really be seen in almost every sci-fi flick released in the four decades since. Note: The version on Hulu now is the Final Cut version, and Blade Runner 2049 is also on the streaming service.
Chronicle
Year: 2012
Runtime: 1h 21m
Director: Josh Trank
Josh Trank directed this excellent low-budget sci-fi film that became a phenomenon. Michael B. Jordan, Dane DeHaan, and Alex Russell star as three teenage boys in Seattle who discover an unknown alien object and end up with superpowers. A unique blend of coming-of-age storytelling with a superhero origin story, the film ended up making over $125 million worldwide.
*The Dark Knight
Year: 2008
Runtime: 2h 32m
Director: Christopher Nolan
Arguably the most acclaimed superhero film of all time, the centerpiece of Christopher Nolan's Dark Knight trilogy still rocks over 14 years later. Everyone knows how incredible the Oscar-winning Heath Ledger is in this epic blockbuster, but he's just one part of the greatness that extends from a perfect ensemble to a great display of Nolan's craft as a director. It's even better than you remember.
*Dunkirk
Year: 2017
Runtime: 1h 47m
Director: Christopher Nolan
The Dark Knight director returned to his homeland to tell one of its most formative war stories in the evacuation of British soldiers from northern France in 1940. Telling a story of land, sea, and air evacuations simultaneously, Dunkirk is a technical marvel, a film that only a filmmaker as ambitious and crazy as Nolan could even consider, much less pull off. Don't watch this one on your phone. And turn it up loud.
*Heat
Year: 1995
Runtime: 2h 51m
Director: Michael Mann
Robert De Niro and Al Pacino star in one of the best movies of the '90s, a stunning cat-and-mouse game between a career criminal and a workaholic cop. The book release of Heat 2 in 2022 brought a lot of people back to this movie, one that has held up remarkably well over the nearly three decades since it was released. It's a masterpiece.
*Inception
Year: 2010
Runtime: 2h 28m
Director: Christopher Nolan
Christopher Nolan took the success of his Batman movies and delivered one of the most ambitious Hollywood blockbusters ever made in this story of people who invade dreams. Leonardo DiCaprio stars as a grieving thief who leads a team into someone's subconscious to plant an idea, but that barely captures what this movie is really about or how mesmerizing it is to watch it unfold. In an era of increasingly safe blockbusters, it almost feels like Inception couldn't be made anymore. Well, at least not by anyone but Nolan.
Independence Day
Year: 1996
Runtime: 2h 25m
Director: Roland Emmerich
It's hard to explain to young people how huge ID4 was when it hit pop culture in 1996. It was quoted all over the place and became one of the biggest films of all time on the back of Will Smith's charisma and the blow-em-up style of Roland Emmerich. Seeing the White House explode in commercials was too exciting to miss. Some of the film hasn't held up greatly but it's still a nice blend of sci-fi concepts and Emmerich's disaster movie sensibilities.
Journey to the West
Year: 2013
Runtime: 1h 50m
Director: Stephen Chow
U.S. audiences don't appreciate the genius that is Stephen Chow. The director of the great Kung Fu Hustle made one of his most ambitious flicks in this 2013 fantasy comedy that very loosely reinterpreted the famous 16th century Chinese novel and was such a worldwide hit that it produced a 2017 sequel and a very loyal following.
*The Mummy
Year: 1999
Runtime: 2h 5m
Director: Stephen Sommers
Brendan Fraser has had a career resurgence with the release of The Whale, so it's a perfect time to revisit arguably his most popular film. It's the one that should have kept him a star for decades—a wonderful adventure film that playfully updates the template that includes Indiana Jones and dates back to Errol Flynn. The entire trilogy is on Hulu.
Ong-Bak: The Thai Warrior
Year: 2005
Runtime: 1h 45m
Director: Prachya Pinkaew
In 2003, action movie fans were looking for the next Jackie Chan or Jet Li and they found a martial arts superstar in Tony Jaa, who had his breakout film in Ong-Bak, the story of a Muay Thai master in a small village in Thailand who ventures to retrieve the stolen head of an ancient statue for his people. The film was a hit, producing two sequels, also both on Hulu.
Prey
Year: 2022
Runtime: 1h 40m
Director: Dan Trachtenberg
The director of 10 Cloverfield Lane clearly knows how to make unexpected films in hit franchises and that's exactly what he delivers in one of the biggest original film hits in the history of Hulu. A prequel to Predator, Prey details what happened when the alien killing machine crossed paths with a Comanche woman (Amber Midthunder) three centuries ago.
Red Cliff
Year: 2009
Runtime: 2h 28m
Director: John Woo
One of the most influential action directors of all time helmed one of his most ambitious films in this war epic set during the Battle of Red Cliffs in China almost two thousand years ago. In China, it was released in two parts that totaled over four hours, but American audiences got a single combined cut, which is the one currently on Hulu.
Shadow in the Cloud
Year: 2020
Runtime: 1h 23m
Director: Roseanne Liang
Chloe Grace Moretz stars in this clever genre hybrid that starts as a study of sexism on a fighter plane over the Pacific during World War II and then becomes basically an alien movie. Moretz is the first unexpected passenger on the plane; a gremlin who seems to be trying to take it down is a bigger problem. Lean and mean, this is a ridiculous B-movie, but don't question the logic, just enjoy the ride.
Source Code
Year: 2011
Runtime: 1h 39m
Director: Duncan Jones
The director of Moon returned with an excellent sci-fi film about a man who has to relive the same eight minutes over and over again to try and solve the mystery of who blew up a commuter train on its way into Chicago. Jake Gyllenhaal is excellent in the lead role, and he's ably assisted by Michelle Monaghan, Vera Farmiga, and Jeffrey Wright. This movie rules.
The Spider-Man Trilogy
Year: 2002-2007
Runtime: Varies
Director: Sam Raimi
Most superhero movies on streaming services are the exclusive property now of Disney+ given their ownership of the MCU, but Sony superhero films are allowed to escape the clutches every now and then and find their way to other streaming services. Right now, all three films from Sam Raimi are on Hulu. The second film is easily still the best, but they're all worth a rewatch (yes, even the third one).
*Training Day
Year: 2001
Runtime: 2h 2m
Director: Antoine Fuqua
Denzel Washington won his second Oscar for a role that would help define his on-screen persona in this Antoine Fuqua flick that is somehow already two decades old. Washington plays Alonzo Harris, a corrupt LAPD cop who is accompanied by a new partner, played by Ethan Hawke. More thriller than traditional action, it's still an intense, unforgettable experience and a reminder of how much Washington can be a force of nature when he's allowed to be.
True Lies
Year: 1994
Runtime: 2h 21m
Director: James Cameron
Remember when James Cameron made kick-ass action movies? Those were the days. Cameron directed Arnold Schwarzenegger in this influential action pic about a family man who also happens to be a G-man. Co-starring Jamie Lee Curtis, Tom Arnold, and Bill Paxton, True Lies is a perfectly paced film that's easy to watch over and over again. It's also somehow not yet on Blu-ray domestically, making watching it on Hulu the best and easiest way to do so today.
The Wave
Year: 2015
Runtime: 1h 44m
Director: Roar Uthaug
Disaster movies aren't the exclusive property of American filmmakers! Norway can make 'em too! This is one of the best disaster movies of the 2010s, the story of an avalanche in Norway that leads to an 80-meter wave that rolls through the region around it, causing havoc.
If you subscribe to a service through our links, Vulture may earn an affiliate commission.