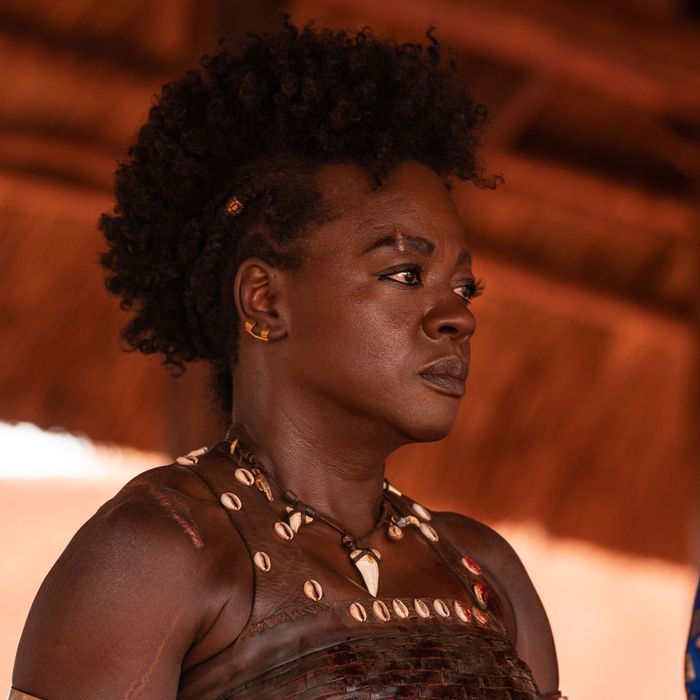 The Woman King.
Photo: Ilze Kitshoff/Sony Pictures Releasing
This list is frequently updated as titles leave and join Netflix. *New additions are indicated with an asterisk.
Netflix has made headlines by investing in highbrow dramas that win Oscars. But sometimes you don't want that! Sometimes you just want to escape the increasingly insane world out there into an action movie. Netflix has made a few of their own, but the bulk of the best action films on their service are still Hollywood blockbusters from '90s modern classics to more recent box office hits to films that may have slipped under your radar. From Ridley Scott to Michael Mann, here are the best action movies currently on Netflix.
The Big 4
Year: 2022
Runtime: 2h 21m
Director: Timo Tjahjanto
Have you seen The Night Comes for Us? You would remember if you have because director Timo Tjahjanto is a maniac, a madman who choreographs and shoots action scenes like no one else in the world right now. He returned in late 2022 for his Netflix original about a group of assassins who are forced into action when someone kills their mentor. It's kind of like a live-action Looney Tunes with bazookas.
*Bullet Train
Year: 2022
Runtime: 2h 6m
Director: David Leitch
It feels like this movie was actually a bigger hit on Netflix, where it popped up in the top ten for weeks after it dropped in December 2022. It makes sense because it's the perfect fit for when you're looking for something to turn your brain off to for a couple hours. Brad Pitt stars as an assassin who ends up on a train filled with fellow assassins, and, well, things get expectedly violent. It's a goofy movie, but it works on Netflix.
Den of Thieves
Year: 2018
Runtime: 2h 20m
Director: Christian Gudegast
As alpha male as movies get, this 2018 ensemble action orgy has already grown a pretty loyal cult following — so much so that a sequel is currently in development. Gerard Butler gives one of his best performances in the story of an L.A. Sheriff's department that's trying to stop a group of thieves planning to rob the Federal Reserve. With tense style and fun performances from O'Shea Jackson Jr. and Pablo Schreiber too, this is a movie that feels like it's growing in popularity every year. See why for yourself.
Hardcore Henry
Year: 2015
Runtime: 1h 36m
Director: Ilya Naishuller
Have you ever wanted to see a movie that replicated the feel of playing a first-person shooter video game? Then Hardcore Henry is the one for you. The plot doesn't really matter—there's something about experiments and lost memories and whatever—as this is all an exercise in style. Writer/director Ilya Naishuller straps viewers into the perspective of his increasingly powerful hero and then unleashes him on enemies who want to stop him. At its peak, it's got some adrenaline-pumping lunacy that's admirable.
Year: 2021
Runtime: 2h 19m
Director: Jeymes Samuel
The Harder They Fall came and went too fast in late 2021 and deserves to find a bigger audience on Netflix. The phenomenal Jonathan Majors stars in this stylish Western with tons of attitude, memorable characters, and brilliant set pieces. He's joined by Idris Elba, Zazie Beetz, Regina King, Delroy Lindo, Lakeith Stanfield, Danielle Deadwyler, and many more in a film that feels like it will become bigger as its incredible cast become acting legends.
*The Hunger Games
Year: 2012
Runtime: 2h 16m
Director: Gary Ross
Believe it or not, the franchise based on the books by Suzanne Collins aren't commonly on streaming services, so take the chance to watch all four on Netflix while you can! The first is probably still the most beloved, the introduction of Katniss Everdeen, the teenager who changed the world. These movies really made Jennifer Lawrence a household name and they've held up better than you remember. It's hard to believe the first one is already a decade old.
King Kong
Year: 2005
Runtime: 3h 7m
Director: Peter Jackson
Monster movies would never be the same after the 1933 King Kong debuted, a film that clearly inspired the sense of spectacle and wonder that Peter Jackson imbues into his blockbuster films. The remake with Naomi Watts, Adrien Brody, and Jack Black got some pretty mixed reviews, but it held up well, a movie that's incredibly easy to rewatch if you're looking for something larger than life on Netflix this weekend.
* The Lord of the Rings trilogy
Year: 2001-3
Runtime: 2h 58m
Director: Peter Jackson
The Oscar-winning franchise by Peter Jackson bounces around the streaming services with alarming regularity, now finding its way to Netflix for an indeterminate amount of time. Watch the entire saga of Frodo Baggins, Samwise Gange, and the rest of the Fellowship while you can.
The Mask of Zorro
Year: 1998
Runtime: 2h 17m
Director: Martin Campbell
Every now and then, an actor and a blockbuster role just make a perfect fit. That was certainly the case when Antonio Bandera's was cast in Martin Campbell's reboot of the legendary character of Zorro. Banderas is so charming here that the movie made enough money to produce a sequel in 2005, which is also on Netflix.
Minority Report
Year: 2002
Runtime: 2h 25m
Director: Steven Spielberg
One of Steven Spielberg's best modern movies is this adaptation of a Philip K. Dick story about a future in which crime can be predicted before it happens. Tom Cruise stars as a man who is convicted of a crime he has no intent of committing in a fantastic vision of a future in which the systems designed to stop crime have been corrupted. It's timely and probably always will be.
The Raid 2
Year: 2014
Runtime: 2h 30m
Director: Gareth Evans
Gareth Edwards wrote, edited, and directed the insane follow-up to his breakthrough hit that takes everything he did with The Raid and turns it up to 11. Like incredible action choreography? Unbroken takes? Stunts that defy the laws of physics? The Raid 2 is quite simply one of the best action movies of the last decade, a thrill ride from beginning to end.
Reservoir Dogs
Year: 1992
Runtime: 1h 39m
Director: Quentin Tarantino
One of the only Quentin Tarantino flicks on Netflix right now is his first effort, a movie that announced a major new talent as much as any debut of the '90s. Remarkably, unlike a lot of '80s and '90s debuts, Reservoir Dogs works just as well today. It would arguably be an even bigger hit if it came out in 2023. That's how much QT influenced the form for three decades and counting after its release.
Road House
Year: 1989
Runtime: 1h 54m
Director: Rowdy Herrington
As production on a remake of this cult classic (with Jake Gyllenhaal!) gets underway, why not go back and check out the original again? Patrick Swayze plays the bouncer at a totally average Missouri bar who ends up getting sucked into a violent world when he crosses paths with the wrong bad guy. Sam Elliott and Kelly Lynch star in a movie that feels like a perfect distillation of the many charms of Mr. Swayze.
Resident Evil
Year: 2002
Runtime: 1h 40m
Director: Paul W.S. Anderson
It's hard to believe that it's been two decades since people started adapting the Capcom video games into feature films. Hot on the heels of the cancellation of the Netflix series of the same name, the streaming giant has re-added the first (and still best) film along with the first sequel (2004's Apocalypse) and the second-to-last (2012's Retribution). Yes, it's random, but that's how Netflix has always been with this franchise.
*RRR
Year: 2022
Runtime: 3h 5m
Director: S.S. Rajamouli
One of the biggest films in the world in 2022, this crazy action flick really took off in the United States when it dropped on Netflix. It's hard to put into words just how much movie you get with RRR. It's kind of all the movies — musical, romance, comedy, action, drama. Whatever you're looking for, it's in here. You'll want to watch it twice.
Skyfall
Year: 2012
Runtime: 2h 23m
Director: Sam Mendes
The Daniel Craig era of James Bond has come to a close and so now history can look back and appreciate his entire run. Is the best film of his five the centerpiece? Arguably. This epic unpacking of the history of 007 is gorgeously shot by Roger Deakins and perfectly directed by Sam Mendes. It features a strong villain performance from Javier Bardem and great supporting work from Albert Finney and Judi Dench. Heck, it even has a killer theme song.
Year: 1986
Runtime: 1h 49m
Director: Tony Scott
Tom Cruise reminded everyone that he is really the last true movie star with the amazing success of this film's sequel in 2022, a movie that's likely to be a major player at the Oscars soon. Why not go back to the original and see how the story of Maverick and Iceman rocked the world over 35 years ago? A lot of Top Gun is pretty dated now, but in a way that makes the nostalgic ride even more fun (and will make you appreciate Maverick even more).
Year: 2019
Runtime: 2h 5m
Director: J.C. Chandor
One of the most underrated Netflix originals, this early 2019 film was written by Mark Boal (The Hurt Locker) and directed by the man who helmed Margin Call. The great ensemble here includes Ben Affleck, Oscar Isaac, Charlie Hunnam, Garrett Hedlund, and Pedro Pascal in the story of a group of former U.S. soldiers who plan and (poorly) execute a heist in South America. This is an old-fashioned action movie with a great modern cast.
*The Wandering Earth
Year: 2019
Runtime: 2h 5m
Director: Frant Gwo
One of the biggest movies of the last decade is a Chinese film that most people in the United States haven't even seen. Making almost $700 million worldwide, this is the kind of blockbuster that the MCU kind of pushed out — a crazy, end-of-the-world disaster movie with a Roland Emmerich aesthetic and ridiculous special effects. It's almost overwhelming in its onslaught of crazy but sometimes you just want to see things go boom on a massive scale. Note: There's a sequel in theaters now that will hopefully be on Netflix soon too.
*The Woman King
Year: 2022
Runtime: 2h 14m
Director: Gina Prince-Bythewood
Living legend Viola Davis stars in this retelling of the all-female warriors of the kingdom of Dahomey in the 19th century. She plays General Nansica, who trains young women to follow in her footsteps, and leads a rock star ensemble of future stars that includes Thuso Mbedu, Lashana Lynch, and Sheila Atim. You'll know all their names soon enough.
If you subscribe to a service through our links, Vulture may earn an affiliate commission.