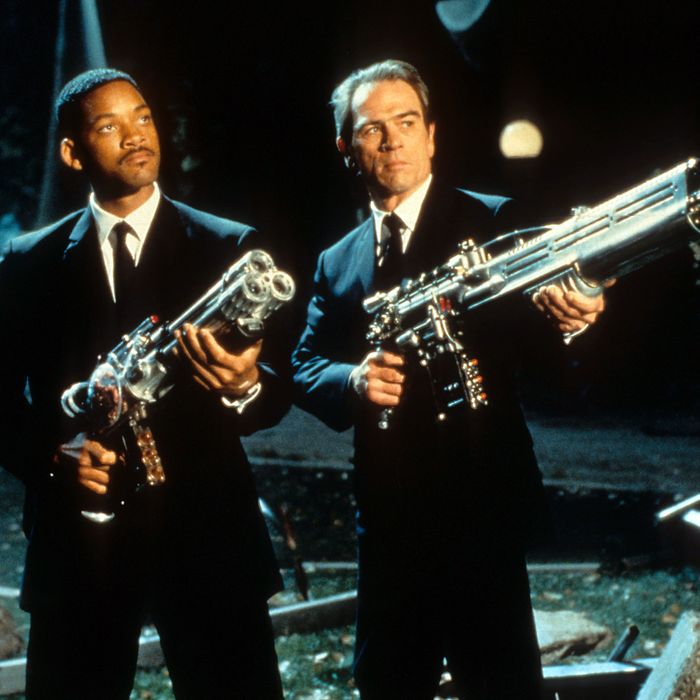 Men in Black.
Photo: Archive Photos/Columbia Pictures/Getty Images
This list is frequently updated as titles leave and join Netflix. *New additions are indicated with an asterisk.
Netflix has made headlines by investing in highbrow dramas that win Oscars. But sometimes you don't want that! Sometimes you just want to escape the increasingly insane world out there into an action movie. Netflix has made a few of their own, but the bulk of the best action films on their service are still Hollywood blockbusters from '90s modern classics to more recent box office hits to films that may have slipped under your radar. From Nolan to Spielberg, here are the best action movies currently on Netflix.
21 Bridges
Year: 2019
Runtime: 1 hour 39 minutes
Director: Brian Kirk
Chadwick Boseman left the world way too soon, but he made such an impact in his too-brief time on planet Earth. So much so that he's even got a few films that could be called underrated, a category into which this clever little action flick definitely falls. The Oscar nominee plays a detective who makes a bold move to capture two cop killers — he shuts down all the bridges out of the city of Manhattan. Tautly made and well-acted, one only wishes Boseman was still around to make more movies like this one.
Year: 1979/2001
Runtime: 3h 22m
Director: Francis Ford Coppola
Interestingly, the only version of one of the most acclaimed war films of all time that's currently on Netflix is the "Redux" edition, the longer cut that was released in 2001. At that time, Coppola collaborated with his editor Walter Murch to reincorporate 49 minutes of footage that were cut from the initial release. It's not the generally preferred version, but it's still a gut punch of a war movie, a real look at the heart of darkness that beats in the American military experience.
Year: 1982
Runtime: 1h 50m
Director: Ridley Scott
Ridley Scott followed up Alien with another one of the most influential sci-fi films ever made in this loose adaptation of Philip K. Dick's Do Androids Dream of Electric Sheep? Harrison Ford stars as Deckard, a burnt-out cop in a dystopian future that includes replicants who have gone rogue. As he hunts them down, including their leader Roy Batty (Rutger Hauer), he falls for one of them, played by Sean Young. The influence of this film is so striking that it can really be seen in almost every sci-fi flick released in the four decades since. Note: The version on Netflix now is the Final Cut version, and Blade Runner 2049 is also on the streaming service.
Year: 2006
Runtime: 2h 24m
Director: Martin Campbell
It's hard to believe the most famous movie spy in history ever needed a comeback, but that's really what happened when Daniel Craig stepped into 007's shoes and it turned out to be one of the most acclaimed James Bond movies of all time. An origin story for the suave superspy, Casino Royale introduced new layers to the classic character, resulting in an action film that felt like it had real stakes. This is one of the best modern action movies, period, not just in the Bond franchise.
Cliffhanger
Year: 1993
Runtime: 1h 53m
Director: Renny Harlin
Sylvester Stallone offered fans something a little different with this story of a ranger who gets a chance to face his demons when a heist of a U.S. Treasury plane drops a group of criminals in the Rocky Mountains nearby. Sharply made and well-constructed, this cult classic also features a clever villain performance from the great John Lithgow.
Den of Thieves
Year: 2018
Runtime: 2h 20m
Director: Christian Gudegast
As alpha male as movies get, this 2018 ensemble action orgy has already grown a pretty loyal cult following — so much so that a sequel is currently in development. Gerard Butler gives one of his best performances in the story of an L.A. Sheriff's department that's trying to stop a group of thieves planning to rob the Federal Reserve. With tense style and fun performances from O'Shea Jackson Jr. and Pablo Schreiber too, this is a movie that feels like it's growing in popularity every year. See why for yourself.
Year: 1967
Runtime: 2h 30m
Director: Robert Aldrich
Classic action! There aren't a lot of action movies on Netflix made before 1990, so take this chance to watch one that might have been your father's (or even grandfather's) favorite. The real draw here is the cast, which includes icons like Lee Marvin, Ernest Borgnine, Charles Bronson, Jim Brown, George Kennedy, Telly Savalas, and Donald Sutherland in a film set in 1944. Watching American movie icons mow down Nazis will never get old.
Year: 2017
Runtime: 1h 46m
Director: Christopher Nolan
The Dark Knight director returned to his homeland to tell one of its most formative war stories in the evacuation of British soldiers from northern France in 1940. Telling a story of land, sea, and air evacuations simultaneously, Dunkirk is a technical marvel, a film that only a filmmaker as ambitious and crazy as Nolan could even consider, much less pull off. Don't watch this one on your phone. And turn it up loud.
* Hardcore Henry
Year: 2015
Runtime: 1h 36m
Director: Ilya Naishuller
Have you ever played a video game that felt like a movie? How about a movie that feels like a video game? This Russian action extravaganza takes place in first-person, which means it feels like you're actually controlling a crazy adventure that co-stars Sharlto Copley, Haley Bennett, and Tim Roth. There's never been anything quite like it.
Year: 2009
Runtime: 2h 11m
Director: Kathryn Bigelow
The director of Near Dark and Point Break became the first female Oscar winner for Best Director for a film that also won Best Picture and stands now as one of the best movies made to date about the American soldier experience in Iraq. Jeremy Renner stars as an explosives expert, the kind of guy who goes in the room that everyone else runs from, and someone brings home the trauma of what he sees overseas. As precise as the profession it captures, this movie has not one bit of fat on it, and it's just as thrilling now as when it was released.
Year: 1993
Runtime: 2h 8m
Director: Wolfgang Petersen
Clint Eastwood stars in this tense thriller about a Secret Service agent who is the only thing standing between the assassination of the U.S. President and a rogue former CIA agent, played with sharp menace by the great John Malkovich, Oscar-nominated for his work here. Petersen's craft melds perfectly with Eastwood's square-jawed heroism in one of the most iconic films of the beloved actor/director's career.
Men in Black
Year: 1997
Runtime: 1h 38m
Director: Barry Sonnenfeld
Forget the obnoxious reboot, this will always be remembered as the trilogy of original films that starred Will Smith and Tommy Lee Jones. These movies were massive and all three of them are now on Netflix. It's marathon time!
Year: 1996
Runtime: 1h 50m
Director: Brian De Palma
Do you think Tom Cruise thought he'd still be playing Ethan Hunt over a quarter-century after the first adaptation of the hit TV show about the super spy? He's basically created his own James Bond with two more M:I movies coming out in 2023 and 2024. Go back to where it all began with a film that looks downright quaint now compared to the sequels but a film that still plays perfectly. Note: The John Woo-directed sequel and Brad Bird–directed Ghost Protocol are also on Netflix now.
Natural Born Killers
Year: 1994
Runtime: 1h 59m
Director: Oliver Stone
What do you get when you combine the writer of Pulp Fiction and the director of JFK? Movie history. Woody Harrelson and Juliette Lewis star as Mickey and Mallory Knox, a pair of drifters who embark on a killing spree that ends up making them tabloid superstars. A fearless castigation of celebrity culture, some of NBK looks a bit dated now, but more of it feels ahead of its time, capturing the true crime cult of personality that would develop over the decades to come.
Year: 2009
Runtime: 2h 20m
Director: Michael Mann
The great director turned his eye to the history of the American mob with the story of John Dillinger (Johnny Depp) and the FBI Agent (Christian Bale) who hunted him across the Midwest. Shot on digital, the look of the film threw a lot of people off, allowing this big-budget epic to be underrated in the film history books. Give it another look. There's a lot to admire here.
Year: 1997
Runtime: 2h 9m
Director: Paul Verhoeven
The bugs! No one else but the director of Robocop could have made this unforgettable sci-fi/action epic about giant bugs from outer space. On the surface, it's a wildly entertaining action movie about young soldiers trying to stop an unimaginable force. Dig deeper and you'll find richly rewarding satirical levels about the military complex and even fascism. However you enjoy it, just enjoy it while you can.
The Town
Year: 2010
Runtime: 2h 4m
Director: Ben Affleck
Adapted from a Chuck Hogan novel, this is an essential modern crime movie, especially for the city of Boston. Affleck, Jeremy Renner (Oscar-nominated), Rebecca Hall, Jon Hamm, and Chris Cooper star in the story of a group of bank robbers from Boston who set out to pull the ultimate job, robbing Fenway Park.
Year: 2019
Runtime: 2h 5m
Director: J.C. Chandor
One of the most underrated Netflix originals, this early 2019 film was written by Mark Boal (The Hurt Locker) and directed by the man who helmed Margin Call. The great ensemble here includes Ben Affleck, Oscar Isaac, Charlie Hunnam, Garrett Hedlund, and Pedro Pascal in the story of a group of former U.S. soldiers who plan and (poorly) execute a heist in South America. This is an old-fashioned action movie with a great modern cast.
Troy
Year: 2004
Runtime: 3h 16m
Director: Wolfgang Petersen
In the wake of the massive success of Gladiator, there were a lot of mediocre swords and sandals historical action films, but this one stood out from the crowd. Brad Pitt leads the ensemble in the story of the Trojan War and a loose retelling of Homer's Iliad. Ignore the history angle and appreciate Wolfgang Petersen's craftsmanship and a great supporting performance from Eric Bana.
Wanted
Year: 2008
Runtime: 1h 50m
Director: Timur Bekmambetov
It's not perfect but few films have felt more like a moving comic book than this 2008 blockbuster based on the graphic novels by Mark Millar and J.G. Jones. James McAvoy stars as an ordinary guy who learns that he's actually in the lineage of professional assassins as he gets sucked into a world that includes characters played by Morgan Freeman, Angelina Jolie, Terence Stamp, Common, and more.
If you subscribe to a service through our links, Vulture may earn an affiliate commission.