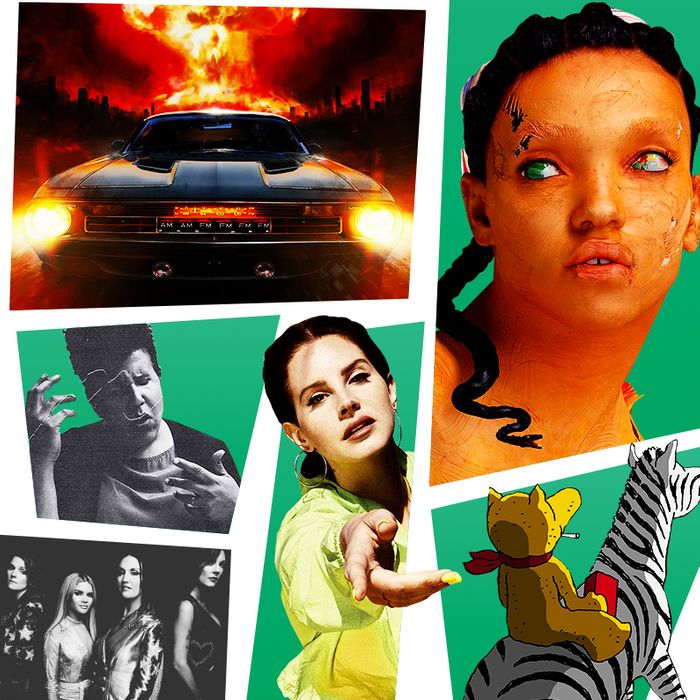 The best of the best.
Photo-Illustration: Vulture
Last year was a banner year for big-name artists dropping big-name releases. It'd be faster to run through the A-listers who didn't release an album in 2018 than the ones who did. By strong contrast, 2019 was more of a transitional changing of the guard year, allowing space for new faces, like Billie Eilish and Lizzo, to make big splashes and for seasoned veterans, like Wilco and Solange, to create bigger, fresher waves. In hindsight, we might look to 2019 as a bridging of the past and future, not so much a sampling of music that took the temperature of the moment but forecast where we're culturally, and sonically, headed.
It's tricky to say which album and artist exemplified this best — this year saw standout work from Taylor Swift, Ariana Grande, Tyler, the Creator, Bruce Springsteen, Bon Iver, Bad Bunny and J Balvin, Charli XCX, and too many more to count — but the ten albums below, chosen by Vulture music critic Craig Jenkins, all confronted complicated emotions in complicated times to masterful effect.
10. Griselda Records, W.W.C.D.
Buffalo brothers Westside Gunn and Conway the Machine and longtime associate Benny the Butcher are Griselda, a rap crew whose hard-nosed punch lines, effortless flows, and intricate storytelling brought them to the attention of our patron saint of internal rhyme, Eminem. Their Shady Records debut W.W.C.D. is sharp and refined, like a shiv. Gothic sounds from producers Daringer and Beat Butcha set the scene for grimy stories about the stresses and spoils of hustling. The beats bang, and the quotables run fast and hot, like a river of blood.
9. Sturgill Simpson, Sound & Fury
In four albums, Kentucky troubadour Sturgill Simpson evolved from a rising country star to a critically acclaimed singer-songwriter to a kind of Nashville outlaw to a rock star making records about the stresses of making records. This year's Sound & Fury continues the move away from pure country that began with 2016's ambitious concept album, A Sailor's Guide to Earth, doubling down on the smoking rock grooves Simpson loosed at live shows but less so in the quiet of his studio albums. Sound & Fury is a trek through stoner metal, New Wave, synth-pop, southern rock, and brash J-Pop. "Make Art Not Friends" is a brutal word about listening to your muse, and "Mercury in Retrograde" rejects the machinery of music industry celebrity to a tune that makes for the year's best Ric Ocasek tribute. The album's full of surprises, and if you can spare the time, you should watch the accompanying Netflix anime.
8. The Highwomen, The Highwomen
The members of the country quartet the Highwomen come from different walks of life. Maren Morris is a budding star who could cross over anytime she wants. Amanda Shires is a formidable solo artist and a fiddle player with her husband Jason Isbell's 400 Unit. Natalie Hemby is a storied Nashville hit-maker who has recently begun to sing her songs herself. Brandi Carlile is an acclaimed singer-songwriter whose pen is sharp enough to have netted nominations for all the top honors at last year's Grammys. Together, their perspectives create a patchwork of modern America (and Americana), telling stories about motherhood, the single life, same-sex love, carefree youth, and stately adulthood. You think the title track (where the group gives voice to a series of murdered preachers and healers) is going to be the most devastating tune, and then you get to "Wheels of Laredo" realizing that they shook you up 12 times in a row.
7. Lana Del Rey, Norman Fucking Rockwell
Like a great American novel, Lana Del Rey's Norman Fucking Rockwell opens in turbulence and closes on a glint of hope. The title track and opener demolishes an ex for caring more about intellectual pursuits than being a fun hang. By "Hope Is a Dangerous Thing for a Woman Like Me to Have — But I Have It," Lana has had it with emotionally unavailable men. The hour of music between the two songs is spent redesigning the singer's worldview. Trip-hop beats and dour tunes about lovable wastoids are replaced by exquisite folk songs about commanding time and respect. Her taste for '60s Americana is tempered by references to the wave of death that claimed many of the era's heroes. Lana invented an intriguing alter ego with 2012's Born to Die, but Norman Fucking Rockwell allows her to escape that album's prophecy. For effect, imagine a Great Gatsby where Jay skips town, mellows out, and enjoys his money in the Hollywood Hills.
6. Freddie Gibbs & Madlib, Bandana
Freddie Gibbs raps like the Terminator terminates, all credible threats and ceaseless forward motion. It's perfect to a point that sometimes seems inhuman. It's little wonder that Gibbs has met one of his greatest collaborators in the West Coast sample whiz Madlib, whose beats get stoned and loose in all the places where Gibbs's raps tend to be tightly wound. On 2014's Piñata and again on this year's Bandana, the duo syncs up and delivers a record better than the sum of its parts, a selection of beats and rhymes so hard everyone involved (including guests Killer Mike, Anderson .Paak, Pusha T, Yasiin Bey, and Black Thought) is elevated in the process.
5. Brittany Howard, Jaime
For her debut solo album, Jaime, Alabama Shakes singer and guitarist Brittany Howard steps out on her own in more than one way. She sings, writes, plays guitar and drums, and produces herself (with Shakes bassists Zac Cockrell, drummer Nate Smith, and keyboardist Robert Glasper as an occasional backing band). She opens up with stories about her upbringing. "He Loves Me" speaks to experiencing faith apart from the formalities of religion, while "Georgia" recalls growing up while having same-sex crushes in the devout South. "Goat's Head" revisits learning that people didn't approve of her parents' interracial union through the memory of a gruesome prank. The uniqueness of these experiences is mirrored in the music, a mélange of styles touching on funk, rock, soul, hip-hop, and synth-rock, making disparate noises feel closer together by nature of Howard's wide-ranging tastes and powerhouse musical chops.
4. FKA Twigs, Magdalene
Life gave Beyoncé lemons, and she made Lemonade. FKA Twigs had a breakup and emergency surgery to remove painful fibroid tumors she describes as being the size of fruit and returned with Magdalene, an elegant cycle about redrawing boundaries and relearning trust after a rough patch. Magdalene avoids specifics; it would rather show solidarity with aggrieved women through history than allow a man much space in this frame. It plays out more like an internal dialogue from a multifaceted artist giving herself a pep talk. The production splits the difference between abrasive electronics and tender piano sounds, sometimes in the space of a single song. Magdalene is edgy enough to court collaborators like Darkside's Nico Jaar and wise enough to the mainstream moves to get a verse from Future. FKA Twigs has the range.
3. Vampire Weekend, Father of the Bride
Resilient Vampire Weekend fans who waited six years for a sequel to 2013's pop-smart Modern Vampires of the City were treated this spring to Father of the Bride, a double album teeming with new sounds and ideas. "Unbearably White" takes a crack at soul. "Sunflower" recruits the Internet's Steve Lacy for a blast of Zappa-esque prog-rock. "2021" samples Japanese electronic music auteur Haruomi Hosono. "Hold You Now" is a folk-rock duet with Danielle Haim. Guiding the ship is Ezra Koenig's natural ear for gripping melodies and engaging storytelling, and the talents of a roster of players, including bandmates Chris Baio and Chris Tomson; VW alum Rostam Batmanglij; producers BloodPop and Ariel Rechtshaid; and others. The team gives the love songs just the right amount of sweets, and keeps sour grapes from overpowering the ones about breaking up.
2. Solange, When I Get Home
Solange's When I Get Home mixes jazz, soul, hip-hop, dance, and screw music into a fever dream about the comforts of home. Inspired by the fearless and unpredictable musicality of artists like Stevie Wonder — specifically, by the stretch in the '70s where he followed the masterful Songs in the Key of Life with a murky, chaotic album of songs about plants having feelings — Solange deconstructed the warm neo soul of 2016's A Seat at the Table, reducing smooth grooves to the synth and drum vamps they're made of. In the space between a song and a drone, there's magic like "Almeda," which sounds like a Neptunes record left to melt in the sun, and "Way to the Show," a psych-soul jam about getting ready for a night out.
1. Wilco, Ode to Joy
The argument for Wilco as one of the great American rock bands of the 21st century rests on their ability to synthesize the disorienting sensation of the last few decades, the scent of wars around the edges of comfort, the awareness of disorder wrapped in the detachment from it. They've done it in three different decades now, modeling torpid '90s ennui throughout 1996's Being There, jacking into the jittery anxieties and technophilia/-phobia of the early aughts on 2002's Yankee Hotel Foxtrot, and fighting to stay positive against the odds on this year's Ode to Joy. Through jingles about cemeteries and tribal dirges lamenting the endlessness of war, a picture of a people trying to hang onto a sense of normalcy emerges. That the band manages to reconfigure its own roots-rock sound into a darker and more wily one in the process is the mark of a group of legends at work.
*This article appears in the December 23, 2019, issue of New York Magazine. Subscribe Now!