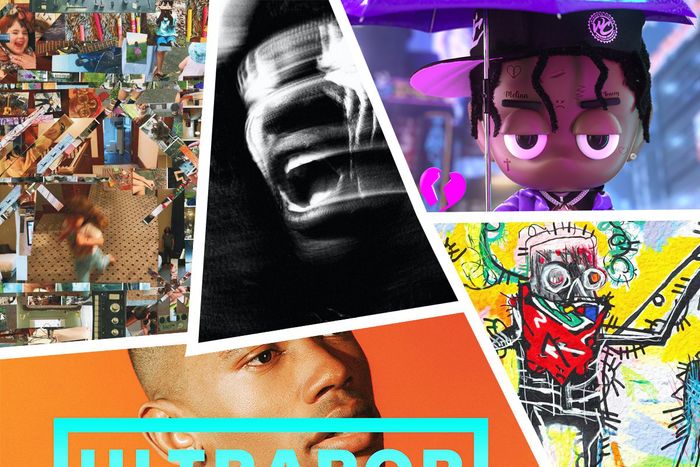 Everyone is anxious to get out of their shells, leave old habits and ways of thinking behind, and dive headlong into something new.
Photo-Illustration: Vulture
This post has been updated with June and July releases.
With luck and care, 2021 is maybe the year where we dig ourselves out of the fear and cocoonlike reflection that characterized much of 2020, conditions reflected in the music that followed, however intentional or not. The year that brought us the dark meditations of the Weeknd's After Hours, the apocalyptic observations of Run the Jewels' RTJ4, the rustic entrenchment of Taylor Swift's folklore and evermore, and the winsome sadness of Adrianne Lenker's Songs is over. If we play it right, now can be a time for recovery and reconnection while we reckon with unresolved rage. These themes have bled into the music of the year; everyone is anxious to get out of their shells, leave old habits and ways of thinking behind, and dive headlong into something new.
July-September
Billie Eilish, Happier Than Ever
Happier Than Ever is your archetypal sophomore album, a reckoning with the turbulence experienced when you quickly become one of the most popular artists alive, before the dust even settles on your first album. Billie Eilish sings about blowing off phone calls, buying clandestine homes, dodging stalkers, and having her thoughts and looks picked apart by strangers only in it for the gospel, taking a more snide but no less wispy tone than the one that dominated 2019's meteoric When We All Fall Asleep Where Do We Go? She's a little more confident now, and a little more vengeful, but on the new album, her music is more subdued. Last time, the beats were dark, and her voice was the clearing. Now, it's the other way around: Happier Than Ever is the sleek, sultry soundtrack to a singer-songwriter escaping a terrible head space.
Isaiah Rashad, The House Is Burning
Five years ago, Tennessee rapper Isaiah Rashad hit rock bottom in his struggles with drug and alcohol addiction and spent the next half of a decade putting himself and his music back together again. On The House Is Burning, the new album he first started promising four years ago, you can hear the gains in his voice and his writing. The sound is an easy marriage between cloud rap, classic Memphis hip-hop, and TDE's signature lush and organic hip-hop soul. Zay's wordplay is elite, a hair faster than the ear can catch on the first listen but bounding between stunning depth and playful levity upon closer inspection. Flows are gobstopping — rare is the modern rap album where the marquee artist eats all his guests alive.
Vince Staples, Vince Staples
When an artist announces a self-titled album, they're often telling the audience that the forthcoming work is the purest distillation of what they're about as a performer, a personal state of the union address. Vince Staples, the fourth full-length from the Long Beach rapper tough enough to go by his government name, is rife with autobiographical stories about growing up somewhere rough and the ways that experience can stay with you for the rest of your life. It's also the rapper's most smooth and commercial-sounding work to date, thanks to a spate of tuneful but skeletal productions from Kenny Beats, who gives this collection of narratives about how summertime always sucks a mischievously off-putting summery veneer. The balance is alluring. As background music, it's pleasant. Lean in, and Vince Staples goes for the jugular.
April–June
Tyler, the Creator, Call Me If You Get Lost
It took over a decade, but Tyler, the Creator is finally done studying the playbooks of his musical heroes — Pharrell, Kanye, Lil Wayne, Roy Ayers — and now making music that feels uniquely, undisputedly his. The big story here is the presence of the mixtape maestro DJ Drama, which technically makes this a part of the venerable Gangsta Grillz series, but the better story is how rap, rock, R&B, jazz, funk, reggae, and even more bend to the always-gifted rapper, singer, and producer's will and how he managed to make a record as varied and impressive as 2019's R&B-centric Igor, pivoting back to coarse rhymes at no cost to the rich sweetness of his beats.
Hiatus Kaiyote, Mood Valiant
Australian group Hiatus Kaiyote's sultry soul songs have been sampled by the likes of Drake, Kendrick Lamar, Jay-Z, and Beyoncé in the past five years, but the decision to move to Flying Lotus's Brainfeeder imprint after 2015's critically acclaimed Choose Your Weapon hinted at something this summer's Mood Valiant, the quartet's third album, bears out in great detail: This isn't a group interested in streamlining a sound to bring to the masses. On Mood Valiant, they're burrowing into stranger and more psychedelic interplay, as vocalist Nai Palm sails out intricate melodies, and the band responds with offbeat changes she takes in stride. It's all heady and strange but undeniably accomplished, the Brainfeeder trademark.
Backxwash, I Lie Here Buried With My Rings and My Dresses
Quebec-based rapper and producer Backxwash makes coarse, vital music about feeling left out of the promises of prosperity issuing from houses of government and worship, about the fallen brokenness of everything, in spite of the prim patina of decency masking the horrors of the modern age. On I Lie Here Buried With My Rings and My Dresses, Backxwash highlights the ugliness of the times and the failures of politicians and religious leaders to make things better. It's harrowing stuff, cathartic primal-scream therapy touting beats that travel freely between indie rap, indie rock, sludge metal, industrial music, and African spiritual chants. For extra credit, I Lie Here Buried With My Rings and My Dresses makes this seem easy.
Bo Burnham, Inside (The Songs)
So much art has been made during the pandemic but there's not so much music that feels indelibly about the experience of being alive over the last year, the sensation of having to cut yourself off from the world in order to skirt certain death and the helplessness of trying to stop America from tearing itself apart. Bo Burnham's Inside, an expurgation of the ridiculous thoughts zooming though the mind of a person trapped at home while the planet circles the drain, attempts and achieves it. The comic's songs have finally grown to match his trenchant observations about people. Nothing's off limits, not even the man himself. "Healing the World With Comedy" is a laugh about the futility of jokes in a time of death; "How the World Works" is leftist praxis masquerading as a kids' television jam. Inside takes huge swings and delivers huge returns.
Sleepy Hallow, Still Sleep?
New York City rhymer Sleepy Hallow hails from the same quadrant of Brooklyn's Flatbush neighborhood as BK drill star Sheff G. They work in the same subgenre with the same producer — "Great John on the beat, by the way!" — but their records feel radically different. Sheff goes for the gloomy, gothic sounds, but Sleepy takes the weirder, quieter ones. On Still Sleep?, the 21-year-old rapper's debut studio album, the trademark drill sound is dissected and deconstructed. Brash samples loop up over beats that drop drums unexpectedly, the better to center flows. "Chicken" is the lyrical showcase. "2055," with its molasses-thick guitar licks, is the earworm. "Equal" is the reflective rags-to-riches jam. Still Sleep? is packed with gems.
Lou Barlow, Reason to Live
A part-time indie rock hero, a sometime lo-fi icon, and a full-time dad, singer-songwriter Lou Barlow is a master compartmentalizer, known as much for his work in Dinosaur Jr., one of America's loudest rock bands, as for Sebadoh, Folk Implosion, and his solo records, where acoustic guitars, electronic drums, and tape hiss vie for prominence in the mix. This year, you can hear Lou amid the gargantuan riffs of his flagship band's new album Sweep It Into Space (or in the recently rereleased audio of Live in the Middle East, Dino's 2005 DVD capturing a memorable Irving Plaza show), and you can hear another side of the New England veteran's artistry in Reason to Live, Barlow's first solo album since 2015's Brace the Wave. Reason to Live collects stark, pointed love songs calling back to Barlow classics like Sebadoh's III ("Why Can't It Wait") alongside tunes about day-to-day frustration ("I Don't Like Changes" and "How Do I Know") and prickly, almost political cuts lamenting disconnected humanity ("All You People Suck," "Act of Faith").
Mach-Hommy, Pray for Haiti
Mach-Hommy doesn't make himself easy to follow. For years, the enigmatic Newark rapper skirted the traditional hallmarks of a career in modern rap, avoiding live engagements and interviews and treating his releases like boutique streetwear drops, asking triple-digit prices and often selling out. You're supposed to want to be inescapable when you're good at rapping; Mach was happy to create for those who wanted it the most, and them alone. That's changing with releases like last summer's Mach's Hard Lemonade and this spring's new Pray for Haiti, where the skills refined on elusive self-released tapes like Luh Hertz and Dump Gawd crystalize into streetwise trash talk, wisdom, and mysticism blessed with an off-kilter sense of timing and phraseology that can only have come from amassing the depth of knowledge about hip-hop required to know which rules to bend. Beats by the likes of Kansas's Conductor Williams and New York's Camouflage Monk, both regular collaborators with Buffalo's Griselda Records clique, envelop the verses in subtle but impressive sample loops. Guest verses and executive production by Griselda's Westside Gunn add spice. Pray for Haiti is a singularity. If Mach-Hommy's not on your radar now, your radar's dead.
Jack Ingram, Miranda Lambert, and Jon Randall, The Marfa Tapes
Somewhere in between her 2015 divorce from Blake Shelton and her excellent 2016 double album The Weight of My Wings, country superstar Miranda Lambert snuck out to Marfa, a tiny arts community in the Trans-Pecos area of west Texas, with friends and veteran songwriters Jon Randall and Jack Ingram. Out in the seclusion of the desert, the trio wrote "Tin Man," Lambert's award-winning tearjerker about how the titular Wizard of Oz character is lucky not to have a heart. A subsequent visit would yield "Tequila Does," a single from Lambert's 2019 album Wildcard. Late last year, the trio returned to Marfa with the intention not just of writing but also recording sessions. The Marfa Tapes is a bare-bones affair, little more than the sound of three voices, a guitar, and ambient noises like the crackle of a campfire or a gust of wind. Marfa is Lambert's rawest collection, a series of heartfelt yarns about falling out of love and picking yourself up again, rendered all the more austere by the sense of isolation derived from the contrast between its muted folk and country tunes and the vastness of Texas underfoot. Gone are the polish and the Frankensteinian hybrids of perfect takes a major-label studio album entails. In the whimsical "Homegrown Tomatoes," you can hear the group laughing through a few exquisite, if imperfect, harmonies; the guys chortle in disbelief at Lambert's unexpected stuttering affect in the fight song "Geraldene." They're blowing off steam, making mistakes, and having fun. Even the saddest songs feel strangely relaxing and freeing.
Ashley Monroe, Rosegold
Tennessee singer-songwriter Ashley Monroe, sometime member of the singing group the Pistol Annies alongside Miranda Lambert and Angaleena Presley, makes delicate, emotionally honest country music peppered by accents of rock and soul, and has built an admirable catalogue exemplified by acclaimed works like 2018's Sparrow and 2015's The Blade. The rule book goes in the trash on this year's new Rosegold as Monroe continues to refine her talents as a writer and a vocalist while expanding her artistic palette in a batch of songs that slides from synth-pop to spectral, psychedelic R&B to gothic pop to lush, orchestral balladry to muted country rock. Anchoring these unexpected twists and carefree genre excursions are Monroe's expressive voice, framed exquisitely here by an abundance of limber and stately harmonies, and her knack for capturing the finer points of physical attraction and romantic yearning through words.
The Armed, Ultrapop
When music nerds say a band got "more accessible," it is often a euphemism describing the exchange of a measure of heaviness for saccharine hooks and potential mainstream airplay and opportunities. There's a whiff of spite in the phrasing for bands that get a little older and start settling down, making sweeter and more sedate songs with more relaxed arrangements as middle age approaches. Ultrapop, the fourth album from the mysterious Detroit hard-core collective the Armed, sports massive choruses while retaining the gibing, angular Dillinger Escape Plan airs of 2015's Untitled and the coat of fuzzed-out shoegaze noise enveloping 2018's excellent Only Love. The melodies are more straightforward, the riffs will still make you want to run through a wall, and the lyrics offer food for thought and tributes to pop-culture touchstones like Dragon Ball Z and Metal Gear Solid for the savvy listener. Ultrapop is a blast.
Godspeed You! Black Emperor, G_d's Pee At State's End!
Montreal post-rock legends Godspeed You! Black Emperor aren't songwriters so much as cartographers. Each new album explores another complex and intimidating swath of topography in the collective Western consciousness; a track list is your itinerary. The rising "Storm" in 2000's seminal Lift Your Skinny Fists Like Antennas to Heaven expressed our justifiable new-millennium jitters; Luciferian Towers closer "Anthem for No State" imagined the pained triumph on the other end of the international political strife of 2017. From the terrifying peaks of "First of the Last Glaciers" to the encroaching twilight of "Government Came" and the triumphant homeward march of "Ashes to Sea or Nearer to Thee," this spring's new G_d's Pee At State's End!, written in part on tour in 2019 and finished last fall in the midst of a spike in coronavirus cases throughout North America, feels like our leftist soothsayers processing the last year in tumult and bureaucratic mismanagement that led to the deaths of millions. We saw the world unravel. We touched the precipice of doom. We lived to tell the story. With At State's End, we mourn and we celebrate.
January–March
Floating Points, Pharoah Sanders, and the London Symphony Orchestra, Promises
Legendary jazz saxophonist and sometime John Coltrane sideman Pharoah Sanders met the Manchester electronic producer Floating Points on a lark; having heard the younger musician's debut album Elaenia in 2015, Sanders reached out, and the duo struck up an easy friendship commiserating over a shared love of improvisational music. Promises, the inaugural collaboration between the two and the first album from Sanders since 2003's With a Heartbeat, is a work of true compromise. Gone for the most part are the hail of hurried notes that characterize landmark Sanders releases like 1968's Karma and 1971's Black Unity, the "sheets of sound" inspired by Coltrane; if you come looking for the spirited, exploratory noodling of a Floating Points album, you'll also come up short. Instead, Promises is a meditative, almost ambient work. It envelops you slowly, like a storm rolling over vast plains, a tickled harpsichord here, a mournful sax line there, and lithe, delicate accompaniment from the London Symphony Orchestra. It's the stuff of dreams.
Lana Del Rey, Chemtrails Over the Country Club
On 2019's Norman Fucking Rockwell, Lana Del Rey finally achieved a sound that was as glamorous and fully formed as her image, not by dressing her songs in production hip to the sound of the radio, but by peeling back layers to foreground core wants and needs, like her desire to find peace out in the California hills beyond the lure of Los Angeles and the dreamers therein. This year, Chemtrails Over the Country Club picks up where Norman left off. It's quieter, almost unnervingly skeletal sometimes, a folk album that covers Joni Mitchell and mentions Tammy Wynette but takes more from the stark chamber music of Nick Drake. Chemtrails finds the singer experiencing more of America, visiting the coasts and the Midwest and finding that there's just as much terror and intrigue outside, but more than anything, it's an ode to resilient women of the past and present, of Lana coming to terms with the unforeseen side effects of her own trip from waitressing to fame but also looking in on the lives of her friends and heroes. The theme is women doing whatever it takes to maintain happiness; Chemtrails seeks joy and also offers it to the listener.
Julien Baker, Little Oblivions
Until recently, Nashville singer-songwriter Julien Baker was known for the stark sadness of her music. On 2015's Sprained Ankle and 2017's Turn Out the Lights, the prevailing sounds were gently plucked guitars, soft piano notes, and unnerving emotional earnestness. Those hallmarks remain on her third album, Little Oblivions, but from the opener "Hardline," which explodes with euphoric shoegaze-indebted noise at its chorus, it's clear that we're cooking with different ingredients. On Oblivions, Baker remains a one-woman band (and a writer informed by the difficult intersections of queerness, addiction, faith, and expectations, both from others and for yourself) who writes all of the songs and plays most instruments. But now, she's showing how versatile the arrangement can be, piling on keys, guitars, and drums that add emotional complexity. "Crying Wolf," a song about getting free of the lure of partying, comes couched in triumphant, rushing, swirling synth and guitar sounds. "Faith Healer," which calls out the false comforts of using substances to mask inner pain, seems shockingly upbeat. As Baker examines the dizzying ins and outs of recovery, Little Oblivions feels like a reintroduction, the first salvo of a profoundly changed artist.
Foo Fighters, Medicine at Midnight
Being something of a drummer's band, launched via a stash of songs Dave Grohl stockpiled during his stint behind the kit in Nirvana, Foo Fighters is an outfit whose winning quality is a brutal precision. The greatest Foo tracks — "Best of You," "My Poor Brain," "Good Grief," "The Pretender" — all exemplify alternative rock's seamless meld of the speed of punk and the weight of metal. There are dyed-in-the-wool rock historians if you peer deeper into the catalogue (or catch the theatrics of the arena show), although the playful, bluesy stuff rarely makes the proper studio albums. On Medicine at Midnight, the band figures out how to keep the crunch and momentum of its sound intact in a collection that gestures to titans of rock history like ZZ Top, Motörhead, Heart, and the Beatles, serving a wider array of grooves and entertaining production flourishes like choirs, synths, and string sections while maintaining the signature heft, even as it goes out on a limb dabbling in folk and funk. The result is the band's best work in at least a decade.
Madlib, Sound Ancestors
Madlib is an enigma, a master crate-digger and producer with classics in multiple decades, a formidable jazz musician in his own right, a sharp-witted rapper when he wants, a recluse you can only find when he wants to be found. There have been few easy points of entry into the vastness of his capabilities; when he announces new music, you never know whether you're getting the maestro of indie-rap brilliance like Madvillainy and the Freddie Gibbs collaborations Bandana and Piñata or the many-faced instrumentalist of 2010's High Jazz. On this year's Sound Ancestors, arranged and edited by Four Tet's Kieran Hebden, Madlib finally ties his disparate interests and talents together. The genius sample manipulation of the Beat Konducta series shows face on cuts like "The Call" and "Dirtknock," the latter transforming post-punk trio Young Marble Giants' minimalist "Searching for Mr. Right" into bubbly boom bap. The title track is a free-jazz break; "One for Quartabê / Right Now" is part hip-hop sound collage and part jazz-fusion odyssey. Sound Ancestors' restless trek through the far-flung worlds of punk, rock, rap, R&B, reggae, and Latin and American jazz is as unpredictable as it is both effortless and excellent. That's Madlib in a nutshell.
Jazmine Sullivan, Heaux Tales
Jazmine Sullivan is one of the greatest R&B vocalists working today (or any other day), but she's also one of our sharpest writers. She creates characters you feel for and worry about. Her latest, Heaux Tales, is a work of fictive brilliance and relatability. You want the woman lying in her bedroom plotting out a better life in "The Other Side" to finesse her way into the heart of the man of her dreams; for the party animal from "Bodies" having second thoughts about promiscuity to take less chances; for the inconsiderate ex in "Pick Up Your Feelings" to stay gone. These songs (and lively between-song anecdotes) poke at the vastness of modern women's lifestyles and experiences but also the enduring versatility of modern R&B. On "Put It Down," Sullivan skips across a trap beat with the effortlessness of Drake, then "On It" corrals Ari Lennox for a perfect slow jam. "Price Tags," with Anderson .Paak, touches on '90s hip-hop soul; "Lost One" revisits the psychedelic heights of Frank Ocean's Endless (whose "Wither," "Rushes," and "Hublots" featured her vocals). "The Other Side" suggests Sullivan could totally make a killer shoegaze record if she wanted to. At eight proper songs in just over half an hour, Heaux Tales honors the GZA rule: half short, twice strong.