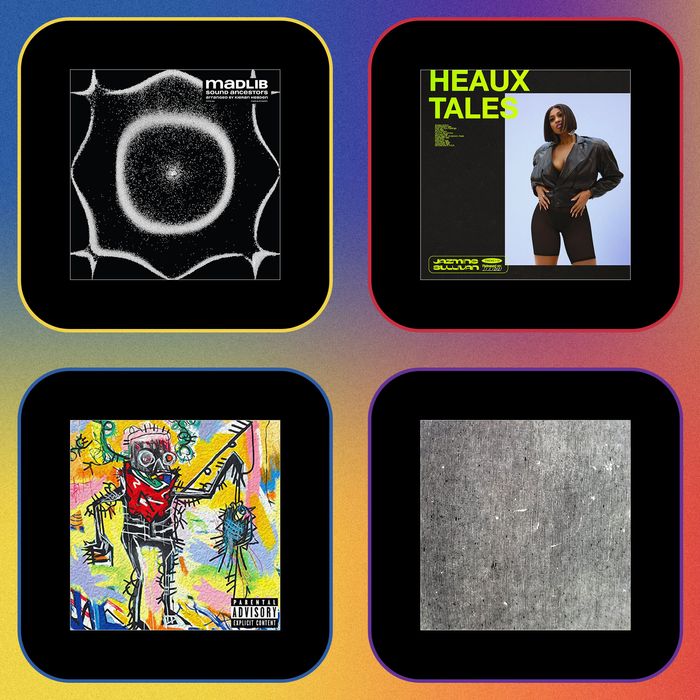 Those who spent much of 2020 in relative seclusion came into the new year swinging.
Photo-Illustration: Vulture; Photos by Labels
2021 didn't turn out the way we might have imagined; we made it back outside, and concerts, sporting events, and movie theaters reopened but did so while still under the pall of the coronavirus and a beleaguered economy and its working class. And yet, for certain musicians, the continued uncertainty mixed with a feverish need to return to normality became a boon; those who spent much of 2020 in relative seclusion came into the new year swinging, full of insights and ideas they discovered in the downtime. Event releases started early and never let up; Lana Del Rey delivered two albums this year, and Taylor Swift revisited the worlds of Fearless and Red with enticing extras from her vaults in tow. If you traveled off the beaten path, you came away with an embarrassment of riches.
10.

Halsey, If I Can't Have Love, I Want Power
Pop stars disappeared into their record collections this year: Lorde paid respect to Natasha Bedingfield on Solar Power, Olivia Rodrigo served grunge-pop and pop-punk on SOUR, and Billie Eilish delivered a brand of moody singer-songwriter record more akin to 1996 than 2021 with Happier Than Ever. Halsey's If I Can't Have Love, I Want Power goes a step further, tracking down Trent Reznor and Atticus Ross of Nine Inch Nails to produce and securing appearances from Dave Grohl, TV on the Radio's Dave Sitek, former Fleetwood Mac guitarist Lindsey Buckingham, and others to help the New Jersey singer with the goth-rock rebirth this album attempts. Nails' tart, synthetic grooves provide the perfect base for Halsey's tense, personal writing and cathartic vocals. The singer is perfectly capable of matching the producers' tuneful darkness. What's more, on songs like "Darling," on which Buckingham sits in on guitar, it seems like they're getting new ideas out of each other.
9.

Kacey Musgraves, star-crossed
Star-crossed, the fifth album from pop-country hybridizer Kacey Musgraves, is a concept record informed by divorce, soul-searching, therapeutic mushroom trips, and Shakespeare's Romeo and Juliet. The album traces a marriage from its giddy early days through a rough ending, moving from the high hopes of "good wife" and the dizzying rush of infatuation of "cherry blossom" through the lonesome yearning of "camera roll," the sizzling spite of "breadwinner," and the gutting perseverance of "keep lookin' up" and "there is a light." star-crossed is a subtler mixing of pure pop sweetness and roots-rock acoustics than 2018's Golden Hour, which won Album of the Year at the Grammys; you think "breadwinner" and "cherry blossom" are going to pull big dance-pop moves like a Dua Lipa record, but they turn inward at the chorus, piling on guitars and synth sounds straight from the '80s Fleetwood Mac playbook. This sage recalibration of adult-contemporary aesthetics isn't everyone's cup of tea, but no one is doing it better than Musgraves.
8.

Hiatus Kaiyote, Mood Valiant
Sampled by Drake and Kendrick Lamar and admired by the likes of Erykah Badu, Prince, and Questlove, Melbourne's Hiatus Kaiyote is a wonder, a band that makes its mind-blowing technical chops feel inviting. That delicate balance comes thanks in part to Nai Palm, a powerhouse vocalist and deft guitarist. Hiatus occupies a crawl space adjoining funk, soul, rock, and jazz sounds from around the world. The songs turn on a dime from one musical idea to the next, ignoring the vast distances between them. Mood Valiant is the result of the band members' years spent adapting to one another's tastes and talents. The sound is playful but accomplished, adventurous but always rewardingly so.
7.

Tyler, the Creator, CALL ME IF YOU GET LOST
Upon first introduction in the late aughts, Tyler, the Creator was an iconoclastic everything-phobe, a student of Eminem raps and Pharrell beats with a totalizing disdain for authority figures, be they politicians, music-industry execs, celebrities, or peers in hip-hop. The first decade of his career was spent working through a lengthy list of gripes but also sharpening his craft; on 2019's IGOR, he pivoted hard into a different style, singing in most of the places you'd expect him to rap. As such, it's easy to see this past spring's CALL ME IF YOU GET LOST as a kind of sharp riposte to its predecessor. He is rapping hard again, and he punctuates this shift by hiring one of hip-hop's great hype men: The new songs are narrated by veteran mixtape host DJ Drama, whose inimitably gruff tone graced the Lil Wayne tapes Tyler worshipped as a teenager. It's wish fulfillment here. CALL ME is a bookend to the hunger and struggle of 2009's BASTARD. The kid who used to sleep on friends' couches is a jet-setter lounging on yachts in foreign seas now, a luxury-car driver and world traveler. Impressively, success and comfort haven't sapped his drive as a performer.
6.

Mach-Hommy, Pray for Haiti
"They saying that I'm top one, more or less the best / Let's travel through the vortex where Gore-Tex was a flex." It's easy to get lost in Newark rapper Mach-Hommy's eccentric couplets, in which mysticism, history, fashion, and humor mingle like ingredients in a stiff cocktail. On Pray for Haiti, Mach dazzles us not just with his words but the tone and timing of his vocalizations. On cuts like "No Blood No Sweat," he's a dyed-in-the-wool East Coast technical rhymer. Stick with the record and you'll hear him try out a few different styles. "Murder Czn" catches Mach in a melodic way, like the soulful highlights on the back end of Mos Def's Black on Both Sides. "Kriminel" balances tight flows in English with lyrics in Creole. Having spent much of the past five years honing his craft through a series of independent releases that were enticing if sometimes difficult to find, Hommy settles into (relative) accessibility here, offering up a signature work bound to knock the uninitiated off the fence.
5.

Madlib, Sound Ancestors (Arranged by Kieran Hebden)
You may know Madlib as the producer behind rap classics such as Madvillain's Madvillainy and Freddie Gibbs's Piñata and Bandana, or as the inimitable wizard behind the jazz stylings of Yesterdays New Quintet, or as the loop master and crate-digger responsible for the Beat Konducta instrumental albums. The man born Otis Jackson Jr. is tough to pin down, but on Sound Ancestors, Kieran Hebden of Four Tet, a longtime friend, gives it a shot. He edited and arranged its tracks, selecting from hundreds of recordings Madlib sent him and whittling down to a work that honors the artist's many moods. There's wigged-out samplework in the early highlight "The Call" and in the J Dilla tribute "Two for 2 — For Dilla." "Loose Goose" dabbles in dub; the title track is a burst of free jazz. Sound Ancestors is a fantastic point of entry for new listeners into a daunting catalogue. If you've been a fan long enough to know this producer does what he wants when he wants, this album is the rare work in which he's firing on every cylinder at once, pulling from rap, R&B, reggae, and rock and never coming up uninspired.
4.

Floating Points, Pharoah Sanders, and the London Symphony Orchestra, Promises
Promises — the inaugural collaboration between British electronic producer Floating Points, jazz sax lifer Pharoah Sanders, and the London Symphony Orchestra — is the best kind of cross-genre musical outing. Each party pushes the others past their comfort zone. Sanders eases off the flurries of explosive notes that drove early masterworks like "The Creator Has a Master Plan" and "Black Unity." The orchestra, a many-armed beast able to tackle anything from Stravinsky to Zappa, shrinks itself down to a patter of atmospheric string notes. And Floating Points, who delivered busy beats and airy synths on 2019's Crush, plays the peaceable host. The result is a delicate improvisation reminiscent of a slow-approaching rainstorm in the almost imperceptible way it overtakes space and time, in how it envelops you in a bath of warm and soothing sound.
3.

Esperanza Spalding, Songwrights Apothecary Lab
Esperanza Spalding's Songwrights Apothecary Lab is more than an album. Last year, the jazz singer and bassist consulted with a team of musicians and specialists across disciplines to get a greater handle on the healing properties of sound so that she could tailor a work deliberately to these ends. Each of the album's 12 compositions was created with a different aim for the edification of the listener. If the science seems intense, the music is visceral and engaging. Coming up with a program of sound to bring peace to her listeners has made Spalding a tighter musician.
2.

Low, HEY WHAT
Low is a grand experiment in minimalism, in letting go of everything that is inessential in life. Their early works reduced indie rock to its requisite elements, slowing the sound to a crawl and eschewing showy production flourishes. More recently, Low's core — singer-­guitarist Alan Sparhawk and singer-drummer Mimi Parker, one of indie's finest husband-and-wife duos — has taken a hatchet to its own methodology. Beginning with 2018's Double Negative and continuing with this year's exquisite HEY WHAT, the band broke ties with the more practical guitar-bass-drums construction of past works, leaning instead on the sound of Sparhawk and Parker singing together, beset by a veritable toy chest of jarring guitar effects. On the unbeatable opener, "White Horses," the couple sing together as a swell of noise washes over them. "Hey" is a dirge made of shimmering waves of sound. "Days Like These" piles distortion onto the voices until you can no longer make out words. The sound is stark. The subject matter is dire. But on HEY WHAT, it sounds like this band has never had more fun in its nearly 30-year run.
1.

Jazmine Sullivan, Heaux Tales
When we first met Jazmine Sullivan through her 2008 debut, Fearless, it was obvious we had a world-class talent on our hands. On subsequent albums, she refined her pen and expanded her repertoire to include an R&B-rock tune inspired by Prince ("Don't Make Me Wait"), a trap jam with a rapper (the Meek Mill collab "Dumb"), a funky roller-skating anthem ("Stanley"), and a stately Motown throwback ("10 Seconds"). None of this prepared us for Heaux Tales, Sullivan's first release in six years and her most confident and varied to date. The singing will melt your face; the ad-libs on opener "Bodies - Intro" are some of the finest vocals we heard in 2021. The beats reinforce the sheer breadth of styles Sullivan can handle. Heaux Tales jumps in and out of characters as much as it does with genres. "Pick Up Your Feelings" is a classic Sullivan breakup tune. "Put It Down" celebrates a man who can throw down in bed. "The Other Side" pines for the financial windfall a rich boyfriend could offer. "Bodies - Intro" frets over the dangers of drunken hookups. Out of intersecting stories, a vision of complex needs and wants — for the balance between confident self-sufficiency and romantic longing — emerges. This happens in just over half an hour.
Honorable Mentions
Throughout 2021, Craig Jenkins maintained a "Best Albums of the Year (So Far)" list. Many of those selections appear above in his top 10 picks. Below are the rest of the albums that stood out to Jenkins this year:
Ka, A Martyr's Reward
Listening to Ka will make you want to journey to a clandestine mountain yurt, live off the land, and study martial arts. The Brooklyn rapper and producer (and firefighter by day) makes minimalist beats and writes raps that deal in pained street histories and grizzled war analogies. Like the early Wu-Tang classics, this music pulls from way beyond hip-hop and maintains an almost experimental starkness. Of all the hip-hop acts making pared-down boom-bap out of New York lately — Griselda, Marciano — Ka is the most elusive and challenging. He keeps a low profile. His songs aren't radio-friendly. But they're wise master classes in the craft. On A Martyr's Reward, his sixth solo album, the 48-year-old polymath makes peace with the past and reminds himself to enjoy the present. "Sad to Say" covers both the pain and the glory: "Had a hard life, hard life / Sad to say I know some glad to hear it / But what I pieced together and made from it / Build me strong enough to reach the most rarest summit." They don't make 'em like him anymore.
Lil Nas X, Montero
"Old Town Road" was a meteor, a smash hit just vague and anthemic enough to touch millions. Following it up was an unenviable task, and it took Lil Nas X a little time to work out the kinks in his sound. 2019's 7 EP served a few bangers but also a few big misses. With this year's "Montero (Call Me by Your Name)," the 22-year-old pop star seemed to find his sea legs. The message is uplifting; the delivery, provocative. It baits a certain type of crank into misunderstanding it while nourishing listeners who related to the queer pride it radiates. Montero, Lil Nas's debut album, is, by turns, deeply personal and carefree and funny. It swings wildly from songs that almost seem sourced by depression journals to chilled-out, carefree radio fare, but there's a logic to its jarring pivots. In order to acquire the world-beating arrogance of "Industry Baby," you must pass through the self-doubt of "Sun Goes Down" and the self-actualization of "Scoop."
Turnstile, Glow On
Baltimore hardcore quintet Turnstile balances tradition and careful innovation on this year's Glow On, the band's third studio album and its first collaboration with hip-hop producer Mike Elizondo, best known for work with Dr. Dre, Eminem, and 50 Cent. Glow On is slower and more experimental than 2015's Nonstop Feeling and 2018's Time and Space, but the riffs still destroy. The breakdowns remain powerfully heavy; they just come with intriguing production flourishes and stylistic detours now. "Mystery" is a catchy rocker whose grooves hit harder thanks to the hip-hop syncopation on the drums. "Underwater Boi" submerges a sweet shoegaze tune in cartoonish atmospherics. "Don't Play" outfits hard-core punk with South American rhythms; "Alien Love Call" cribs a drum pattern from the Isley Brothers' "Footsteps in the Dark" and serves guest vocals from Dev Hynes of Blood Orange, in a first for Turnstile. None of these excursions undercuts the power and intensity of the record, though. On Glow On, Turnstile stretches out but never softens up.
Wanda Jackson, Encore
Rockabilly queen Wanda Jackson retired from performing two years ago after suffering a stroke in 2018. She also recorded one more album, her 32nd full-length and her first in nearly a decade. On Encore, the 83-year-old firecracker is still living and loving hard, with help from rock lifer Joan Jett and her longtime collaborator Kenny Laguna. They know just what to do with Wanda; Encore understands her wheelhouse. Pub-rock rubs elbows with the blues, country, and rockabilly. In "Two Shots," a duet with Jett and vocalist Elle King, Jackson serves death threats for a lover's mistress over a groove recalling the locomotive drive of early-career gems like 1959's There's a Party Goin' On. "It Keeps Right on A-Hurtin'," a perfect country weeper, calls back to her mid-'60s trad-country era. If we never get another Wanda Jackson album after this one, she'll have gone out the same way she came in: talking cash shit over squealing electric guitars.
Little Simz, Sometimes I Might Be Introvert
"I'm the version of me I always imagined when I was younger." In a song called "How Did You Get Here" at the end of her new album, Sometimes I Might Be Introvert, London rapper-singer Little Simz outlines the thousand small steps it took to build the confidence and skill to enjoy the acclaim she saw for 2019's Grey Area, her third full-length, winner of the NME Award for Best British Album, and a nominee for the 2019 Mercury Prize. The last album hipped newcomers to the British Nigerian star's talents through ten heady, soulful productions, but Introvert wants you to know she's the total package. Over 19 songs and interludes spanning an hour, Simz, producer Inflo, and arranger Rosie Danvers go for broke branching out and nailing every trick they try. There's orchestral boom-bap ("I Love You, I Hate You"); bubbly electrofunk ("Protect My Energy"); prideful Afrobeat ("Point and Kill"); sneering grime ("Rollin Stone"); and rousing gospel ("How Did You Get Here"). The twists give Simz space to express her own range, to uncork ideas swirling in her head throughout the year of quarantine. Motivational talks, love songs, autobiographical raps, poems, and breakup anthems flow into each other, painting a portrait of a beautiful, versatile mind.
Billie Eilish, Happier Than Ever
Happier Than Ever is your archetypal sophomore album, a reckoning with the turbulence experienced when you quickly become one of the most popular artists alive, before the dust even settles on your first album. Billie Eilish sings about blowing off phone calls, buying clandestine homes, dodging stalkers, and having her thoughts and looks picked apart by strangers only in it for the gospel, taking a more snide but no less wispy tone than the one that dominated 2019's meteoric When We All Fall Asleep Where Do We Go? She's a little more confident now, and a little more vengeful, but on the new album, her music is more subdued. Last time, the beats were dark, and her voice was the clearing. Now, it's the other way around: Happier Than Ever is the sleek, sultry soundtrack to a singer-songwriter escaping a terrible head space.
Isaiah Rashad, The House Is Burning
Five years ago, Tennessee rapper Isaiah Rashad hit rock bottom in his struggles with drug and alcohol addiction and spent the next half of a decade putting himself and his music back together again. On The House Is Burning, the new album he first started promising four years ago, you can hear the gains in his voice and his writing. The sound is an easy marriage between cloud rap, classic Memphis hip-hop, and TDE's signature lush and organic hip-hop soul. Zay's wordplay is elite, a hair faster than the ear can catch on the first listen but bounding between stunning depth and playful levity upon closer inspection. Flows are gobstopping — rare is the modern rap album where the marquee artist eats all his guests alive.
Vince Staples, Vince Staples
When an artist announces a self-titled album, they're often telling the audience that the forthcoming work is the purest distillation of what they're about as a performer, a personal state of the union address. Vince Staples, the fourth full-length from the Long Beach rapper tough enough to go by his government name, is rife with autobiographical stories about growing up somewhere rough and the ways that experience can stay with you for the rest of your life. It's also the rapper's most smooth and commercial-sounding work to date, thanks to a spate of tuneful but skeletal productions from Kenny Beats, who gives this collection of narratives about how summertime always sucks a mischievously off-putting summery veneer. The balance is alluring. As background music, it's pleasant. Lean in, and Vince Staples goes for the jugular.
Backxwash, I Lie Here Buried With My Rings and My Dresses
Quebec-based rapper and producer Backxwash makes coarse, vital music about feeling left out of the promises of prosperity issuing from houses of government and worship, about the fallen brokenness of everything, in spite of the prim patina of decency masking the horrors of the modern age. On I Lie Here Buried With My Rings and My Dresses, Backxwash highlights the ugliness of the times and the failures of politicians and religious leaders to make things better. It's harrowing stuff, cathartic primal-scream therapy touting beats that travel freely between indie rap, indie rock, sludge metal, industrial music, and African spiritual chants. For extra credit, I Lie Here Buried With My Rings and My Dresses makes this seem easy.
Bo Burnham, Inside (The Songs)
So much art has been made during the pandemic but there's not so much music that feels indelibly about the experience of being alive over the last year, the sensation of having to cut yourself off from the world in order to skirt certain death and the helplessness of trying to stop America from tearing itself apart. Bo Burnham's Inside, an expurgation of the ridiculous thoughts zooming though the mind of a person trapped at home while the planet circles the drain, attempts and achieves it. The comic's songs have finally grown to match his trenchant observations about people. Nothing's off limits, not even the man himself. "Healing the World With Comedy" is a laugh about the futility of jokes in a time of death; "How the World Works" is leftist praxis masquerading as a kids' television jam. Inside takes huge swings and delivers huge returns.
Sleepy Hallow, Still Sleep?
New York City rhymer Sleepy Hallow hails from the same quadrant of Brooklyn's Flatbush neighborhood as BK drill star Sheff G. They work in the same subgenre with the same producer — "Great John on the beat, by the way!" — but their records feel radically different. Sheff goes for the gloomy, gothic sounds, but Sleepy takes the weirder, quieter ones. On Still Sleep?, the 21-year-old rapper's debut studio album, the trademark drill sound is dissected and deconstructed. Brash samples loop up over beats that drop drums unexpectedly, the better to center flows. "Chicken" is the lyrical showcase. "2055," with its molasses-thick guitar licks, is the earworm. "Equal" is the reflective rags-to-riches jam. Still Sleep? is packed with gems.
Lou Barlow, Reason to Live
A part-time indie rock hero, a sometime lo-fi icon, and a full-time dad, singer-songwriter Lou Barlow is a master compartmentalizer, known as much for his work in Dinosaur Jr., one of America's loudest rock bands, as for Sebadoh, Folk Implosion, and his solo records, where acoustic guitars, electronic drums, and tape hiss vie for prominence in the mix. This year, you can hear Lou amid the gargantuan riffs of his flagship band's new album Sweep It Into Space (or in the recently rereleased audio of Live in the Middle East, Dino's 2005 DVD capturing a memorable Irving Plaza show), and you can hear another side of the New England veteran's artistry in Reason to Live, Barlow's first solo album since 2015's Brace the Wave. Reason to Live collects stark, pointed love songs calling back to Barlow classics like Sebadoh's III ("Why Can't It Wait") alongside tunes about day-to-day frustration ("I Don't Like Changes" and "How Do I Know") and prickly, almost political cuts lamenting disconnected humanity ("All You People Suck," "Act of Faith").
Jack Ingram, Miranda Lambert, and Jon Randall, The Marfa Tapes
Somewhere in between her 2015 divorce from Blake Shelton and her excellent 2016 double album The Weight of My Wings, country superstar Miranda Lambert snuck out to Marfa, a tiny arts community in the Trans-Pecos area of west Texas, with friends and veteran songwriters Jon Randall and Jack Ingram. Out in the seclusion of the desert, the trio wrote "Tin Man," Lambert's award-winning tearjerker about how the titular Wizard of Oz character is lucky not to have a heart. A subsequent visit would yield "Tequila Does," a single from Lambert's 2019 album Wildcard. Late last year, the trio returned to Marfa with the intention not just of writing but also recording sessions. The Marfa Tapes is a bare-bones affair, little more than the sound of three voices, a guitar, and ambient noises like the crackle of a campfire or a gust of wind. Marfa is Lambert's rawest collection, a series of heartfelt yarns about falling out of love and picking yourself up again, rendered all the more austere by the sense of isolation derived from the contrast between its muted folk and country tunes and the vastness of Texas underfoot. Gone are the polish and the Frankensteinian hybrids of perfect takes a major-label studio album entails. In the whimsical "Homegrown Tomatoes," you can hear the group laughing through a few exquisite, if imperfect, harmonies; the guys chortle in disbelief at Lambert's unexpected stuttering affect in the fight song "Geraldene." They're blowing off steam, making mistakes, and having fun. Even the saddest songs feel strangely relaxing and freeing.
Ashley Monroe, Rosegold
Tennessee singer-songwriter Ashley Monroe, sometime member of the singing group the Pistol Annies alongside Miranda Lambert and Angaleena Presley, makes delicate, emotionally honest country music peppered by accents of rock and soul, and has built an admirable catalogue exemplified by acclaimed works like 2018's Sparrow and 2015's The Blade. The rule book goes in the trash on this year's new Rosegold as Monroe continues to refine her talents as a writer and a vocalist while expanding her artistic palette in a batch of songs that slides from synth-pop to spectral, psychedelic R&B to gothic pop to lush, orchestral balladry to muted country rock. Anchoring these unexpected twists and carefree genre excursions are Monroe's expressive voice, framed exquisitely here by an abundance of limber and stately harmonies, and her knack for capturing the finer points of physical attraction and romantic yearning through words.
The Armed, Ultrapop
When music nerds say a band got "more accessible," it is often a euphemism describing the exchange of a measure of heaviness for saccharine hooks and potential mainstream airplay and opportunities. There's a whiff of spite in the phrasing for bands that get a little older and start settling down, making sweeter and more sedate songs with more relaxed arrangements as middle age approaches. Ultrapop, the fourth album from the mysterious Detroit hard-core collective the Armed, sports massive choruses while retaining the gibing, angular Dillinger Escape Plan airs of 2015's Untitled and the coat of fuzzed-out shoegaze noise enveloping 2018's excellent Only Love. The melodies are more straightforward, the riffs will still make you want to run through a wall, and the lyrics offer food for thought and tributes to pop-culture touchstones like Dragon Ball Z and Metal Gear Solid for the savvy listener. Ultrapop is a blast.
Godspeed You! Black Emperor, G_d's Pee At State's End!
Montreal post-rock legends Godspeed You! Black Emperor aren't songwriters so much as cartographers. Each new album explores another complex and intimidating swath of topography in the collective Western consciousness; a track list is your itinerary. The rising "Storm" in 2000's seminal Lift Your Skinny Fists Like Antennas to Heaven expressed our justifiable new-millennium jitters; Luciferian Towers closer "Anthem for No State" imagined the pained triumph on the other end of the international political strife of 2017. From the terrifying peaks of "First of the Last Glaciers" to the encroaching twilight of "Government Came" and the triumphant homeward march of "Ashes to Sea or Nearer to Thee," this spring's new G_d's Pee At State's End!, written in part on tour in 2019 and finished last fall in the midst of a spike in coronavirus cases throughout North America, feels like our leftist soothsayers processing the last year in tumult and bureaucratic mismanagement that led to the deaths of millions. We saw the world unravel. We touched the precipice of doom. We lived to tell the story. With At State's End, we mourn and we celebrate.
Lana Del Rey, Chemtrails Over the Country Club
On 2019's Norman Fucking Rockwell, Lana Del Rey finally achieved a sound that was as glamorous and fully formed as her image, not by dressing her songs in production hip to the sound of the radio, but by peeling back layers to foreground core wants and needs, like her desire to find peace out in the California hills beyond the lure of Los Angeles and the dreamers therein. This year, Chemtrails Over the Country Club picks up where Norman left off. It's quieter, almost unnervingly skeletal sometimes, a folk album that covers Joni Mitchell and mentions Tammy Wynette but takes more from the stark chamber music of Nick Drake. Chemtrails finds the singer experiencing more of America, visiting the coasts and the Midwest and finding that there's just as much terror and intrigue outside, but more than anything, it's an ode to resilient women of the past and present, of Lana coming to terms with the unforeseen side effects of her own trip from waitressing to fame but also looking in on the lives of her friends and heroes. The theme is women doing whatever it takes to maintain happiness; Chemtrails seeks joy and also offers it to the listener.
Julien Baker, Little Oblivions
Until recently, Nashville singer-songwriter Julien Baker was known for the stark sadness of her music. On 2015's Sprained Ankle and 2017's Turn Out the Lights, the prevailing sounds were gently plucked guitars, soft piano notes, and unnerving emotional earnestness. Those hallmarks remain on her third album, Little Oblivions, but from the opener "Hardline," which explodes with euphoric shoegaze-indebted noise at its chorus, it's clear that we're cooking with different ingredients. On Oblivions, Baker remains a one-woman band (and a writer informed by the difficult intersections of queerness, addiction, faith, and expectations, both from others and for yourself) who writes all of the songs and plays most instruments. But now, she's showing how versatile the arrangement can be, piling on keys, guitars, and drums that add emotional complexity. "Crying Wolf," a song about getting free of the lure of partying, comes couched in triumphant, rushing, swirling synth and guitar sounds. "Faith Healer," which calls out the false comforts of using substances to mask inner pain, seems shockingly upbeat. As Baker examines the dizzying ins and outs of recovery, Little Oblivions feels like a reintroduction, the first salvo of a profoundly changed artist.
Foo Fighters, Medicine at Midnight
Being something of a drummer's band, launched via a stash of songs Dave Grohl stockpiled during his stint behind the kit in Nirvana, Foo Fighters is an outfit whose winning quality is a brutal precision. The greatest Foo tracks — "Best of You," "My Poor Brain," "Good Grief," "The Pretender" — all exemplify alternative rock's seamless meld of the speed of punk and the weight of metal. There are dyed-in-the-wool rock historians if you peer deeper into the catalogue (or catch the theatrics of the arena show), although the playful, bluesy stuff rarely makes the proper studio albums. On Medicine at Midnight, the band figures out how to keep the crunch and momentum of its sound intact in a collection that gestures to titans of rock history like ZZ Top, Motörhead, Heart, and the Beatles, serving a wider array of grooves and entertaining production flourishes like choirs, synths, and string sections while maintaining the signature heft, even as it goes out on a limb dabbling in folk and funk. The result is the band's best work in at least a decade.