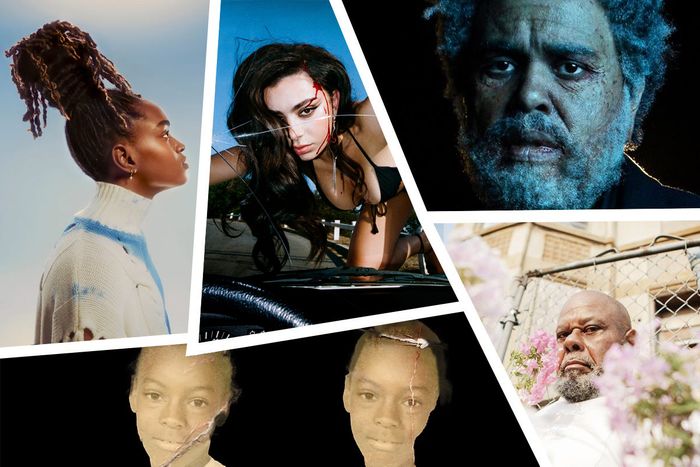 Photo-Illustration: Vulture
March marked two years since COVID-19 took center stage in America. And though the pandemic is far from over, the spate of suspended mask mandates, tour and festival announcements, and films released only to theaters relays an optimism for a better year than last year that gets a little harder to believe in one terrifying news development at a time. Meanwhile, new albums of 2022 find gifted songwriters searching for respite in this confusing moment, each in their own way. Ahead, Vulture tallies the best we've heard since January. Make sure to check back in for monthly updates throughout the year.
Pusha T, It's Almost Dry
As half of Virginia rap duo the Clipse, Pusha T shared chilling tales of cocaine salesmanship set to jarring, minimalist production from the Neptunes. Navigating a solo career since Malice, his brother and partner in rhyme, took a break from the game, Push has worked extensively with Ye. It's Almost Dry, Pusha's fourth solo album, brings both Pharrell and West to the table for a collection of songs that seat sinister, skeletal Skateboard P beats like "Call My Bluff" and "Open Air" alongside a batch of Ye tracks that run the gamut from bare-bones sample chops like "Diet Coke" to grandiose productions like "I Pray for You." Push is at ease in every setting; It's Almost Dry benefits from decades of history and refinement. The beats are cold, the performances are delightfully villainous, and Malice contributes a great verse to "I Pray for You," a best-case scenario for an album from this dream team.
Vince Staples, Ramona Park Broke My Heart
Anchoring Cali rapper Vince Staples through a catalogue that jumps around subgenres without any advance warning is a grounding geographical specificity. No matter who's producing the record, it's speaking to the pride and pain of life in SoCal gang country, dancing along the axis between cruelty and camaraderie. It's exciting, then, that Ramona Park Broke My Heart — Staples's fifth studio album, named for the quadrant of Long Beach he hails from — actually taps into the musical history of his hometown. It is the widescreen mainstream West Coast rap record fans thrown off by the dance moves of 2017's Big Fish Theory and the lean Kenny beats of last summer's self-titled have waited for. It is easily one of 2022's finest rap offerings.
Toro y Moi, Mahal
Chaz Bear makes music that sounds the way the summertime feels in his slippery, unpredictable flagship project, Toro y Moi. The breezy chillwave beats on his 2011 debut, Causers of This, evoked sweltering heat; recent cuts such as "Ordinary Pleasure" and "Freelance" thump like euphoric club nights. On this spring's new Mahal, the seventh Toro y Moi album, Chaz is still working through the psychedelic-rock moods of 2015's What For? but also plotting new moves. The sedate "Goes By So Fast" sounds like the theme song for a '70s sitcom from another dimension; "Postman" and "The Loop" revel in this rocker and dance producer's formidable chops as a funk/soul player. Impressively, he's playing most of this music by himself.
Soul Glo, Diaspora Problems 
On its first album for the venerable punk label Epitaph Records, Philly hard-core outfit Soul Glo delivers a searing message for a taxing year. Diaspora Problems tackles personal histories and systemic injustices with pointed awareness of the shortcomings of the government and the many well-meaning allies who get frazzled when tensions run too hot. While these songs race effortlessly through tricky blends of punk and metal riffs and hip-hop rhythms, front man Pierce Jordan prods the listener's politics. "I'm so bored by the left, protests, and the reluctance to militarize," he shouts in "We Wants Revenge," a song about learning of the horrors of the world as a 9-year-old watching 9/11 unfold. "Fucked Up If True" chats with liberals who trust in the political process about where that confidence comes from: "The degree to which you feel free is written in your genes through your family's history." "Driponomics" toasts streetwear resellers and scammers accruing wealth in a broken economy; "Jump!! (Or Get Jumped!!!)((by the future))" worries about dying before getting to really make an impact on the world. Diaspora Problems is confrontational but also conversational. It's not afraid to make you uncomfortable. It's also happy to talk you through the differences in upbringing and cultural sensibilities that complicate and hinder concerted political action.
Koffee, Gifted
Skimming across the surface and taking in the slight, bright hooks and the soulful acoustic-guitar tunes at the root of Gifted, the debut album from Jamaican singer Koffee, you might mistake the record for a more upbeat affair than it actually is. Koffee has a gift for catchy, feel-good melodies (and an ease in adopting and augmenting the flows and cadences of American hip-hop and R&B) that counterbalance the chaos addressed in her verses. Lean in, and you hear harsh truths coated in pop sensibilities. The pain bleeding through songs like the bubbly single "Shine" — "Sun's out, it's a siren / Gun violence tiring / Rise up, it's a crime scene" — speaks to the space between perceptions and reality, to the troubles plaguing a nation the rest of the world sees as a vacation destination. Koffee wants to be happy, find love, and keep her friends close, as she explains in cuts like "Run Away" and "Lonely." But as often as it addresses the singer's pride in where she grew up, Gifted wonders why the peaceful world Koffee dreams of isn't the one she lives in.
Charli XCX, Crash
After a decade's worth of forward-thinking albums that almost certainly gave her peers big ideas, British pop singer Charli XCX swan-dives into the '80s revival on Crash, her fifth album. The big hooks and slick textures of the new album are a far cry from the delightfully eccentric homemade miniatures featured on her 2020 album How I'm Feeling Now. Crash feels built for dance floors in the same way How I'm Feeling Now seemed built for living-room dance parties. Production is plush and intricate; even the keyboards in the Eurythmics soundalike "Good Ones" seem beefy. The balance of cold synthetic textures and hot funk at the heart of songs like "Baby" and the syrupy robot pop of "Lightning" and "Every Rule" are convincing as replicas of the sound of '80s radio hits, but also savvily in step with the time-traveling energy of recent Hot 100 phenomenons like Justin Bieber and the Kid Laroi's "Stay" and the Weeknd's "Save Your Tears." Crash gets what those records got: Give us a cool vocal and a dab of heartbreak, and we fall every time.
Rosalía, Motomami
Motomami — where Spanish singer-songwriter and producer Rosalía completed her transformation into an international música urbana star following high-profile collaborations with heavyweights like J Balvin, Ozuna, and Bad Bunny — is a toy chest full of jarring and gibing sounds and concepts. It slays on songs that play it straight, like "Candy" and "La Combi Versace," two airy spring radio hits waiting to happen. It's most intriguing when it's fucking with convention, playing with the sound of the singer's incredible voice and pulling from offbeat source material. "Diablo" plops a stately James Blake appearance in the middle of a track where the main artist is otherwise hosting a playful duet with her own sped-up vocal. The title track features production from Pharrell that borders on Nintendocore; "Hentai," another Skateboard P team-up, is a sex ballad that sounds like the home around the bedroom's being blown away in a hurricane. Study the credits even closer, and the presence of players like Michael Uzowuru and El Guincho (whose collective body of work includes production on records by Frank Ocean, Beyoncé, and FKA Twigs), and it starts to feel like


Motomami is out to forge a kind of many-armed sound-straddling international scene. The questions about ownership that this raises are sensible. The optics are iffy, but the sonics are pretty.
Vein.fm, This World Is Going to Ruin You
Boston punk quintet Vein.fm is lightening up … a little. On This World Is Going to Ruin You, there are more peaceful clearings breaking up the thickets of forbidding screamo and mathcore the band built a name on over the 2018 debut Errorzone. There's a big hook from Thursday singer Geoff Rickly to release tensions building in the single "Fear in Non Fiction"; the late-album metalcore confection "Magazine Beach" could actually fit on a Thursday album. Slower, more atmospheric tunes like "Wherever You Are" and "Wavery" that sit alongside the brute-force riffs and breakdowns of "Lights Out" and "Inside Design" give This World Is Going to Ruin You a dynamic tension previously hinted at in the 2020 remix album Old Data in a New Machine. The addition of turntablist and samples guy Benno Levine nudges Vein's sound ever closer to nu metal, and it's fun to hear the band balance this sound with the hardcore punk it pulls from elsewhere in the album. This isn't necessarily the textbook "pivot toward accessibility" we see sometimes when a band wants to lure new fans in. It's more like Vein is looking for more tools to smash us in the head with.
Earl Sweatshirt, SICK! 
While his Odd Future mates Frank Ocean and Tyler, the Creator spent the past decade working toward the cinematic majesty of sprawling releases like Frank's Blonde and Tyler's Call Me When You Get Lost, Earl Sweatshirt receded into the confines of his own mind. On I Don't Like Shit, I Don't Go Outside and Some Rap Songs, he rapped capably about grief, depression, and failing coping mechanisms over insular beats. With this year's SICK!, a tacit reaction to an emotionally taxing year, Sweatshirt tries again to lift himself out of the doldrums. The music is a little lighter, though no less weary, a lot closer in its scope and mix to the pained narratives and surprising crispness of the rapper/producer's 2012 major-label debut, Doris. It's a trip watching a master of his crafts working out how accessible they need to be.
Saba, Few Good Things
In the spirit of spooked, satirical songs on Kendrick Lamar's To Pimp a Butterfly like "Wesley's Theory" or "For Free," Saba's new album pokes at the pitfalls of prosperity. The Chicago rapper has finally attained the financial stability you could hear him hungering for in early 2010s mixtapes. Now the game is to never slip, because there are too many mouths to feed and no safety net protecting against failure. Few Good Things is about waiting for the other shoe to drop and freaking out over the prospect of things going well. The songs are deceptively sweet and tuneful but beset by incredible anxiety. A less experienced writer might have found a way to make these worried new-money anthems grate; a lesser rhymer and vocalist might have spun out on the sharp turns from psychedelic soul to bubbly pop rock to drill rap. It's a testament to Saba's talent and versatility that Few Good Things is a smooth ride.
Big Thief, Dragon New Warm Mountain I Believe in You
For years, you could surmise what a Big Thief record might sound like before you ever pressed play: cosmic country-rock descended from '70s Neil Young classics, rustic remembrances from singer-songwriter Adrienne Lenker, a shroud of ambient room noise. For this winter's Dragon New Warm Mountain, Big Thief's fifth album, the band shook up the process, recording on the east and west coasts and scenic spots in between. The same sound is there, but it's evolving, growing more complex in its arrangements, zipping from pure country to indie folk, from eccentric arrangements to straight-up alt-rock. These songs take chances, and Lenker's writing remains intense and impressionistic. "What's it gonna take," she asks in the genteel and reflective "Spud Infinity," "to free the celestial body?"
The Weeknd, Dawn FM 
Weeknd songs have a unique, refined aesthetic — a little bit John Carpenter, a little bit Aubrey Graham, equally concerned with doling out suspenseful discomfort and blending hip-hop and R&B with elements of popular genres beyond the pale. Following the breakthrough of 2020's After Hours — where Abel Tesfaye tapped the ambient producer Oneohtrix Point Never to beef up the textures bolstering his darkly enthralling songwriting — Dawn FM expands the artist's sound while honoring the syrupy sonics of beloved releases like House of Balloons, dipping slick 21st century R&B in a vat of expertly curated 20th century nostalgia. It's still incredibly catchy but eerily urgent, ill at ease in its debauchery, like a horror-movie party scene.
FKA Twigs, Caprisongs
Recorded during the unexpected solitude of quarantine amid pangs of nostalgia for nights out with friends, Caprisongs — singer FKA Twigs's first mixtape and the follow-up to her exquisite 2019 studio album Magdalene — accomplishes with sound what the star couldn't manage in isolation, conjuring vital global nightlife scenes as it balances crystalline electronic music, bedroom R&B, U.K. drill, dancehall, and Afrobeats. Working with Spanish musician El Guincho, hip-hop beat-maker Mike Dean, Venezuelan artist Arca, U.K. rappers Unknown T and Shygirl, and vocalists Jorja Smith and the Weeknd, FKA Twigs checks in on friends across continents, finding everyone pining for the same simple, communal comforts.
Beach House, Once Twice Melody 
Once Twice Melody, the first double album from dream-pop vets Beach House, was rolled out over three months in four installments, easing listeners into its easy-going sprawl a few songs at a time. Once Twice makes admirable use of its 85-minute running time as it ushers the listener across surrealistic vistas and scenes of lovers breaking up and making up. Producing themselves for the first time, the duo of Victoria Legrand and Alex Scally explore massive dance-pop tunes in the spirit of M83, jangling indie-rock jams recalling past successes like "Space Song" and "Lemon Glow," and stately folk songs, steadied here as much by Legrand's spectral vocals and mystical lyricism as by Scally's hazy, enveloping accompaniment.