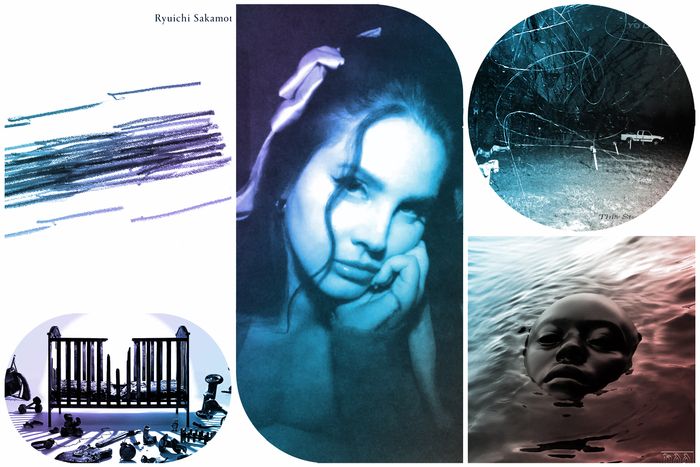 Photo-Illustration: Vulture; Photos: Blackened, Interscope Records, Matador Records, Milan Records, Warp Records
The best music of the young year is a celebration of the endurance of the human spirit through breakups, political strife, illness, and death, a colorful array of attempts to answer the question of who and what we are living and fighting for. The resolutions aren't all rosy; the conversations are too important to sugarcoat, though there's plenty of reassuring sweetness amid the soul-searching.
All albums are listed from newest to oldest.
billy woods and Kenny Segal, Maps
Hailing from New York City by way of Washington, D.C., and Zimbabwe, rapper and Backwoodz Studioz label head billy woods is a writer with an expansive purview and a rhymer with a seemingly inexhaustible supply of intriguing flows. Maps, his second collaborative album with L.A. producer Kenny Segal, turns the experience of touring the world into a kind of hero's journey, a story of zany inklings and occurrences coming between the traveling musician and the comfort of home.
Read Craig Jenkins's interview with billy woods.
Fires in the Distance, Air Not Meant for Us
Air Not Meant for Us, the sophomore album from Connecticut death and doom merchants Fires in the Distance, achieves a precarious blend, counterbalancing a collection of musings on decay and despair with gorgeous arrangements that tease out brighter melodies without undercutting a song's heaviness. Pianos dart around punishing riffs throughout "Wisdom of the Falling Leaves," and instrumental breaks in opener "Harbingers" make the noise and desperation of the chorus — "They're gaining on us!" — hit even harder. The sweetness punctuating these anguished observations is a message: Don't let that beauty die.
Bell Witch, Future's Shadow Part 1: The Clandestine Gate
Future's Shadow Part 1: The Clandestine Gate, the fifth album from Seattle doom-metal duo Bell Witch, is a careful step forward for singer-bassist Dylan Desmond and singer-drummer Jesse Shreibman. It's an 83-minute continuous song cycle inspired by reading Nietzsche and watching the unnervingly patient films of Russian director Andrei Tarkovsky, it's a meditation on the promise and dread that greet us each new morning, and it's a massive expanse of swelling organ drones, beguiling poetry, and triumphant riffs, the opening act of a planned triptych. While Clandestine Gate's dawn illuminates fields of pulsing worms and decaying corpses, one wonders what terrors await as Future's Shadow creeps into the twilight hours.
Everything But the Girl, Fuse
Tracey Thorn and Ben Watt hung up their successful musical collaboration Everything But the Girl in 2000 after they became parents to twins and band engagements began to clash with familial obligations. 2020 cleared their schedules, and they put parallel careers as authors and solo artists on halt to craft Fuse, the 11th Everything But the Girl album and a careful comeback that pleases admirers of the plaintive, elegant dance-pop of "Wrong" and "Missing" while sharpening the writing and gently modernizing the production.
Read Craig Jenkins's review of Fuse.
Kara Jackson, Why Does the Earth Give Us People to Love
On her debut studio album, Kara Jackson, our 2019-2020 National Youth Poet Laureate, sings with the aching honesty that gripped fans of her writing, sharing wry observations on romance — "Every man thinks I'm his fuckin' mother / Good for milk and good for supper," "therapy" laments — and grief, emoting plainly over lush arrangements like the constellation of strings and voices that envelope Jackson's voice in "free" or the bells and pianos of "dickhead blues." Why Does the Earth Give Us People to Love dresses modern concerns in the garb of a '70s singer-songwriter album.
Metallica, 72 Seasons
Much is rightfully made of the '80s and early-'90s heyday of Metallica and the force with which the Cali quartet helped carry metal music into mainstream American popular culture, but it's worth noting that right now, Robert Trujillo has been in the band longer than any other bass player, and the lineup introduced on 2008's Death Magnetic really seems to have jelled. 72 Seasons, Metallica's 11th studio album, makes a satisfying peace with the past in its sweeping survey of sounds from different parts of the catalogue and in the stories singer-guitarist James Hetfield tells, where protagonists escape the ghouls that hound them.
Read Craig Jenkins's review of 72 Seasons.
Yaeji, With a Hammer
On her debut album, With a Hammer, Korean American singer-songwriter and producer Yaeji showcases the excellence in sound architecture she fine-tuned across EPs and mixtapes like 2017's Yaeji or 2020's What We Drew. Melodies and rhythms stack carefully and methodically, from opener "Submerge FM," a jazz-flute reverie that transforms incrementally into a pillowy bass-music groove, to the title track, where scattered drums and staccato vocals abruptly morph into a spacious pop banger. Sweet melodies, strange textures, and disparate genres clash and combine, giving the feeling of waking up inside a video game.
Read E. Alex Jung's profile of Yaeji.
boygenius, the record
Boygenius — comprising Julien Baker, Phoebe Bridgers, and Lucy Dacus, each an impressive indie-rock singer-songwriter in her own right — set anticipation sky high with their self-titled 2018 debut EP. This year's bluntly titled the record meets those expectations head on. From the bittersweet romance of "True Blue" to the smirking self-destruction of "$20" to the nihilistic resign of "Satanist," the record is the sound of a few of the sharpest pens doing devastating work over a batch of the catchiest tunes of their careers.
Read Craig Jenkins's review of the record.
Depeche Mode, Memento Mori
Pioneering U.K. synth-pop act Depeche Mode grapples with its storied past and an uncertain present on Memento Mori. It's a somber survey of a back catalogue that covers spiky post-punk, ghoulish blues rock, bubbly pop music, and esoteric experiments as the duo reflect on the unexpected loss of founding member Andy Fletcher. A buffet of intriguing electronic sounds and textures, their 15th album is a reminder that Dave Gahan and Martin Gore are capable of everything.
Lana Del Rey, Did You Know That There's a Tunnel Under Ocean Blvd
2021's Blue Banisters felt like a concerted effort at fitting the divergent moods and quirks of Lana Del Rey in the same space, but it was more intriguing as a series of snapshots of the artist at different points in her career. This year's 78-minute follow-up, Did You Know That There's a Tunnel Under Ocean Blvd, achieves what the previous album set out to do in earnest, melding stark folk songs, gloomy pop tunes, skeletal trap production, dour Disney energy, and deep California lore as it stages an unsubtly religious jettisoning of the pettiest concerns, the better to reinforce the artist's bonds with faith and family.
Read Craig Jenkins's review of Did You Know That There's a Tunnel Under Ocean Blvd.
Kelela, Raven
After Beyoncé and Drake released summer albums focusing on house music, the savvy R&B fan started to yearn for new work from Kelela, the Washington, D.C., singer-songwriter and producer who spent the past decade making notable strides toward fusing the melodies and emotions of classic hip-hop soul with production that pushes back against the sweetness of the vocals. Kelela delivered with Raven, her second album, a wave of aqueous sound baths enveloping and often overtaking her voice. You can either commiserate with the love stories told by the verses and choruses or float on the waterlogged synths.
Read Craig Jenkins's review of Raven and Tirhakah Love's interview with Kelela.
Liv.e, Girl in the Half Pearl
Texas polymath Liv.e produces, writes, and sings, and her albums revel in the exploding possibilities of an auteur in her world-building stage. Her latest, Girl in the Half Pearl, threads the needle between jazz, rap, soul, and dance music, expanding her musical purview while the lyrics tap into the internal struggles that spring up alongside rapid growth and change. Everything sounds homegrown and a little melted, like pie and ice cream left out just long enough for the temperatures and textures to start to blend into one another.
Read Craig Jenkins's interview with Liv.e.
Ryuichi Sakamoto, 12
From the seminal synth-based '70s party music of Yellow Magic Orchestra and the progressive explorations of 1978's Thousand Knives to the icy ambience of the score for 1983's Merry Christmas, Mr. Lawrence, Japanese electronic music innovator Ryuichi Sakamoto left massive footprints on the landscape of modern music. His creative wanderlust was as inspiring as his most memorable hooks were sampleable. This year's 12 documented a difficult stretch in the life of the late legend as he committed to getting up to play piano during a year in which he was diagnosed with stage-four cancer. 12 is a document of unfailing determination, a collection of gorgeous, minimal piano and synthesizer compositions whose only binding rhythm is the breathing of the man himself and a quiet war between beauty and the hand of time.
Yo La Tengo, This Stupid World
The 17th full-length album from New Jersey indie-rock lifers Yo La Tengo splits the difference between raw, primal guitar workouts like the opener, "Sinatra Drive Breakdown," or the squealing, sprawling title track and lighter acoustic grooves like the reflective "Aselestine" or the conciliatory "Apology Letter." The trio has been refining its quiet-loud dynamics since the Reagan era; this album celebrates that enduring chemistry and professionalism as it seeks solace from the deluge of stresses threatening to sink us in this decade.