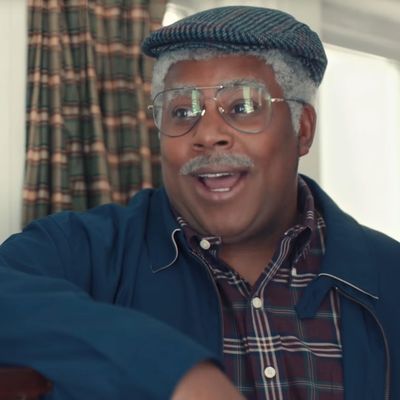 Amazon's Alexa — the voice-activated AI assistant that can order you a pizza, tell you the weather, control your household's lighting, and, above all else, dunk on Apple's Siri — isn't the only product Jeff Bezos is willing to sell to you. On the occasion of Prime Day, the annual dealapaooza for the company's subscribers, we collected a bunch of the best deals out there right now. Whether you grab them now or stock up on them for the holiday season, these are our picks for opening your digital wallet ASAP.
Over a hundo off the original MSP, you can snag this big guy that has Amazon's Fire TV embedded and responds to voice commands on the remote. It can also run a bunch of other apps and even turn your lights on and off, if you have the extra tech.
Photo: Amazon
The Echo has been the beating robot heart of Amazon's Alexa platform since its launch in the summer of 2015, and since that time the product line has moved beyond its original cylindrical design into a variety of other forms. The Show is the first Echo to offer an integrated screen, which adds to its versatility: Now, in addition to the standard Alexa features, you can also watch TV, movies, and web videos — some, at least — right on the device.
The Fire TV flock of gadgets is Amazon's entry into the Great Streaming App Devices scrum that also includes Apple TV and Roku (and, sure, Chromecast), all of which make watching Netflix, Hulu, et al, on your TV easier. While the products are largely non-differentiated when it comes to core functions (especially following the recent détente between Apple and Amazon), Fire TV owners will appreciate the ability to control their programming via Alexa: Just shout, "Alexa, play Suicide Squad on my Fire TV" and the assistant will queue it up without judging you. At $35, the portable Stick is the most affordable entree into the Fire TV family.
In its tiny little lonesome, the Echo Dot sounds decent and can give you all the features of voice-activated tunes and household services, but the added ability to hook it up to a louder speaker system elevates it from an audio device for your kitchen or picnic table to something that can sustain a party.
These universal remotes combine the voice-activated tech of the future with the familiar muscle-memory concept of a TV remote. They enable users to control any device compatible with Amazon's services, and can be paired with up to eight devices at a time. Turning on a TV, adjusting its volume, switching among HDMI ports, changing cable and Roku channels, and much more can be done with the voice-command features.
These little fellas can connect to an Echo Dot to play music from Amazon Music, Spotify, Pandora, iHeartRadio, and TuneIn. They produce an impressive amount of sound considering their size, and their weather-proofing makes them perfect for outdoor parties.
For $729 on Prime Day, you can get four of these much-improved versions of the One speakers to park around your abode. Two will easily serve as a sound bar for your TV, but you can also grab one for $199 if you only want a solid speaker for your tunes.But if you have the dough, it's pretty fun to walk around your joint shouting commands so you can listen to music uninterrupted.
For $399, there's the Beam. More of a traditional sound bar, mountable on walls, able to hook up with other Alexa-enabled speakers, can tell you if it's raining outside if you don't want to make the effort to look out the window.
These wireless earbuds — smaller than Apple's AirPods — now come with an Alexa compatibility. Once the earbuds are connected to the Dash app, users can stream from Amazon Music Library, Amazon Prime Music, Audible, and TuneIn Radio — and they can upload 4GB of music for listening at any time, so they don't need to be tethered to a phone to go outside for a bit.
Every editorial product is independently selected. If you buy an item through our links, Vulture may earn an affiliate commission.