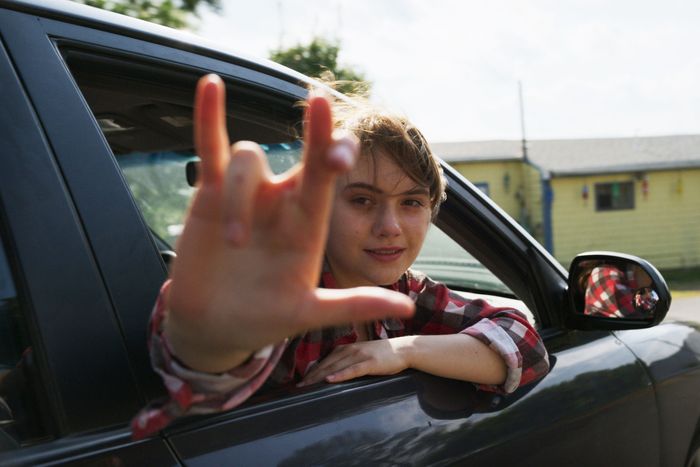 It's a little funny, given the relatively small size of its original-film catalogue, that Apple was the first streaming company to win an Oscar for Best Picture. Despite the massive success of CODA, Apple is still trying to expand that section of its streaming app and should get a ton of attention later this year with Martin Scorsese's Killers of the Flower Moon. For now, it has a strong-enough selection to pick out a top ten of movies that are all worth your time for various reasons. Documentaries, comedies, dramas, historical action — there's something for everyone in this small sample of feature films. We will update this list as great new films make their way onto the service.
Beastie Boys Story
Year: 2020
Runtime: 1h 59m
Director: Spike Jonze
A legend of the music-video scene and the director of Her and Being John Malkovich, Spike Jonze brings a sharp eye to this filmed version of a stage show done by the two remaining members of the Beastie Boys, Mike D. and Adam Horovitz. A conversation between the two that's intercut with clips from their youth, this is a funny, vibrant piece of filmmaking that ultimately becomes a moving examination of how people change as they mature but never lose that Beastie inside.
Boys State
Year: 2020
Runtime: 1h 49m
Directors: Jesse Moss, Amanda McBaine
Politics are formed early in life. If you need proof, just watch this riveting documentary about a thousand teenage boys who attend a program in Texas that forces them to build a government from scratch. It's fascinating to see young men become politicians, in both the positive and negative intonations of that word. The winner of the U.S. Documentary program at Sundance 2020, this was one of Apple's early acclaimed hits.
Bruce Springsteen's Letter to You
Year: 2020
Runtime: 1h 30m
Director: Thom Zimny
One of the most important musicians of all time has reached a fascinating stage of his career, looking back over his personal and professional personas with the voice of a poet. His 2020 album, Letter to You, is a late-career masterpiece, an unpacking of life and death in a reunion with the E Street Band for the first time since 2014. This excellent music doc chronicles its production with a big heart and moving amount of empathy.
Causeway
Year: 2022
Runtime: 1h 32m
Director: Lila Neugebauer
Apple's best film of 2022 was this drama about a pair of unlikely companions drawn together by trauma. Jennifer Lawrence does her best work in years as a soldier dealing with a traumatic brain injury, but it's Oscar nominee Brian Tyree Henry who really devastates as a man with a dark past of his own. This is deeply empathetic, character-driven filmmaking.
CODA
Year: 2021
Runtime: 1h 51m
Director: Sian Heder
The biggest film hit of the streaming era, this is a project that premiered at Sundance, where Apple laid down $25 million for a movie that would eventually win Best Picture. Sian Heder tells the story of a child of deaf adults (or CODA) named Ruby (Emilia Jones). She wants to escape the drudgery of the family job on the New England coast, and she sees a way to do so through music. Troy Kotsur won Best Supporting Actor for his sensitive work as Ruby's father.
On the Rocks
Year: 2020
Runtime: 1h 36m
Director: Sofia Coppola
The great director of Lost in Translation reunited with that film's star, Bill Murray, for a clever comedy about a father-daughter relationship that's pretty unique. Rashida Jones stars as Laura, a woman who begins to suspect her husband might be cheating on her. She enlists the help of her eccentric father (Murray) to get to the bottom of things and wackiness ensues.
The Tragedy of Macbeth
Year: 2021
Runtime: 1h 45m
Director: Joel Coen
It's too bad that Ethan Coen has basically retired, but his brother, Joel, is still making movies. This is the first directed only by Joel, and it's a banger, an interpretation of the "Scottish play" with a stunning ensemble and striking black-and-white style. Denzel Washington plays MacBeth, balanced perfectly by Frances McDormand as one of the most famous wives in fictional history. It's a striking version of a play that almost everyone knows by heart.
The Velvet Underground
Year: 2021
Runtime: 1h 50m
Director: Todd Haynes
The director of Velvet Goldmine and I'm Not There once again approaches a pivotal chapter in music history with his unique flair and craftsmanship. This telling of the life and success of The Velvet Underground embraces their avant-garde influence by unfolding in a unique form, cut together with the spirit of their music. Premiering at Cannes in 2021, it was one of Apple's most esteemed projects.
Wolfwalkers
Year: 2020
Runtime: 1h 43m
Director: Tomm Moore, Ross Stewart
Wolfwalkers should have won the Oscar in early 2021. It's a lyrical and gorgeous final act to Cartoon Saloon's "Irish Folklore Trilogy," the story of a girl named Robyn Goodfellowe, whose father has been hired to hunt wolves. Robyn befriends a shapeshifter, a girl who is both wolf and human, in a story that incorporates modern storytelling with Irish folklore and inspired visual style. It's a beauty.