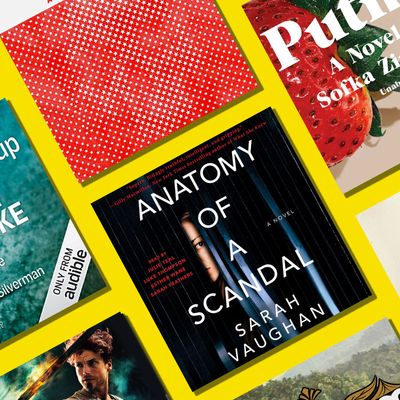 This year's best audiobook performances are almost all the work of narrators who make a serious living recording books. These actors (not mere readers) have the dramatic skill and interpretive talent to create an experience wholly distinct from reading. From Luke Daniels, whose vocal antics are the aural equivalent of Jim Carrey's rubber-faced expressions, to Julia Whelan, who can do more with a comma than most readers can with a soliloquy, they are consistently better than name celebrities and almost always superior to authors. When an audiobook works, it's an inimitable collaboration between writer and narrator. Here are a few of the best so far this year, listed in order of release.
Anatomy of a Scandal by Sarah Vaughan; narrated by Julie Teal, Luke Thompson, Esther Wane and Sarah Feathers (10 hours, 56 minutes; Simon & Schuster Audio); January 23.
A British courtroom thriller for the #MeToo era, Anatomy landed with perfect timing early this year. The action revolves around rape charges against British junior minister James Whitehouse, performed by Luke Thompson with an air of effortless class privilege. But it's Julie Teal as prosecuting barrister Kate Woodcraft whose thorny voice snags you and won't let go. Teal is equal parts confiding and brisk as Kate wrestles with a few secrets of her own.
Harry Clarke by David Cale; narrated by Billy Crudup and David Cale (3 hours, 13 minutes; Audible Studios); January 23.
Billy Crudup's ingenious turn in David Cale's one-man show is a blast, and perhaps the fastest 75 minutes Audible Studios ever recorded. His character, Illinois-born Philip Brugglestein, decides as a youngster that his true self is British. To the distress of his brutish alcoholic father, he adopts a posh accent. Later in New York City, however, he discovers an even truer self — a brash, impetuous, charismatic Cockney named Harry Clarke who winds his way into the hearts of a wealthy family — all of whose members Crudup brings to vivid life. The remainder of the recording is David Cale's excellent one-man show, "Lillian," performed by the author, and a conversation with Cale, Crudup, and director Leigh Silverman.
Educated: A Memoir by Tara Westover; narrated by Julia Whelan (12 hours, 10 minutes, Random House Audio); February 20.
The smallest inflections can transform a reading, and Whelan manages both the faintest notes and the loudest like no other in this surprising memoir. The gifted narrator of nearly 300 audiobooks judiciously sculpts the various people in Westover's life: her religiously zealous, conspiracy-obsessed, and utterly reckless father who keeps his ten children out of school; her dangerous older brother, Shawn; her puzzled grandparents. Although Westover will eventually go on to earn a doctoral degree at Cambridge University, she seemed doomed to remain forever on her Idaho mountainside. When she buys an ACT study guide, the algebra in it stymies her utterly: "It wasn't that I didn't know how to solve the equations; I didn't recognize the symbols." She might have said the same of most signifiers of modern life — she'd never heard of the Holocaust. Whelan's sensitive reading brings life to this remarkable metamorphosis.
Scourged by Kevin Hearne, narrated by Luke Daniels, Book 9 of the Iron Druid Chronicles (8 hours, 58 minutes, Random House Audio); April 5.
Hearne and Daniels are a singular pairing, like burgers and crack. Hearne's witty swashbuckler follows the battles of the last druid on Earth, Atticus O'Sullivan, and his wisecracking Irish wolfhound, Oberon. Hearne writes prose and dialogue as acrobatic as his characters, taking evident pleasure in torturing the nimble-voiced Daniels, which he admitted to in a video conversation between them on audible.com's Range: "I could have picked any city in Poland," he tells Daniels of one plot choice, "but I picked the one that was all consonants." Scourged is the final and sobering conclusion of Hearne's Iron Druid series, but never fear: A spinoff is in the works.
West by Carys Davies, narrated by Robert Fass, (3 hours, 30 minutes; Highbridge, a division of Recorded Books); April 24.
Robert Fass nestles inside the minds of the characters in Davies's haunting first novel, with voices that reflect their dreams and frustrations. Mammoths haunt Cy Bellman's imagination after he reads of "monstrous bones" discovered in Kentucky early in the 19th century. He imagines treetop-tall creatures wandering the unexplored stretches of a continent, and, determined to find them, leaves his young daughter with his prickly sister. To his sister, he's a fool. To daughter Bess, he's a hero. If the hapless Bellman from Lewis Carroll's "Hunting of the Snark" comes to mind, that's no accident.
There There by Tommy Orange; narrated by Darrell Dennis, Shaun Taylor-Corbett, Alma Cuervo, and Kyla Garcia (8 hours, Random House Audio); June 5.
The weight of inevitability runs through Tommy Orange's devastating debut, as he braids together the lives of a dozen "urban Indians" preparing to gather at a big pow-wow in Oakland. A cast of mostly Native American actors tells the story, a choice that feels both right and satisfying. The characters they embody form a prism of modern Native American identity in all its complexity. Alma Cuervo exudes anger and regret as Jacque Red Feather, who hopes to reunite with the children she abandoned. Tony Loneman, whose face is marked by fetal alcohol syndrome, is played with understated grace by Darrell Dennis. Tony refers to his disfigurement as "the Drome": "There's too much space between each of the parts of my face — eyes, nose, mouth spread out like a drunk slapped it," he says. Orange takes no shortcuts here, provides no bumper-sticker slogans and no balm for the guilty white soul, from his searing prologue to the jarring yet inexorable conclusion.
Convenience Store Woman by Sayaka Murata; narrated by Nancy Wu; translated by Ginny Tapley Takemori (3 hours, 21 minutes, Blackstone Audio Inc.); June 12.
Nancy Wu crafts a quirky little voice for this quirky little book about a woman who finds meaning as a Smile Mart employee, in the first English translation of a work by the best-selling Japanese author. Keiko Furukura is an alien even in her family. (Watching her sister calm a squalling infant, she eyes a knife and thinks: "If it was just a matter of making him quiet, it would be easy enough.") But in Smile Mart she finds her home planet. Coached to greet customers with an enthusiastic "Irasshaimasé!" she says, "It was the first time anyone had ever taught me how to accomplish a normal facial expression and manner of speech."
Cherry by Nico Walker, narrated by Jeremy Bob (8 hours, 5 minutes; Random House Audio); August 14.
Nico Walker says Cherry is fiction. That may be the biggest fiction in the book, which appears to trace Walker's life from his time as an Army medic in Iraq to his homegrown heroin habit and his stint as a Cleveland bank robber. Walker caught a publisher's attention when he told his story to BuzzFeed while in federal prison, where he remains until 2020. This compelling pileup of events — there's not much arc to the narrative — comes with the rare use of great music between chapters from artists like Modest Mouse, Dinosaur Jr., and Waltz. It's a sweet departure from the old-time radio hour soundtrack that's all too common in this medium. Jeremy Bob's unadorned narration is so apt that if Walker doesn't sound like him, he should change his voice.
Ohio by Stephen Markley, narrated by Caitlin Davies, Jayme Mattler, Joy Osmanski, Jonathan Todd Ross, Corey Brill, Gibson Frazier (16 hours, 11 minutes; Simon & Schuster Audio); August 21.
Markley's novel takes the bleakest slices of exurban northeastern Ohio's economic despair, harnesses it to this worst of accidental high-school almost-reunions, and produces a grim snapshot of a generation — at least the heavily drug-using, war-damaged, vengeful segment of it. Although Markley has said the book was written before anyone was asking what a Trump voter looked like, the novel can feel like an explanation of what happened in the heartland. The cast of narrators provides important texture, especially Corey Brill (Pete Anderson on the Walking Dead) as Bill Ashcraft, a drug-addled revolutionary with a maladjusted moral compass, and award-winning voice actor Caitlin Davies as Tina Ross — once abused by her high-school boyfriend and his friends, now ready to exact revenge.
Putney by Sofka Zinovieff, narrated by Michelle Ford (11 hours, 49 minutes; HarperAudio); August 21.
Michelle Ford reads so beautifully, with a clear and delicate British accent, you might forgive her any number of sins of narration. But you won't find any in her reading of Sofka Zinovieff's subtle second novel. This story about a young teen and her adult lover was made for a perceptive performer. That young teen, Daphne, is well into middle age by the time she reexamines the affair that she has long recalled fondly, spurred to make better sense of the relationship only after she reunites with a friend who knew her then.
Every editorial product is independently selected. If you buy an item through our links, Vulture may earn an affiliate commission.