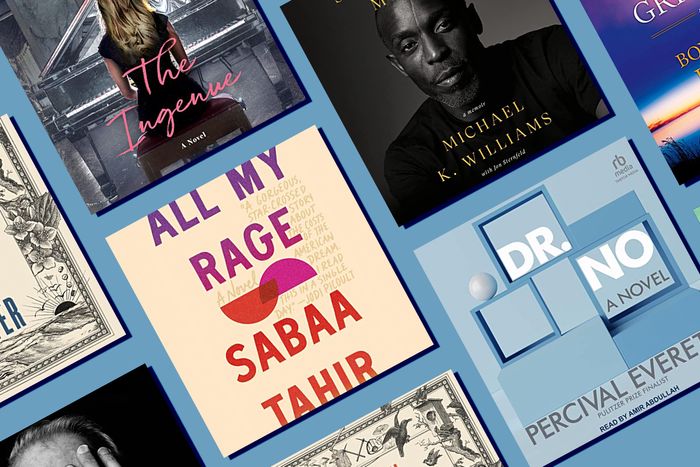 Photo-Illustration: Vulture; Photos by Publishers
The audiobook category is expanding every day, and we certainly can't listen to everything. The goal of this column is to steer you toward audiobooks that we hope will provide the best experiences, pop-culture value, and something to talk about at your cocktail party. For December, we're looking back at a few notable titles released earlier in 2022 that we missed along the way.
December Picks
November Picks
October Picks
You Might Also Try:
➽ Liberation Day, by George Saunders, with stories read by Saunders, Jenny Slate, Michael McKean, and others. Tina Fey reading "The Mom of Bold Action" is by far the standout.
➽ Colleen Hoover's It Starts With Us, read by Colin Donnell and Olivia Song. Then you can explain to me why people on BookTok go crazy for Hoover's novels. I liked this fine enough, though I definitely prefer Verity.
September Picks
You Might Also Try:
➽ The House Party, by Rita Cameron, a dynamic novel about teenagers who destroy a spec house in a Philadelphia suburb, read entertainingly by Karissa Vacker.
➽ Jonathan Escoffery's rhythmic, interconnected short-story collection If I Survive You, fervently narrated by Torian Brackett.
➽ The Wheel of Doll, the latest in Jonathan Ames's quirky Los Angeles–based series about the detective Happy Doll, featuring plenty of sardines, a houseless amputee lover, and a motel-room murder.
August Picks
July Picks
You Might Also Try:
➽ A rerelease of Peter S. Beagle's The Last Unicorn, read by Orlagh Cassidy, which still has the inscrutably named Schmendrick the Magician but now also boasts a very funny new introduction by Patrick Ruthfuss.
➽ Sirens & Muses, by Antonia Angress, a totally satisfying comedy of manners about students sorting things out at art school read by Rebecca Lowman.
➽ Teleporting to the scary future of Blake Crouch's Upgrade, read by Henry Levya. It might make you feel as if you've had an upgrade the faster you listen to it.
June Picks
May Picks