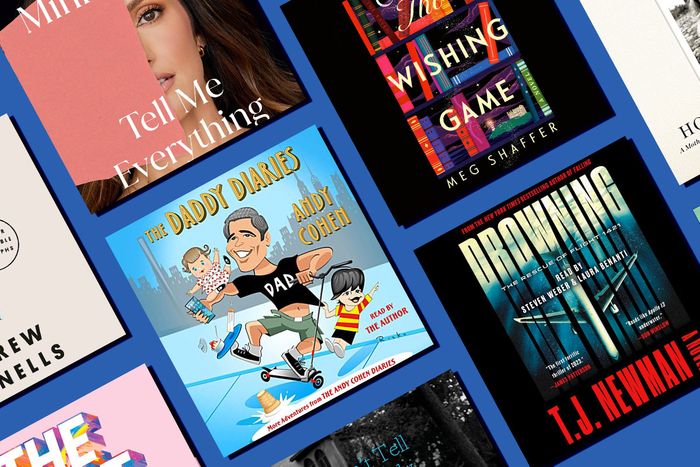 Photo-Illustration: Vulture
People will occasionally tell me they think listening to an audiobook is "cheating." Cheating on what? Physical books? One of the great things about reading is you can't do anything else while you're reading. One of the great things about listening to audiobooks is you can. You can do lots of other things, all while enjoying one of the best books of the year. You can go for a walk, drive to Florida, do laundry, put together a jigsaw puzzle, lie on your bed in complete and total despair. If I play Candy Crush while I'm listening to Pamela Anderson's memoir, I'm accomplishing something, even if that accomplishment is absorbing Pamela Anderson's memoir.
Over the years, I've learned that some books make satisfying listens and some just don't. Sometimes an audiobook doesn't work because of the narrator; other times the book is overcomplicated and confusing. I find that the best audiobooks are experiences in themselves. The goal of this column is to try to send you on your way each month with a few of them.
May Picks
Read by: The author
Length: 8 hrs, 40 mins.
Speed I listened: 2.1x
Though celebrity memoirs are a major silo in my life, I still bemoan there are too many of them. But then a book like Kelly's comes along. Kelly, a former nurse who got her start on the television series Friday Night Lights, is so piercingly honest, you just want to reach out through Audible and give her a hug. There's a lot of tough stuff that Kelly handles with enormous grace both on the page and vocally — in particular a very complicated relationship with her late mother, a onetime stripper. One scene, in which Kelly listens to a therapist's advice and confronts her mother, is especially harrowing and moving. Maybe I'm predisposed here. When I first moved to L.A., I hung out a few times with Kelly via a mutual friend. Mostly I remember singing "Defying Gravity" on a hike up Runyon Canyon, but I didn't know about anything she talks about here, except maybe her love for Wicked. It's totally gripping: I couldn't take my earbuds out.
Read by: The author
Length: 10 hrs, 32 mins.
Speed I listened: 2.2x
This is the third in Cohen's series of published diaries, and I think they're just the bee's knees. In this one, he chronicles a year juggling Housewives, his precocious son, and a newborn daughter. There's self-reflection, self-effacement, gossip, humor. I mean, there should be a National Book Award special citation for these books. However, despite a longtime radio show, it turns out Cohen dislikes recording audiobooks. It's like "speaking into a vacuum," he says, so occasionally, he makes audiobook-exclusive special asides to the listener. Like when he quotes a note he gets from Cher in the style of Cher, Cohen says: "Sorry for that shitty Cher impression. Maybe it will get better." It doesn't, but that's part of the fun here. One of the only missed opportunities: a sound effect of the overly loud ice-maker Cohen says constantly bothers his neighbors.
Read by: The author
Length: 5 hrs, 50 mins.
Speed I listened: 2x
Obviously, I have a soft spot for memoirs by gay men in showbiz, but I thought this second collection from Rannells, star of Book of Mormon and HBO's Girls, went down like an Aperol spritz. The actor dishes just enough: on an ex who breaks up with him just before the Tonys; on the workshops for Book of Mormon; on airless meetings in Hollywood; on a trip to the Golden Globes that involves him stroking Mark Ruffalo's back and feeling ignored by Sienna Miller. Rannells has that Nebraskan folksy charm going for him, but the fact that he dedicates this book to Zoloft gives it an edge.
Read by: Paul Boehmer and Rachel L. Jacobs
Length: 10 hrs, 38 mins.
Speed I listened: 2x
I had a really hard time finding novels on audio this month to get excited about. I started a handful of things I just didn't want to finish. I got bored and annoyed in the first 30 minutes of The Making of Another Motion Picture Masterpiece, even though it's read by its author, the actor Tom Hanks. I've not had much luck in the past with Emily Henry. And The Covenant of Water, the new Abraham Verghese novel, is over 31 hours. Though we're in the middle of a writers' strike, 31 hours is a lot. Ten hours is much more manageable, and The Wishing Game grabbed me from the beginning. It has a bit of The Westing Game meets Willy Wonka, with a twist of TJ Klune's The House in the Cerulean Sea. In this book, the powers that be won't let Lucy, a teacher's aide, adopt one of her young students, an orphan named Christopher. Lucy has always been obsessed with a series of books that takes place on Clock Island by the reclusive author Jack Masterson. Masterson, who hasn't published in years, announces he's written a new book and will hold a contest — a kind of scavenger hunt — to find it, and Lucy becomes a contestant. Sometimes the book's emotion (I was on the verge of tears once) veers toward, well, the overly emotional, but the two narrators here keep things grounded.
Read by: Steven Weber and Laura Benanti
Length: 7 hrs, 43 mins.
Speed I listened: 1.8x
Two years ago, Newman, a onetime flight attendant, released Falling, another page-turner thriller on a plane. The cover art on Drowning looks almost identical, and, hey, maybe Newman will do for gerunds what Sue Grafton did for the alphabet. (Grafton started her Kinsey Milhone mysteries with A Is for Alibi. She got to Y Is for Yesterday before she died in 2017.) Obviously, there are a lot more -ing words than 26. I found this book, about a plane that crashes in the water, cinematically compelling. I will say that the audio version is greatly enhanced by the vocalizing of Laura Benanti, though most things are. Weber, who also narrated Falling, is totally riveting, though he can get a little grating when he acts out an octogenarian couple attempting to escape the sinking vessel.
Read by: The author
Length: 5 hrs, 17 mins.
Speed I listened: Between 1.8x and 2.3x
I have no idea who Tinx is. I gather she's a TikTok personality. I've probably been listening to too many audiobooks and watching too much Selling Sunset to notice. So color me a bit astonished at how much I enjoyed and gleaned from this self-help/dating guide, to the point where I'm actually suggesting each and every one of you listen to it, too. At the top of this audiobook, Tinx, an influencer previously known as Christina Najjar, says she's going to provide some "holy fucking shit breakthroughs" you can use on a daily basis. And I have to say, her advice is pretty damn good — perhaps the most grounded and salient wisdom about trusting yourself and simply adjusting your perspective I've heard in a long time. It helps that Tinx is both direct and self-effacing as she's offering it up. I know this book is marketed toward women, but as a single gay man who doesn't always feel awesome about himself, I learned a lot from it, too. Holy fucking shit, indeed.
April Picks
Read by: The authors, with a foreword read by Reese Witherspoon
Length: 7 hrs, 40 mins.
Speed I listened: 1.75x
This book comprises a series of conversations between Laura Dern and her mother, the actress Diane Ladd, that occurred during the walks they took to build back Ladd's lung capacity. The walks happened before Dern even filmed last summer's Jurassic World Dominion, and Ladd, at 87, is still very much alive. As far as I understand it, the audiobook is not the original conversations, but a recreation of them. Some of the discussion topics get really confrontational. For instance, when Dern brings up incidents of Ladd slapping her at age 14, or when Ladd took her grandson Ellery to get a haircut while Dern and her ex-husband, Ben Harper, were traveling. I'm still trying to wrap my head around the idea that this audiobook could be considered a kind of performance just because the mother-daughter interaction is so real, so relatable, so raw, so fascinating. There are even breathy coughs by Ladd, and I can't tell if they're on cue. There's a lot to take in here: Just talking the way they do about Ladd's inevitable death is head-spinningly potent. Ladd, who frequently uses tropes like "Loving someone is a risk," is a mellifluous speaker; when Dern mimics her mother's southern twang, it's especially sweet.
Read by: The author
Length: 6 hrs, 14 mins.
Speed I listened: 1.5x
The only Lucinda Williams album I've listened to in earnest was 1998's Car Wheels on a Gravel Road. But I still took great pleasure in her book, which has more in common with the Patti Smith school of memoir than your typical rock autobiography. There's some poetry, some heartbreak, some soul-searching. I'm a true speed listener; I usually start listening at 1.75x speed these days and crank it up faster from there. So it's especially rare for me to listen to any book at 1.5x these days. It means I'm really enjoying living in a book. That's what I did here. I just found Williams's gravelly speaking voice so soothing. It made me happily revisit Car Wheels on a Gravel Road again, too.
Read by: Carolyn Kang
Length: 7 hrs, 45 mins.
Speed I listened: 2x
I wanted a little bit more from this off-center tale about a classical pianist who begins working at a beauty company called Holistik, only to discover that beneath all the strange moisturizers and other products lies something more nefarious. What it very much has going for it is that the novel is just kind of bananas in terms of how it presents insidious corporate culture and cutting-edge (emphasis on the cutting) beauty treatments. I think "bananas" is a high form of praise, actually, and it certainly made Natural Beauty compulsively listenable. Kang's wide-eyed, innocent narration makes the listening experience even more compelling.
Read by: Chandrika Naraynan-Mohan
Length: 8 hrs, 39 mins.
Speed I listened: 1.75x
Like Natural Beauty, this new thriller goes a bit ridiculous as it delves in and out of the lives of three women who live in an Irish village: Ciara, Mishti, and Lauren. They each have unsavory husbands and make some hard-to-defend choices. Still, the reader, Narayan-Mohan, is an Indian-born, Dublin-based writer and performer and I found the mysterious lilt of her voice so musical that I definitely enjoyed this one more than if I'd read it.
Read by: The author
Length: 13 hrs, 41 mins.
Speed I listened: 2.1x
I wear the fact that I love musicals on my sleeve. Chicago has been one of my favorites since I played Mr. Cellophane at summer camp. (The revival, still playing on Broadway, came a short while later; I like to think I inspired it.) Rivera was the original Velma Kelly in that show, but her resume goes far beyond that to West Side Story and Bye Bye Birdie. Any Broadway gossip is fine by me, whether it's about how the Canadian magician Doug Henning (with whom Rivera starred in an ill-fated musical called Merlin) couldn't act or sing, how film director Ivan Reitman drove Rivera crazy when he directed her onstage, or Liza Minnelli's unsurprisingly erratic behavior while the two appeared as mother and daughter in Kander and Ebb's The Rink. For someone so nice, Rivera's claws can come out every once in a while. She calls the ambitious side of her personality "Dolores." I love that. She also refers to this book as a "memwa" which I also admire deeply.
Read by: The author
Length: 8 hrs, 14 mins.
Speed I listened: 2x
There's a line in this treatise on awful humans who make amazing art that basically knocked me over with a feather. "We've all loved terrible people," Dederer says here. "How do I know this? Because I know people and people are terrible." Spending several hours with Dederer as she breaks down how we're meant to approach the cultural contributions of people who've done very unsavory things — i.e., Harvey Weinstein, Roman Polanski, Woody Allen, and Pablo Picasso — is enlightening and clever, even if it doesn't necessarily offer anything in the way of a clear answer. It made me wish I was back in grad school.
Read by: The author
Length: 7 hrs, 48 mins
Speed I listened: 1.7x
I think, at this point, I'd follow the poet Maggie Smith anywhere. Her grounded perspicacity just makes me want to slow down and think about the world as she does. This isn't necessarily an easy book — it's about the dissolution of Smith's marriage — but she just seems so wise and her voice so soothing that I would have even listened to her read Chita Rivera's "memwa" if she'd recorded it for some bizarre reason.
March Picks
Read by: Eunice Wong
Length: 10 hrs, 42 mins.
Speed I listened: 2x
Personally, I don't think we can ever have enough content featuring older ladies solving crimes. This one's about Vera Wong, a woman who owns a failing tea shop in San Francisco. To get an idea of the humor here, she calls her tea shop Vera Wang's so she can get more customer interest. This book is a bit short on mystery and more about finding your chosen family; I would have liked a bit more unsolicited advice for the amateur murderer. But Eunice Wong's clever narration — especially her very funny take on Vera — makes this a delight. Like the perfect cup of Silver Needles tea.
Read by: A full cast
Length: 8 hrs, 37 mins.
Speed I listened: 1.75x
Here's another mystery that comes up a bit short on the mystery part but more than makes up for it with a splendid setup and inventive characters. This one takes place over the course of a cooking competition. Maxwell adroitly moves the plot along as she shifts from character to character. Different actors — all good — read the contestants as well as the book's version of The Great British Baking Show's Prue Leith, here known as Betsy Martin. A pretty great Sunday binge and definitely less calories than a Battenberg cake.
Read by: The author
Length: 6 hrs, 44 mins.
Speed I listened: 1.7x
One of Lyons's previous books, Disrupted, scared the hell out of me and, I assume, other journalists. It had seemed to me that Silicon Valley was a potential escape hatch and financial win, but in that book Lyons learned that it wasn't. In this more self-help-y tome, he suggests we'd all be better off if we talked less and smiled more. That was a through line in Hamilton also, but it will probably sink in more after hearing this. With STFU, the author left me scared again — I fear I've talked way too much for the last few decades — but also assured me that, maybe, I can fix the problem. Even if Lyons talks the whole time here, the audio's pretty successful because I only wanted him to STFU on occasion.
Read by: The author
Length: 8 hrs, 22 mins.
Speed I listened: 2x
We learn so much about the way celebrities live by listening to their memoirs. I listened to eight and a half hours of Paris Hilton talking about herself and her family, and the anecdote that most interested me was that she totes an extra carry-on when she travels so she can go shopping for business books at the airport. I'm giving Hilton the benefit of the doubt that (a) she doesn't like to read on a Kindle, (b) would rather support physical bookstores than Amazon, and (c) just happens to travel a lot and doesn't have a lot of time to shop for books. Her memoir, read in Hilton's trademark Marilyn Monroe–like whisper, feels more like a horror movie than you'd expect, especially when she describes the torture she experienced at a school for troubled teens. (That's in her documentary, too.) Paris the Memoir gave me a new edict to pair with shutting the fuck up: "Don't give it oxygen."
Read by: Patton Oswalt, Dan Stevens, and others
Length: 7 hrs, 50 mins.
Speed I listened: 1.5x-2x, depending on the story
I'm not hugely into collections of short stories on audio, but I do appreciate a reinvented fairy tale every once in a while. A few of the stories here lost me, but at least three expertly narrated ones — a take on a Norwegian folk tale read by Stevens (Downton Abbey), another featuring the black dog of the title read by Oswalt, and a third with the magical white cat read by frequent audiobook narrator Rebecca Lowman — are weird, very Brooklyn meets Stephen King, and completely engrossing. I'm tempted to relisten to the other four stories again to see if I can figure out what I missed.
Read by: Joniece Abbott-Pratt
Length: 9 hrs, 12 mins.
Speed I listened: 1.75x
Evocative, scary, disarming, and funny, this horror novel follows Adelaide Henry and her gigantic steamer trunk as they leave California in 1915 and make their way to the middle-of-nowhere Montana where land is aplenty and yet people are still assholes. It's the kind of page-turner you don't want to turn off, and Abbott-Pratt infuses her narration with anxiety and wistfulness. A four-quadrant slam-dunk.
Read by: The author
Length: 12 hrs, 8 mins.
Speed I listened: 1.8x
There's a lot of plot in this bildungsroman, set in Virginia during Prohibition. It's the story of Sallie Kincaid as she tries to survive all of the family drama around her. You know, sudden deaths that come from showboating, husbands who turn out to like guys, squabbling over wills, making one's way in the world by bootlegging. Kincaid, quick-witted and independent, reminded me a bit of a depressed Fannie Flagg character with a touch of Vivian Morris, the heroine of Elizabeth Gilbert's City of Girls. That's all a plus. Walls does her own expert reading, which makes this good old-fashioned yarn all the more intimate.
Read by: The author
Length: 14 hrs, 33 mins.
Speed I listened: 2x
"Suicide is all around us, and we must talk about it," writes Martin, who chronicles his various suicide attempts in this incredibly personal mix of memoir and literary criticism. It's often painful and upsetting, sure, and it's hard to tell people you're reading or listening to a book about suicide without getting an "Are you okay?" response. But this book also feels vitally important because it goes deeply into a conversation about mental health so few of us ever have. Sometimes the conversation here gets circuitous and repetitive, but Martin's sweetly soothing Canadian lilt makes listening to him and his own travails even more compelling.
February Picks
Read by: Heather Agyepong
Length: 10 hrs, 10 mins.
Speed I listened: 1.75x
I really liked this novel. I think I liked it more because Agyepong, a British visual artist and performer, reads it just so damn well. Told in first person, it follows Maddie Wright, a young Ghanaian woman living in London. She's a virgin jumping from one snoozy admin job to another, taking care of her father who's dying from Parkinson's. Her family calls her "Maame" because it means "the responsible one." Sardonic, authentic, and a little bit sad, it moves along at a brisk pace. Compulsively listenable.
Read by: The author
Length: 52 mins
Speed I listened: 1.7x
Jessica Simpson's Open Book is one of the better advertisements for celebrity audiobooks in recent memory. Its success owes something to Simpson's relatable charm. Listening to the 2020 book is a personal — dare I say intimate — experience that certainly hides any shortcomings in the memoir itself. "Movie Star" is a short, new standalone autobiographical essay about how Simpson was courted by a famous film actor. (Page Six thinks it's Mark Wahlberg.) I have no idea why or how this essay exists, but I'm extremely glad it does. One of the few revelations it includes is that when Simpson ran into the "movie star" at the gym, she worried she had a lot of gas from her low-carb diet. Simpson sounds as if she's laughing through the whole retelling of the story; that only amplified my enjoyment. I would have liked her to continue telling it for 17 more hours.
Read by: Gail Shalan
Length: 11 hrs, 30 mins.
Speed I listened: 1.9x
In this enjoyable thriller, a group of fledgling writers attend a writer's retreat led by the odd, maybe even draconian, novelist Roza Vallo. Two of them, Wren and Alex, are ex-friends, rivals, and almost lovers. Though I could have done without a few of the left-field plot twists and the somewhat overwrought same-sex anxieties, the audio really sails when Bartz focuses on the desperate and all-too-real aspirations of young writers. Roza is also pretty over the top and not what she seems, perhaps even a charlatan. Shalan, the narrator, elevates the whole production by giving her an off-center Julia-Garner-as-Anna-Delvey voice.
Read by: The author
Length: 5 hrs, 28 mins.
Speed I listened: 1.7x
If you're not already a Pam Anderson stan, this heartfelt audiobook will make you one. Yes, there are encounters with Scott Baio at the Playboy Mansion and scenes of passionate lovemaking with Tommy Lee, but just try not to swoon when the Baywatch actress recites the "To be or not to be" soliloquy from Hamlet. I hope, one day, Anderson will get to attack the Bard's Great Dane on stage. (Paging Ivo van Hove!) The memoir ends with Anderson, 55, making a triumphant Broadway debut as Roxie Hart in the musical Chicago. Who cares if she doesn't know how to pronounce Gwen Verdon? We say VER-don, she says ver-DON. Tomato, tomahto, this is a celebrity audiobook aficionado's dream.
Read by: Robert Petkoff
Length: 12 hrs, 23 mins.
Speed I listened: 2x
I listened to this account of all the michegoss that went down in 2016 at Viacom, CBS, and Paramount Global in the same way I likely would have read it: voraciously. Did I pick up every single bit of information Times reporters Stewart and Abrams dug up? I doubt it. But I think I got the important points: that Hollywood is bananas; that, in some industries, you can be completely incapacitated and still rake in a blockbuster salary; and that powerful media magnate Sumner Redstone would regularly burst into fits of sobs. It wouldn't have mattered who narrated the book, but Petkoff seemed to be respectful of how often my jaw dropped at some of the nuttier revelations about both Redstone and former CBS executive Les Moonves.
Read by: Patty Nieman
Length: 7 hrs, 22 mins.
Speed I listened: 2x
If you're reading this, you can probably glean that I'm a very sensitive person. I mean, I'm emotionally stirred by Pamela Anderson and Jessica Simpson. I just wish I'd had this book, which claims that sensitivity is a "superpower" in business and in life, in my arsenal a lot earlier than this month. Sensitive doesn't necessarily tell you anything new, but hearing what it has to say helps reframe how you think about yourself. For instance, Granneman and Solo write that "there's nothing about being a sensitive person that needs to be fixed." As for the audiobook: I think it helps to hear these things out loud, and Nieman's narration seeps into your consciousness. If nothing else, I appreciated the concept that when someone tells you, "You're too sensitive," it's a form of gaslighting.
January Picks
Read by: Prince Harry
Length: 15 hrs, 39 mins
Speed I listened: Mostly 1.75x, but 1.5x for the stuff about his frostbitten penis
Listening to this book was a special form of insufferable torture. Time and again, as I zipped through it, I'd text friends saying "I hate Harry." But I couldn't stop, because Spare is a strange, contemporary artifact in the game of What Was This Person Thinking? Just him announcing the title of his book and his name—"by Prince Harry"—is weird. Does he call himself Prince Harry when he signs up for a SoulCycle class? It's probably unfair to wonder if, IRL, Harry actually uses the expressions leitmotif and Kafkaesque and emotional cul-de-sac. But I do question why he chooses to tell us that he's drunk alcoholic beverages out of friends' prosthetic legs multiple times. I mean, I Googled it, and it's a thing, but Harry feels we should know that he's done this on enough occasions that he can't remember if he drank out of a prosthetic leg on a particular evening while visiting the South Pole? I don't know, Harry. The frostbitten penis stuff has been covered ad nauseam, but my jaw just kept dropping even after that. However, his short singing selection from Elton John's "Your Song" is a surprising highlight.
Read by: Siho Ellsmore
Length: 11 hrs, 33 mins
Speed I listened: 1.75x
Sure, this book is a lot like Crazy Rich Asians, but it's a totally enjoyable retread of that popular best seller. With the help of two wealthy friends, Samantha Song, a working-class public relations executive, tries to make her way into high society in Singapore. I don't know how it feels when you read it on the page, but Australia-born narrator Ellsmore amplifies the experience. She gives several of the secondary characters voices that signal how annoying, snobby, or untrustworthy they may be. It's a kick of a time, especially if you're interested in the fashion-magazine or "It" girl set, but who isn't?
Read by: Megan Tusing and William DeMeritt
Length: 9 hrs, 25 mins
Speed I listened: 2x
I love a Hollywood novel, and this one scratched this month's itch. It's about a crisis publicist named Mae who investigates the sudden death of her boss when he's shot near the Beverly Hills Hotel. It's a town where "nobody talks. But everybody whispers." There's not much here that's shocking, new, or even quite as bizarre as those scenes with Tobey Maguire in Babylon, but I found Tusing's narrations of Mae's descent into the Hollywood underbelly rhythmically gripping.
Read by: Marisol Ramirez
Length: 8 hrs, 34 mins
Speed I listened: 2x
For a lot of this audiobook I kept wondering: Where is this going? That was a good thing … until it got where it was going. There are a few seemingly disconnected strands here. In the present, Maya is trying to kick a Klonopin habit without telling her current boyfriend. In the past, she's embroiled in a strange relationship with Frank, who has a habit of hypnotizing and maybe killing women, including Maya's friend Aubrey. Also, Maya's deceased father wrote a mysterious novel that should somehow tie into all of this, though I still couldn't tell you how. But until the final scenes, Ramirez's narration is enthralling.
Read by: Jay Aaseng and Mikhaila Aaseng
Length: 13 hrs
Speed I listened: 2x
I wish this was a tongue-in-cheek book about how to off-load haunted real estate, but it's really about siblings arguing over their parents' estate. That happens to be one of my least favorite topics in the entire universe. (Don't ask me to elaborate.) It's a testament to Hendrix's storytelling and the narrators that I didn't turn this book off from its opening scene and that I continued to listen even when puppets started talking and doing very mean things to the various characters. Consider it a companion piece to M3gan, sadly sans Allison Williams.
Read by: Rebecca Lowman
Length: 8 hrs, 34 mins
Speed I listened: 2x
I haven't read Allegra Goodman's fiction in a while, but Jenna Bush Hager chose this as her Today show book-club book for January, so I decided to give it a listen. (You've gotta take your cues from somewhere.) Basically, it's a bildungsroman about a young girl named Sam who has an absent father and a penchant for climbing walls. It's all very slice of life — there are no haunted robot puppets or murdering hypnotizers here — but I found myself really attached to Sam, in part because of Lowman's grounded narration, and I wanted to know where she ended up. I feel like you might too.
Read by: Peter Noble
Length: 13 hrs, 48 mins
Speed I listened: 2x
I often look for books that will mirror the experience of listening to The Girl With the Dragon Tattoo novels, and this is the closest I've gotten in a while. Stieg Larsson's trilogy was read by Simon Vance; this one is read by Peter Noble, who sounds similar. I guess I just find comfort in hearing Swedish names like Sven Jörgensson and towns like Tofta repeated again and again. None of the characters here come close to Lisbeth Salander or Mikael Blomkvist, and there may be more family drama than murder in this story, but I found it absorbing.
Read by: Julia Whelan, Kimberly Wetherell, and Shiromi Arserio
Length: 7 hrs, 57 mins
Speed I listened: 1.85x
This is about a newly divorced "cozy mystery" author named Em who vacations at a villa in Umbria with her friend Chess, a much more successful writer of whom she's a tad jealous. Their story of a symbiotic and repellant relationship, read by Whelan, was plenty engaging for me. But every so often Hawkins goes back to a second, less interesting narrative in 1974, where she tosses in some Fleetwood Mac, some Mary Shelley, and the Manson murders, and turns the whole thing into an overstuffed Milk Bar cookie. I'd recommend the contemporary parts if you can just alternate chapters and skip to those.