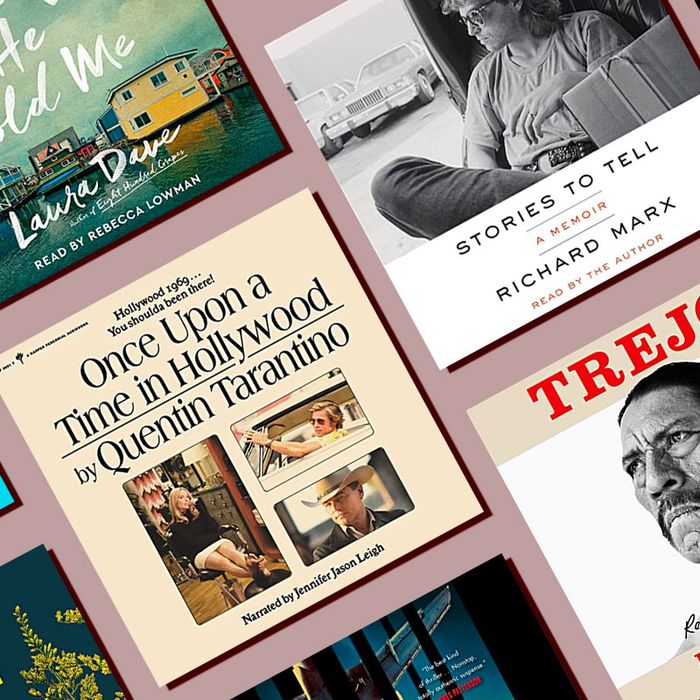 Photo-Illustration: Vulture. Photos: Courtesy of the Publisher
The audiobook category is expanding every day, and I certainly can't listen to everything. The goal of this monthly column is to steer you toward audiobooks that I hope will provide the best experiences, pop-culture value, and something to talk about on your next Zoom.
Photo: Courtesy of the Publisher
Read by: The authors
Length: 13 hours, 19 minutes
Speed you can listen: I sometimes cranked it up to 2.3x
This memoir is so much more than a curiosity. I was thrilled to see it debut on the New York Times Best Sellers list at No. 3. The audio version, featuring Trejo's addictively grisly staccato, is really a trip; you don't even need to wash it down with a Trejo taco or doughnut. Trejo has been in a staggering number of movies, but the self-described "most killed actor in history" was once a troubled Angeleno high-school delinquent who got "kicked out for tearing off a kid's face with [his] teeth." This is a long audiobook, mostly because Trejo speaks very slowly, but I could have listened to it for the whole month of July. His candor, honesty, and wisdom about his time in jail, his various affairs, and his short career as a firefighter are as sublime as any I've encountered in a Hollywood memoir in some time. A favorite line: "When someone complains on a movie set, I say, 'Try fighting fire, asshole.'"
Photo: Courtesy of the Publisher
Read by: The author
Length: 7 hours, 17 minutes
Speed you can listen: at least 1.6x
I remembered one thing related to singer-songwriter Marx before listening to this extremely refreshing memoir: that "Right Here Waiting" became especially awkward when it was played at preteen parties and the more "advanced" kids partnered off to slow-dance to it. (Shocker: This did not include me.) Marx's self-awareness in his audiobook made me swoon. When an album of his sells "like hotcakes," he asks, "Is that still a thing? Probably not, because I'm old." Of particular note: Marx's articulate description of the songwriting process; a sidebar about his intensely competitive (straight male) friendship with Kenny Loggins; and the news that Marx is now married to Daisy Fuentes. I've repeated Marx's take on celebrities to basically anyone I've encountered since hearing it: "Most famous people are pretty stupid. They spend at least 95 percent of their time focusing on themselves and their own ambition. That means conversations with them are mind-numbingly boring." Tell it like it is, Richard Marx!
Photo: Courtesy of the Publisher
Read by: The author
Length: 3 hours, 10 minutes
Speed you can listen: 1.3x to 1.5x, in short stints
I don't drop everything for Augusten Burroughs, but one of the wisest audiobooks I've ever listened to is his 2012 memoir, This Is How. It has an especially long subtitle about overcoming fatness, spinsterhood, and grief, and as a whole, The Comfort Book took me to a similar place. Haig doesn't pound you in the same way Burroughs does, however; The Comfort Book is a little lighter, filled with aphorisms, anecdotes, and autobiographical stories. I have so much admiration and fondness for Haig's blunt advice that I'm still trying to determine the best way to consume an audiobook like this. Maybe ten minutes per day? I'll let you know when I figure it out.
Photo: Courtesy of the Publisher
Read by: Rebecca Lowman
Length: 8 hours, 49 minutes
Speed you can listen: It flew by at 2x
I'm having a tough time getting excited about Reese Witherspoon's Book Club. It's just all over the place! Go ahead and sue me, Elle Woods. Does a straightforward thriller like this one really need to be part of a celebrity book club? I know that a lot of people want to be told what to read (hence this column), but some of Reese's choices have left me a little high and dry. That said, this woman-running-from-her-husband's-crime story, which I ignored at first when it was released in May, makes for a super-satisfying listen. That's partly thanks to the plot, which is relatable and straightforward but often tense and surprising. The ending is disarmingly romantic and leaves you with a warm feeling that some relationships could maybe, actually be grounded in love. The cherry on top is the intimate narration by Lowman, which feels like a very long voicemail your old college friend might leave you in the middle of the night.
Photo: Courtesy of the Publisher
Read by: Jennifer Jason Leigh
Length: 12 hours, 39 minutes
Speed you can listen: Around 1.6x
How does this novel match up to the 2019 movie? To be honest, I don't remember. There's a tiny part of me that cares, but there are also episodes of The White Lotus to watch, and Ted Lasso's coming back. I will say, though, that Jennifer Jason Leigh's fast-talking-dame narration definitely adds the palimpsest of a bemused (I hope) female gaze to what is otherwise the overheated testosteronefest you might expect from Tarantino. Though sometimes I imagined Leigh came straight off the set of 1994's The Hudsucker Proxy, I especially enjoyed her takes on Rick's overbearing agent and a filthy-mouthed French pimp. I chuckled every time she threw down the title of Rick's film The 14 Fists of McCluskey.
Photo: Courtesy of the Publisher
Read by: Steven Weber
Length: 8 hours, 26 minutes
Speed you can listen: 1.8x works
If it's not annoying enough that Newman, a sometime flight attendant, wrote the beginnings of this thriller on cocktail napkins between making sure passengers had their tray tables up and their seatbelts fastened, from take-off (i.e., page one), Falling is a juicy thrill. And that's despite the fact that Newman doesn't quite land the plane. (But endings are hard!) Chris Pratt, Chris Evans, Chris Hemsworth, and Chris Pine are all probably fighting to play the protagonist, a pilot named Bill with a heart of gold, a stomach of steel and a pretty terrifying dilemma on his hands. Is there an in-joke here that Weber, a star of the NBC sitcom Wings about an airport in Nantucket, reads the audiobook? Probably not, but I'm glad I thought of it. It turns out Weber does "stressed out" very, very well. In other news, so do I.
Photo: Courtesy of the Publisher
Read by: the author
Length: 1 hour, 6 minutes
Speed you can listen: 1.3x
I will likely never delete Smith's previous book, Keep Moving: Notes on Creativity, Loss and Change, from my phone because it is an extremely inspiring piece of writing — as is her latest, Goldenrod. The poet (and not the British Downton Abbey actress, to be clear) reads the verses here with a calming, meditative tenor that just exudes sagacity. "We say, 'In the grand scheme of things,' as if there was one," she writes. "We say, 'That's not how the world works,' as if the world works."