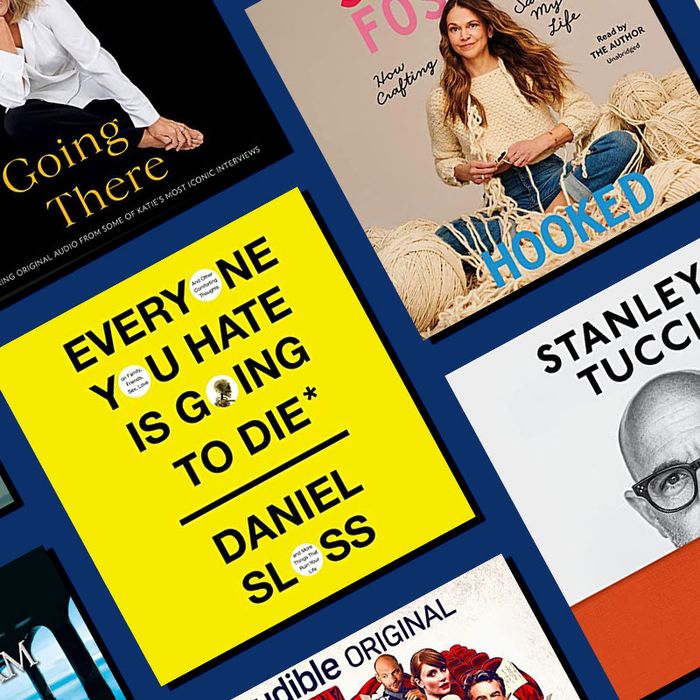 Photo-Illustration: Vulture; Photos by Publishers
The audiobook category is expanding every day, and we certainly can't listen to everything. The goal of this monthly column is to steer you toward audiobooks that we hope will provide the best experiences, pop-culture value, and something to talk about at your cocktail party.
Photo: Publisher
Read by: The author
Length: 15 hours, 27 minutes
Speed I listened: 2x
The legendary newscaster sure knows how to deliver a compulsively listenable audiobook, even if I question her pronunciations of "spiel" and "Gstaad." I zipped through this memoir, only slowing down for some cleverly interspersed news clips and the occasional outburst of singing. I found Couric's sensitive descriptions of her bouts with family loss thoughtful and moving; her honest forthrightness about her sometimes lopsided work experiences gripping and delicious. Yes, I do want to know that Marissa Mayer isn't good at answering important emails and that the former Yahoo executive's favorite restaurant in NYC is La Bonne Soupe. I might have been okay without Couric's description of "swamp-ass," however.
Photo: Publisher
Read by: Sedaris and Tracey Ullman
Length: 17 hours, 8 minutes
Speed I listened: 1.3x
Years ago, when I was contributing to a show on NPR, someone described my speaking voice to the L.A. Times as "addictively weird." At the time, a friend assured me I shouldn't be offended. It must mean it was "addictively weird," like David Sedaris. That made me feel better, because I love listening to David Sedaris. People often tell Sedaris he sounds like a woman (or, alternatively, he recalls, "like Piglet"), so for the diary entries in this volume, which run from 2003–2020, he splits vocal duties with Tracey Ullman. I also love Tracey Ullman. "Half of this book she's me," Sedaris explains, "but I wish I was her." I'm not going to lie, I never quite got used to or comfortable with Ullman performing as Sedaris, but it's an interesting experiment.
Photo: Publisher
Read by: The author
Length: 6 hours, 50 minutes
Speed I listened: 1.6x
Listening to this memoir is not a completely successful experience. For one, it's hard to follow recipes when someone's reading them to you — not that I would be making anything Italian at home besides a reservation at Carbone. Also, Tucci has a proclivity for synonyms when he doesn't want to repeat a word. Does anyone even really say "fete" out loud? I also learned about his affection for Velveeta-and-mayo sandwiches, which do not sound appealing at all. Still, I would be very happy if the Devil Wears Prada actor spoke words in Italiano to me all day every day for the rest of my life. Penne! Carbonara! Guanciale! Take note of an especially swoon-worthy section where Tucci talks about what shape pasta goes with which sauce.
Photo: Publisher
Read by: The author
Length: 7 hours, 5 minutes
Speed I listened: 1.7x
The Younger star describes how she got through some of the tougher moments in her life through crafting. There's a similar problem here to Tucci's book. I can't make a quilt from someone reading me the directions. (Not that I would ever make a quilt when I could buy yet another weighted blanket at Costco.) What kept me listening (and occasionally, very closely) was Foster's surprising candor about her many romantic speed bumps with actors Christian Borle and Bobby Cannavale and her difficult relationship with her agoraphobic mother. Also, Foster describes a performance that awoke her love for musicals and Sondheim. When I look back, I think it did the same for me: Patti LuPone completely knocking the walls off Carnegie Hall singing "Being Alive" in 1992. When Foster refers to her idol as "Patti Fucking LuPone," I turned to mush.
Photo: Publisher
Read by: John Lithgow, Bryce Dallas Howard, Peter Gallagher, and others
Length: 3 hours, 19 minutes
Speed I listened: 1.6x
I'm happy if I can motivate to listen to an audiobook on a given day, so I don't have the slightest understanding of how the writer James Patterson is so prolific and productive. Now he's making Audible Originals. I was totally here for this one because it's about a murder during a Broadway show (see above references to Sutton Foster and Patti LuPone). Despite the game of trying to figure out who's speaking, I still find the whole full-cast "audio drama" conceit a little forced. Here, that's evidenced by a goofy giggle Lithgow pulls out of his bag of actorly tricks and a Broadway-audience laugh track that's more perturbing than evocative. But the theatrical references — Edward Albee! J.B. Priestley! — are surprisingly on point.
Photo: Publisher
Read by: Mary-Louise Parker
Length: 11 hours, 36 minutes
Speed I listened: 1.8x
John Grisham writes a darn good yarn. This thriller, about a judge who is also a serial killer and Lacy Stoltz, the investigator set on tracking him down, is fully enhanced by the narration of recent Tony winner Parker. Her voice doesn't sound wide-eyed, drippy, or ironic. Instead, it's no-nonsense and straightforward, often bracingly taking the back seat while pushing Grisham's narrative along like a bullet train. Parker is particularly charming and breathless as one of Stoltz's toughest colleagues who carries around an oxygen tank to help her breathing. Unfortunately, that character only appears in a few scenes. Mr. Grisham: Let's do a spinoff?
Photo: Publisher
Read by: Stockard Channing
Length: 5 hours and 21 minutes
Speed I listened: 2x
The 77-year-old Channing, star of Grease, The West Wing, and Six Degrees of Separation, is perhaps an unexpected choice to narrate this very appealing middle-grade novel. It's about a young girl in 1987 named Bug who has to spend the summer with her neighbor's nephew Frankie. But it turns out that the actress has also narrated many of Beverly Cleary's Ramona Quimby books, too. Her throaty alto (if that's even what it is) brings a sagacity to the narrative that probably does not jump off the page in the same way should you read it. She's not perfect. Occasionally, when she speaks as Bug, she sounds too much like a whining moppet. But we still could use more Stockard Channing in our lives.
Photo: Publisher
Read by: The author
Length: 6 hours, 41 minutes
Speed I listened: 2.1x
The title of this book is very much in my wheelhouse. It's not like I even knew who Daniel Sloss was when I started it. I assumed he was a shrink. He's not. He's a moppy-haired Scottish comedian. There's a tough-love, self-help undercurrent running through this book, though, and, at least while I was listening, I found it very enlightening and illuminating. Sloss makes the point that when you're lonely, you do the wrong things. You do things that make you even sadder, like listening to depressing music or watching romantic comedies. "The more people in the porn you're watching, the lonelier you are," Sloss explains. "I think it was Nelson Mandela who said that." That made me guffaw. Sloss writes that his goal here is to make you "snort on a bus" as you're listening. I'm pretty sure I did that on the M66 to Lincoln Center.