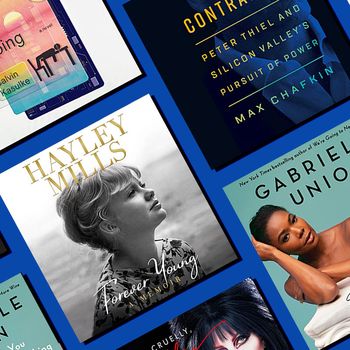 Photo-Illustration: Vulture; Photos by Publishers
The audiobook category is expanding every day, and we certainly can't listen to everything. The goal of this monthly column is to steer you toward audiobooks that we hope will provide the best experiences, pop-culture value, and something to talk about on your next Zoom.
Photo: Publisher
Read by: A large cast
Length: 3 hours, 27 minutes
Speed I listened: 1.5x
Maybe I found this book endearing because I haven't worked with people IRL or in an office for a really long time. It's told from the perspective of a bunch of colleagues communicating through Slack. There's not a huge amount of storytelling here, though I found myself chuckling at sidebar conversations about a failing pet-food campaign, some intra-office romances, and a guy who seems to have been swallowed by the Slack program itself. A symphonic cacophony of voices talk over each other and repeat phrases like "question mark, question mark, question mark," "IDK," and "WFH." To me, it felt a bit like Philip Glass, which has its own soothing kind of appeal.
Photo: Publisher
Read by: The author
Length: 10 hours, 55 minutes
Speed I listened: 2x
I devoured the Dirty John podcast and the Dirty John television series. Did I learn anything new from this memoir, which tells the Dirty John story from the perspective of John Meehan's final con? I honestly don't think so. Except maybe that Newell, an interior designer who has a direct and candid mien and a proclivity for describing the Bravo adaptation of Dirty John as stretching the truth, is a lot more religious than I thought. She also seems tentative about pronouncing certain big words. Why do I want to hear the Dirty John story again and again? Also: I honestly don't know. But I'll ask my therapist later this week.
Photo: Publisher
Read by: The author
Length: 8 hours, 8 minutes
Speed I listened: 1.8x
I don't think many actresses would be able to reference the musical Chicago, constipation, and the concept of "l'esprit de l'escalier" in a single tome. But that's what makes the 48-year-old Union, who's been in everything from Bring It On to the TV series L.A.'s Finest, such a gem of a companion. The book already feels like it's chock-full of secrets and honest tidbits. That Union is basically whispering these secrets and tidbits in your ear raises the stakes.
Photo: Publisher
Read by: The author
Length: 16 hours, 16 minutes
Speed I listened: 1.8x
I picked this up hoping that Mills, the 75-year-old star of Pollyanna (1960), might do a later-in-life audiobook rendition of "Let's Get Together," the Sherman Brothers earworm she sang in The Parent Trap (1961). Sadly, she doesn't. But I still found much of this wide-eyed memoir of a one-time teenage Disney contract player comforting. That's mostly because Mills's posh voice goes down so easily, like fresh mint tea, whether she's discussing her relationship with Walt Disney, her eating disorder, or turning down the title role in the film version of Lolita. That said, 16 hours of Hayley Mills is a lot of fresh mint tea. I suggest stopping around the 11-hour mark.
Read by: Caroline Lee
Length: 18 hours, 3 minutes
Speed I listened: 1.7x
I can't quite parse the phenomenon that is Liane Moriarty, the writer who brought us both Big Little Lies (which is also an HBO series in which Nicole Kidman participates in therapy) and Nine Perfect Strangers (which is also a Hulu series in which Nicole Kidman is in charge of therapy). One of the reasons I made it through all 18 hours of this family drama masking as a whodunnit was because I found the narrator's Australian accent so appealing. If I couldn't go to Sydney this summer, was this the next best thing? I did want to know how things worked out for this family of tennis aficionados. The tennis throughline struck me as strange, and I am a teensy bit concerned that there may not be a great part for Nicole Kidman in this one.
Photo: Publisher
Read by: The author
Length: 10 hours, 38 minutes
Speed I listened: 2x
I really wanted this audiobook to be the best celebrity memoir I've ever heard. I wanted spooky sounds and meditations on seeing life through the prism of bad horror movies. I guess I ultimately wish Elvira, Mistress of the Dark was an actual person. I want to know: What kind of hand soap would Elvira have in her bathroom? Does Elvira buy in bulk, and does she prefer Costco or B.J.s? What has been Elvira's favorite season of American Horror Story thus far? Well, like it or not, Elvira is not a real person. Instead, she's the creation of the actress-comedian Cassandra Peterson, who devotes more time here than I'd hoped to the making of her not-very-funny eponymous movie, in 1988, and her many varied Coors Light commercials. Still, Peterson's comic chops — she was a Groundling — really goose the double entendres and add to the nostalgia.
Photo: Publisher
Read by: Will Damron
Length: 12 hours, 33 minutes
Speed I listened: 1.7x
There are enough juicy details in this portrait of the controversial tech billionaire Peter Thiel to keep you on the hook, much like a podcast you need to pay for because you want all the episodes that haven't been released yet. Damron, the narrator, seems to have a monopoly on tech books of this ilk. He also voiced the recent Power Play about Elon Musk and Bad Blood about Elizabeth Holmes. I suppose he sounds as if he knows about IPOs, PayPal, and Hulk Hogan and then approaches all these topics with a subtextual devilish irony.