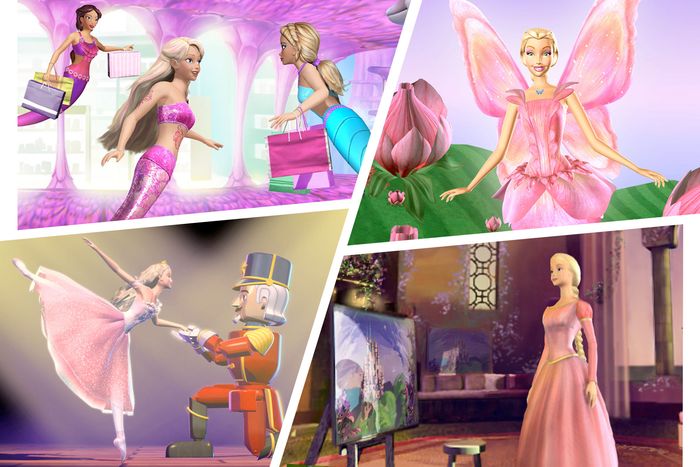 Photo-Illustration: Vulture. Photos: Lions Gate Home Entertainment
Barbie is everything. If the marketing for a certain summer blockbuster hasn't made that clear enough, the bright-blonde, slender-framed, blue-eyed doll is, and she has been able to do anything she (well, Mattel execs) puts her plastic mind to. The upcoming Greta Gerwig–directed film isn't Barbie's first foray into cinema, of course: Since the turn of the millennium, Barbie has crossed over from kids' dreamhouses into the televisions of young kids (and nostalgic zillennials), first through straight-to-video movies.
For almost 20 years, Barbie has been a countless number of princesses, ballet dancers, and types of fairies, but she has also been a musketeer, an indentured servant (once), and kind of a bitch (see No. 19 on this list). These movies have never reached the animated innovation of Studio Ghibli's stunners or even the least-beloved Disney titles, but that has always been okay because Barbie movies are just meant to make your mind play. The tactile CGI animation always made it feel as if you could physically pull Barbie out of the screen and into your dreamhouse.
The foray into films was, of course, a Mattel marketing tactic: The company started producing its own Barbie movies to have the doll join the new digital frontier. At the same time, television channels like Nickelodeon and the Disney Channel were on the rise as they started to focus on original children's entertainment. Thus came 2001's Barbie in the Nutcracker, Mattel Entertainment's first full-length Barbie feature. After Nutcracker's success, Nickelodeon formed a broadcasting partnership with Mattel to air its animated films, starting with Barbie As Rapunzel, after physical-media releases. The deal ran for 17 years until Mattel moved into the streaming world, culminating in 41 non–Greta Gerwig Barbie movies in total — some of which are not that bad, actually. So to whet your appetite for what's sure to be the splashiest Barbie movie yet, we've rewatched and meticulously ranked all the old ones from worst to best.
41.

The Barbie Diaries (2006)
A wild change of pace for Barbie at the time, The Barbie Diaries takes our heroine out of the storybooks and into high school to cosplay as a sandal-bootcut-jeans-wearing Y2K teenager. It's simply jarring and boring to see Barbie veer into Bratz territory. Leave that to them, girl.
40.

Barbie: A Perfect Christmas (2011)
Mattel Entertainment's first attempt at an original Christmas story is a hard pass. While trying to visit their Aunt Millie (innocent! a.k.a. she's the best part of this movie) in New York City for the holidays, Barbie and her sisters Skipper, Kelly, and Chelsea get stranded in a small town in Minnesota where they take Christmas so seriously. The biggest crime is that the songs are incredibly forgettable.
39.

Barbie Video Game Hero (2017)
Gamer-girl rights! As someone who spent hours of their childhood playing Barbie CD-ROM games, the idea of this movie was validating, but its execution as a movie is disturbing to look at. It's uncanny valley to the max as Barbie is sucked into a dizzying video game. I accept that this is not for me, but absolutely for the iPad kids of today. As the last straight-to-video Barbie movie, it's hilarious to even think of comparing this to Barbie in the Nutcracker, the first straight-to-video movie.
38.

Barbie: Mariposa (2008)
My bias is showing because first of all, butterflies make me extremely uncomfortable. But Barbie: Mariposa is doubly uncomfortable because every character is putting on their best Latina (or probably more España) drag. Plus, I'm sorry, but Mariposa's "friends" Rayna and Rayla are grating.
37.

Barbie: The Pearl Princess (2014)
There's nothing extremely wrong with this pearl magic-wielding mermaid. It's just that it's the first movie on this list that made me go, Yeah, they're out of ideas.
36.

Barbie in Rock 'N Royals (2015)
This is one of three The Prince and the Pauper adaptations Barbie stars in, and each one after Barbie As the Princess and the Pauper just gets progressively blander.
35.

Barbie & Her Sisters in a Puppy Chase (2016)
The plot is literally Barbie and her sisters lose their dogs so both the sisters and the dogs go on a journey to find each other. A Puppy Chase doesn't need to be a convoluted three-hour epic, but as is, it's equivalent to "this could've been an email."
34.

Barbie: Spy Squad (2016)
Barbie and her best friends go from gymnasts to spy girlies with fashion tech and robot pets. They've got nothing on Kim Possible and her grappling-hook blow dryer though.
33.

Barbie: Mermaid Power (2022)
Mermaid Power is terrifying. Isla, a mermaid we met in Dolphin Magic summons Barbie (and "Brooklyn" Barbie) down under the sea because her fellow mermaids need two more guardians. The Barbies and her sisters just go along with this? They don't even know how long they'll be underwater for??
32.

Barbie Presents: Thumbelina (2009)
A nightmare of a little girl with a bob demands that her rich father scoops up a large piece of land so she can have the flowers displayed in her room; This premise launches us into Barbie's story of environmental justice. A Twillerbee named Thumbelina (a rather Boss-Baby-looking Barbie) has to convince the little girl that saving the environment is more important than, basically, capitalism. Some points for trying.
31.

Barbie: The Princess & the Popstar (2012)
Now, they sure are brave for remixing The Princess and the Pauper because it's so far superior to this. The differences between the girls are not drastic enough in The Princess & the Popstar. Princess Tori can't write a speech and pop star Kiera can't write a song, so they combine powers to switch outfits and hair. Oh, the struggle.
30.

Barbie & Her Sisters in a Pony Tale (2013)
Barbie's sisters from A Perfect Christmas return, and they just don't do it for me except for Skipper, who is actually a standout as she gets a delightful little romance on the side of this horse-girl adventure.
29.

Barbie in a Mermaid Tale 2 (2010)
The sequel to Mermaid Tale, this film follows Merliah, the half-human/half-mermaid, as she has to defeat her evil aunt Eris, again. Same old, same old.
28.

Barbie in Princess Power (2015)
The Avengers found dead. Okay, kidding, but leave it to Barbie to capitalize on the comic-hero boom with a princess who accidentally gains superpowers through a butterfly kiss — seriously.
27.

Barbie: A Fashion Fairytale (2010)
Barbie running away to Paris after a breakup is so relatable (not in practice, but in theory).
26.

Barbie: Princess Charm School (2011)
The era of Barbie where they try to find a happy medium between modern and fairytale is a bumpy road of hits and misses but I'd rather take fairytale high school than modern-day high school, so even if a school training a mass group of future princesses and princes doesn't necessarily make sense (like how many kingdoms are there here to necessitate a graduating class of royals every year, and also how is Barbie a barista), it's still cute enough.
25.

Barbie: Princess Adventure (2020)
In Princess Adventure, Barbie is a vlogger, and one of her most dedicated subscribers is a look-alike princess named Amelia from the kingdom of Floravia. And guess what? She wants them to trade places! (I guffawed when Barbie didn't notice their resemblance until Amelia told her to put her hair down.) It's yet another Prince and the Pauper adaptation from Mattel that, yes, plays better than the previous two films. But as Taylor Swift once said, "I think I've seen this film before."
24.

Barbie in a Christmas Carol (2008)
I'm not saying Barbie can't do more than one Christmas movie, but you're putting this Christmas Carol not only up against Barbie in the Nutcracker, but up against all the other retellings of Charles Dickens's famous holiday tale — hello, The Muppets Christmas Carol! Barbie as the gender-flipped Ebenezer Scrooge and being a bit of a b-i-t-c-h is a funny novelty, but there are so many other options out there.
23.

Barbie and the Secret Door (2014)
There's nothing that gets me more emotional than a grandma helping out her shy granddaughter. In Barbie and the Secret Door, a book given to Princess Alexa by her grandmother guides her to a vibrant, magical world that gives her confidence and style as she has to face off a bratty child princess that would give Princess Morbucks a run for her money.
22.

Barbie & Chelsea: The Lost Birthday (2021)
This is the first Barbie movie not to really center on Barbie (or the protagonists she plays); instead, it focuses on her little sister Chelsea. Why? Are Chelsea dolls not selling as well as Mattel would like? At any rate, what we get here is an amusing film about Chelsea going on an adventure to find a wish-granting stone and have a birthday do-over. Now that's a real drama-queen move I respect.
21.

Barbie: Big City, Big Dreams (2021)
It's the one where Barbie tries her best to become a New Yorker. While spending the summer away from the West Coast, Barbie meets her new friend and East Coast counterpart, dubbed "Brooklyn" Barbie, when the two attend a prestigious fine-arts program. There, they compete in a singing competition for a chance to perform on New York City's most coveted stage, Times Square. I'm adding this movie to the Best New York City Movies list immediately.
20.

Barbie: A Fairy Secret (2011)
A fairy falls in love with Barbie's boyfriend, Ken, so she kidnaps him and takes him to Gloss Angeles, a fairy realm, with the plan to marry him, which would bar him from ever returning to the human world where Barbie is. Both Barbie and Ken are celebrities and Barbie's stylists are actually secret fairies so when Barbie worries about Ken's disappearance they reveal themselves and help her find him. Chaos ensues. This plot is too wildly ridiculous to completely love yet also too ridiculous to hate on, but I must say it does feature an incredible Ken performance.
19.

Barbie: Skipper and the Big Babysitting Adventure (2023)
From Chelsea to Skipper, it's the second-oldest kid's turn to lead a Barbie movie — and Barbie is barely in it. Instead, Skipper spends a summer by herself after taking a job at a water park. It's an easy, breezy little film employing some adorable 2-D animation for Skipper's dream sequences throughout.
18.

Barbie: Fairytopia (2005)
This claim is absolutely unvalidated, but I have to believe Fairytopia is the reason Disney decided to finally make Tinker Bell–led movies. Every girl goes through a horse-girl phase or a fairy-girl phase, and Fairytopia is for the latter. As a Pixie Hollow scholar though, Fairytopia has a hard time competing since its lore is not as strong (why are the fairies the same size as the mermaids???) and Elina's outfit and boring bun are not cute. Bibble, Elina's puffball sidekick, bumps up the score, though, because I'm pretty sure this became a franchise to pump out more Bibble merch.
17.

Barbie: Mariposa & the Fairy Princess (2013)
This sequel is so much better than the first because it ditches Rayna and Rayla and actually has interesting fairy lore and gorgeous fairy outfits! Thank God.
16.

Barbie in the Pink Shoes (2013)
What do Barbie and the famously beloved film The Red Shoes have in common? They both loosely adapt the same fairytale by Hans Christian Andersen. Who says Barbie isn't cinema? As the last adapted work in the Barbie animated oeuvre, The Pink Shoes tries to weave together an amalgam of fairy tales, including The Snow Queen as ballet dancer Kristin moves through a magical world. It's a nostalgic end to what launched the original animated movies, except when they trade off the Tchaikovsky and Beethoven for generic Y2K pop.
15.

Barbie in a Mermaid Tale (2010)
A Blue Crush surfer named Merliah figures out she's actually half-mermaid after a pink dolphin explains why she suddenly got chunky pink highlights in her hair out of nowhere. It's camp!
14.

Barbie: Star Light Adventure (2016)
Zenon and Barbie would be BFFs. In Star Light Adventure, Barbie is on another planet called Para-Den, which gives big Na'vi vibes. As the stars of her galaxy start to dim, she and her friends are sent on a planet-hopping adventure. The designs of the worlds are visually so fun and the dynamic of Barbie's friends are so charming, making this movie too fun to resist.
13.

Barbie: Dolphin Magic (2017)
The first non-direct-to-video movie and the first of seven for Netflix, Barbie: Dolphin Magic serves more as a pilot for the streamer's television series Barbie: Dreamhouse Adventure, as it reintroduces this version of Barbie, Ken, and Barbie's sisters as the main protagonists going forward. Dolphin Magic doesn't even feature the dreamhouse, but I forgive them because this is Mattel's Avatar: The Way of Water. The titular gemstone dolphins are basically cousins of the tulkuns.
12.

Barbie Fairytopia: Magic of the Rainbow (2007)
The Fairytopia trilogy capper has such a thin plot that it basically just has you staring at fairies twirling and shooting various sparkly colors out of their hands for five minutes at a time. So, five stars.
11.

Barbie & Her Sisters in the Great Puppy Adventure (2015)
One can't stare at the animated faces for too long because it becomes too uncanny, but this is my favorite Barbie & Her Sisters entry in the franchise. Maybe it's the Goonies-esque adventure or the cute talking puppies, but it made me more emotional than I ever expected it to.
10.

Barbie in the 12 Dancing Princesses (2006)
These girls just want to dance! And that is basically the whole premise! Catherine O'Hara plays their evil aunt with sickening makeup and an in-vogue pet monkey, and she spends most of the movie figuring out where these 12 girls disappear to — they travel to a magical world beneath the tiles of their bedroom. That's about it!
9.

Barbie As the Island Princess (2007)
Barbie stars as Ro, a young woman who spent a majority of her childhood marooned on an island having no memory of her life before. She spends most of her time talking to animals and running around in what's basically a resort towel wrapped around her, until Prince Antonio sweeps her off her feet. The second half of the film really sells this movie, once we move away from the island and start getting into the love triangle between Ro, Antonio, and his expected bride-to-be, Princess Luciana. It turns into a really sweet ending.
8.

Barbie and the Three Musketeers (2009)
Three girl bosses want to break down the gendered expectations of what it means to be a Musketeer. There's a fantastic action sequence early on involving a chandelier that is as close to The Matrix that these Barbie movies will ever get and some even more fun training montages. Plus, Tim Curry returns to the Barbie Animated Cinematic Universe as another deliciously obvious villain. What's not to love?
7.

Barbie Fairytopia: Mermaidia (2006)
This movie should've been gayer. Even though the plot of Mermaidia is that Elina — introduced in Fairytopia — has to save the mermaid prince Nalu, Elina has way more chemistry with Nori, another mermaid. The two's strong frenemy vibe really toes the line between the romantic and platonic love vibes, but alas, nothing more than friendship comes from it. On top of that gay energy, there's the wise broad Oracle Delphine, who sets them on their path of adventure. She's a legend.
6.

Barbie As Rapunzel (2002)
There's a whole outfit-changing sequence where Barbie is magically painting each outfit. This is what Barbie is made for! There's also a part where her bunny sidekick calls Anjelica Huston's Gothel an "old hag." My only ding on this film is that Barbie's braid is too thin. We all know she has thick blonde tresses and this is the movie you decide to skimp on the hair?
5.

Barbie and the Diamond Castle (2008)
Diamond Castle is for the theater kids. A spiritual Princess and the Pauper sequel, this movie is about the complexities of friendship — the love, the misunderstandings, the adventures, the fights — as two best friends and their two memeable dogs attempt to help a magical muse stuck in a mirror. And the original songs are pretty good, which is a feat.
4.

Barbie of Swan Lake (2003)
Even movies experience pretty privilege. Barbie of Swan Lake is one of them: It's full of entrancing dancing — choreographed by New York City Ballet's Peter Martins, along with the company's ballet dancers used for image capture — and sparkly gowns set to Tchaikovsky's classic composition played by the London Symphony Orchestra. It doesn't reinvent the wheel, but Swan Lake doesn't really need to.
3.

Barbie and the Magic of Pegasus (2005)
My gut feeling is that Magic of Pegasus is underrated. Along with Fairytopia, it was one of the first original-story Barbie movies Mattel Entertainment released. It didn't spawn sequels like its counterpart, but this fairy tale exudes all the drama and couture of its predecessors. There were big stakes (a kingdom cursed to stone and a sister doomed to stay a pegasus forever), romance (Ken power-walked here so Tangled's Flynn Ryder could run), and great fantastical elements (a Cloud Kingdom where cute cherubs cast spells to create rainbows, sunsets, and sunrises) as the determined Princess Annika, her sister Brietta, and their adorable little polar-bear friend Shiver adventured to find the mythical Wand of Light.
2.

Barbie As the Princess and the Pauper (2004)
This movie is itching for a Margot Robbie and Emma Mackey live-action treatment — though apparently neither looks like the other when they're all dolled up. Either way, Barbie As the Princess and the Pauper easily stands on its own because no other Barbie movie has an original soundtrack as remembered and coveted as Princess and the Pauper. (Sorry, Barbie the Album.) Sing out "I'm just like you" in the theater before Greta Gerwig's Barbie, and I guarantee you a wave of "you're just like me"'s will hit you right back. But beyond the music itself, Princess Anneliese and Erika's twin swap — Erika takes Anneliese's place after she's kidnapped by Martin Short's Preminger to save the kingdom from bankruptcy — is plenty entertaining on its own
1.

Barbie in the Nutcracker (2001)
Nutcracker is really the "Alien Superstar" of the Barbie Animated Cinematic Universe because you really don't even want to waste time trying to compete with her. The glamor and nostalgia of Christmas really help as this Barbie movie recounts the story of Clara and her Nutcracker as they try to defend Parthenia from the Mouse King (voiced by Tim Curry — the words Sugarplum Princess have never been more enunciated) by going on a search for the lost princess. Barbie in the Nutcracker simply is the hallmark of what a Barbie movie would be for the next few years: memorable music (in this case, music from Tchaikovsky's ballet), gorgeous choreography and action, spectacular gowns, adorable romance, a high-profile villain voice actor, and a high rewatchability factor. It's just physically and emotionally impossible to not rank this at number one.